York College Commencement 2011
Graduates Encouraged To Pursue Their Aspirations In Math & Sciences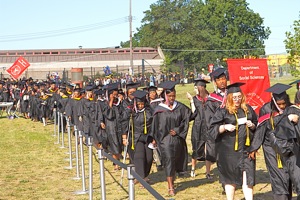 June 3, 2011 / Jamaica NY Neighborhood / Queens Buzz. Continued / The gist of Aprille Ericsson's message was that women and minorities can excel in math and the sciences.
York College Graduate Class 2011 & Enrollment For 2012
This year York College graduated 893 students. An increasing number of them were accepted into and went onto graduate schools, some twenty of which enrolled in Ph. D. programs. York College has a student population numbering
about 8,000 and the 2011 – 2012 incoming freshman class numbers about 953, which is up 3% vs 2010.
York College, a senior college of The City University of New York (CUNY), offers baccalaureate degrees in the liberal arts and sciences, accounting and business, communications technology, computer science, social work, teacher education, various health professions and aviation management. York College is the only CUNY senior college offering majors in gerontology, biotechnology, information systems management, Pharmaceutical Sciences and a BS/MS degree in occupational therapy.
---
Jamaica & Related Info
$element(adman,groupad,Catgry Foodwine)$
Click this link to go to the Jamaica Neighborhood News / Jamaica Restaurants Guide & Map / Jamaica Business Directory / Jamaica Shopping Center and Map.
$element(adman,groupad,NHoodJamaica)$
Site Search Tips. To find restaurants, shopping or other things to do in any of the neighborhoods, use the search function: 1) For best results, when typing in more than one word, use quotation marks - eg "Astoria Park". 2) Also try either singular or plural words when searching for a specific item such as "gym" or "gyms".
$element(bwcore,insert_search,N)$
Click this link to search for something in our Queens Business Directory containing over 1,000 listings.
---
$element(adman,groupads,Sectional Ad)$
---
Click the log in link below to create an ID and post an opinion.
Or send this story to a friend by filling in the appropriate box below.
---