2007 Sea Odyssey Returns Home
New Age Love Boat Exploring New Mission
July 1, 2011 / Long Island City LIC Neighborhood / Art Exhibits / Queens Buzz. Continued / Use the search function to find story introduction if necessary. Reid named the voyage the Mars Ocean Odyssey which was a high performance endurance test designed to test adaptability and survival in an isolated environment. The project was envisioned in 1986. It took 21 years to make it happen and resulted in being at sea for over three years.
Preparing For A Three Year Sea Voyage
So imagine packing for a trip where you're not going to go near land for three years and you're going to have to survive with what you bring and nature's bounty. Reid explained all of the planning that went into the trip, including building the boat he would use for the trip, some thirty years prior to his and Sonanya's departure.
As I stepped aboard the boat on a beautiful warm summer night I could feel its strength beneath me. It had a steadiness in its East River slip that silently communicated the strength of the vessel as it lightly bobbed in the water while some 20 or 30 of us visitors relaxed over a bit of food and drink, took in the evening sky along the water, enjoyed light and meaningful conversations, and in time explored its nooks and crannies.
Reid Stowe's Life - Artist, Artesan & Shipbuilder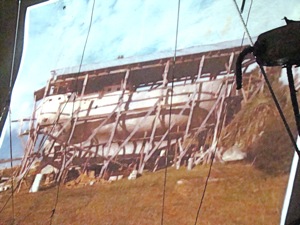 The journey is, in part, a life story. It begins with Reid's youth where he sailed small boats off the North Carolina coast where he grew up. In his twenties he built his first boat which he sailed far and wide, picking up an interest in yoga, Buddhism and Jungian thought along the way.
Reid is an artist and artisan. Artisan because he built such a sturdy vessel. Artist as he created numerous carvings that could be found all over the boat, including carvings into the boat. He also had a number of oils (?) and multi-material artworks aboard the boat. But perhaps what best describes Reid is that he is a performance artist, because traveling the high seas for over three years, more that two of which were spent completely alone, is truly a test of one's endurance. And so the tale went.
Sea Worthy - Reid Stowe & Sonanya Ahmed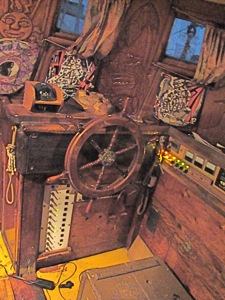 In preparing for the journey, the story starts with the creation of the boat. It has a deep hull, that's loaded with 40,000 lbs of steel, which is what makes it so steady in the water. There are also water tanks that can hold 1,200 gallons of fresh water, which one is going to need sailing the high seas if not planning to dock in ports. And the boat was equipped with solar panels which fueled the boat's generator (s) and batteries for the camera, computer and iridium cell phone which was used to upload near daily postings on the internet.
The crew? Reid has plenty of prior experiences sailing, some of with which he regaled us. And he took along his sweetheart, Sonanya, who had some experiences sailing with Reid. They stocked a medical kit. They stocked all kinds of rice and pasta. And they brought and grew many types of fresh beans aboard the ship. The beans were their only source of fresh vegetation, and included lentils, garbanzo beans and what not.
The ship also had numerous sails and a sewing kit, which Reid used extensively to keep the sails in good repair. Speaking of repairs, some of the pulleys broke and needed replacement and they were hit by another ship within the first three weeks of being out on their voyage.
The Three Year Sea Voyage Departs From NYC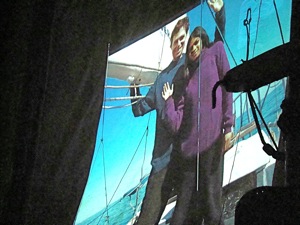 They headed south and on their journey shot photos along the way, uploading them along with a daily briefing for the world to see. An account was uploaded on more than 800 of the 1152 days. There's a link at the end of this report to their website. The photos include shots of their activities, scenery and wild ocean game.
How To Spend Three Years On A Sailing Boat?
Every day they did yoga to keep limber and maintain their awareness and oneness with the boat. They swam and traveled in what seemed to me to be a sort of idyllic floating paradise … like Adam and Eve. They rounded Cape
Horn at the tip of South Africa and entered the Indian Ocean where they headed east toward Austrailia.
They saw whales swimming the oceans, dolphins came up to the boat, and schools of all sorts of fish – including tuna and mahi mahi – generally one of which would become their protein source for weeks. They would eat fresh fish for a day or two and salt the rest of the large beasts to eat later.
In the photo to your left is Reid Stowe holding enough fish to feed the crew for weeks.
The Universal Love Story Becomes Personal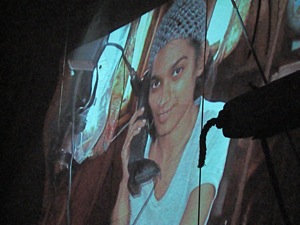 The trip turned into a bit of a love story, as Sonanya and Reid grew closer together and in fact, conceived a child while on their journey. Sonanya took ill in the 8th month of her journey and remained ill for about two months before deciding to leave the mission. It wasn't known at the time that she was pregnant with Darshen, their son.
It was agreed that Reid would continue on for the remaining 800 plus days and so off he went after Sonanya was picked up hundreds of miles off the Austrailian coast by a small boat skippered by the last man holding the record for uninterrupted time at sea.
Sailing The Seas Alone For Two More Years
Reid traveled north to the Galapagos Island using a sextant for navigation. He did this because his water supply was running short and he needed to collect more rain water for his tanks. He had brought along a desalinator just in case, but largely tried not to use it.
As he was heading south again, a friend of his who was tracking his movements on the GPS informed him that he'd drawn the outline of a whale with the route of his trip. So he charted his course to complete the drawing, as drawing figures via his tracked route was one of the things he'd planned to do on this trip.
Fantastic Voyage - Reid Stowe's Journey Home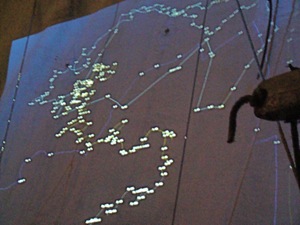 He headed south to the tip of South America, and then headed back north up the Atlantic with about 200 more days to go. Reid told us he spent a lot of time repairing sails, but as he neared the end of his voyage, he backed off some of the boat maintenance work and focused more on his art.
A blue heron came to him one day. It was a large bird with about a six foot wing span and weighing about a hundred pounds. The bird caught Reid by surprise, as he was about 300 miles off the African Coast and figured the bird had lost its way. The bird landed on the boat table and Reid noticed that it had been injured. The bird stayed with Reid for the next ten days before eventually dying.
Reid eventually drew a small heart in the ocean, which was one of the things he'd set out to do at the beginning of the trip. This plan was interrupted by the collision with another boat which threw them into a recovery mode as they had journeyed south in the Atlantic. In the photo to your right is 'GPS Tracking System art', showing part of Reid's journey through the high seas.
Performance Art - Letting Go
During the last leg of the journey, Reid let the wind chart the course as he surrendered himself to the universe. After a period of ecstatic experiences, Reid returned home to Sonanya and Darshen.
Return To Reality - Finding A Publisher & Supporting A Family
Reid's arrival back on the land of the planet was in June of 2010. In the beginning there was a bit of media frenzy as Reid was inducted into Ripley's Believe It Or Not, and his journey made some of the local newspapers and online media. He began shopping the story around, but after many tries came up empty handed.
He believes that one of the reasons he can't sell the story is because he didn't abort the journey when he found that Sonanya was pregnant with his child. After that moment, he started receiving hate emails, and the established media which had first covered his journey, abandoned him.
The Real Journey - From Sea Space Traveler To Father & Family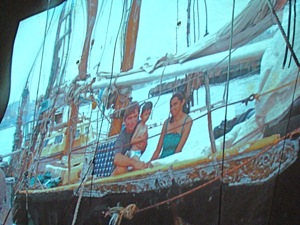 I spoke with Sonanya while visiting on the boat. When I asked what their plans were, she said that one of the things they were considering was to take other travelers on less endurance-oriented journeys – such as a voyage to some of the spiritual places of the Atlantic Ocean. Another option might be to take a group of culturally oriented people to China.
Reid talked about his view of the future. He told us that his perspective had changed since completing his mission. One he had been driven to for about a quarter century. He said that his life had changed now that Darshen had come into it, and that his priorities had changed.
The Untold Story - The Relationship Between Man & Woman
As I thought about the economic / socio-political challenges facing Reid and Sonanya in publishing their story and transitioning to their new life, it occurred to me that perhaps they are only beginning to tell the whole story. The whole story includes the one they'd set out to do in the first place - the story of love. To date, Reid and Sonanya have only talked about universal love. Which is laudible, but lacking in anything tangible to which people can connect to on a personal and human level. I think that the story I heard is only the beginning of another story that has been on my mind for the past month or so, ever since I met them: the story of Reid's and Sonanya's relationship during the period leading up to Sonanya's departure from the boat, the discovery of her pregnancy, how she and he felt when it became known they would have a baby, how it felt to be separated by time and space for so long thereafter, what it was like to reunite and what life feels like and looks like now that they are one family. And of course, there will be the question of whether they will get married ... and live happily ever after.
The Performance Artist's Work - Reflections Of His Life
The artwork he created on the journey contains embedded images of himself and Sonanya in a spirtual and ecstatic love. He is hoping to find a publisher for his story and is currently working on writing it himself.
Reid's concerns have moved from surviving on the highs seas, expressing himself and seeking oneness with the universe, to surviving in modern 21st century NYC. Reid hopes to find a means for providing for Sonanya and Darshen while doing work that is consistent with his artistic expression, leverages his love of the water and is consistent with his beliefs.
Slide Show By Reid Stowe and Sonanya Ahmed Of Their Voyage
Click here to read view a slide show of our night aboard the boat of Sonanya Ahmed and Darshen and Reid Stowe. This program was the kick off event for a summer of exploring Queens waterways compliments of the Flux Factory in LIC.
---
To move through the slide show at your own pace use the controls underneath the photos, or click here to view the photos of Reid Stowe and ship in a photo album.
TBD.
---
LIC Neighborhood - Long Island City Links
$element(adman,groupad,NHoodLIC)$
Click on these advertisements for promotions, discounts and coupons by retailers and restaurateurs in Long Island City LIC and nearby Queens.
Click this link to go to the:
Long Island City Neighborhood or LIC Business Directory
Long Island City Real Estate or Events & Things To Do In LIC
Restaurants In Long Island City or LIC Shops & Shopping
---
$element(adman,groupad,Catgry Wedding)$
Site Search Tips. 1) For best results, when typing in more than one word, use quotation marks - eg "Astoria Park". 2) Also try either singular or plural words when searching for a specific item such as "gym" or "gyms".
$element(bwcore,insert_search,N)$
Click this link to search for something in our Queens Business Directory.
---
$element(adman,groupad,Sectional2 Ad)$
Click the log in link below to create an ID and post an opinion.
Or send this story to a friend by filling in the appropriate box below.
---