Space Womb Births New Talent
Color & Gray Exhibit Open Through Friday
July 16, 2011 / Long Island City Neighborhood / Art Galleries / Queens Buzz. I attended the opening reception of a new photography exhibit at the Space Womb gallery in Long Island City. Space Womb opened a couple of years ago on Jackson Avenue on the street level of the 5 Pointz building located across from PS1 Moma.
The exhibit featured nine artists, seven of whom immigrated from Korea. This lent an Asian accent to the opening and provided a different lens through which one could experience NYC through art photography, as many of the photos shown in the exhibit were taken in the NYC metro area.
The exhibit was entitled Color & Gray and was curated by Ung-Jib Park. I had opportunity to meet and converse with Ung-Jib, as well as Jongwang Lee the Space Womb gallery manager, and eight of the nine photographic artists, about their works.
Click here this weekend to read our report and view photos of the Color & Gray photography exhibit at Space Womb in LIC.
---
Space Womb Births New Talent
The Color & Gray Exhbit In LIC

July 16, 2011 / Long Island City - LIC Neighborhood / Art Galleries in Queens / Queens Buzz. JongWang Lee, the gallery manager, keeps his own artwork back in the office during exhibits. It can be seen as one passes from the exhibit gallery into the small deck / courtyard in the back. He paints in oils and picks a variety of subjects, ranging from Abraham Lincoln to completely abstract modern art. He told me that what he was exploring was what's in our minds and emotions.
Space Womb LIC - Birthing New Art Talent
I asked him about the name, Space Womb. Why that name and what does it mean? He told me that the name is meant to signify a safe, harmonious universe – without fighting to stay alive. A wonderful place. It was also a place where there would be a lot of natural material. And a place to birth new art.
Jongwang [pronounced John Wayne] introduced me to Ung-Jib Park the curator of the exhibit. I asked him what the theme of the show was? He said it was an exploration of color. Not just vibrant colors, but muted ones as well. Hence the name 'Color & Gray'.
Color & Gray Exhibit At Space Womb In LIC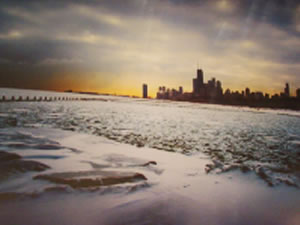 Ung-Jib is one of the artists included in the show. He shot photos in Chicago, from a time when he lived there. He also included photos of of Coney Island in Brooklyn. He talked to me about how color flourishes and defines nature.
I have to admit I was more taken to the Chicago photos than those taken at Coney Island. The Coney Island photos were taken in winter and are a study in loneliness and contrasts. Ung-Jib compared it to the desert. The Chicago photos Ung-Jib captured of the wintry Chicago skyline, the summer Lake Michigan shoreline and the harmoniously muted colors of the Botanical Gardens. He compared the Chicago skyline breaking the flat land plains of the area around it, to the Rocky Mountains of Colorado doing the same.
Photography Exhibits In Queens - At Space Womb LIC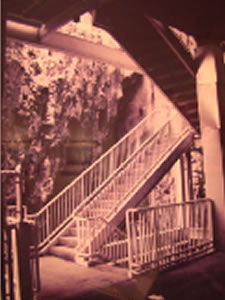 Ung-Jib then introduced me to the other artists the first of which was John Papas. John Papas was one of the two non-Koreans exhibiting in the show. His photos were taken up in Nyack, NY which is located just over the Washington Bridge and a bit north along the Hudson. He had four black and white photos, all of which had a beautiful empty haunting quality to them. John is a man of vision, more than words. When I asked him what he was trying to capture, he informed me that "it just f__king happened."
Just Hong is not only a photographic artist, but also a mother. The photos she had on display were of tunnels. The first of one of her children as they were going through a tunnel on a train and the second of a reflection of a tunnel ceiling in Virginia. In some sense it appears the colors portray the two different experiences in a similar light.
Artistic Photos Of New York City & Surrounding Area
HyunJoo Park showed me three photos taken on a trip to Staten Island and one of Central Park. HyunJoo was exploring man made objects in nature. Since her camera can't encompass the panoramic view of what she sees, she combines several photographs into one to provide the vistas she had on display of the view of Manhattan from Staten Island, as well as a photo of an artwork on the water. The photo of Central Park reminded me of a European painting.
Cigarettes As Art - Obsession Or Catharsis?
Josee Jookee Han had a couple of photos exploring the art of cigarette butts. I asked her what was her cigarette brand? She said she smoked many brands. I made a bad joke about getting the mayor's approval to display cigarettes in public spaces such as the gallery.
She told me her work wasn't intended to be about cigarettes, but rather about things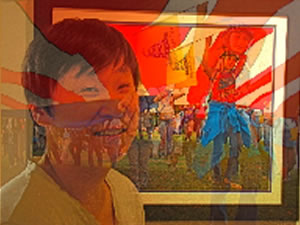 other people throw away or see as garbage. I asked her if she could show me other examples which she did via her iphone. There were photos of garbage bags on the street, waiting to be picked up and in the dark shadows of the night, on a cobblestone street, I could see what she was talking about. So I made another bad joke about her recycling garbage through art.
All joking aside, her work did make me take another look and think about what I was viewing. But there's no getting away from the probability that one will talk about cigarettes and garbage after seeing her work. And where will the conversation lead to …
Lastly, she told me that she sees art, where others don't. And so, in a sense, she opens our eyes.
Tea Party Celebration - Art In Motion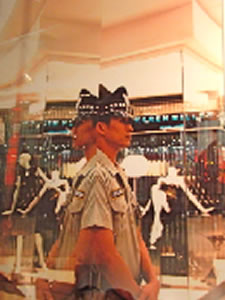 Wonjune Kim photographed a child running under a tea party flag as it was being unfolded. The colors and action are vivid flattery of a frustrated segment of the electorate.
Yuni Zung had photos of a shopping mall guard in Korea and of a lounging dog. In the shopping mall guard she seemed to capture a momentary stillness that is universally known.
All in all it was an interesting photography exhibit at the Space Womb at 22-48 Jackson Avenue in LIC. The Space Womb exhibit displayed photo subjects that were wide ranging, and they provided a relaxing atmosphere which provided the audience with the opportunity to mingle with the artists and engage them in a conversation about their work.
---
LIC Neighborhood - Long Island City Links
$element(adman,groupad,NHoodLIC)$
Click on these advertisements for promotions, discounts and coupons by retailers and restaurateurs in Long Island City LIC and nearby Queens.
Click this link to go to the:
Long Island City Neighborhood or LIC Business Directory
Long Island City Real Estate or Events & Things To Do In LIC
Restaurants In Long Island City or LIC Shops & Shopping
---
$element(adman,groupad,Catgry Wedding)$
Site Search Tips. 1) For best results, when typing in more than one word, use quotation marks - eg "Astoria Park". 2) Also try either singular or plural words when searching for a specific item such as "gym" or "gyms".
$element(bwcore,insert_search,N)$
Click this link to search for something in our Queens Business Directory.
---
$element(adman,groupad,Sectional2 Ad)$
Click the log in link below to create an ID and post an opinion.
Or send this story to a friend by filling in the appropriate box below.
---