What's Playing At 78th Playstreet?
Closed Street Quickly Becomes Intrinsic Part Of Park
August 5, 2011 / Jackson Heights Neighborhood / Queens Buzz. It was a clear comfortable summer night. The temperatures were in the 70's and although a bit humid, still fairly comfortable. The moon lit up the night sky as the kids gathered around the campfire … er rather, movie screen.
Queens World Film Festival - Friday Night At The Movies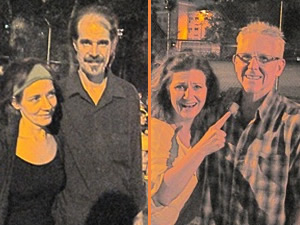 When I met up with the event organizers, the Catos and Madisons, who were looking for electricity. They'd been locked out of the public access box that they'd been able to use the prior week. Don Cato sought to obtain access from the Garden School, while Elliott Madison searched for an adapter to use via his van. If that didn't work he was prepared to rig up a generator. I sensed from their resourcefulness and determination that the 'show must go on'.
Elena and Elliott Madison and Katha and Don Cato are shown in the photo to your left.
Neighborly Sing Along In Travers Park
The crowd had been patiently waiting for a while, but as time passed you could see them stirring a bit. An unidentified woman from the crowd stood up and asked if anyone wanted to sing some songs? The audience replied in the affirmative, and they began singing round the campfire … er rather, the movie screen, while the two men finished gerry-rigging the projector.
78th Playstreet & The Jackson Heights Green Alliance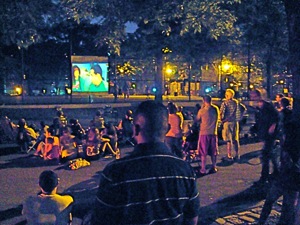 78th Playstreet, as the roadstrip the new movie outdoor theater was encamped on, is a hard fought strip of land that a number of community groups [Jackson Heights Green Alliance & Jackson Heights Beautification Group] worked together to secure for the summer to provide extra space for the Jackson Heights community to recreate. Tonight was one of a number of community events that have emerged spontaneously, coordinated in part by a group called the Jackson Heights Green Alliance.
The Catos had selected a number of "very G" films to be shown, including Puppy Love and the Zombie Pirates From Space. They were going to top the night off with a 22 minute film by Dan Brennan, producer of one of the film festival hits, Maggie Marvel. In the photo above right, the crowd is watching Puppy Love, an independent film shown at the Queens World Film Festival.
Indie Movies In Jackson Heights
I asked Katha Cato what prompted her and Don to take the initiative on sponsoring these movie nights. She nostalgically recalled going to summer movies in the park when she was young-er, enjoying the sense of community and the hanging out, that came along with it. She and Don wanted to share this sort of experience with others in the community. And since they already had the rights to air the independent films being shown, they decided to do so. She also noted that she and Don wanted to make the Queens World Film Festival much more than a one weekend annual event and this was their first initiative in that direction.
So unlike other movies in the park, the movies shown on 78th Playstreet are unique independent films, which Katha told me, "come from around the world and from around the corner". Jack Feldstein, a film producer, was a living testimonial in support of that claim. Jack is an independent producer who hails from Australia, but who recently bought a home in Jackson Heights. Jack's movie will be shown next week. Jack's film, Mana Hatta, is the Indian word for Manhattan and the title of a poem by Walt Whitman. Cheers.
Katha Cato and Jack Friedman are shown in the photo above left, while an unidentified woman from the audience is shown leading a spontaneous sing-along at 78th Playstreet in Jackson Heights.

---
Jackson Heights / Elmhurst Related Info
$element(adman,groupad,Catgry Foodwine)$
Click this link for promotions, discounts and coupons in Jackson Heights, Corona and Queens.
Click this link to go to the Jackson Heights & Elmhurst Neighborhood News / Jackson Heights Restaurants / Jackson Heights & Elmhurst Shopping.
$element(adman,groupad,NHoodJHTS)$
Site Search Tips. 1) For best results, when typing in more than one word, use quotation marks - eg "Astoria Park". 2) Also try either singular or plural words when searching for a specific item such as "gym" or "gyms".
$element(bwcore,insert_search,N)$
Click this link to search for something in our Queens Business Directory.
---
$element(adman,groupads,Sectional Ad)$
---
Click the log in link below to create an ID and post an opinion.
Or send this story to a friend by filling in the appropriate box below.
---