Dorothy Katz Centennial in Jackson Heights Today
Freddie Katz Mother Celebrates 100 Years of Life - One Family's Oral History
May 28, 2019 / Jackson Heights Neighborhood / Queens Neighborhoods / Queens Buzz NYC.
Dorothy Katz moved into an Elmhurst apartment near Jackson Heights in 1956. Little did she know, that she would live there for another 63 years and counting …
Her son, Freddie Katz, a touring guitarists, sound engineer and producer at Sierra Sound NYC, sent me an email with the following missive, "…I've heard that in the UK people who reach their centennial receive a postcard from the Queen, so I think that in
lieu of that, Mom at least should get a sendup from the local newspaper."
Well, being neither a Queen, nor a member of the royal family, nor even the operator of a local newspaper – Freddie and I set to work on a little write up for Dorothy Katz's 100th birthday – which is today.
Freddie wrote down and provided me with, what was once an oral history, of some of his Mother's and Father's lives which follows below. I helped by doing a bit of editing. Dorothy Katz is shown at right, in a photo taken in 1956, shortly after she had married Murry.
Dorothy & Murry Katz - A Brief Family History
Freddie tells us that his parents weren't really big on sharing tons of personal info ... it's just the way they were. And now that his Mother is past the point of being able to remember a lot of specifics, the following is what he can tell us about the lives of Dorothy & Murry Katz.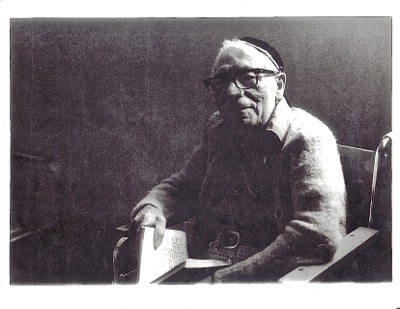 Dorothy Katz was born on May 28th, 1919 at Lebanon Hospital in the Bronx. Her mother's name was Fanny and her father's name was Abraham. The family name was Rosoff. I was named Fredric Avram Katz, after my maternal grandfather, and it's worth noting that Avram is Hebrew for Abraham.
Katz Family Oral History of Surviving WWII
Freddie said that Dorothy's mother Fanny was reportedly one of the only members of her family from Poland to survive the Holocaust. Fanny came over when she was a teenager, maybe with another relative. Most of the remaining family is believed to have died in Poland. In the photo at right is Max Katz, Freddie's paternal grandfather.
---
Dorothy Katz Centennial in Jackson Heights Today
Freddie Katz Mother Celebrates 100 Years of Life
May 28, 2019 / Jackson Heights Neighborhood / Queens Neighborhoods / Queens Buzz NYC. Continued.
Katz Family Oral History of Surviving WWII
Freddie said that his Mother received a postcard from a family friend in Poland after WWII ended, informing her that no one was around anymore. The Nazis were said to have rounded them all up, locked them in the local synagogue, and then burned it down. Freddie said it was a horrible story, but quite a common one from that time and place.
Freddie also said that there may be some other distant relatives related to Dorothy's mother, that wound up in Israel, so he conjectured that there may be extended family there. But it's no one that Freddie Katz's family really / specifically knows. Freddie said that he thought thinks that there were many such stories that came to light after WWII.
Dorothy has a brother, Morton Rosoff, who is included in the far right of the photos shown at right [Dorothy is on the left and Morton's late wife Ann is in the middle]. Morton is two years her junior, as he was born in 1921.
Post War Katz Family - A Family Oral History 1950's, 1960's & 1970's Continued
Freddie's Uncle Morton did a stint in the U.S. Army during WWII and went on to become a Professor of Bio-Chemistry at Columbia University. Morton Katz is published and has written many books on subjects in his field.
Dorothy Katz's father had a business for a few years in Kingston, NY. The family lived in Kingston during Dorothy Katz's earliest years, but by the time she started elementary school the family had moved to Brooklyn near the intersection of Vernon and Nostrand Avenues.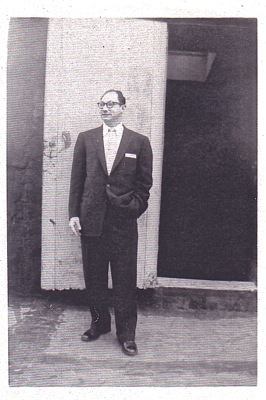 Dorothy Katz went to Girls Commercial HS in Brooklyn, which Freddie believes has become a vocational school in Prospect Heights.
Dorothy worked as a receptionist for the war department government office from WWII until she married Murry Katz in 1956. The newlyweds moved to a great new apartment on 80th Street in Elmhurst. Their son Freddie was born in the apartment in 1963. Murry Katz is shown in a family photo taken in the 1950's.
Murry Katz spent his life working for Local 1102, the Retail Dry Goods and Chain Store Union (AFL-CIO), which is a union that still survives to this day. Dorothy's father-in-law, Max Katz, was a tailor and Freddie surmised that that's probably how his father found his way into this line of work.
Freddie reports that his parents never traveled much. He said that Dorothy and Murry went to Nova Scotia for their honeymoon in the 1950's and that thereafter Murry used to get a two-week vacation every summer. Freddie said that the family would go to places they could drive to. He remembers a vacationing in Montreal, Canada; Hershey, Pennsylvania; and Mystic, Connecticut along with a host of other places - including the Catskills.
Freddie also reports that Dorothy and Murry also visited relatives on his father's side in Berkeley, California several times, as his Dad had two sisters, Ida and Eva, who moved to California in the early 1950's.
Freddie said that Murry's sisters met and married two brothers there - Walter and Eric Frank – both of whom were German / Jewish Holocaust survivors. The brothers managed to get out of Buchenwald, traveled to Shanghai and eventually wound up in San Francisco. Ida married Walter and Eva married Eric, so they never returned to New York City.
Dorothy Katz's Family - 63 Years Living in Jackson Heights & Counting ...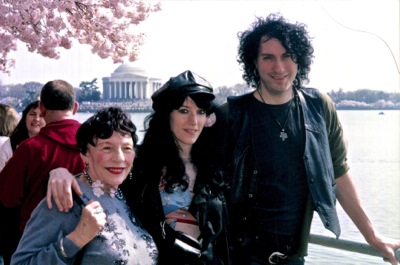 Dorothy's father died of cancer in 1952 and her mother Fanny died in 1968. Freddie was only five years old, at the time of his grandmother's death and didn't have much recollection of her. The only grandparent he remembers is Murry's father, Max.
Murry, Freddie's Dad died in 1998 at the age of 81. Since then Freddie Katz's Mother Dorothy has continued to live in the same Elmhurst apartment.
Freddie used to ask his parents why they never moved to the suburbs - like everyone else living in the building of their same generation. They always told him that they liked being near the city and shopping in the Elmhurst / Jackson Heights neighborhoods. Freddie said that they were certainly entrenched here, as when his father had heart issues, he was cared for and eventually passed away at nearby Elmhurst General Hospital. Dorothy [left] and Freddie Katz [right] are shown in the photo above with singer / songwriter Patti Rothberg in the middle.
Freddie and family gathered for a dinner on Tuesday evening at Jahn's on 37th Avenue. Freddie notes that it's the only restaurant in the neighborhood still in existence from the time when Freddie was a youngster. His Mother still loves the place, so even though it's not particularly fancy that's where they're celebrating Dorothy Katz's centennial birthday.
Happy 100th Birthday Dorothy Katz.
Freddie Katz tells us a bit about himself: My dad Murry was very musical. He was a minor celeb at Grover Cleveland HS in Brooklyn, having sung Gilbert and Sullivan for school performances. I probably inherited my musical proclivities from him. I began playing in rock bands when I was about fourteen, and by the end of the seventies I had played most of the local NYC clubs at the time, including CBGBs, Max's Kansas City, Danceteria, etc. Eventually I went on to play guitar and produce recordings for the likes of Patti Rothberg, Tuff Darts, Chris Spedding, Shakin' Street/Ross The Boss (with whom I just did a month long tour of France), as well as sound engineering gigs for Steven Van Zandt (Little Steven), Patti Smith, Tracy Bonham, Willie Nile, Nicole Atkins, Percy Jones, Book Of Love, amongst others. For more info on Freddie Katz see www.freddiekatz.com.
---
Jackson Heights / Elmhurst Related Info
$element(adman,groupad,Catgry Realestate)$
Click this link for promotions, discounts and coupons in Jackson Heights, Corona and Queens.
Click this link to go to the Jackson Heights & Elmhurst Neighborhood News / Jackson Heights Restaurants / Jackson Heights & Elmhurst Shopping.
---
$element(adman,groupad,NHoodJHTS)$
Site Search Tips. 1) For best results, when typing in more than one word, use quotation marks - eg "Astoria Park". 2) Also try either singular or plural words when searching for a specific item such as "gym" or "gyms".
$element(bwcore,insert_search,N)$
Click this link to search for something in our Queens Business Directory.
---
$element(adman,groupads,Sectional Ad)$
---
Click the log in link below to create an ID and post an opinion.
Or send this story to a friend by filling in the appropriate box below.
---