The Lent Riker Homestead
The Jackson Heights Jewel ... Home of Art, Theater & History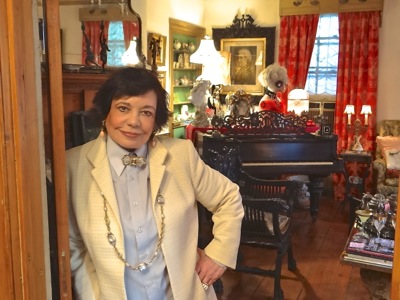 November 12, 2017 / Jackson Heights Neighborhood & Astoria Neighborhood / Jackson Heights & Astoria History Queens / Queens Buzz NYC.
On a Saturday afternoon in late October I made my way north to the Lent-Riker-Smith Homestead on 19th Road near 77th Street which is a stones throw from LaGuardia Airport. Most folks think of the home as being in historic Jackson Heights, but technically it's located in the East Elmhurst neighborhood.
I had arranged to meet Marion Duckworth Smith, the owner and historic curator of the 1656 American Colonial home. The home, and an expansive yard which includes a family cemetery, is tucked away behind a wall of nature which gives the effect of passing through a time warp when you enter into the yard / home.
Marion provides a sort of genteel colonial charm which is both aristocratic and democratic in the same sitting. After brief introductions we started talking about the Rikers, the trials and joy of living in an historic home and pretty much everything else. In the photo above right stands Marion Duckworth Smith in the doorway leading to the main parlor in the historic, American Colonial, Lent-Riker-Smith Homestead.
The Lent-Riker-Smith Homestead & Marion Duckworth Smith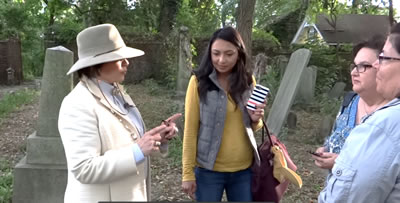 Marion was a photographer and a "Funny Face" model who met Michael Smith in the 1970's. They started dating in 1979 and on the second date Michael introduced Marion to a home he had purchased from a Riker descendant, which dated back to pre-revolutionary colonial times. Marion and Michael married and the home had finally attracted someone willing to give it the attention and care needed following what was possibly a century or more of neglect.
Marion became a combination of urban archeologist, Riker / Colonial historian and historic home / museum curator over the next four decades. And since her husband Michael's death on November 21, 2010, she added historic actress / colonial tour guide to her repertoire.
Marion and I sat in the main parlor for a bit talking about how she'd first come to the home and about her journey of discovery surrounding it ever since. While we talked, descendants of the Riker family were on their way to join us, having come from Texas to visit the home.
---
The Lent Riker Homestead
The Jackson Heights Jewel ... Home of Art, Theater & History
November 12, 2017 / Jackson Heights Neighborhood & Astoria Neighborhood / Jackson Heights & Astoria History Queens / Queens Buzz NYC. Continued.
The Lent-Riker-Smith Homestead & Harriet Ottenstein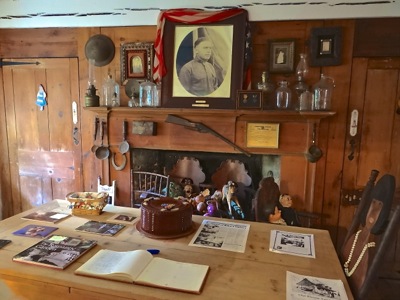 I met Harriet Ottenstein, who is a descendant of Abraham Van Lent Rycke who is her 7th great grandfather and connection to the homestead. Harriet is certified as one of the Daughters of the American Revolution, as one of her relatives [Jacob Lent who is her 3rd great grandfather] was a member of the American Revolutionary guard of George Washington. She showed me the medallion, which she noted was very hard to obtain, as you had to prove all of the familial links.
In the photo above right is Marion Duckworth Smith [left], owner and curator of the Lent-Riker-Smith Homestead, and Harriet Ottenstein [second from right] who is a Lent Riker descendant. Standing in between them in the photo is Harriet's daughter and on the far right is Nancy Circelli, who is a cousin. They are standing in the cemetery of the Lent-Riker-Smith Homestead where many of Harriet's colonial ancestors are buried.
Harriet grew up in New Jersey, and was raised by a Jewish father, Nathan Ottenstein. She recently published a book entitled, Memories of a Jewish Childhood, which captures the flavor of growing up in a Jewish neighborhood near Newark, New Jersey. That said, so as not to confuse, her Rikers lineage is Dutch, not Jewish. Harriet is also a graduate of the Manhattan School of Music with a Masters in Piano Performance and a licensed Registered Nurse.
The photo above right is of the main dining room in the Lent-Riker-Smith Homestead just north of Jackson Heights and east of Astoria in Elmhurst.
The Rikers and the Lent-Riker-Smith Homestead
American & NYC History in Queens
Marion began to tell us about her many discoveries while fixing up and inhabiting the Lent-Riker-Smith Homestead. She found old accounting records in the attic, covered wooden beams in the kitchen, and relics in the basement.
I'll have more at a later date, including more about the early Dutch Colonial family that built the house, and for whom Rikers Island was named, as well as a video of Marion reciting poetry in the cemetery. Marion gives tours of the house on a regular basis, but you must rsvp for a spot on one of the tours. She can be reached via her website at www.rikerhome.com
The photo at right shows a rear view of the historic Lent-Riker-Smith Homestead in East Elmhurst Queens.
More to follow as we get closer to the holidays.
---
Jackson Heights / Elmhurst Related Info
$element(adman,groupad,Catgry Realestate)$
Click this link for promotions, discounts and coupons in Jackson Heights, Corona and Queens.
Click this link to go to the Jackson Heights & Elmhurst Neighborhood News / Jackson Heights Restaurants / Jackson Heights & Elmhurst Shopping.
---
$element(adman,groupad,NHoodJHTS)$
Site Search Tips. 1) For best results, when typing in more than one word, use quotation marks - eg "Astoria Park". 2) Also try either singular or plural words when searching for a specific item such as "gym" or "gyms".
$element(bwcore,insert_search,N)$
Click this link to search for something in our Queens Business Directory.
---
$element(adman,groupads,Sectional Ad)$
---
Click the log in link below to create an ID and post an opinion.
Or send this story to a friend by filling in the appropriate box below.
---