Jamaica JAMS
Good Music, Food, Variety & A Good Time
August 6, 2011 / Jamaica Neighborhood / Live Music / Queens Buzz. I joined the crowd at Jamaica Avenue and 164th Street. It was a comfortable afternoon in the low 80's, with the sun out, and the humidity was subdued.
Wide Range Of Food And Goods Shopping
The food looked good, from freshly roasted corn on the cob and grilled chicken, to ice cold lime, lemonade and fruit juices. Deeper into the festival I found Indian, Carribean and American fare.
The vendors provided a wide range of shopping options. From fashion jewelry, scarves and dresses, to rock music albums and videos. There were live plants, Buddhas, hats for men, women's purses, wallets and belts for men, art work with an Afro-Carribean theme, toys for the kids and back rubs.
Multi-Ethnic & Multi-Cultural In Jamaica Queens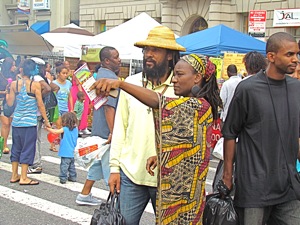 I enjoyed watching the variety of clothing worn by the people walking through the festival. There were Indian saris, Muslim abayas, Carribean beach clothes and colorful African dresses and shirts. On Jamaica Avenue this warm Saturday afternoon, people seemed relaxed, enjoying the activity this festival brings to the neighborhood.
Rhythm & Blues, Pop, Soul & Reggae In Jamaica NY
When I came upon the main stage Robbie Nova was singing. He's an R&B musician has a clear young voice and was singing songs of love and inspiration. One of his top hits is entitled Voicemail, which is about a girlfriend using his password to listen to his voicemails. At the front of the stage there were a number of female fans, swaying to his music while taking photos of him with their phones and camera.
Djhani - Musician With MJ Sound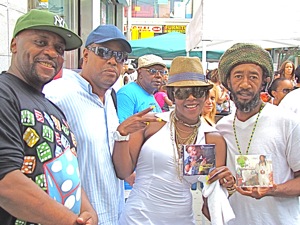 I went back stage and struck up a conversation with several of the performers who were relaxing having finished their own performances. One of them was Djhani, an African American woman with a beautiful voice. While I didn't hear her perform at the Jamaica JAMS event, she gave me a CD which I listened to when I returned home.
I happen to be pretty familiar with African American female vocalists, and as I listened to her pop music, I had difficulty figuring out who she sounded like. Eventually it occurred to me that I was searching my memory banks in the wrong gender, as she has a sound that bears some resemblance to that of Michael Jackson. I say this in praise, as Michael was truly one of the great musicians of our time. To see hear what I mean, type Djhani Ultimatim for a sample. In the photo above left is pop female vocalist Djhani and reggae musician Scepta [far right].
Scepta & Emperor Adechi At Jamaica JAMS
I also had a chance to talk to Scepta. Scepta is a reggae musician who also he gave me a CD to take home. His work has the syncopated island rhythm of classical reggae, and his most recent album is entitled Appealing Thoughts.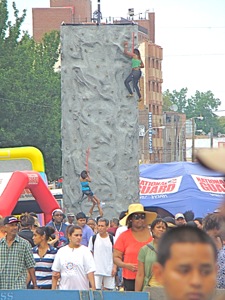 The last performance I heard was by Emperor Adechi. He and his group performed some pop tunes as well, which were also very good. All in all they had a mix of pop, reggae, rhythm & blues, rock, soul and likely other genres as well. Generally the music was somewhere between good and exceptional and well worth the trip.
Eventually I left the main stage area and headed down toward the end of the festival on Jamaica Avenue. I started photographing people in their native clothing, visually sampling the varied mix of colors, designs and cuts. For a few moments, it seemed like the whole world was there. People relaxing to the music, eating street food, shopping and enjoying a fine summer day. At the end of the perimeter there was a rock-climbing wall which was in full use.
Jamaica JAMS. Stay tuned for for these and other things going on in Queens by checking our events calendar and weekly events post. Have a good week.
Jamaica JAMS Photos & Slide Show
We'll post a slide show of the event at a later date.
---
Jamaica & Related Info
$element(adman,groupad,Catgry Foodwine)$
Click this link to go to the Jamaica Neighborhood News / Jamaica Restaurants Guide & Map / Jamaica Business Directory / Jamaica Shopping Center and Map.
$element(adman,groupad,NHoodJamaica)$
Site Search Tips. To find restaurants, shopping or other things to do in any of the neighborhoods, use the search function: 1) For best results, when typing in more than one word, use quotation marks - eg "Astoria Park". 2) Also try either singular or plural words when searching for a specific item such as "gym" or "gyms".
$element(bwcore,insert_search,N)$
Click this link to search for something in our Queens Business Directory containing over 1,000 listings.
---
$element(adman,groupads,Sectional Ad)$
---
Click the log in link below to create an ID and post an opinion.
Or send this story to a friend by filling in the appropriate box below.
---