Rock Concert Dampened By Weather
… but the music played on …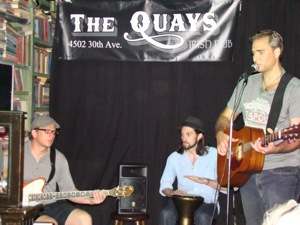 August 21, 2011 / Astoria / Live Music / Queens Buzz. The Astoria Music Now venue had to be changed early Sunday morning due to weather forecast predicting severe thundershowers similar to what we saw a week ago. To make matters worse, it didn't rain Sunday until after 4 pm, and even then it was only a quick light shower … but for those who followed the Astoria Music Now musicians into the Astoria performance venues around the neighborhood ... the music played on.
Given that the venues were dispersed around Astoria, we saw far fewer performances than in prior years, so we'll link back to prior reports to give you a flavor of the concert musicians because there were a number of returning bands this year.
We started at the Quays where we saw two new comers to the festival: The Sorely Missed and Jon Christopher who performed with two new accompanists - Jason playing bass guitar and Ben Nathan percussionist [see photo above]. Click here to read more about the Astoria Music Now - rock concert in Queens.
---
Rock Concert Dampened By Weather
… but the music played on …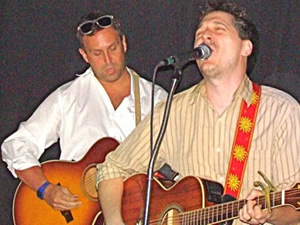 August 21, 2011 / Astoria / Live Music / Queens Buzz. When we arrived The Sorely Missed were on stage at the Quays in Astoria. Marc Barnhill is the lead singer and songwriter, Robert Gelman plays guitar and Mark Altman is the trumpet player for this group. The trio performs a number of folk songs reminiscent of the sixties and seventies, updated with 21st century lyrics and musings. After their performance I met Marc Barnhill who is a college English teacher and who writes the group's lyrics. He introduced me to Robert Gelman who is the head chef at the New York Yankee [Stadium] Steakhouse, so spicing things up with his guitar comes naturally. And Mark Altman is the trumpet player, who also works at Dubway Studios in downtown NYC. You can listen to some of their songs at thesorelymissed.com. Robert and Marc are shown in the photo above right.
Jon Christopher At The Quays In Astoria
Next up was Jon Christopher [see photo in story intro]. He was accompanied by Jason on bass guitar. Jason adds a nice dimension to the music written by Jon. I enjoyed their collaboration on the piece entitled Steam Locomotive. It's a mix of jazz and blues, and the original version - which doesn't include the bass guitar – can be found by googling 'steam locomotive by jon christopher'. It's nice without the bass, but even better with it.

Jon Christopher and Jason also played a piece, with percussionist Ben Nathan, entitled The Nature Of It All. It has a nice beat, with a sophisticated blend of acoustic and bass guitar, nicely complemented by Nathan, the tap dancing percussionist. A bit of rap is included at the end, although the You Tube recording of the rap segment, didn't come off as well as in their live performance at the Quays. They performed other pieces, some of which included folk songs, blues, and a couple of tunes that reminded me of the heavy rock sound of the late 1950's.
Astoria Music Now - Bohemian Hall & Beer Garden
It rained a bit while they were performing. It was the first rain of the day at about 5 pm. I left the Quays and headed to the Bohemian Hall & Beer Garden, epicenter of the re-located Astoria Music Now Festival. As I arrived, rainfall looked increasingly imminent. There were tents in abundance in the BHBG beer garden, and underneath them, the crowd appeared to be enjoying the music, complemented by food and beverage. I looked around and eventually found Justin P. Finley, founder of Astoria Music & Arts and organizer of the Astoria Music Now Festival.
Justin P. Finley - Astoria Music & Arts
Naturally the first question I asked him was when he had to make the call to move the concert. He said it had to be made early Sunday morning, and once made, there was no turning back. I shot a photo of Justin along with Josh Schulman, one of the players in the band Thunderbang. At this point the rain finally started coming down, so I took a few more photos around the garden and headed home.
To give you a more complete feel of the Astoria Music Now event, it's worth pointing out that we reviewed a number of bands which played last year and the prior year. Here are the links to Astoria Music Now 2010 and Astoria Music Now 2009.
---
Astoria Concert Moves Indoors
Concert Moves Indoors As Probability Of Rain Before 7 pm Decreases
August 21, 2011 / Astoria Park / Queens Buzz. Unfortunately the Astoria Music Now Rock Concert organizers, fearful of the possibility of rain, moved the rock concert indoors by splitting up the venues. Ironically, this was done as the probability of the thundershowers hitting our area before 7 pm continued to diminish to below 26%. For those of you who see this before 7 pm Sunday night here are the following venues: Bohemian Hall and Beer Garden, The Quays 45-02 30th Avenue, The Shillelagh Tavern 47-22 30th Avenue and The Hellgate Social at 12-21 Astoria Blvd. Click to Astoria Music Now for a listing of what bands are playing at what times and where.
---
$element(adman,groupad,Catgry Foodwine)$
$element(adman,groupad,Catgry Bikes)$
---
Astoria Related Info
Click this link for promotions, discounts and coupons in Astoria and Queens.
Click this link to go to the Astoria Neighborhood.
Site Search Tips. 1) For best results, when typing in more than one word, use quotation marks - eg "Astoria Park". 2) Also try either singular or plural words when searching for a specific item such as "gym" or "gyms".
$element(bwcore,insert_search,N)$
Click this link to search for something in our Queens Business Directory containing over 1,000 listings.
Send this story to a friend by filling in the appropriate box below.
---
$element(adman,groupads,Sectional2 Ad)$