Jackson Heights 3 AM
Gay Bars, Taxi Stands, Elmhurst Hospital & The Streets
Continued. January 18, 2012 / Jackson Heights / Performing Arts in Jackson Heights / Queens Buzz. The play opens at a gay night club, where a lioness Queens dancer lights up the stage, reveling in all the attention she's getting by the club patrons. She's wearing a tiger outfit, a reddish brown wig and a full barrage of war paint [see photo to right]. She takes a spill and transforms herself into a drama Queen at the drop of a hat. Welcome to Jackson Heights 3 AM.
In the next scene there's the regular guy from Long Island, who has stopped by for a late night drink at another gay bar in Jackson Heights. One of the other characters, a Hispanic man, picks up on the guy's discomfort and strikes up a conversation with him. Through their conversation we learn that the regular guy is really an off-duty Long Island cop, who's exploring his gay persona away from where he might run into anyone who knows him.
The Long Island cop appears to be having a bad night of it. Earlier in the evening he had encountered some crystal meth nut, who he took to the hospital and having drank too much he's forgotten where he parked his car. But the night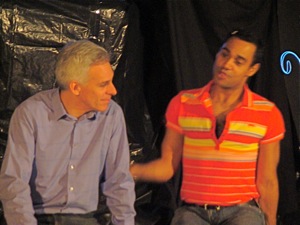 may be saved by the sympathetic Latin lover whose father thinks "nobody is good enough for my son" and who advises the pair to "use condoms". The two are shown in the photo to your left talking in the bar.
Capturing The Essence Of Jackson Heights ... At 3 AM
I spoke with Artistic Director Ari Kreith during intermission about the origination of the play. She told me that she came up with the idea early in 2011 and invited seven writers to work with her on developing the script. About half of the writers she'd worked with on prior plays in the trilogy.
Theatre 167 - Theatrically Reflecting The Neighborhood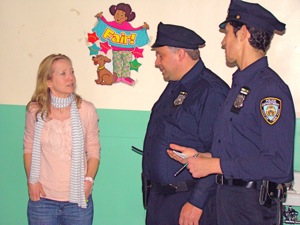 To begin the process, the group of writers went out into Jackson Heights late at night – first as a group and then individually or in pairs – to obtain the grist from which the play was made. Then, in the ensuing months, they collaboratively molded the material into a single cohesive work.
Some of the roles were created specifically for some of the returning performers. And like the writers, about half of the acting cast had participated in one of the prior plays in the trilogy. Ari Kreith, Artistic Director, and two police officers from the cast are shown in the photo to your right.
What's It Like In Jackson Heights Late At Night?
Some of the play revolves around Elmhurst Hospital, one of NYC's largest hospitals and a 24/7 trauma center. Throughout the night medical and administrative personnel keep
the large hospital functioning, caring for those in need. And because the hospital operates 24/7 there's an entire late night community that provides auxilliary services to the hospital and personnel such as take out deliveries, taxi services and cleaning services. And there's also activity generated by those who find themselves in need of medical attention late at night.
In the play, as likely in real life, the hospital corridors and waiting rooms provide a dramatic setting wherein interactions and exchanges between people of varying ethnicities and cultures happen every day and night [see photo to right]. In the play the hospital also provides a setting for poignant, philosophic and romantic interactions.
Romance Abounds In Jackson Heights 3 AM
The connective tissue of the neighborhood is revealed through the random and routinized interactions of daily life - where the communal web is comprised of far less than six degrees of separation.
There's a Bangladeshi cab driver, who lovingly pines for the night shift Latino cleaning woman. While the Latino cleaning woman befriends another woman who seems to take in a lot of late night male visitors [see photo to left].
In the play the guy on crystal meth that the off duty Long Island policeman took to the hospital, seems to wreak havoc wherever he ventures. First in the bar, then at the hospital, and then on the streets where he's almost incarcerated when he runs into two neighborhood police officers.
Caricaturing Night Shift Police Officers In Jackson Heights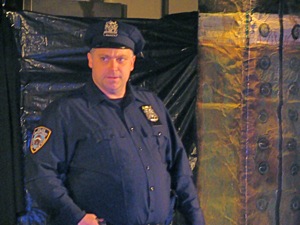 The police officers are treated in comical stereotypes, but this makes their performances no less enjoyable. The older, heavier officer seems to like to drink and takes a tough guy approach to police work; while the younger, thinner policeman advocates a more trusting, sympathetic approach.
In one of the scenes the younger officer appears to take a shine to a single Latino mother who's working late nights as a cocktail waitress … or "Does she have another occupation?", his older, more experienced partner asks. The older experienced partner is shown in the photo to your right.
I encountered these two on-duty police officers when I first arrived to do the preview. They seemed to fit their roles all too well. Perhaps they're really off-duty cops, exploring the actor sides of their personalities.
Community Issues - Like Where Doggy Shouldn't Do It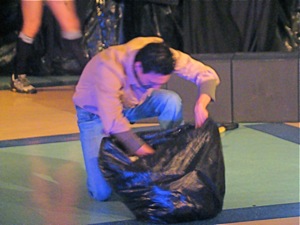 The play strikes a gallows humor note when touching on community issues, such as what to do with doggy doo. One character is a building janitor who has taken a vigilante approach to curing the neighborhood of pets that continually relieve themselves whenever, or perhaps more importantly, wherever they please.
The janitor, remorseful for his vicious deed, had taken out his frustration with petowners on one of their pets. He had gone beyond the boiling point with petowners who didn't heed the signs to have their pets doo it elsewhere. And we encounter him on his way to dispose of 'the evidence' when he bumps into the crystal meth guy. The two of them catch each other in their respective misdeeds, and perform an dark exchange of feelings of self-righteousness.
Love & Romance In Jackson Heights At 3 AM
There are other vignettes scripted into the Jackson Heights 3 AM play, including a late night call center, a take out deliveryman, a female Indian intern, a young Latino soccer player, a hooker, and an insomniac baby and her father. Some fall in love, some become friends, and some just keep journeying through their lives ... in Jackson Heights 3 AM.
Jackson Heights 3 AM is a comedic confection of characters and karma in the cosmically connected community of Jackson Heights.
So if you don't mind a little profanity and have a bit of interest in Jackson Heights, then you'll likely enjoy a bit of the mirth [some very good one liners], drama and romance in Jackson Heights 3 AM. In the photo to your left the Latino cleaning woman and the Bangladeshi cab driver meet in Jackson Heights 3 AM.
Click here to obtain website and contact info for Theatre 167 in Jackson Heights.
Slide Show
Click here to view the slides of Jackson Heights 3 AM by Theatre 167 in a photo album where they will max up to a larger size.
$element(ophoto,photo_slideshow,172,520,,5.00,fade)$
Production Credits & Cast of Jackson Heights 3 AM
Conceived and directed by Ari Laura Kreith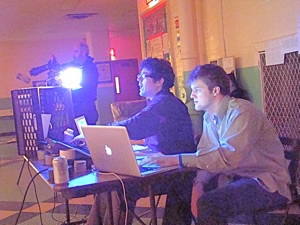 Written by Jenny Lyn Bader, J.Stephen Brantley, Ed Cardona Jr., Les
Hunter, Tom Miller, Melisa Tien and Joy Tomasko
Production Stage Manager—Sean McCain*
Assistant Stage Manager—Sam Coughran
Lighting Design—Kimberly Dowd
Sound Design—Ben Rodman
Costume Design—Georgie Landy
Prop Design—Heidi Wenzel
Scenic Design—Michael Wilson Morgan
Projection Design—Andrew Lazarow
Production Assistant—Will Deitzler
Cast of Characters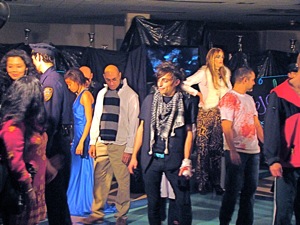 Connie........... John P. Keller*
Brad........... Kevin Hoffman
Vanita........... Roberto Araujo
Pablo........... Ephraim Lopez*
Lindi........... Flor De Liz Perez*
Mikhail........... Sergey Nagorny*
Nakti........... Indika Senanayake*
Gita........... Nina Mehta*
Eddie........... Ross DeGraw*
Sam........... Alex Kip*
Angela........... Cynthia Bastidas
Soma........... Indika Senanayake*
Matt........... Nick Fehlinger
Mr. Mendez........... Varin Ayala*
Devaj........... Rajesh Bose*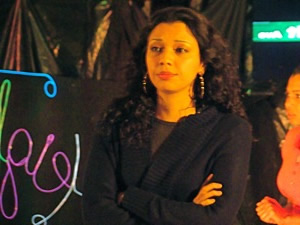 Salim........... Andrew Ramacharan Guilarte*
Adela........... Arlene Chico-Lugo*
Jim........... Neal Mayer*
Alex........... Flor De Liz Perez*
Emeterio........... Marcelino Feliciano*
Caitlin........... Josie Whittlesey*
Ms. Lucy........... Josie Whittlesey*
Prema........... Nina Mehta*
Security Guard........... Nick Fehlinger
Larry........... Nick Fehlinger
Leo........... J.Stephen Brantley
*member AEA
---
Jackson Heights / Elmhurst Related Info
$element(adman,groupad,Catgry Realestate)$
Click this link for promotions, discounts and coupons in Jackson Heights, Corona and Queens.
Click this link to go to the Jackson Heights & Elmhurst Neighborhood News / Jackson Heights Restaurants / Jackson Heights & Elmhurst Shopping.
$element(adman,groupad,NHoodJHTS)$
Site Search Tips. 1) For best results, when typing in more than one word, use quotation marks - eg "Astoria Park". 2) Also try either singular or plural words when searching for a specific item such as "gym" or "gyms".
$element(bwcore,insert_search,N)$
Click this link to search for something in our Queens Business Directory.
---
$element(adman,groupads,Sectional Ad)$
---
Click the log in link below to create an ID and post an opinion.
Or send this story to a friend by filling in the appropriate box below.
---