House Rules Of The Internet Age
Astoria Realtor Goes From Finding Homes To Building Families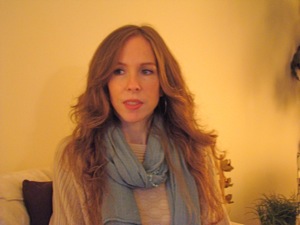 February 27, 2012 / Astoria / Queens Buzz. I met Kim Parshley a few years ago. Kim is a Queens resident who makes her living renting apartments and selling houses for Halvatzis Realty in Astoria. Kim has a disarming charm that fits the moniker of 'the girl next door' and she sees herself as a Matchmaker. In her youth she helped her friends make connections, and as an adult she matches apartment hunters to apartment owners.
In the summer of 2010, while working on another story, I met an older Astoria native with whom I became fast friends. He had a warm avuncular charm and a welcoming home that made me feel comfortable right away. Kim had also recently met this man, and like myself, she quickly took to him as if he was family.
Click here to read more about one of the new social networking websites in Queens.
---
House Rules Of The Internet Age
Astoria Realtor Goes From Finding Homes To Building Families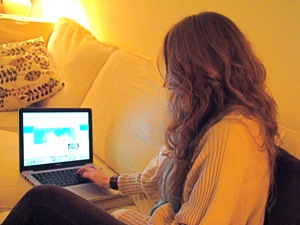 Continued. February 27, 2012 / Astoria / Queens Buzz. The man passed away at the end of 2011, and shortly after that, Kim began building a new social media website called Choose A Family. She launched the site in late November of 2011 and slowly began publicizing it. As of late February 2012 her website had 300 members, from all over the world … literally.
Kim Parshley - Astoria Realtor & Choose A Family Website
To understand the concept, is in some ways to understand a part of Kim. Her father passed away when she was just a girl. She told me that around that same time it seemed like many of her closer relatives began migrating out of the city to other locales. Increasingly she felt distanced from her extended family circle by time and space. In 2007 her mother passed away, leaving her with only a couple of close familial ties – and in search of more.
Social Media - Websites in Queens
Kim compared the Choose A Family site to dating sites. She said she had tried meeting people through dating sites, but ultimately found this process unsatisfying, because the relationships were so narrowly defined. "What's missing… " she told me "… are all of the other platonic relationships that make for a fulfilling life."
Kim set up the site so that someone can create their profile in which they describe who they are and what kind of online relationship they're looking for on the Choose A Family website. Some of the other profile information includes things like family values and morals. Most, if not all, members create an ID that is different from their real name in order to protect their privacy … which is also the customary approach used in online dating sites. Nobody under the age of 18 is allowed on the site, and it's free.
Queens Based Websites - Building Families Online
The site includes twelve different relationship categories, from grandfather / grandmother to son / daughter to friend / mentor. You can search the site for people who might be seeking complementary relationships and email them or enter into a chat room with them for an online conversation.
Kim told me that she's found that it's not uncommon for close friends to assume the roles of family members who have died or are living in faraway locations. And there is a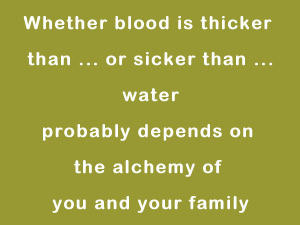 growing body of psychology that explores what brings people together, finding that we are all pieces of a huge puzzle - a human mosaic. Modern psychology is working to understand the alchemy of human connections: why some connections are made, while others are not.
Kim told me that sometimes building bonds with biological family doesn't work. She said that blood and genes oftentimes don't have much to do with establishing a connection. One member on the Choose A Family website seemed to echo this viewpoint, sarcastically commenting that, "sometimes blood is sicker than water" meaning that family relationships can become poisoned. This new phrase ties back to the oft-used quote in praise of traditional familial ties [blood and genes], that says "blood is thicker than water". The gist of this aphorism is that when the chips are down, it's your family you can rely on, not others.
Websites In Queens - Choose A Family.com
Kim explained to me that the Queens based website is still a work in progress. She expects to continue enhancing the site capabilities as she receives comments and feedback from the website audience. For example one of the capabilities we discussed, was to add a set of forums, which as of this posting are not available on the site.
Queens Based - Websites With Global Appeal
We logged onto the site and began viewing the bios of the Choose A Family members. One thing that's striking is that with 300 members, a portion of them are from other
countries. For example there was a man from the Philippines who said he is happy with his family life, but would like to help others by being a mentor.
There was a younger woman in the states who talked about how her life had taken a number of sorrowful turns for the worse, and that she was looking for a friend. And an older woman, whose grown children had left the nest, was looking for siblings. She wrote that she had never had any brothers and sisters in her life, as she was raised an only child.
While some of the stories are about separation and loss, the complementary side of those stories come from people who want to help. Many of the mentors may have previously experienced similar losses, and they want to help others through the troubled waters, because they know 'how it feels'. One woman called Kim to express that exact sentiment. And another member said that he's happy with his family life, and would like to help others find happiness in theirs.
Social Networking In Queens - Kim Parshley of Astoria
Kim said that the general thrust of the site was to help people find other people to play complementary roles in their lives. It seems that Kim, the Matchmaker, is at it again - on chooseafamily.com.
---
$element(adman,groupad,NHoodAstoria)$
Astoria Neighborhood Links
Click on these advertisements for promotions, discounts and coupons by retailers and restaurateurs in Astoria and nearby Queens.
Click this link to go to the:
Astoria Neighborhood or Astoria Business Directory
Astoria Real Estate or Events & Things To Do In Astoria
Restaurants In Astoria or Astoria Shops & Shopping
---
$element(adman,groupad,Catgry Medical)$
Site Search Tips. 1) For best results, when typing in more than one word, use quotation marks - eg "Astoria Park". 2) Also try either singular or plural words when searching for a specific item such as "gym" or "gyms".
$element(bwcore,insert_search,N)$
Click this link to search for something in our Queens Business Directory.
---
$element(adman,groupad,Sectional2 Ad)$
Click the log in link below to create an ID and post an opinion.
Or send this story to a friend by filling in the appropriate box below.
---