Art Imitates Reality in the 'Museum'
Play Portrays People in Art Museum & Parallels Visits to PaintCan Studios during LIC Art Open
May 15, 2012 / Sunnyside / Performing Arts in Queens / Queens Buzz. The Museum was the first play written by Tina Howe back in 1976. It's a mix of comedy and satire depicting the scene in an art gallery on the last day of a controversial artist's show. The play includes about forty characters who come through the gallery to see the show before it ends.
The 'set' is a large artist studio in the PaintCan, which is the affectionate name given the third floor of 10-10 44th Road. The PaintCan is the home to about a dozen or more artists' studios containing a range of artwork and artists that were easily worth the visit themselves. We'll post a separate report on the PaintCan in the coming day.
Click to read our review and see photos of the Museum, a play about art and life, part of the LIC Arts Open at PaintCan Studios
---
Art Imitates Reality in the 'Museum'
Play Portrays People in Art Museum & Parallels Visits to PaintCan Studios during LIC Art Open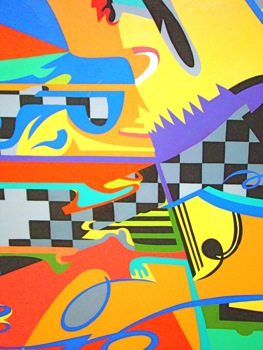 Continued. May 15, 2012 / Sunnyside / Performing Arts in Queens / Queens Buzz. Sofia Geier, Artistic Director of the Unity Stage production company, has a knack .. and perhaps even an appetite, for working with circumstance. I rue the day she finds a permanent venue, because she's been ingenious in finding locales that accentuate her productions. And in the case of Museum, the symbiosis is magnificent. The painting to your right was created by Michele Bonelli of PaintCan Studios in LIC.
Cast of Thousands - In LIC & Queens
Forty characters requires a large cast. Sofia levered the talents of her cast by slotting many of them into more than one role, differentiating them via make up and costumes. The cast was a diverse collection of talented actors and actresses of varied ages, gender and ethnicities – found only in one of the world class melting pots, like Queens.
Looking At Life Through The Lens Of An Art Museum Guard
The play begins in the exhibit gallery with a security guard monitoring the behaviors of its visitors, while we hear in the background, about the shooting of a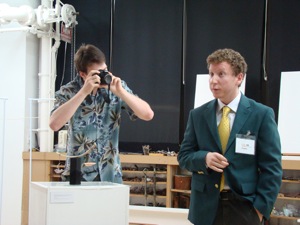 Botticelli painting in a museum in Europe. The security guard stops a photographer from 'shooting' the show, without a permit. And he re-directs several museum-goers into other exhibits, like the colonial quilts & weather vane collection. As you can see, the humor is subtle and droll.
Art, Comedy & Satire - Amidst Artwork in LIC
The controversial artwork includes a number of blank white canvasses and 'an installation' which includes a clothesline and clothespins set up. A group of female gallery visitors share a bit of background about the artist with us, noting that he was raised by parents who were deaf. "How …" one mused, "did they hear him cry?" The other suggested that they felt the vibration of the sound. Broken Silence is the name of the art exhibit.
Art As Theater - Theater As Art - Real Time Yin & Yang in LIC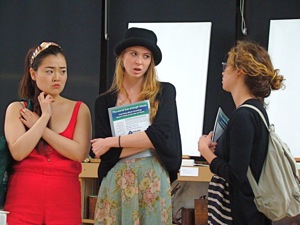 The three young women add dimension to the art work by their separate thoughts and views. One muses that the quality of an art gallery is determined by the view outside. She contemplates the creation of a museum without any art – a museum with only windows looking outside. She muses on, pondering the creation of an art gallery comprised of only mirrors – allowing us to see ourselves ... as we really are. Her friend, meanwhile, takes off on an intellectual tangent, trying to analyze the artwork before her, contemplating landscapes versus seascapes amidst all the white.
The guard has his hands full, as certain members of the museum-going crowd are not well behaved. The guard's intermittent actions, break up the series of short soliloquies, which are the musings of the gallery visitors.
How Do Art & Theater Define Us?
The play uses one room of an art exhibit to provide us with a slice of life in New York City in the 1970's. A gay couple contemplates the demise of all museums, one of them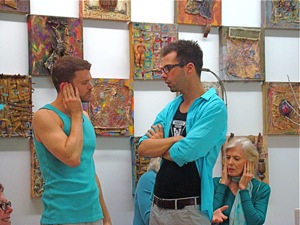 reciting facts and figures of museum cutbacks including personnel, headcounts and finances; while the other contemplates the artwork in reference to his own artwork. The first opines that eventually museums will have to lock up everything and the general public will only be able to see great art in digital form.
They meet up with another couple of older wealthy women – one of whom contemplates aloud, "How would this painting look in my bedroom?"
The point of all of these short observations is that they reveal a little bit about each of us. One art work and so many different opinions – some of which are all about the visitors, and have nothing to do with the art work. The characters are a mix of people we may like and some possibly not, just like any large group of people, where we find ourselves attracted to some and repelled by others, like little electrons and protons bumping along, making our ways through life.
Art Opinion Makers - Humorous Portrayal of the Amateur Celebrity
The exhibit curator comes through the gallery, and is treated like a mini-celebrity as she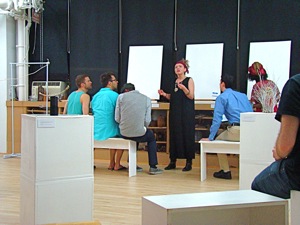 rattles off a litany of aesthetic phrases that capture of the essence of the great controversial artist's work. Like the old sage on the mountaintop, telling us the meaning of life is … a good cup of coffee.
She tells us that, "white encompasses all colors", that the artist is "a conceptual painter" who "reduces painting to its bare essentials" and "oooh, the tones …" I find myself smiling, chuckling along with the narrative, so nicely delivered by April Evans, the actress.
The 'fetching, sketching daughter' of the museum director enters. Followed, in time by two very young girls, one of whom is the close friend of a scavenging artist. I'm not sure I have ever known an artist who isn't part scavenger. And then, as if moved by the subconscious, I gaze around the theater room, at the artwork hanging on the walls surrounding us, first noticing that they are entirely decorated with artworks created from scavenged objets d'arte by Marilee Cooper of the PaintCan [more on her work in a separate report].
Artists As Scavengers - Theme That Hits Marilee Cooper Where She Works
A story is told to us about the scavenging artist. It's a haunting tale, and just as cryptic as the motives behind the shooting of a Botticelli painting in one of the great art museums of Europe.
How this play ends is something that only a museum security guard would know, but I'll drop a few hints – both the artist and his parents visit the gallery. And there may be an artwork theft of horrifying proportions ... or am I kidding?
Museum Performances End May 20th
There are four more performances beginning at 7 pm through Sunday, May 20th, allowing an hour for previewing the artists studios at the PaintCan. The show begins at 8 pm each night and tickets are $18, which you can obtain by calling 917.548.1086 or you can purchase them at the PaintCan just before the show. I believe there is seating capacity of between 30 to 40 each evening.
Acknowledgements & Thanks
Special thanks to Sofia Geier, Artistic Director of Unity Stage Company and also to Michele Bonelli & Marilee Cooper of PaintCan Studios in LIC.
Special thanks also to Director, Dylan Stephen Levers, Assistant Director Stephanie Miller and actors and actresses, all of whom played one or more parts, many of which appear in the slide show below.
The actors and actresses are: Stephanie Barton Farcas, Jimmy Brooks, Willi Burke, Christian T. Chan, Chaunice Chapman, Emily Peterson Dunne, April Evans, Bari Hyman, Kana Hatakeyama, Aaron Matteson, Graciany Miranda, Sarah Natochenny, Carolina Reiter, Cesar Rosado, Peter Rothbard, Rachel H. Troy and Guy Ventoliere.
And of course, special acknowledgement to the people who make things happen behind and between the scenes: Shaina Hurst - Stage Manager, Amy Vlastelica - Set Designer

Marika Kent - Lighting, and Kevin Brouder - Sound Design.
Click to the Queens Buzz events calendar for the LIC Arts Open events this weekend. Click here to read our review of one of the LIC Arts Open studios in 2011, which includes a bit of background about the event. Click here for a map of PaintCan Studios, the location of the play, Museum, and one of the participating studios in the LIC Arts Open. As mentioned a few paragraphs above, tickets are $18 and you can purchase them by calling 917.548.1086.

---
---
Slide Show - Photos of the Museum - Play by Tina Howe
Click here to view the slide show containing photos of the Museum - a play produced by the Unity Stage Company in Sunnyside.
$element(ophoto,photo_slideshow,190,660,,5.00,fade)$
---
LIC Neighborhood / Woodside Neighborhood Links
$element(adman,groupad,NHoodLIC)$
Click on these advertisements for promotions, discounts and coupons by retailers and restaurateurs in Woodside, Sunnyside and nearby Queens.
Click this link to go to the:
Sunnyside & Woodside Neighborhood
---
$element(adman,groupad,Catgry Wedding)$
Site Search Tips. 1) For best results, when typing in more than one word, use quotation marks - eg "Astoria Park". 2) Also try either singular or plural words when searching for a specific item such as "gym" or "gyms".
$element(bwcore,insert_search,N)$
Click this link to search for something in our Queens Business Directory. Also check out Taste of Sunnyside.
---
Click the log in link below to create an ID and post an opinion.
Or send this story to a friend by filling in the appropriate box below.
$element(adman,groupads,Sectional2 Ad)$
---