Queens of Angels Art Fair in Sunnyside
Community Art Show Evolving
June 19, 2012 / Sunnyside / Art Shows in Queens / Queens Buzz. The fifth annual Queen of Angels Art Fair was held on Sunday, June 17th at the Queen of Angels Church on Skillman Avenue. The annual art fair is organized by the Sunnyside Artists, which caters to neighborhood artists, but space permitting welcomes artists from other neighborhoods.
While this art fair is always good, it somehow seems to get better with the years, aging gracefully like some of the free wine donated by Lowery Wine & Liquors that is served at the annual event. There were somewhere between 30 and 50 artists at the event, offering a variety of works for viewing and sale. Works included watercolors and oils on canvas, prints & post cards, sculptures and photography. To above right is Virgina Asman whose work has taken a turn toward pop art.
Click here to view our report with photos of the Queen of Angels Art Show in Sunnyside.
---
Queens of Angels Art Fair & Sunnyside Artists Org
The art show began five years ago and continues to evolve. The first year the show was held in the church basement and since then it has been hosted on the street level floor. Each year the church seems to deliver more loft-like space, allowing for more comfortable browsing in what increasingly feels like an art gallery. It's worth remembering that centuries ago, the church was one of the premiere sponsors of artworks all over Europe from the Sistine Chapel to Turkish Byzantium. The photo to your right shows local scenes done by Simon Donikian on post cards.
The art show is a community event, with the wine being served for free and donated as noted above, and the food coming from local restaurants including Dazies, De Mole, the Sugar Room and Nodus, which is sold for $5 in a walk-about lunch.
One can easily bump into neighbors known, or strike up conversations with neighbors not known, as the art at the tables allows for conversational engagement that could begin and end just about anywhere. The following is a compendium of snippets of information I gathered about the artists, most of whom reside in Sunnyside. And the photo slide show below allows you to click through the gallery browsing the range of works and talent only blocks away. You can also use the search function above to view prior years reports and photos of the Sunnyside Art Show.
Sunnyside Artists at Queen of Angels Art Show
Most of the artists noted herein are from Sunnyside. Casey Concelmo is a returning artist who displayed painted fictitional / reality scenes such as the one shown in the photo slide show. Simon Donikian is also a returning Sunnyside artist. Simon captures life on the Sunnyside / Queens streets and sells the images on postcards or as paintings. Returning artist Lorraine Varley displayed some of her watercolor paintings, which range from still life to neighborhood scenes. The photo to your right [and in the slide show] depicts a man at a neighborhood market in an impressionistic / modern interpretative piece. Lorraine also sells some of her images on postcards.
Michael Koch of Sunnyside paints using oils, depicting scenes of the city as well as portraits of cultural icons. Nicole Adamonis showed only a few works, in black and white, of people. Her works capture ephemeral moments, such as the quiet defiance in the smoker's eyes. Chris Demarecaux had photos on display, such as the one shown in the slide show, depicting a neighborhood scene in black and white.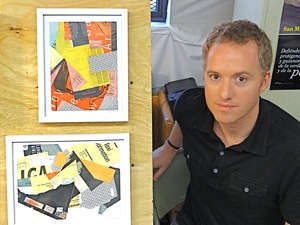 Rafael Herrin-Ferri created a number of modern collages using ticket stubs and other printed materials. He's an architect and his work reminded me of some works shown at the Richard Meier Model Museum [see photo to right]. Shirl B does a variety of work, which she described as ranging from whimsical to modern. Arlene Fiorella's oil paintings provided a variety of still life scenes and a few with people in them, such as the young dancer's silhouette. Bridy Crawford paints nature's beauty and modern abstract in oils and acrylic [not sure].
Emelia Andrzejewska uses animals as the subject of her artwork. While Junko Kanna has done a number of impressionistic still lifes capturing classical New York scenes such as the one shown in the slide show of Central Park. Marcella Katic uses oils to create modern interepretive scenes.
Lisa O'Hara mixed photography and painting to create her works, which ranged from very real to abstract. Luis Morales uses a special technique to create his works, beginning with etchings which we show in the slide show. Mustafa Yasar uses an ancient Turkish painting technique called water marbling, wherein the paint is floated on the water and the canvas or paper is laid atop it. Each design is unique.
Betty-Ann Hogan and her husband had a number still life paintings of flowers on display. While Virginia Asman's work seems to have changed a bit versus prior years, as she appears to be moving in a modern / pop art direction. And Hans Von Rittern showed works that mixed photographic images with modern abstract art. Hans is shown in the photo to your right.
All in all the art show provided visitors and shoppers with a range of artistic offerings. And it also provided a relaxed casual milieu for folks to mingle and converse about art and life in the neighborhood, while sampling some of the food from local restaurants and some of the wine from one of the local wine stores. On my walk home I noticed that the nearby cafes were full of art-lovers who had decided to extend a relaxing afternoon.
Queen of Angels Art Show Photos & Slide Show
Click here to go directly into the photo album to view photos of the Queen of Angels Art Show in Sunnyside.
2437 – Queen of Angels Church in Sunnyside

2442 – Richard Drake patron of the arts in Sunnyside, Becky Barker past president Sunnyside Chamber of Commerce, Patricia Dorfman Founder of Sunnyside Artists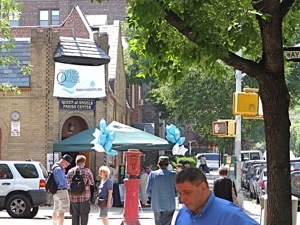 2446 – Casey Concelmo artist from Oz & Sofia Geier Founder of Unity Stage Theater Company
2449 – Simon Donikian artist extraordinaire & world traveler & photographer Luke Adams of the Sunnyside Chamber of Commerce
2451 – Artist Lorraine Varley with one of my favorite watercolors and Ilona Babrov
2452 – Juri & Michael Koch artist
2453 – Nicole Adamonis artist with Woman with Cigarette
2454 – Chris Demarecaux photographic artist with work
2456 – Manny Gomez Sunnyside Artists President
2461 – Rafael Herrin-Ferri artist and architect
2472 – Shirley Bomzer artist
2473 – Arlene Fiorella artist with painting of friend's grand daughter doing yoga
2476 – Bridy Crawford artist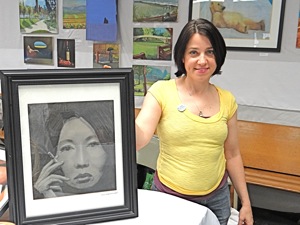 2477 – Emelia Andrzejewksa artist with friends and pet dog
2479 – Friend Momoe with Junko Kanno artist
2481 – Marcella Katic artist with work
2489 – Lisa O'Hara artist assisted by friend's son
2495 – Luis G. Morales artist with wife
2499 – Mustafa, Frances Caufield, Manuel & Patricia w/ raffle prize
2501 – Mustafa Yasar water marbling technique paintings
2502 – Betty-Ann Hogan artist with husband Stephen Weiner
2505 – Virginia Asman artist
2506 – Hans Von Rittern photographic artist
Use the arrow keys on the slide show control panel to move through the slide show at your own pace.
$element(ophoto,photo_slideshow,196,660,,5.00,fade)$
---
---
Sunnyside Neighborhood / Woodside Neighborhood Links
$element(adman,groupad,NHoodSSWS)$
Click on these advertisements for promotions, discounts and coupons by retailers and restaurateurs in Woodside, Sunnyside and nearby Queens.
Click this link to go to the:
Sunnyside & Woodside Neighborhood
Sunnyside Business Directory or Woodside Business Directory
Sunnyside & Woodside Real Estate or Events & Things To Do In Sunnyside & Woodside
Restaurants In Sunnyside & Woodside or Sunnyside & Woodside Shops & Shopping
---
$element(adman,groupad,Catgry Foodwine)$
Site Search Tips. 1) For best results, when typing in more than one word, use quotation marks - eg "Astoria Park". 2) Also try either singular or plural words when searching for a specific item such as "gym" or "gyms".
$element(bwcore,insert_search,N)$
Click this link to search for something in our Queens Business Directory. Also check out Taste of Sunnyside.
---
Click the log in link below to create an ID and post an opinion.
Or send this story to a friend by filling in the appropriate box below.
$element(adman,groupads,Sectional2 Ad)$
---