Queens The Home Of Jazz
Bix Beiderbecke Concert in Sunnyside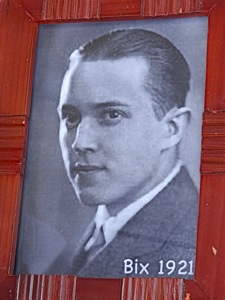 August 19, 2012 / Sunnyside / Live Music in Queens / Queens Buzz. In the 1930's and 1940's Queens became known as the home of jazz because so many great jazz and blues musicians lived here. Some of the greats such Louis Armstrong, Dizzy Gillespie, Billie Holliday and Ella Fitzgerald all had homes in Queens.
Bix Beiderbecke didn't live long enough to become as well known as those mentioned above, but he was considered one of the great jazz musicians of his time and, over time, he's being given greater recognition for his contributions to the art of the music.
Bix died in Sunnyside on 46th Street between Queens Blvd and 43rd Avenue where he spent his final days. And every summer since 2001, Sunnyside has celebrated his life with a musical get together.
Click here for more about the history of Bix Beiderbecke and the Bix Beiderbecke concert in Sunnyside.
---
Queens The Home Of Jazz
Bix Beiderbecke Concert in Sunnyside
Continued. August 19, 2012 / Sunnyside / Live Music in Queens / Queens Buzz. I attended the Bix Beiderbecke concert where I met Paul Maringelli, the founder of the Bix concert and the drummer in the David Shenton & The Sunnyside Wolverines band when it performed for Sunnysiders during the Summer Streets festival sponsored by the Sunnyside Shines BID. The Sunnyside Drum Corps and Ray Osnato's South Shore Syncopators also performed at the concert. Mr. Osnato studied under and will perform music arrangements by Bill Challis, who did some of the arrangements for Bix and the Paul Whiteman Orchestra.
Paul had written up a brief history of Bix Beiderbecke's life for which I received permission to edit and publish as it is shown below. While getting permission, I also obtained a brief history of the origination of the Bix Beiderbecke concert itself.
History of Bix Beiderbecke Concert in Sunnyside Queens NYC
Paul Maringelli is an artist and musician by trade. He once worked for Harvey comics which is the publisher of Caspar the Friendly Ghost and Richie Rich. He moved into the Sunnyside / Woodside neighborhood in the late 1980's and eventually settled here, not far from where Bix used to live.
He had first heard of Bix through an art teacher in the 1970's. But he didn't really pay much attention to Bix until he saw a Ken Burns documentary on jazz in 2001, at which time he learned that Bix lived in Sunnyside and that Japanese, Brazilian and other jazz fans from around the world would come to Sunnyside to see where Bix died.
He began to search for more information about where Bix lived in Sunnyside, including a trip to the library, numerous inquiries with local organizations and he came up without an answer. Eventually he was able to get in touch with the author of a book about Bix and the author gave him Bix's address and put him in touch with Chris Beiderbecke, the grand nephew of Bix Beiderbecke [Bix's brother's grandson].
Founding Of The Bix Beiderbecke Concert in Queens
Ironically Paul lived just across the street from Bix's former residence. And as it happens, Paul had found the information not long before the 70th anniversary of Bix's death on August 6, 1931. Paul went to talk to Father Joseph Jerome of All Saints Episcopal Church, which was just down the street, to see if there was anything they could do to commemorate the 70th of Bix's death. Paul knew Father Jerome was also a jazz enthusiast. They also contacted Assemblywoman Cathy Nolan who was supportive of the effort and helped get the first commemoration going.
So on August 6th, 2001 there was a small gathering in the courtyard of All Saints Church to commemorate the death of Bix. A trumpet player blew a couple of tunes and taps. A few photos were brought along for people to see. And the Bix legend was kept intact. A New York Times reporter came and covered the story.
The next year people inquired as to what they were going to do this year. Tony Lana of the Sunnyside Drum Corps took up the torch, as Paul was unable to continue it himself that year, and the third year it began to gain even more traction and a jazz band came to play.
Sponsorship of Bix Beiderbecke Concert in Sunnyside
In 2008 Sunnyside Shines got involved and helped sponsor the event. It went from nighttime performances in the courtyard on Bix's anniversary, to performances in the daytime in the street turned pedestrian mall in the afternoon.
And over the years some jazz greats have come to the concert as well as Beiderbecke relatives. Paul gave special mentions to quite a number of folks who help make the concert possible including John Vogt of Sunnyside Shines, Lily Gavin of Dazies, and Audie owner of the Xmas Shop [Paul please help].
Paul Maringelli of Sunnyside - Brief History Of Bix Beiderbecke's Life
Here's a brief history of Bix Beiderbecke's life authored by Paul Maringelli of Sunnyside.
On Saturday, Aug. 4, 2012 the 12th annual Bix Beiderbecke Memorial Jazz Concert, sponsored by the Sunnyside Bix Beiderbecke Memorial Committee and Sunnyside Shines, took place from 3 - 7.30 pm on 46th Street between Queens Boulevard and Greenpoint Avenue in Sunnyside. The memorial concert honors Beiderbecke, one of the most renowned jazz musicians of the 1920's and a one-time resident of Sunnyside. He died at his home on 46th Street on August 6, 1931 at the age of 28.
Leon Bismark Beiderbecke - Cornet Player, Pianist and Composer
Leon Bismark 'Bix' Beiderbecke was born on March 10, 1903 and died on August 6, 1931. Bix was an American jazz cornet player, jazz pianist and composer. A native of Davenport, Iowa, Beiderbecke taught himself to play cornet largely by ear.
Bix first recorded with The Wolverines in 1924 and performed with them at the Cinderella Ballroom at 1600 Broadway in the heart of Times Square. After leaving the Wolverines Bix played with Frank Trumbauer in the Detroit-based Jean Goldkette Orchestra. Leaving Goldkette, he worked briefly in Adrian Rollini's band.
Bix Beiderbecke & The Paul Whiteman Orchestra NYC
In 1929 Bix left to join the best-known and most prestigious dance orchestra in the country: the New York-based Paul Whiteman Orchestra. During that period he performed alongside Bing Crosby, Jimmy and Tommy Dorsey [aka The Dorsey Brothers] and Jack Teagarden. He left the Whiteman band in 1930 due to illness.
Beiderbecke's Last Days in Queens NYC
Thanks to his friend George Kraslow, a bass player who also worked as a building manager in Sunnyside, Beiderbecke found a small apartment #1G at 43-30 Bliss (now 46th) Street in Sunnyside. Sometimes during the hot summer of 1931 Bix would play his cornet in the night. It was said that one neighbor remarked that it was so beautiful she didn't want the musician to stop.
During a heat wave on August 6, 1931, sick with fever due to lobar pneumonia and a bad case of the delirium tremens, Bix became delirious. At about nine-thirty in the evening George Kraslow heard noises coming from across the hallway. "His hysterical shouts brought me to his apartment on the run," Kraslow told Philip Evans in 1959. "He pulled me in and pointed to the bed. His whole body was trembling violently. I ran across the hall and called in Dr. Haberski, to examine him. She pronounced him dead."
Young Man With A Horn - Bix Beiderbecke Jazz Musician
Bix Beiderbecke died in his Sunnyside, Queens apartment at the young age of twenty-eight. His death gave rise to one of the original legends of jazz. In magazine articles, musicians' memoirs, novels, and Hollywood films; Beiderbecke has been reincarnated as a romantic hero - the original "Young Man with a Horn".
Bix Beiderbecke - Post Humous Music Awards
In 2003, to mark the hundredth anniversary of his birth, the Greater Astoria Historical Society and other community organizations spearheaded by Paul Maringelli and The Bix Beiderbecke Sunnyside Memorial Committee, erected a plaque in Beiderbecke's honor at the apartment building in which he died in Queens.
That same year Frederick Turner published his novel 1929, which followed the facts of Beiderbecke's life fairly closely, focusing on his summer in Hollywood.
At the beginning of the 21st century, Beiderbecke's music continues to reside mostly out of the mainstream and some of the facts of his life are still debated, but scholars largely agree that he was an important innovator in early jazz.
 
Bix's Post Humous Honors include:
1962 - Inducted into Down Beat's Jazz Hall of Fame [critics poll]

1971 - Bix Beiderbecke Memorial Society established in Davenport, Iowa founded annual jazz festival and scholarship

1977 - Beiderbecke's 1927 recording of "Singin' the Blues" inducted into the Grammy Hall of Fame 

1979 - Statue erected at LeClaire Park in Davenport, Iowa

1979 - Inducted into the Big Band and Jazz Hall of Fame

1980 - Beiderbecke's 1927 recording of "In a Mist" inducted into the Grammy Hall of Fame 

1993 - Inducted into the International Academy of Jazz Hall of Fame

2000 - Statue dedicated in Davenport, Iowa
2003 - Plaque erected in Bix honor in Sunnyside, NY

2004 - Inducted into the inaugural class of the Lincoln Center's Nesuhi Ertegun Jazz Hall of Fame

2007 - Inducted into the Gennett Records Walk of Fame in Richmond, Indiana
Researched and written by Paul Maringelli of Sunnyside and brought to our attention through an email from James Bray of Sunnyside Shines.
---
Photos of Bix Beiderbecke & Concert in Sunnyside
The following slide show contains photos taken at the Bix Beiderbecke concert in Sunnyside. Click here to go directly into the photo album containing photos of Leon Bix Beiderbecke & the Bix concert in Sunnyside.
$element(ophoto,photo_slideshow,203,660,,5.00,fade)$
---
Sunnyside Neighborhood / Woodside Neighborhood Links
$element(adman,groupad,NHoodSSWS)$
Click on these advertisements for promotions, discounts and coupons by retailers and restaurateurs in Woodside, Sunnyside and nearby Queens.
Click this link to go to the:
Sunnyside & Woodside Neighborhood
Sunnyside Business Directory or Woodside Business Directory
Sunnyside & Woodside Real Estate or Events & Things To Do In Sunnyside & Woodside
Restaurants In Sunnyside & Woodside or Sunnyside & Woodside Shops & Shopping
---
$element(adman,groupad,Catgry Foodwine)$
Site Search Tips. 1) For best results, when typing in more than one word, use quotation marks - eg "Astoria Park". 2) Also try either singular or plural words when searching for a specific item such as "gym" or "gyms".
$element(bwcore,insert_search,N)$
Click this link to search for something in our Queens Business Directory. Also check out Taste of Sunnyside.
---
Click the log in link below to create an ID and post an opinion.
Or send this story to a friend by filling in the appropriate box below.
$element(adman,groupads,Sectional2 Ad)$
---