The Play For Rent Runs This Week
New Theatrical Production at LaGuardia in LIC
October 22, 2012 / LIC Neighborhood / Dance & Theater in Queens / Queens Buzz. I attended one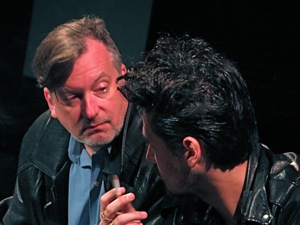 of the dress rehearsals of For Rent last week at LaGuardia Community College in LIC. It was the second time I had seen the play and it gets better with each viewing. The play is a working project of the LaGuardia Performing Arts Center.
The play is set in modern day Istanbul, the thriving capital of Turkey, and quite possibly one the next members of the European Union. Istanbul has become the New York of its country - where extreme wealth resides side by side with extreme poverty. Rather than ignore or hide these people's plight, this play dives right into their midst; with all the violence, sex and fragility that permeates their impoverished lives. In the photo to your left is Sadik, the boss, with Ferhan the cheat in For Rent at LPAC in LIC.
Click here to read more about the limited engagement of For Rent at the LaGuardia Performing Arts Center in LIC.
---
The Play For Rent Runs This Week
New Theatrical Production at LaGuardia
October 22, 2012 / LIC Neighborhood / Dance & Theater in Queens / Queens Buzz. Continued. The play For Rent was written in 2007 by internationally acclaimed Turkish playwright, Ozen Yula. Yula's works have focused on the dynamic - and at times wrenching - changes affecting modern day Turkish life.
Life in Modern Day Istanbul in Queens Theater
Turkey has, for millennia, been at the crossroads between east [the Islamic Middle East] and west [Christian Europe]. Today this cultural struggle continues to permeate Turkish culture socially, politically and economically.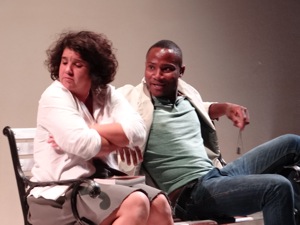 The evolution of Turkey into a modern nation can be seen by its rapidly changing economy. Today about 36% of the Turkish workforce is engaged in agriculture versus about 3% in the U.S. Due to automation and modernization, the agrarian sector of the Turkish economy is shedding jobs quickly and as a result, tens of thousands of young people are leaving their small villages, to seek opportunities in big cities like Istanbul.
Such sweeping economic and social changes are not without their social and human downside. And it is this downside that Ozen Yula explores when he wrote the play For Rent. In the photo above Simay, played by Turkish actress Ayca Damgaci, rebuffs an approach by a Turkish street hustler named Orac, played by Jimmy Brooks.
LaGuardia Performing Arts Center - Original Theatrical Productions
The play is being produced and directed by Handan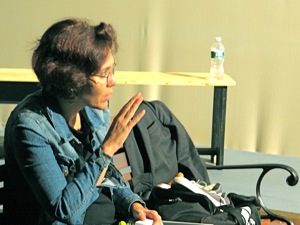 Ozbilgin, a Turkish American citizen, who teaches at LaGuardia College. Handan told me that she chose this play because it tells a real story people that people would prefer to ignore. And indeed, after watching the play, I can tell you that this is not a play with a Frank Capra ending.
While the play was translated into English; Handan and her students spent last year working to adapt the cultural illusions and humor to suit the American audience. Handan said that some of the humor just didn't translate.
In the photo above Handan Ozbilgin is directing the cast during a dress rehearsal of For Rent at the LaGuardia College Performing Arts Center in LIC.
For Rent - The Play - At LaGuardia Community College
The play opens in an Istanbul city park where drug addicts and hookers hang out, looking to make a few bucks or score. Sadik, played by Steven Hitt, is the boss in this section of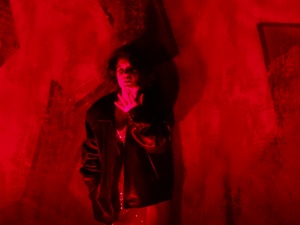 the park, and he gets a take on all jobs. Ferhan, played by Fernando Torres, is a sneaky up-and-coming boss, who tries to cut deals on his own and randomly betrays those who trust him.
The focal person in the play is, Simay, a young underage woman who has grown up all too quickly. Simay is in love and she draws us in with her playful tenderness and unconditional love for Adnan.
Adnan, played by John Costentino, is an honest, innocent character in the play who never seems to catch an even break. Something happens to Adnan, which breaks Simay's heart. Simay was played by actress Ayca Damgaci, who traveled here from Turkey this fall to play in this important role. She is shown in the photo to your right.
Simay does a monologue where she talks about the importance of parenting, looking out for and after one's children so that they don't end up prostituting themselves to make a few dollars or Turkish lira. And she does a modern day Shakespearean soliloquy, full of prose and philosophy; about life, love and death.
Modern Theater in Long Island City Queens
Simay's monologue is embraced by video footage projected on four screens surrounding the stage. One of the screens is floor to ceiling, while the other three have artwork on them, thus altering the visuals.
I enjoyed the use of video in this production as it was used to augment the production, rather than overpower it. Frequently modern producers become so infatuated with the technology that they become so engrossed in communicating with themselves and they forget to communicate with their audience. But in For Rent, this was happily not the case. In the photo to your left is Adnan doing a performance piece with video clouds in the background.


Life On The Streets & In The Parks Late At Night - Beware
There's a second story woven into the fabric of the play. It is about Sadik's harsh, violent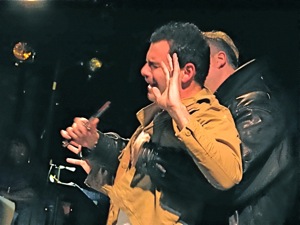 world of prostitution. Sadik is a smart man, who sees the world pragmatically as well as philosophically, and has a few gentle dreams of his own. As previously mentioned, Sadik is portrayed by Steven Hitt who you might think is a nice guy if you met him in the halls of the LaGuardia Performing Arts Center. But if you ever see him in a park late at night - based on what I saw of his performance in For Rent - I'd recommend you run as fast in the opposite direction as you can. In the photo to your right is Adnan being threatened by Sadik in the play For Rent.
All in all it was a textured production, based on a thought-provoking tale, which was well supported by a professional crew of stage operatives and technicians. There is seating for about 40 people each night, so I recommend buying tickets on line or calling to rsvp. Click here to go to the LaGuardia Performing Arts home page where there's a link to their online tickets.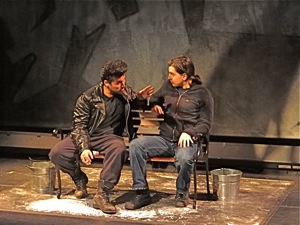 Nelson Patino plays Korhan and Jimmy Brooks plays Orac, both of whom are supporting characters in the play. There's profanity and theatrical violence so I'd give this an R rating, if you're thinking of bringing the kids.
Carmen Griffin is the Theater Operations Manager and Joseph Morrissey is the Video Designer. Natalie Zhang is the Stage Manager. I also met the lighting, video and sound crew, who after some cajoling, allowed me to photograph them at work which you can see in the photo slide show below.
In the photo to your left are Fernando Torres as Ferhan, and Nelson Patino as Korhan in the play For Rent at the LaGuardia Performing Arts Center in LIC. Click here to go to the LaGuardia Performing Arts Center home page on this site where you will find a link to buy tickets online.
Photos of For Rent at LaGuardia Performing Arts Center in LIC
Click here to view photos of For Rent at LaGuardia Performing Arts Center in LIC.
$element(ophoto,photo_slideshow,213,660,,5.00,fade)$
---
LIC Neighborhood - Long Island City Links
$element(adman,groupad,NHoodLIC)$
Click on these advertisements for promotions, discounts and coupons by retailers and restaurateurs in Long Island City LIC and nearby Queens.
Click this link to go to the:
Long Island City Neighborhood or LIC Business Directory
Long Island City Real Estate or Events & Things To Do In LIC
Restaurants In Long Island City or LIC Shops & Shopping
---
$element(adman,groupad,Catgry Queens)$
Site Search Tips. 1) For best results, when typing in more than one word, use quotation marks - eg "Astoria Park". 2) Also try either singular or plural words when searching for a specific item such as "gym" or "gyms".
$element(bwcore,insert_search,N)$
Click this link to search for something in our Queens Business Directory.
---
$element(adman,groupad,Sectional2 Ad)$
Click the log in link below to create an ID and post an opinion.
Or send this story to a friend by filling in the appropriate box below.
---