Occupy Astoria, LIC & Queens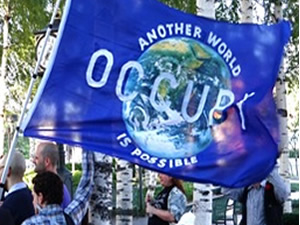 August 20, 2012 / Astoria & LIC / Social Issues in Queens / Queens Buzz. I attended the Occupy the Citi rally on June 27th at Citibank to learn a bit more about the Occupy Astoria / LIC movement. As it was only a few days before a number of large Queens high schools were to be re-opened as new schools [on July 1st, 2012], I found several teachers participating who were anxious about being able to keep their jobs. There were also a number of musicians in attendance and one of them was playing a tune on his sax.
As this was a protest of sorts, I had kind of expected to see a more angry crowd, but instead I encountered more of a mellow mood. Disillusionment? To be sure, but also some good old fashioned American optimism and tenaciousness right alongside it.
Click here to become more familiar with the Occupy Astoria LIC movement in Queens, as we introduce you to some of its members and include a photo slide show.
---
Occupy Astoria, LIC & Queens
August 20, 2012 / Astoria & LIC / Social Issues in Queens / Queens Buzz. I met up with Ted Alexandro who is one of the Occupy Astoria LIC founders, along with Mark Marone and Stacy Mazurek. Ted told me that the primary objective of the leaderless Occupy Astoria LIC group is to create community around cares for issues that people in the neighborhood have in common.
Occupy Astoria LIC - Participants
We took a quick tally of the professions of the folks in attendance and they included artists, performers, musicians, teachers, social workers, iron & steel workers, security guards and electricians. I didn't find any doctors, lawyers, accountants or bankers in attendance – except perhaps those exiting the building.
Mission Of Occupy Astoria LIC Movement
Ted told me that, "When people gather to speak the truth to those with power – that's a good day. Letting them know that we know what they're doing. That the culture of fraud and deceit is causing real damage to real people. That's why we're here." He told me this in a relaxed conversational tone, but I could sense the conviction within. As people exited the Citibank Towers, many of the protesters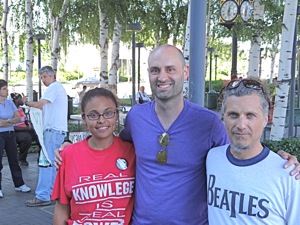 reassured those exiting that they weren't protesting Citibank workers – they were protesting corporate greed.
How Occupy Astoria LIC Got Started 2011
I asked Ted how he got started on this journey into social movements. And he told me that it sort of just happened. One day he headed down to the Occupy Wall Street to participate in making a statement to those in power. As he stood there in Zuccotti Park he noticed someone who'd he repeatedly seen in the Astoria neighborhood. He introduced himself to Mark Marone and together they, along with Stacy Mazurek started Occupy Astoria LIC.
Occupy The Citi by Occupy Astoria LIC June 2012
It was a beautiful evening, dry with temperatures in the 70's so I lingered a bit longer. The musicians
played a few tunes, I photographed those of them who were left [the protest was almost over]. During this time I heard some things about what was going on in the public school system, what's going on with environmental regulations, and at the end, the Reverend Billy arrived … but I had to leave.
Occupy Astoria LIC - Meetings
The Occupy Astoria LIC group will meet Sunday, August 26th at the Greater Astoria Historical Society for its monthly General Assembly from 2 – 4.30 pm. This summer they have been hosting movie nights at the Church of the Redeemer in Astoria, showing a number of movies that deal with social issues such as Food, Inc., WikiRebels – The Story of Wiki Leaks, The American Ruling Class and the New Jim Crow. It's also worth noting that they have a website at www.occupyastorialic.org.
---
$element(adman,groupad,NhoodAstoria)$
Astoria / LIC Neighborhood Links
Click on these advertisements for promotions, discounts and coupons by retailers and restaurateurs in Astoria and nearby LIC.
Click this link to go to the:
Astoria Neighborhood or Astoria Business Directory
Astoria Real Estate or Things To Do In Astoria Events
Restaurants In Astoria or Astoria Shops & Shopping
---
$element(adman,groupad,Catgry Foodwine)$
Site Search Tips. 1) For best results, when typing in more than one word, use quotation marks - eg "Astoria Park". 2) Also try either singular or plural words when searching for a specific item such as "gym" or "gyms".
$element(bwcore,insert_search,N)$
Click this link to search for something in our Queens Business Directory.
---
$element(adman,groupad,Sectional2 Ad)$
Click the log in link below to create an ID and post an opinion.
Or send this story to a friend by filling in the appropriate box below.
---