Taste of Sunnyside
Food, Fun & Fanfare at Taste of Sunnyside 2012
October 15, 2012 / Sunnyside / Sunnyside Restaurants / Queens Buzz. It was a rainy evening as I headed down to the third annual Taste of Sunnyside at the Sunnyside Community Service Center on 39th Street. I looked forward to seeing what new restaurants and people I would encounter - as the restaurants that participate in the Taste of Sunnyside change from year to year.
The main hall seemed less crowded than last year, due in part because the large sit down tables had been moved out to make more space. This had the effect of allowing people more room to mingle; but you pretty much had to stay on your feet throughout most of the event. The crowd that had gathered was ethnically diverse, somewhat youthful and hungry.
Click here to view our report on the Taste of Sunnyside Restaurants.
---
Taste of Sunnyside
Food, Fun & Fanfare at Taste of Sunnyside 2012
October 15, 2012 / Sunnyside / Sunnyside Restaurants / Queens Buzz. It didn't take long before I began my culinary voyage of sampling the foods of a dozen and a half restaurants in the Sunnyside neighborhood. See photos in slide show of all the food and people mentioned herein.
Takesushi - Japanese Restaurant in Sunnyside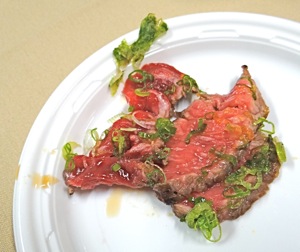 I began with Takesushi, which is located at 43-46 42nd Street. Robin and his wife had prepared three dishes to provide tasters with a notion of what they might find at Takesushi Japanese restaurant. The first was a sea urchin with grated Japanese yams and wasabi. The cool sea urchin practically melted in my mouth, as it slid down my throat, followed by the soft yams. This was followed by the Beef Tataki which was a nice cut of beef, cooked rare and gently covered with a Ponzu sauce. But my favorite, amidst these delicacies was the soup. The soup was made with Eringue mushrooms [taste like porcini mushrooms], potatoes, carrots, onions, milk, cream and with shrimp and scallions. It was a thick creamy soup that tasted very much like an excellent New England clam chowder.
Aubergine Cafe - Modern Cafe in Sunnyside
Gary O'Neill of Aubergine Café was standing at the table next to Takesushi. In 2004 / 2005 Aubergine became one of the first of the new generation of restaurants to spring up along Skillman Avenue [at 50th Street] in Sunnyside.
One of the dishes Aubergine serves, is a delicious vegetarian chili. The vegetarian chili is made of slowly cooked black and red kidney beans, and includes green peppers, onions, a touch of salt and cayenne pepper. It was served with a sprinkle of cheddar cheese and sour cream atop some nacho chips, parts of which had 'become one' with the beany broth.
Soon after I photographed the vegetarian chili [above right], it delightfully disappeared.
It had 'become one' with me. I commented that the vegetarian chili seems like one of those dishes that would perfect for game watchers of a Sunday afternoon American football game. Gary smiled and informed me that Aubergine Cafe now delivers in the neighborhood.
The vegetarian chili was followed by the Aubergine chicken curry. Aubergine inserts moistly cooked chicken into a cool mixture of honey, ginger, grapes, mangoes, red onions and curry served on a lettuce leaf and topped with a grape tomato [see slide show below]. It was a flavorful dish, so I asked Gary how it came about that someone from Ireland came to serve a curry dish. He explained that Indian culinary influences permeated the British Isles, as well as Ireland, so that today curry is one of the spices commonly found in the Irish spice rack. Gary is accompanied by Gina, the Aubergine Manager and Victor the Chef in the slide show below. In the photo to your left are a couple of tasters from the Taste of Sunnyside.
Jeff Wants More Food in Sunnyside - White Castle
Jeff Orlick, food officionado of Queens Food Trucks and other adventurous culinary voyages, had come to the Taste of Sunnyside to sample the offerings of Sunnyside restaurants. I asked him if he would pose in front of a food vendor of his choice.
He surprised me by selecting White Castle burgers and fries. I asked him why and he told me that he's always been a White Castle fan. He said they serve good old-fashioned American burgers and fries, and he went on to add that his folks used to go to one of the Queens White Castles [Elmhurst] on dates when they were young. Jeff is seen posing with the White Castle crew at the Taste of Sunnyside.
Sunnyside Shines BID & Sunnyside Chamber of Commerce
John Vogt, President of the Sunnyside Shines BID, and Swain Weiner, the newly elected president of the Sunnyside Chamber of Commerce, were both on hand to make some remarks about all of the fine restaurants in Sunnyside, and more specifically at the Taste of Sunnyside.
Both men said they were bullish on the future of the Sunnyside neighborhood, and that fine dining is a part of people's attraction to the neighborhood.
City Councilmember Jimmy Van Bramer also made some remarks a little later in the evening [scroll down to JVB photo].
Swain Weiner and John Vogt are shown in the photo above left.
Sidetracks Bar & Restaurant in Sunnyside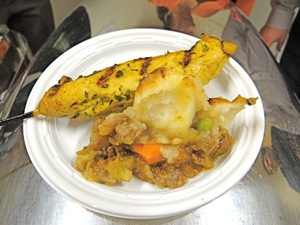 I stopped at the Side Tracks table where they told me that they had already run out of their crab cakes – one of the house specialties. Side Tracks is located just off the 46th subway stop on Queens Blvd toward 45th Street.
Side Tracks was also serving a chicken satay and shepherd's pie. The shepherd's pie is one of the Irish island mainstays. It is also called a cottage pie, which is made of ground meat [beef or one might guess lamb], and a mix of vegetables, gravy and topped with mashed potatoes.
Mary Flannery and Eamon of Sidetracks Bar & Restaurant are shown in the slideshow below.
The Copper Kettle Restaurant in Sunnyside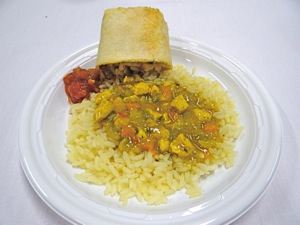 The Copper Kettle is in its 18th year. It recently opened a beer garden in back of the restaurant at 51st Street and Skillman Avenue. I sampled the chicken curry with rice, which was a warm curry dish with red and green peppers, carrots, onions and curry. It was very gently spiced.
Patrick Tunney, the Copper Kettle owner, also remarked about how Indian curry had made its way into the Irish spice rack by way of the cultural exchanges that came about from trade within the British Empire centuries ago.
Patrick Tunney, and Caesar Dominguez, are shown in the slide show below.
Romanian Restaurants in Sunnyside - Bucharest Romanian Restaurant
Unbeknownst to many, Sunnyside continues to be a destination for the Romanian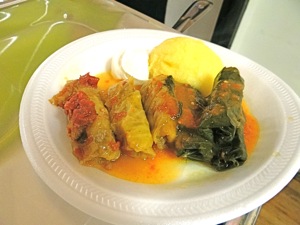 immigrant community. The Bucharest Restaurant, on 40th Street just north of Queens Blvd, was named after the Romanian capitol, and has been serving traditional Romanian foods since 2008. Bucharest was offering a mix of soup, stuffed cabbage with polenta, and stuffed grape leave. Romanian foods have both European and Middle Eastern culinary influences, which reflects their geographical position as a crossroads between western Europe and the Middle East.
The stuffed cabbage contained ground pork, onions and rice, with a little salt and pepper added. The dish was topped with a tomato sauce, slices of cabbage leaves and accompanied by a scoop of polenta. The Romanian stuffed grape leaves, or dolma as they are called in Romania, consisted of ground beef, rice, diced onions, salt, pepper and paprika.
Owner Vasile Badaluta and Manager Camelia are shown in the slide show below.
Bliss 46 Bistro - French American Restaurants in Sunnyside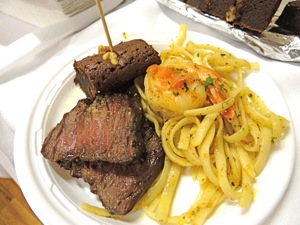 Next to Bucharest was Bliss 46 Bistro, which is located on Queens Blvd near 46th Street. Bliss 46 Bistro is a family run restaurant, which opened last year and offers a French American menu. Bliss 46 Bistro was offering cut slices of hanger steak accompanied by a side of shrimp linguine.
The hanger steak was of a generous portion and cooked medium well, while the shrimp linguine was simply flavored and served with a fresh chocolate brownie. Bliss 46 Bistro is celebrating their first anniversary this Thanksgiving.
Melissa, Carlos and Lidia are shown in the slide show below.
Oyster Bars in Queens - Murphy's Oyster Bar in Sunnyside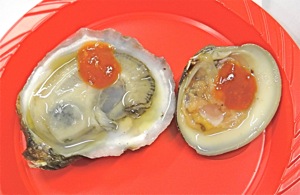 I had met Michael Murphy on several occasions before tonight. Michael hails from Galway on the western side of Ireland. Within the past year or so, Murphy's Bar, on the corner of Skillman Avenue and 49th Street, has remodeled and transformed itself into a fresh oyster bar. Murphy's is the only fresh oyster bar in Sunnyside and one of about three in Queens.
I asked Michael why he decided to transform Murphy's into an oyster bar. Michael explained that he grew up in an oyster culture and it was a trade he had known well since his youth. He went on to tell me that his home county has been the home to the Galway International Oyster Festival since 1954. And he believed that the Sunnyside neighborhood has been evolving into a culinary destination with the capacity to embrace this seafaring specialty.
I sampled a fresh oyster topped with cocktail sauce. It was indeed fresh, very soft and cool. Michael went on to explain that he buys fresh Atlantic oysters caught off the eastern end of Long Island on a Thursday night, receives them Friday morning, and sells them out on Friday and Saturday nights. The key to oysters, he explained, is to buy them fresh and then sell them fresh, and in the interim keep them chilled. He surmised that the oysters served at Murphy's are some of the freshest you'll find anywhere in NYC. Michael has been running Murphy's since 2006.
Owner Michael Murphy [far left] is shown with Manager Steven Murphy and Nino.
Go Natural - Healthy Foods / Organic Foods in Sunnyside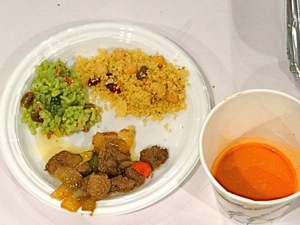 Phil Valenti, owner of Go Natural, had left left Lexis Winter and Amanda Lopez in charge of the Go Natural table at the Taste of Sunnyside 2012. They served a vegetarian steak made of wheat protein – not soy – which they told me the customers really liked. They told me it's a healthy protein meal for vegetarians. The wheat protein steak was garnished with red pepper, onion and garlic. If one allows for my personal preference for real meat, it tasted pretty good.
Go Natural also served garbanzo beans, cranberries and onions on a bed of couscous. This dish provided a symphony of distinct flavors all working in harmony under the direction of the same conductor or chef. This was followed by a taste of fresh carrot juice, which was absolutely purely delicious, and the basmati rice. The basmati rice was topped with spinach, pesto, red peppers, peanuts and onions, and tasted even better than it sounds.
Photos of Lexis and Amanda are shown in the slide show below.
Bliss Street Station - Irish Restaurants in Sunnyside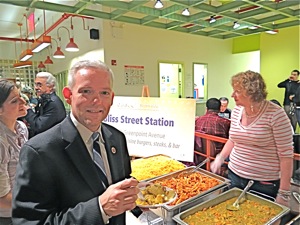 I ran into City Councilmember Jimmy Van Bramer at the Bliss Street Station table. The CM had come to participate in the Taste. He made a few remarks thanking the attendees for coming, while encouraging them to eat out more often.
Bliss Street Station is located at the corner of 47th Street and Greenpoint Avenue, where its been since 1989. Bliss Street Station was serving penne ala vodka, chicken curry and shepherd's pie. I went with the shepherd's pie, which was a moist, flavorful ground beef, with ground bits of carrots, celery and onion – topped with mashed potatoes. It was flavorful and sweet, cooked just like in the old country.
It's worth noting that Bliss Street Station is also host to one of the more vibrant karaoke nights in the Sunnyside / Woodside / Queens area. I was informed that they host karaoke every night beginning about 9 or 10 pm; but was told that Saturday night is their best night when between 20 - 30 people perform.
Photos of CM Van Bramer and owner Ambrose Curly and Manager Liz Taylor are shown in the photo slide show below.
Dog and Duck Restaurant in Sunnyside
The Dog and Duck restaurant was one of my last stops. The Dog and Duck is located along Skillman Avenue at 46th Street. I had met Padraigh Connolly at the Taste of the World in Flushing this Spring. Tonight he was accompanied by Chef James Dolan and Whitney Elliott.
The Dog and Duck was offering a whiskey bread and ham atop a cut potato with cabbage and cream. I tried the whiskey pudding which was a baked bread, flavored with an Irish whiskey and the latter dish was pretty much exactly as it sounds. You can also read / view more about the Dog and Duck in the Taste of the World report filed earlier this year.
You can seee Padraigh, James, Whitney and a young helper [sorry didn't catch the name] in one of the slide show photos below.
Bar 43 - Sports Bars in Sunnyside & Queens
Bar 43 was my last stop. Bar 43 is located on 43rd Street off 43rd Avenue [hence the name]. Nick Murphy and Danny Tepox were serving spicy atomic chicken wings. Bar 43 is a sports bar that opened in 2007 and has become one of the local hotspots.
Nick told me he's been participating in Taste of Sunnyside since it began three years ago. Nick is shown talking to Deidre Feerick who has a couple of wings on her plate, and Danny and Nick are shown in the slide show below.
Unfortunately there wasn't enough time to visit all of the food tables. I missed eight restaurants including: 1) Dazies Italian restaurant on Queens Blvd between 39th and 40th Streets, 2) Dee Thai on Queens Blvd near 46th Street, 3) Pink Icing Bake Shop between 44th and 45th Streets, 4) de Mole Mexican restaurant on 45-02 48th Avenue, as well as 5) Arriba Arriba on Queens Blvd near 40th Street, 6) Oasis Pizza on 40-02 Queens Blvd, 7) New York Style Eats at 45-02 Queens Blvd and 8) Pete's Grill on Queens Blvd at 45th Street. We reviewed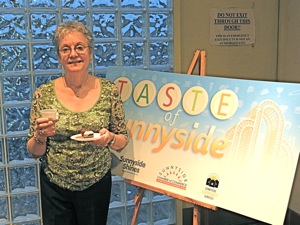 Dazies, Dee Thai and Pink Icing in our report on Taste of Sunnyside last year. And de Mole and Dazies are featured in several Taste of the World 2010 reports which you can find using the search box in the upper left corner of this page. And for good measure, here's a link to Taste of Sunnyside in 2010.
Janet Hohenstein, Office Manager of Sunnyside Shines, is shown standing next to a large sign promoting A Taste of Sunnyside. Janet was one of the key people who organized The Taste of Sunnyside 2012 for the two sponsors, the Sunnyside Shines BID and the Sunnyside Chamber of Commerce.
Lastly, it's worth re-stating that part of the fun of the Taste of Sunnyside is that the participating restaurants change each year. This year the event seemed to have an Irish accent, so in parting I say ... Slainte [which is Gaelic for good health].
Also check out our Sunnyside Restaurants section and our Queens Restaurants section.
Photos of Taste of Sunnyside
The following slide show contains photos taken at the Taste of Sunnyside. Click here to go directly into the photo album containing photos of Taste of Sunnyside.
$element(ophoto,photo_slideshow,212,660,,5.00,fade)$
---
---
Sunnyside Neighborhood / Woodside Neighborhood Links
$element(adman,groupad,NHoodSSWS)$
Click on these advertisements for promotions, discounts and coupons by retailers and restaurateurs in Woodside, Sunnyside and nearby Queens.
Click this link to go to the:
Sunnyside & Woodside Neighborhood
Sunnyside Business Directory or Woodside Business Directory
Sunnyside & Woodside Real Estate or Events & Things To Do In Sunnyside & Woodside
Restaurants In Sunnyside & Woodside or Sunnyside & Woodside Shops & Shopping
---
$element(adman,groupad,Catgry Foodwine)$
Site Search Tips. 1) For best results, when typing in more than one word, use quotation marks - eg "Astoria Park". 2) Also try either singular or plural words when searching for a specific item such as "gym" or "gyms".
$element(bwcore,insert_search,N)$
Click this link to search for something in our Queens Business Directory. Also check out Taste of Sunnyside.
---
Click the log in link below to create an ID and post an opinion.
Or send this story to a friend by filling in the appropriate box below.
$element(adman,groupads,Sectional2 Ad)$
---