Fashionable Clothing in Queens
Come To Fashion Show Features Local Designers & Models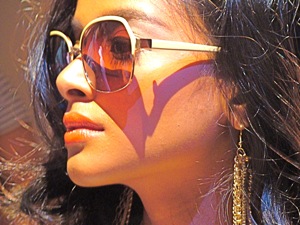 April 30, 2012 / Jamaica NY / Fashion in Jamaica Queens / Queens Buzz. On April 21st the first annual Come To Fashion show stepped out into the fashion world in the Jamaica section of Queens. The fashion show featured local fashion designers, local models and local retailers doing business in Jamaica Queens.
When I arrived at the Jamaica Performing Arts Center, I was pleasantly surprised by top tier polished look and feel of the entire production. Jamaica Center, the Jamaica BID, had hired a designer to create an original venue through which to present the models and the designers' clothing and those of us who attended were able to mingle with the models via the unique set design used for the show.
Click here to view photos and read our report about the Come To Fashion show - fashionable clothing & fashions in Jamaica Queens.
---
Fashionable Clothing in Queens
Come To Fashion Show Features Local Designers & Models
April 30, 2012 / Jamaica NY / Fashion in Jamaica Queens / Queens Buzz. There were four designers featured this evening, unfortunately, two of whom had already presented their fashion lines. I gathered information about designers Louie-Lewellyn and Anasa Greaves before, during and after the show which I will share with you below.
What I did see was both fun and impressive. The Jamaica Center sure knows how to throw a fashion party. For starters, I want to return to the runway design. Jamaica Center hired Annotto Studio of Brooklyn to come up with an innovative way to showcase the works of the talented local designers.
In the photo to your left, one of the models of the Come To Fashion show sports a Riddim Driven T, designed by Patricia Chin.
Fashion Set Designer For Come To Fashion Show - Jamaica
I spoke to the set designer for the Come To Fashion show, who told me that she wanted to enable audience close ups and more interaction between the audience and the models. So she came up with the idea to lay slightly raised platforms in the audience viewing area, which was set cocktail party style, with standing room only. There were seats in the balcony for those who needed a rest.
One of the women presenting the designers and their fashion lines was Danielle Gray, the well known blogger of The Style & Beauty Doctor. We managed to snap a photo of her with Laurel Brown, the Executive Director of Jamaica Center, who also did some speaking at the event.
Oyato - Women's Fashion Clothing Designers in Queens
Following the break, the models came out onto the front stage, holding sculpted poses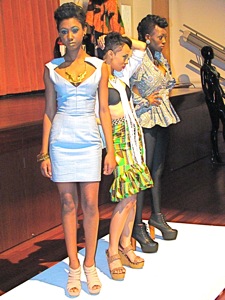 for moments at a time, before moving onto another position. As mentioned above we were to see two designers works - those of Odunayo Aye [Oyato women's line of fashionable clothing] and Patricia Chin [Riddim Driven fashion line of casual men's clothing].
The Oyato designs were presented first. A women's wear line comprised of a whole portfolio of different looks. She uses a wide array of color in her lines, as well as cuts. One of her outfits was a tight one-piece short skirt and top. The top showcased the woman's bare skin above the bustline in front and her upper back. The one-piece outfit came in a soft baby blue color, leaving the men with their mouths open.
There were two pants suits shown at the same time. The top and bottom came in matching color and the cuts were as conservative as the outfits themselves. There were also two dresses, each cut with some similarity, but one revealed some of the woman's mid section, while the other did not. The Oyato line provided color variety including some patterned works, as well as an array of solid colors.
See the slide show below, which starts with the Oyato line of clothing, followed by a brief intermission, followed by the Riddim Driven line of men's clothing, the slide show ends with an assortment of clothing provided by national retailers such as Rainbow, the Gap, R.A.G. and Nine West.
Social Aspect Of Come To Fashion Show in Jamaica Queens
There was an opportunity to mingle with the other people in the crowd. Not just while watching the models pose on the slightly raised floor runways, but also between designers. Hors d'oevres were served during the interims.
I met a couple of young women, who in the spirit of the evening, posed a bit themselves as I photographed them enjoying being in attendance at one of the best fashion shows in Queens. It was during this time that I also had an opportunity to speak with the set designer, Mahmoudah Young, who explained some of the things about the set design mentioned above.
Patricia Chin - Riddim Driven Men's Fashion in Jamaica Queens
Patricia Chin isn't slowing down. Patricia Chin is best known for her successful music business, VP Records, a reggae music label. A few years back, Patricia turned the business over to her sons to manage and began a fashion line of clothing that has a connection to the spirit of reggae.
The Riddim Driven men's clothing line is comfortable, casual and targeted toward the more fashionable urban man. Patricia hires designers to help her with the clothing line and applies her business sense to making things work.
The handsome, hip, young men came out on stage sporting the soft flowing fabrics of the Riddim Driven line. They wore T's, casual shirts and pants. One could easily imagine being somewhere else, like a Caribbean hotel or resort.
In the photo to your left, four men model the Riddim Driven line of men's clothing at the Come To Fashion show in Jamaica Queens.
Louie Llewellyn - Men's Fashions In Queens
Young menswear designer Louie-Llewellyn is a graduate of Lasell College of Newton, Massachusetts which is has a well known and highly regarded fashion program. He went on to the Academy of Art in San Francisco where he received his MFA [Masters of Fine Arts]. Louie-Llewellyn burst onto the fashion scene in 2010 when he was given an opportunity to present his work during the Mercedes Benz Fashion Week in NYC in 2010.
Louie-Llewellyn is the name of the menswear fashion line. The core of the collection appears to be based on grades of black and white, with splashes of color added in select garments, such as an aqua-blue pair of pants, or in the design of a T-shirt. The Louis-Llewellyn fashion line has a casual look to it, with extra room for comfort. He describes his clothing in terms of a man's power and sex appeal, telling us that how a man carries himself is a big part of it.
Louie-Llewellyn is shown in the photo above on the right.
Anasa Greaves - Unisa Eurani Women's Fashionable Clothing Line
We also missed the presentation of Unisa Eurani by Anasa Greaves. Anasa graduated with a BFA [Bachelors of Fine Art] from the Academy of Art University in San Francisco. Anasa Greaves worked in a women's wear collection which was shown during Fashion Week in NYC. Anasa started her own line of women's wear a few years ago, which are said to have British style influences.
The Unisa Eurani line of women's clothing shown at the Jamaica Center Come To Fashion show provided women with a variety of styles and options. The black and peach line included flowing knee length dresses, short skirts and sleeveless tops. As I mentioned, we missed these two top designers works this year, but we will be sure not to let that happen again.
The dress on your right was designed by Odunayo Aye as part of the Oyato fashion line of women's clothing.
Fashion Friendly In Queens - The Models
The following is a list of the men and women who modeled the clothing at the Come To Fashion show hosted by Jamaica Center.
---
Ashley Mietta
Hervin White
Sasha Joseph
Loubens Louis
Shermon
Matthew Talbot
Rodean Minto
Dominique LaRoux
Francis Edouard
Kyleah Galdamaz
Shawnay Hutchinson
Maryam Adebisi
Vanessa Williams
Latisia Rivera
Ifey Ibeh
Jeremy Rose
Alison Green
Jerin Lisa Wu
---
Come To Fashion & Jamaica Center
The Come To Fashion Show is the brainchild of Jamaica Center, the Business Improvement District organization. Downtown Jamaica is one of the most vibrant neighborhood shopping districts, not just in Queens, but in the entire NYC Metro area. The Jamaica business and shopping district has over 300 businesses, many of which are retailers.
The Jamaica Business district has about 25% chain stores, 25% regular stores and 50% of the stores are run as small independent shops. The local designers showcased here sell their clothing lines in some of the local shops as well as online.
In the photo above on the right is Laurel Brown, the Executive Director of Jamaica Center, organizers of the Come To Fashion show 2012.
Fashion in Jamaica Queens - Jamaica Performing Arts Center
The Jamaica Performing Arts Center, a centuries old church turned performing arts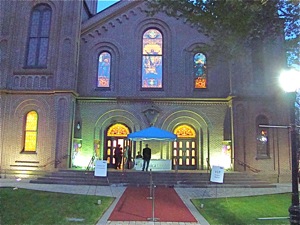 center, was selected as the location for the fashion show because of its state of the art facilities and competitive price. We understand that the rental for the evening, all in, cost about $3,000. See the photos below to get some sense of the venue which includes the Main Floor, the balcony, and a basement. The Jamaica Performing Arts Center also has lighting, sound and recording equipment.
Thanks & Event Sponsors
Many thanks to Jamaica Center for organizing the aesthetically beautiful event. As well as to both the designers and models mentioned above. And the the following Jamaica Center sponsors who helped make it possible, including NYC Small Business Services, Applebee's, Barefoot Wine & Bubbly, Milani, Popchips, Glamorous Chicks, Annotto Studio and Champagnie Dawkins CPAs.
Fashionable Clothing in Queens - Jamaica Comes To Fashion Show
Click here to view the photo slide show of the Come To Fashion Show in Jamaica Queens.
$element(ophoto,photo_slideshow,187,660,,5.00,fade)$
---
Jamaica NY Related Info
$element(adman,groupad,NhoodJamaica)$
Click this link for promotions, discounts and coupons in Jamaica and Queens.
Click this link to go to the Jamaica Neighborhood News / Jamaica Restaurants Guide & Map / Jamaica Business Directory / Jamaica Shopping Center and Map.
---
$element(adman,groupad,Catgry Entertain)$
Site Search Tips. 1) For best results, when typing in more than one word, use quotation marks - eg "Astoria Park". 2) Also try either singular or plural words when searching for a specific item such as "gym" or "gyms".
$element(bwcore,insert_search,N)$
Click this link to search for something in our Queens Business Directory.
---
$element(adman,groupads,Sectional2 Ad)$
---
Click the log in link below to create an ID and post an opinion.
Or send this story to a friend by filling in the appropriate box below.
---