M55 Art Gallery In LIC
New Watercolor Exhibit Entitled Relationships Undressed
August 19, 2012 / Long Island City / Art Galleries in Queens / Queens Buzz. It had poured all day Wednesday, but began to let up as I decided to brave the rain to attend the M55 Art Gallery opening of Relationships Undressed in Long Island City. I arrived early to meet with artist Emily Stedman who I had been communicating with for the past couple of weeks. This was her first solo exhibit in LIC, and it appeared to be an intriguing exhibit which she'd entitled Relationships Undressed.
The lead art piece she used to advertise the exhibit was a water color painting she'd done showing beautifully sculpted naked bodies swirling around in a variety of poses on the canvass. The art exhibit opening was by rsvp [& posted in our events calendar] and I was informed that the wine servers would be scantily clad.
Click here for our review and a slide show of the art exhibit at M55 in LIC entitled Relationships Undressed.
---
M55 Art Gallery In LIC
New Watercolor Exhibit Entitled Relationships Undressed
August 19, 2012 / Long Island City / Art Galleries in Queens / Queens Buzz. Given the rain and my early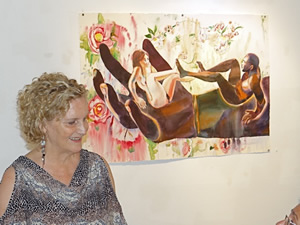 arrival, Emily and I had time to discuss her work. She hails from the Bronx and has been an NYC freelance art creative in the advertising industry for many years. She received her MFA [Master of Fine Arts] from the Pratt Institute in Brooklyn and has been painting most of her life.
Emily Stedman at M55 Art Gallery in LIC
I asked her how she came to paint nude models in watercolors. She told me that she'd used to work in watercolors and oils painting landscapes and urban scenes, and she generally included some 'stick' people in them. Since she left the advertising business she began venturing into the naturist realm. Naturist is the modern term for nudist. Artist, Emily Stedman, is shown at left with one of her paintings.
Naturists & Nudist - In Oils at M55 Art Gallery in LIC
It all began when a friend of hers, who is a naturist, asked her if she would paint him in the nude. That went well and eventually he wanted to pose for her with other people included in the painting. So they hired other models and she continued painting her naked friend.
Eventually she decided to hire couples who worked together posing in the nude for artists. This allowed her to control the poses. And given the sensitivity of posing naked, it also provided her models with some level of increased comfort by enabling them to choose their own partners. Over time her work evolved from depictions of models posing, to the more fluid and fanciful watercolors you see today. In the foreground is a visiting art student who attended the M55 opening, and behind her are watercolors on exhibit at Relationships Undressed at the M55 Art Gallery in LIC.
Living in a Timeless World - Relationships Undressed at M55 Art Gallery
One of the things she likes about her current work is that without clothing, there is no time and date stamp in the work. In some respects it reminded me of Greco Roman sculptures and in other respects of the Indian Kama Sutra. In the right is a water color by Emily Stedman.
Emily told me she had been influenced by Lucian Freud who was the grandson of Sigmund Freud. Like his grandfather, he took a great interest in the sexual nature of man and his artistic works reflected that. She told me that she romanticizes relationships in her work, showing beautifully sculpted bodies where both men and woman are on an equal footing.
Art Galleries in LIC - M55
We took a brief tour through some of her work on display at the exhibit. One of the main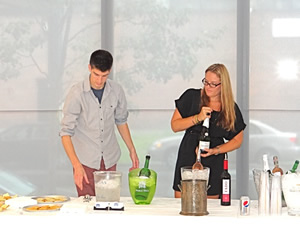 pieces shows a man and woman playing with their feet while sitting inside a large hand. Blended into the background [I would have missed it had she not told me] was Ganesh, the Indian elephant god.
She had done several self portraits which were hanging from one of the walls. Each was a vignette or moment in time. One portrait is of her staring at herself at 3 am when all the monsters are crawling around in one's head. In another portrait she's wearing this tentative look on her face, and has sprinkled a little paint in places on the canvass as she's begun experimenting with this technique. Another one shows pear tree petals as ornamentation for her hair. And the last is an ephemeral self portrait where she takes the paint throwing to another level, and begins the abstraction of herself. The photo above shows wine being served by Court Square Wine & Spirits at M55 Art Gallery at the opening of Relationships Undressed.
The Art Scene in LIC - Relationships Undressed
I asked her where she thought her work was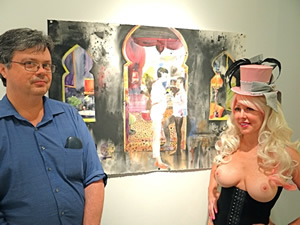 headed and she told me, "Black". She said that watercolors are generally used for light and white paintings, not for dark scenes. I followed up by asking if that was the case, then why was she heading in that direction. She said, "Artists like doing what they're not supposed to do." In the photo to your left is one of the models [left] and one of the servers [right] at M55 Art Gallery in LIC.
For the opening reception Emily had hired two models to serve drinks in outfits that showed some of their wares. We shot the waist up, but a female friend of mine said that that wasn't fair [gender-wise] and that I should have at least shot the male model from a distance. Oh well, I'm kind of new to shooting naturists, so perhaps next time.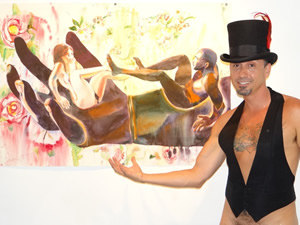 The show ends on September 1, 2012. Emily's works are watercolor on 140# paper and sell for prices ranging from $200 for the small paintings including the frames for up to $3,000 for the large paintings excluding the frames. She also organizes a painting session entitled Life Drawing, with nude models most Wednesday evenings from 6 - 9 pm at the M55 Art Gallery in LIC. The workshop is available to local artists, and there's a small fee [$10 most Wednesdays] to get in.
In the photo to your right is one of the servers at Relationships Undressed at M55 Art Gallery in LIC.
---
Photos of M55 Art Gallery in LIC - Relationships Undressed
Click here to view photos of the M55 Art Gallery in LIC.
$element(ophoto,photo_slideshow,205,660,,5.00,fade)$
---
LIC Neighborhood - Long Island City Links
$element(adman,groupad,NHoodLIC)$
Click on these advertisements for promotions, discounts and coupons by retailers and restaurateurs in Long Island City LIC and nearby Queens.
Click this link to go to the:
Long Island City Neighborhood or LIC Business Directory
Long Island City Real Estate or Events & Things To Do In LIC
Restaurants In Long Island City or LIC Shops & Shopping
---
$element(adman,groupad,Catgry Realestate)$
Site Search Tips. 1) For best results, when typing in more than one word, use quotation marks - eg "Astoria Park". 2) Also try either singular or plural words when searching for a specific item such as "gym" or "gyms".
$element(bwcore,insert_search,N)$
Click this link to search for something in our Queens Business Directory.
---
$element(adman,groupad,Sectional2 Ad)$
Click the log in link below to create an ID and post an opinion.
Or send this story to a friend by filling in the appropriate box below.
---