The Legend Of Hell Gate Horror
Hell Gate Horror Myth May Have Real Origins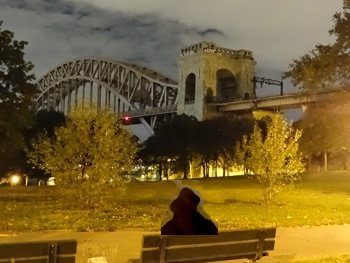 October 19, 2014 / Astoria Neighborhood / Queens Culture / Queens Buzz. It's not often one stumbles upon a legend and then finds himself riddled in its mysteries. But so it was last Saturday evening, while biking through Astoria Park to photograph the Hell Gate Horror Halloween Walk that I encountered an older gentleman sitting on one of the park benches who summoned me for help. It was shortly after dusk as the sun had set behind the skyline and the park was dimly lit by the ambient light of the city.
The man was sitting on the park bench [in the photo to your right] overlooking the Hell Gate Bridge and dressed in clothing of years gone by. I sized him up as I approached and determined that he was probably ok. Although he had not shaved in days and his hair was a bit disheveled.
"Hi. What's up?" I asked.
"I need help." He replied. I looked at him inquisitively as he didn't appear to be in any immediate predicament, near as I could tell.
"How can I help you?" I asked.
"I see by your bag that you work for a newspaper. Are you a reporter?" I nodded affirmatively while explaining to him that I worked for a web magazine. He didn't seem interested in my explanation as he pulled some photos from his coat and handed them to me.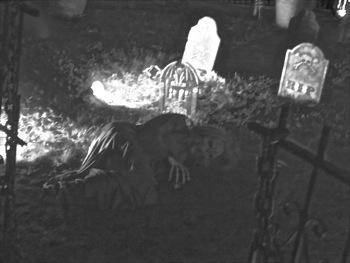 I started thumbing through them, seeing what seemed to be photos of ghosts arising from a cemetary. The photos weren't that clear and in black and white. I didn't really know what to make of them.
The man looked at me intently, as if to measure my interest. "I'm trying to get back in." He said. I looked at him stupefied. "What?" He repeated, "I'm trying to get back in."
"I heard you the first time, but I don't understand what you mean." I replied.
He went onto explain. "The Hell Gate Bridge began construction over one hundred years ago. The construction went on between 1912 and 1916. I was one of the construction workers.
"Anyhow, around Halloween time in 1914, a circus which came to Astoria Park. After a few drinks, I took one of my co-workers up on a dare to walk through the cemetery which was nearby. I don't know what happened, but once inside the cemetery I saw things I never imagined were real. Ghosts, goblins, magicians, fortune tellers and hobbits … I took photos of them with my camera. That's what you see here."
Click here to read the rest of the story about the Legend Of Hell Gate Horror.
---
The Legend Of Hell Gate Horror
Hell Gate Horror Myth May Have Real Origins
October 19, 2014 / Astoria Neighborhood / Queens Culture / Queens Buzz. Continued.
"Nobody believed it at the time, but there were rumors that a cemetery lying under the bridge was haunted and that those who walked through it around Halloween time, risked becoming one of the ghostly spirits. It seemed like pure nonsense, even one hundred years ago, as new scientific breakthroughs were being made all the time. Trains, autos, light bulbs and huge bridges like Hell Gate were examples of the sweeping changes we witnessed because of scientific advances. Nobody really believed one could become a ghost, and certainly not me … but I was wrong."
I looked at the photos again. It was hard to believe these were 100 years old. I thought they might be photoshopped to create an other worldly feeling. I looked at the man again. His eyes were steady and earnest. I was beginning to get a sort of creepy feeling, like maybe I didn't really want to get involved in this man's drama with the nether world. He sensed my discomfort and said, "I need to find that cemetery. Just publish these in your publication and tell your audience that I need to find my way back into the old Astoria cemetery near Hell Gate Bridge. It's supposed to re-appear every year around Halloween."
"What?" I asked.
He replied. "The Hell Gate Horror cemetery opens up every year around Halloween during the four centennial years of construction of the Hell Gate Bridge [1912 – 1916]. Just publish these, please!" he stridently pleaded.
I looked at the photos again. This time studying them more closely. They were even more eery than the first time I thumbed through them. And I was already pretty uncomfortable with this whole encounter. I looked up from them for a moment … and the man was gone.
Not gone, like he had headed off in some direction, but gone like he'd vanished. Whew. I didn't know what to do, so I packed the photos into my bag and decided to get the hell out of there.
***
I remembered I had a photo gig at the Horror of Hell Gate under - of all places – the Hell Gate Bridge. The Hell Gate Horror is a once a year opportunity for folks to get a good scare from about thirty four of their neighbor's family and friends. Coincidence? Hmm. I didn't really know, but I was no longer in the mood for a good scare because this man had already kind of spooked me.
When I arrived there was an ice cream truck parked along the street. A long line of about one hundred people were waiting to get into the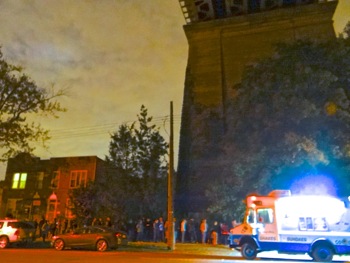 Hell Gate Horror to experience the frightening of Halloween. Seeing the families, kids and ice cream truck calmed my nerves as I headed into the Hell Gate Horror spooky walk.
In the background there was an organ playing one of those tunes you hear in an old horror movie. The hallowed walk was situated right under the tracks of the Hell Gate Bridge only a block away from Astoria Park. There were bushes and fences and it was not just dark outside, but a cloudy darkness and the trees towering above us made it even darker.
There were two spooks at the front gate. One covered in a dark hood and with large fangs hanging on either side of his mouth, while the other was a ghostly demon musketeer. They decided to let me in.
I headed into the bushy backyard and just as I was about to make my way past the tall wooden fence, and old woman with big bags under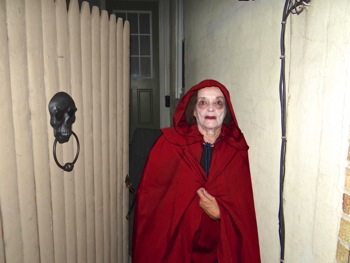 her eyes and a stitched mouth covered in a little red riding hood came out of nowhere. Whew, I thought. I'm glad this is make-believe.
Or was it? I thought as I made my way into the Hell Gate Insane Asylum.
Freddy Krueger came at me with his claws and sword. I broke away, heading deeper into the shadowy horror. The silvery moon was shining overhead, with faint glimmers of moonlight coming in through the foliage above. Out through the barn doors came a howling wolf man. I spun out of there and didn't look back, when I came upon three well dressed figures in the distance. One looked like Uncle Fester from the Adams Family, another looked like one of the apes from the Wizard of Oz, and the third was an old man whose better days were long, long behind him. They didn't move for the longest time. I wasn't sure if they were real.
Out popped a quiet and possibly friendly little red devil. An impish Hot Stuff as in the comic character. That friendly impression lasted only seconds as the little devil was accompanied by a tall black devil with a bloody pirate's blade and four cowed hench-devils. I ran for my life and ended up on a deserted island.
But there was to be no solace as this island was inhabited by evil pirates and I found cross bones and skulls from prior raids and visitors. There was an abandoned skiff and out of the woodwork, literally, came one of the bad boys from the Lord of the Flies. He kept taunting me again and again, as if I stood between him and his prey. So before I became his prey, I lit out of there and ended up in a graveyard.
Now this was very eerie in light of my encounter with that man in the park earlier in the evening. The graveyard seemed haunted. I began to fear that I might be warped into another dimension, like that man in the park. And I would have to spend a century waiting for Hell Gate Cemetery to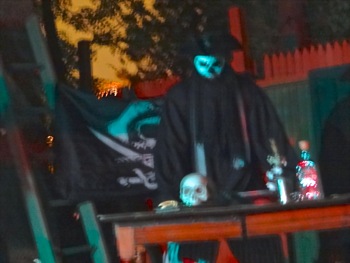 re-appear to return home. I felt for the old man who was trying to find this one-night-only graveyard amidst terribly unfamiliar surroundings. Suddenly out of the graveyeard the dead began to arise from their graves. I screamed and screamed and screamed and ran.
I found myself near a circus tent. An evil clown waved me in. It was the Hell Gate Circus the man had told me about. So this must be the graveyard the man was looking for. A ringleader greeted me warily, as the organ player continued to play the frightening circus tune over and over and over again. A clown popped out from behind one of the tables while an acrobat popped out of a box like a jack-in-the-box. The gypsy woman hovered over her tarot cards and crystal ball and warned all who entered "You're going to die a terrible death."
I started looking for the exit. A gruesome statue of a two headed gnome was set in the corner. The statue came to life and started chasing me. I ran into a very dark and very blue room. It was dark but not empty. Things were still, but somehow seemed alive. Something moved. Out from
behind a cabinet jumped a a a … very scary woman. So scary that another spook screamed and hid behind a door. A woman all dressed in black was sitting quietly at the table. It was hard to tell whether she was a statue or was alive.
As I exited the Scarecrow from Batman came at me with a scythe. I dodged away. Whew. Then, out of nowhere a female cyclist nearly ran me down. She handed me a small bag of M&M's and waved me on.
As I left, I pondered the situation of the old man in the park. To return to where he belonged, he needed to walk back through that cemetery. I headed back into Astoria Park in search of him. It was late, so I wasn't sure I would find him. There was a man sitting on the bench with his back to me. I approached.
"Mister. I think I know where that cemetery is." He looked up. I could see his face in the dim street light.
"Where?" He asked. I said, "Come with me."
I took him to the Hell Gate Horror under the bridge. I told him along the way that there was a cemetery along the spooky walk which happened to be next to a circus. I told him I would accompany him and show him.
We entered and he darted past a number of the acts, as I lagged behind. I went through the whole walk again, but didn't see him. In fact, I never saw him again.
Special Thanks To Organizers Of Hell Gate Horror Halloween Spooky Walk In Astoria
Special thanks to Laura and George Elia, Tommy Demaras, Frank Tuozzo and thirty of their family and friends for putting on the Hellgate Halloween Astoria celebration - just for the shear joy of it. They have been hosting the Hell Gate Horror spooky walk for the past 6 years [2008].
They were the inspiration for the fictional aspects of this narrative.
The cast of characters includes:
Alex Garrison - Cult Member
Alex Pietromonaco - Cult Member
Andreas Elia - Conjoined Twin / Hell Gate Circus
Barbara Elia - Gatekeeper
Bob Ferris - Werewolf (in shed)
Carmela Lara Jr. - Cult Member
Christina Elia - Evil Clown / Hell Gate Circus
Erica Sandoval - Cult Member
Frank Tuozzo - Zombie Pirate
Earl Garrison - Freddy Krueger (in maze)
George Elia - Front Hell Gate Host
Gina Galva - Jack-in-the-box Hell Gate Circus
Holly Hepp Galvan - Fortune Teller Hell Gate Circus
Iliana Lara - Cult Member
Isabella Cooper - Cult Member
JJ Sanchez - Scarecrow / Candy Distributor
Kevin Muessig - Zombi Pirate
Laura Elia - Jigsaw / Tricycle
Laura Tuozzo - Conjoined Twin
Lauren Zimmerman-Ferris - Ghost in the Graveyard
Marco Lara - Ring Leader Hell Gate Circus
Maria Orlando-Pietromonaco - Evil Clown with balloons Hell Gate Circus
Maria-Elaina Muessig - Zombie Pirate
Nicole Tota - Ghost in the Graveyard
Olga Salvio-Tuozzo - Witch behind cabinet Haunted Blue Dining Room
Pete Pietromonaco - Front Gate Host
Robert Rene Galvan - Organ Player Hell Gate Circus
Russell Zitron - Graveyard Zombie
Sharon Garrison - Cast Assistance
Spiro Vlahopoulos - Cult Leader
Stephanie Tota - Ghost in the Graveyard
Stephen Tuozzo - Zombie Pirate
Tommy Demaras - Flying Monkey with statues
---
$element(ophoto,photo_slideshow,273,660,,5.00,fade)$
---
---
$element(adman,groupad,NhoodAstoria)$
Astoria Neighborhood Links
Click on these advertisements for promotions, discounts and coupons by retailers and restaurateurs in Astoria and nearby Queens.
Click this link to go to the:
Astoria Neighborhood or Astoria Business Directory
Astoria Real Estate or Events & Things To Do In Astoria
Restaurants In Astoria or Astoria Shops & Shopping
---
Site Search Tips. 1) For best results, when typing in more than one word, use quotation marks - eg "Astoria Park". 2) Also try either singular or plural words when searching for a specific item such as "gym" or "gyms".
$element(bwcore,insert_search,N)$
Click this link to search for something in our Queens Business Directory. Also check out Taste of Sunnyside.
---
Click the log in link below to create an ID and post an opinion.
Or send this story to a friend by filling in the appropriate box below.
$element(adman,groupads,Sectional2 Ad)$
---