Queens World Film Festival 2017
Labor of Love on a Queens Corner
March 20, 2017 / Astoria Neighborhood / Cinema & Film in Queens / Queens Buzz.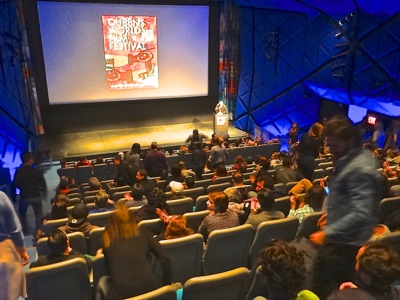 I attended the 7th annual Queens World Film Festival on Sunday at the Museum of the Moving Image in Astoria. I chose to view the Queens Corner block of films, which showcased some of the films made in Queens and / or by Queens filmmakers.
Queens World Film Festival Opening Night
I had missed opening night, but so did most others, as the snowstorm shut down the Museum of the Moving Image that night. Don and Katha Cato, Founders of the Queens World Film Festival, improvised and held opening night at Armando's Restaurant in Jackson Heights. They showed the films on a screen at the bar and read subtitles, which were too small for the audience to read. Katha told me that it wasn't perfect, but with the food and wine served at Armando's – it was fun.
The Queens World Festival includes a mix of locally made films, as well as films made around the world. Don and Katha solicit the films via exchanges dedicated to facilitating film festivals and submissions – including using some websites from other parts of the world. Katha mentioned that people flew in from as far away as Nepal, Germany, Italy, England, Canada and other states such as California to participate in the festival.
QW Film Festival Attendance & Locales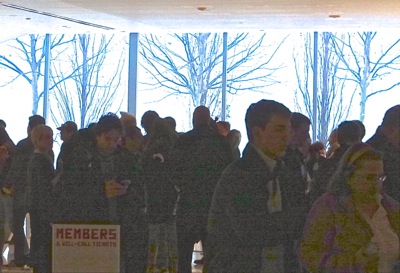 This year the Queens World Film Festival aka QWFF consolidated its viewing locations to the Museum of the Moving Image and the Zucker Theater in Kaufman Astoria Studios, which helped give the event more of a consolidated feel versus prior years when screenings were spread throughout Astoria, LIC and Jackson Heights. Both the Museum of the Moving Image and the Zucker Theater are within a block of one another. And the Astor Room, a restaurant located in a subterranean portion of Kaufman Astoria Studios, was used to host the awards ceremony and became an interim gathering space.
The festival attracted in the neighborhood of 5,000 visitors in 2016, and while the figures were not yet in, Katha thought they might not match the prior year due to inclement weather and the consolidation of screening rooms and locations this year.
QWFF Films Curated by Don Cato
The Queens World Film Festival is curated by Don, who is aided by Jennifer Griffith. They received about 500 films this year and narrowed the submissions down to 135. Of the 135 about 26 were made in or by Queens filmmakers. A number of the submissions also came from Brooklyn, Manhattan, Bronx and Staten Island, so New York City is well represented.
The film viewing blocks are arranged in an intuitive fashion. Don takes notes while reviewing the submissions and over time similarities, differences, subjects and themes emerge. Katha adds her two cents to the emerging categories while the couple is consolidating the choices and organizing the films into viewing blocks.
Don & Katha Cato Founders Queens World Film Fest
Don and Katha are pursuing a labor of love … literally … as the couple met while collaborating on a film / theater project many years ago. The couple continues to pursue their passion outside of the Queens World Film Festival as Katha is an actress and Don produces films. Don currently teaches at the Digital Film Academy in Manhattan.
Click here for the rest of our story including brief reviews and photos of some of the films I saw at the Queens World Film Festival in 2017.
---
---
Queens World Film Festival 2017
Labor of Love on a Queens Corner
March 20, 2017 / Astoria Neighborhood / Cinema & Film in Queens / Queens Buzz. Continued.
Queens: Directors, Actors & Actresses in Queens
So the following is a short synopsis of what I found while viewing the Queens Corner block of films. The Queens Corner block of films included eight short films, with the entire block running about two hours. These films were a subset of the Queens films shown at the festival. I heard talk about some of the other Queens films, such as Cook by Anne Hu of Sunnyside, which I unfortunately did not get a chance to see.
Kill the Witness
The first film in the block 'Kill the Witness' by Justin Ferrato, was rather obtuse. There were takes of somebody struggling with their notes, scribbling and scratching and tearing up the paper. This segued into animation of the hand(s) in motion and we were taken on a subway ride and into a late night discotheque as the writer struggled with what to do with his ideas. Don described the film as an abstract, impressionistic look of a musician / writer dealing with the creative process.
The Last Tip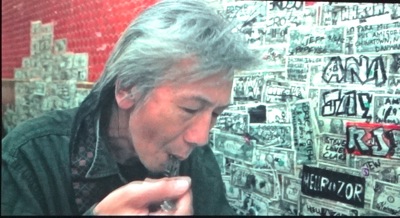 The next film entitled 'The Last Tip', was directed by Patrick Chen and is a film about an Asian man who came to dine at one of his favorite restaurants for the last time.
The film takes us into the man's thoughts as he remembers his wife on their first date at the restaurant and leaving a dollar tip which was still hanging on the wall with their writing on it. It was a nice sentimental vignette about a longstanding Queens restaurant which recently closed.
Two Gays & a Girl
The third film was entitled Two Gays & a Girl and directed by Christina Raia. This short film was modern upbeat comedy about a gay man and his female friend. The gay man joins his friend at yoga class to watch the male instructor who has been replaced by a woman.
Walking home the woman recalls a wild weekend of sex as her roomie was away. They encounter the girl's third roommate whose been absent from the apartment since the girl moved in. The roomie is a lesbian who just got out of jail, and who hits it off with the girl's gay friend.
This film struck me by its cultural currency and the cinematic appeal of the actress, Lauren A. Kennedy. Kennedy's allure was well complemented by co-stars Hayward Leach [gay man] and Melody Vargas [lesbian roomie], as the film's authenticity reminded me a bit of the film, Return of the Secaucus 7, which was the forerunner to The Big Chill.
I Am Them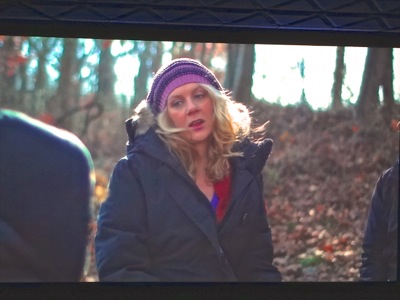 I Am Them was the next film. In this film the Director / Actress Kel Haney, plays three different people at critical junctures in their lives, in three short vignettes. The first vignette is named Penny who tells her friends about helping her mother commit end-of-life suicide on a camping trip.
The second vignette, entitled Meg, is about a woman on the verge of having sex with a man, who stops abruptly because she was abused as a young girl. She opens up and entrusts her boyfriend with the story of her past.
And the third vignette is entitled Kay and it's about a woman who just got news that she has cancer. We tune in as the woman is having a conversation, alone with herself in her car, about how she's going to deal with her cancer. The short episodes were thought provoking and convincingly portrayed by the Director who was also a convincing dramatic actress.
The Fisherman

The Fisherman by Anoah Levine shows the dichotomy of two different world's of Queens. We are batted back and forth like a ping pong ball - or a daily commuter – between the noisy urbanity of Long Island City at the Queensboro Bridge and the quiet zen of fishing off the bridge in Broadchannel.
The filmmaker does a nice job of capturing the yin and yang of the two Queens locales through sound – juxtaposing the gnarly traffic sounds at the Queensboro Bridge and quiet pierced by seagulls chirping at the Broadchannel bridge; and through focused close ups that include – a coffee cup atop the rail of the Queens Plaza subway overpass and an old bottle half buried in the sand along the Broadchannel shore.
Man's Best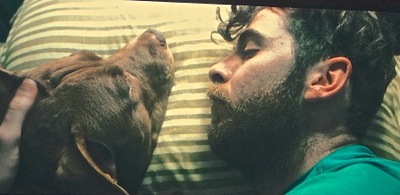 Man's Best directed and acted by Seth Mctigue is about a guy struggling with the sudden and accidental death of his brother and father by withdrawing into himself through conversations with his dog aka 'man's best' friend. The film explores the psychology of loss, using the dog as a metaphor. Many of us in the audience didn't get that the dog was a psychological construct for the man's subconscious crutch, but the story was engaging and mysterious enough for us to have to ponder the concept.
Lovestruck
Lovestuck directed by Ethan Buskirk, and acted by Katrina Medoff and Victoria Moyer, was an interesting comedy about two female roomies who witness each other's dating experiences.
We're taken through the four seasons of the year as each roomie returns from a date, talking about their experience. One of the roomies seems to find her lover of a past life [many times over], and with each new season, she seems to experience a deeper memory of her past life. Meanwhile, her bookish counterpart, seems to 'end up' with guys who are so, so ... or not so good kissers or … something else is wrong with them.
I found this film to be an enjoyable, humorous look at dating through the portrayal of two different people by a couple of convincing actresses.
Dillzilla: Titan of Terror
And last but not least is Elizabeth Pasieczny's Dillzilla: Titan of Terror. This is the frightening story of an animated / puppet pickle's life.
The poor puppet Pickleman is found one day roaming the seas, and the next washed up on shore having survived bioradiation. Through a freak of the bioradiation, the Pickleman's anger causes him to become greatly enlarged. Not used to his new size, Pickleman then unintentionally terrorizes a small town. The U.S. Military is called to pursue and destroy him. After a standoff battle, Pickleman is finally saved by a mother's love.
It was a quirky tale that 'pickled' me to death.
There was a Question & Answer session after the program, some of which I may have included in the narrative above. In any case it was a wonderful weekend of film at the Queens World Film Festival at the Museum of the Moving Image.
Queens World Film Festival Sponsors & Staff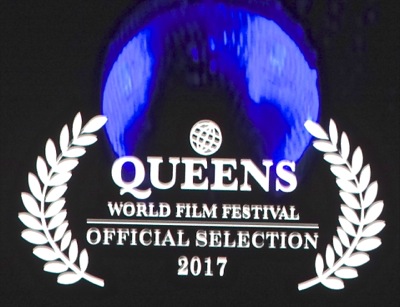 The Queens World Film Festival aka QWFF organizes other programs throughout the year, some of which we post as they arrive. One of the most popular is the summer film screenings of movies shown at the QWFF this and in prior years.
Many thanks to Don and Katha Cato for organizing these programs, as well as their sponsors and volunteer staff.
Sponsors include Investors Bank, Queens Council on the Arts, Kaufman Astoria Studios, Museum of the Moving Image, New York Community Bank, NYC Media & Entertainment, Queens Post, Yelp, Times Ledger, Hunters Point Conservancy, Jackson Heights Green Alliance, Queensboro Hill Flushing Civic Association, Jackson Heights Beautification Group, Greater Flushing Chamber of Commerce and others.
Jurors include Cynthia Lopez, Josh Green, Michael Lieber, Christine Burrill, Sebastian Rea, Jamil Lahham, Jennifer Griffith and Gy Mirano.
Others are also involved and you can find them in the About section of the Queens World Film Festival website.
---
Queens Buzz Voluntary Subscriptions
We do our best to provide independent coverage of news, dining, events, arts & culture.

You can help us provide you with first source, balanced, contextual and independent coverage of Queens by making a purchase for as little as $5 [less than the price of one copy of a print magazine].
Click the button for details on how to keep these posts coming.
---
$element(adman,groupad,NhoodAstoria)$
Astoria Neighborhood Links
Click on these advertisements for promotions, discounts and coupons by retailers and restaurateurs in Astoria and nearby Queens.
Click this link to go to the:
Astoria Neighborhood or Astoria Business Directory
Astoria Real Estate or Events & Things To Do In Astoria
Restaurants In Astoria or Astoria Shops & Shopping
---
LIC Neighborhood - Long Island City Links
$element(adman,groupad,Catgry Foodwine)$
Click on these advertisements for promotions, discounts and coupons by retailers and restaurateurs in Long Island City LIC and nearby Queens. Click here for a related story about the hotels & restaurants in Dutch Kills section of Queens.
Click this link to go to the:
Long Island City Neighborhood or LIC Business Directory
Long Island City Real Estate or Events & Things To Do In LIC
Restaurants In Long Island City or LIC Shops & Shopping
---
$element(adman,groupad,Catgry Queens)$
Site Search Tips. 1) For best results, when typing in more than one word, use quotation marks - eg "Astoria Park". 2) Also try either singular or plural words when searching for a specific item such as "gym" or "gyms".
$element(bwcore,insert_search,N)$
Click this link to search for something in our Queens Business Directory.
---
$element(adman,groupad,Sectional2 Ad)$
---
Click the log in link below to create an ID and post an opinion.
Or send this story to a friend by filling in the appropriate box below.
---