Business & Real Estate In
Sunnyside & Woodside
---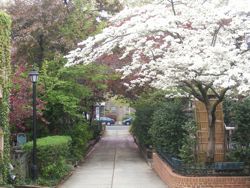 Sunnyside & Woodside NY is on the western end of Queens just east of LIC and is commutable via the # 7 subway line as well as by the LIRR at 61st Street. It is also centrally located for road access to the BQE, LIE and Grand Central Parkway. This section of Queens has a population of about 26,000 and 90,000 respectively and is one of the most mixed neighborhoods in the city. The demographic composition includes European, Middle Eastern, Latin American and Asian descendants.
Sunnyside Gardens were developed back in the 1920's under a program that was guided in part by Eleanor Roosevelt prior to her becoming Roosevelt's wife. The Gardens were designated a historic district in 2007 and are known for the English-style landscaping. The Sunnyside neighborhood has restaurant and shopping areas that run along Queens and Northern Blvds, as well as Skillman, Greenpoint and Roosevelt Avenues.
---
Click to view the Sunnyside & Woodside neighborhoods
---
Phipps Houses Real Estate Development Sunnyside Queens - Proposal
Phipps Proposed Real Estate Development in Sunnyside
October 26, 2015 / Sunnyside Neighborhood / Sunnyside Real Estate / Queens Buzz.
I attended a town hall regarding a real estate development proposal put forth by the Phipps Houses organization. The Phipps Houses organization is a non-profit dedicated to building and managing affordable housing. They have a number of sites including the Phipps Houses in Sunnyside and they are partners with the Related Companies in the real estate development at Hunters Point South.
The meeting was a voluntary first step taken by the Phipps Houses organization to gather community feedback and engage with the neighborhood regarding a proposal to use the land they own that is across Barnett Street behind the Phipps Houses in Sunnyside. The strip of land is currently occupied by a parking lot which stands adjacent to the LIRR railway tracks.
The proposal is in its early stages and at this point in time we were told that nothing is in the works formally - meaning no proposal has yet been officially submitted for government review. To build the 200 unit apartment complex, they need to request a zoning change from the city and thus would have to go through the Uniform Land Use Review Procedure [ULURP] which can be lengthy and fraught with tension if the neighborhood is not, in some measure, on board.
What follows is an account of the presentation and discussion that took place Monday night October 26th, 2015 at the Phipps Houses in Sunnyside. The report includes a 7 minute video with highlights from the meeting which includes imporant points, some tensions, and a bit of laughter.
Click here to view the rest of our report on the proposed Phipps Houses real estate development in Sunnyside Queens.
---
Affordable Housing In Queens - Hunters Point South
Hunters Point South Opens Spring 2015
'Affordable' Housing Applications Begin Mid October
September 29, 2014 / Sunnyside NY / Sunnyside Real Estate / News & Analysis / Queens Buzz. On Monday evening I headed over to Sunnyside Community Services Center to attend the Hunters Point South Affordable Housing meeting. Several years ago the Hunters Point South development was approved by Community Board 2 and subsequently approved by the New York City Council and Mayor. Click the link above to read the earlier report.
The site has been under construction for years, and according to a Related Companies spokesperson at the meeting, the two towers containing affordable housing are to open to residents in the Spring of 2015. Naturally this assumes that all goes according to plan.
Hence on Monday evening, Related Companies representatives in tandem with Community Board Chairman Joe Conley, NY CCM Jimmy Van Bramer, NYS Assemblywoman Cathy Nolan [and NYS Senator Michael Gianaris was scheduled to appear but did not make it] - began the outreach to the community regarding the application process for the low income and affordable housing units in the two buildings.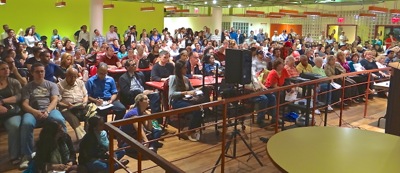 Attendance and interest by the community was very high and folks who arrived late were turned away as the Sunnyside Community Service Center was filled to capacity. That said there are two more of these outreach programs scheduled, the details of which you can find in our Things To Do calendar in the Business section. Click these links to gain a broader perspective of the Long Island City Neighborhood in which these units reside, as well as of the LIC real estate market for apts and condos or the Long Island City real estate market in general.
Full Report Contains Slides & Info On Qualification & Application Process For Hunters Point South Affordable Housing Units In LIC & Evaluation Of Affordability Versus Income & Apt Rents In LIC
Click here to read the rest of our report, including a photo slide show of the presentation of Affordable Housing in Hunters Point South in LIC Queens. I left out most of the presentation that dealt with how to set up a Housing Connect Profile and how to fill out the online application as it seemed pretty straightforward and you can also call the NYC Housing Authority [aka NYCHA] if you need help.
---
Zoning Sunnyside & Woodside - Real Estate in Queens
Sunnyside & Woodside Zoning Plan
Proposal Moving Through The Process – Timetable Set
April 13, 2011 / Sunnyside & Woodside / Sunnyside Real Estate / Queens Buzz. Queens Borough president Helen Marshall highlighted the effort to re-zone Sunnyside and Woodside in her State of the Borough Address this winter. Following the release of the proposed zoning changes on February 28th, I spent time studying the proposal to re-zone the Sunnyside and Woodside neighborhoods and followed up with a representative of the NYC Department of City Planning to be sure I properly understood the proposed changes. It's worth mentioning that the rezoning changes were recently approved by Community Board 2, about two weeks ahead of deadline.
The thrust of the Sunnyside Woodside rezoning effort appears to be to standardize construction regulations within these neighborhoods in order to prevent out-of-character development, reduce commercial overlays, enhance street life through the allowance of sidewalk cafes and to set height limits on new buildings which is not specified in the existing zoning. Current Sunnyside and Woodside zoning only specifies how much you can build by way of limiting the Floor Area Ratio [FAR] – and doesn't set limits on specific building dimensions, most notably building height.
Click here to view the timetable of the Sunnyside & Woodside zoning proposal and to read the rest of our report, which includes a brief zoning history, and a summary of existing and proposed zoning changes including diagrams and photos.
---
Queens Real Estate
Queens Real Estate
Market Analysis Of Real Estate In Queens
Queens NY / December 7, 2009. This is a report on the Queens real estate market. The report covers the latter half of 2009. This analysis includes looking at apartment rental prices, as well as condo, co-op and home prices and availability. This Queens real estate market analysis focuses on the Astoria, LIC / Long Island City, Jackson Heights, Sunnyside and Woodside neighborhoods. While we found these neighborhoods mirrored or trailed many of the national trends, we found some interesting differences, including differences from neighborhood to neighborhood. Click here for our second half 2009 market analysis of Queens Real Estate.
---
Home Improvement & Construction In Queens
---
Banks & Loans In Sunnyside, Woodside & Queens
---
Retail & Shopping In Sunnyside & Woodside
---
Wholesale & Manufacturing In Queens
---
Restaurants In Sunnyside & Woodside
---
---
Government & Employment In Queens
---
Transportation In Sunnyside, Woodside & Queens
---
---
Sunnyside Real Estate / Woodside Real Estate Related Info
Click this link for promotions, discounts and coupons in Woodside, Sunnyside and Queens.
Click this link to go to the Astoria Neighborhood / Long Island City LIC Neighborhood / Sunnyside Woodside Neighborhood News / Jackson Heights Elmhurst Neighborhood / Flushing Corona Neighborhood / Jamaica Neighborhood.
Site Search Tips. 1) For best results, when typing in more than one word, use quotation marks - eg "Astoria Park". 2) Also try either singular or plural words when searching for a specific item such as "gym" or "gyms".
Click here to learn more about Welcome Home real estate in Sunnyside.
---
Archives - TBD
---
Click this link to search for something in our Queens Business Directory.
---
Click the log in link below to create an ID and post an opinion.
Or send this story to a friend by filling in the appropriate box below.
---