Jackson Heights Real Estate & Business
---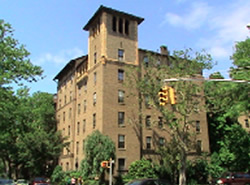 Jackson Heights Neighborhood in Queens is located in the north west / central section of Queens. It is commutable via the #7, E and F subway lines. There are approximately 65,000 residents in this section of Queens and this section is also one of the most ethnically mixed neighborhoods of the world. In addition to Indians, Bangladeshis, Nepalese and Pakistanis, there are a significant number of Latin Americans and European descendants.
Jackson Heights was one of the first developed urban communities modeled along an English model. Hence apartments frequently have large public areas enclosed within blocks which serve as a block courtyards / playgrounds. This section is also home to the Victor Moore Bus Terminal on 74th Street which is one of the largest convergence of subways and buses in Queens [some of which go to LaGuardia Airport]. The business districts are largely found along Roosevelt Ave, Northern Blvd and along 37th Avenue and at 74th and 82nd Streets.
---
Click to view the Jackson Heights neighborhood
---
Condos & Co-ops Forum Jackson Heights
Forum - Condos & Co-ops In Jackson Heights
December 7, 2010 / Jackson Heights / Queens Buzz. City Council Member Daniel Dromm, NYS Senator Peralta in tandem with ACCO [Alliance of Condo & Co-op Owners] organized a forum in Jackson Heights to inform people about their rights and responsibilities as condo and co-op owners.
In addition to the councilman and senator, the panel included two lawyers and the president of ACCO. About two hundred people showed up for the event, packing the Jewish Center of Jackson Heights. See photos in our report of the large crowd that attended this forum.
The panel informed condo and co-op owners in Jackson Heights & Queens about their rights, and discussed new state legislation which has been introduced to more clearly define the processes through which a tenant / owner can assert their rights. Click here to read the rest of our report about the forum for owners of Jackson Heights condo / co-ops in Queens.
---
Jackson Heights Garden Apartments - Queens NY
Jackson Heights Garden Apartments
Jackson Heights is the home to the garden apartment building, where it first originated in the nineteen twenties. The Jackson Heights neighborhood has evolved into one of the most integrated communities in the world, comprised of residents whose families originated in Asia, Latin American, Europe and Africa. This is a brief introduction into the neighborhood housing stock.
Click here to view the full story on the historic Jackson Heights Garden Apartments.
---
Queens Real Estate
Queens Real Estate
Market Analysis Of Real Estate In Queens
Queens NY / December 7, 2009. This is a report on the Queens real estate market. The report covers the latter half of 2009. This analysis includes looking at apartment rental prices, as well as condo, co-op and home prices and availability. This Queens real estate market analysis focuses on the Astoria, LIC / Long Island City, Jackson Heights, Sunnyside and Woodside neighborhoods. While we found these neighborhoods mirrored or trailed many of the national trends, we found some interesting differences, including differences from neighborhood to neighborhood. Click here for our second half 2009 market analysis of Queens Real Estate.
---
Jackson Heights Real Estate - Jackson Heights Realtors
Jackson Heights Real Estate & Realtors
Jackson Heights / Queens. This is a report about the Jackson Heights real estate market. The report includes discussion about price trends, apartment and home inventory availability and demographic changes in the Jackson Heights neighborhood of Queens. We have also included links to a Queens real estate market report as well as an Astoria real estate market report, related realtor home pages and real estate classifieds.
Click here to read our report on Jackson Heights real estate and realtors.
---
Jackson Heights Historic Homes & Garden Tour
Historic Jackson Heights Homes & Garden Tour
June 15, 2009 / Jackson Heights Neighborhood / Jackson Heights History / Queens Buzz. Over the weekend we attended the somewhat famous Jackson Heights Architecture and Garden Tour put on by the Jackson Heights Beautification Group and given by Daniel Karatzas who is a currently a JHBG Board member. The Jackson Heights Beautification Group sponsors the tour and provides visitors with a view of its memorabilia and photos of the history of the development of the Jackson Heights neighborhood in Queens NY.
Click this link to read a brief report about the outing and to learn a little about Jackson Heights Historic Homes & Garden Tour.
---
Home Improvement & Construction In Queens
---
Queens Builders & Contractors - Queens Bronx Builders Assn Trade Show
Queens Bronx Builders Association
Building Businesses Slowly Improving - Builders Cautiously Optimistic
October 25, 2012 / Jackson Heights / Queens Business / Queens Buzz. I attended the Queens Bronx Builders Association Trade Show at the LaGuardia Marriott this evening. The show included between two and three dozen exhibitors showing just about everything and anything you might need to build a building. I went to get some sense of the mood of the building trades, given the economy has been the focus of many folks' attention since the financial debacle of 2008.
The sense I got from most was that, while things are not great like they had been before the bust, they had 'hit bottom', and things appeared to be steadily improving. Most of the folks I spoke to were cautiously optimistic, saying they had some really good days but they also had some really slow days. A few of the people I spoke to were downright bullish. Only two people told me that things were still very rough out there.
As you know, this is not a scientific survey, but the joking around left me with the sense that what I had been told was somewhere in the reality ballpark.
Click here to read a report about the Queens Bronx Building Association Trade Show in Queens.
---
Banks & Loans In Jackson Heights & Queens
---
New York City Economic Outlook 2016 - NYC Economy
Queens Economy - 2016 Outlook NYC
Currently Full Employment, Low Interest Rates, Low Inflation But Possible International Shocks
January 4, 2016 / Queens Neighborhoods / Queens Business / Queens Buzz.
We took a look into the crystal ball over the holiday break to see what may lie ahead for the NYC economy in the coming year. We studied the stats and facts put out by many of the national data producers at the Bureau of Labor Statistics, the Federal Reserve, the Treasury Department and the AIE. What follows is a brief summary of some of the statistics we gathered on the global, national and New York City economy including unemployment statistics by borough for 2015.
U.S. & NYC Economy Near / At Full Employment
Currently Queens and Manhattan are doing the best with respect to employment, with unemployment rates below 5%, which economists consider to be full employment as the 5% unemployed are viewed as normal 'friction' in the economy, accounting for people coming into, leaving and changing jobs within the labor force.
In 2009 - 2010, during the first two years of the Great Recession, the nation's unemployment rate hit 9.4%, while the unemployment rate for New York City hit 10.4%. The employment picture for the nation and the five boroughs of New York City has slowly but steadily improved since then, with unemployment trending lower, reaching full employment this year at 5% for the nation and 4.8% for New York City this fall.
Employment Impact / Relationship to Inflation
Employment affects inflation, as when everyone is fully employed, recruiting firms bid up the price of labor and workers feel secure enough to spend aggressively, bidding up the price of goods. The Federal Reserve attempts to reign in inflation - because it creates economic instability - by raising interest rates which increases the cost of capital needed to expand operations or make large purchases more expensive. On December 16, 2015, the Federal Reserve raised its key short-term interest rate by 25 basis points (0.25%) to begin to get ahead of potentially inflationary issues that may lie ahead. We'll look into a few of these later in this report.
Economists in one of the banking reports I received believe that there is still slack in the labor market that is not reflected in the numbers as many people have part-time jobs, while they would like full time jobs. Also the labor force participation rate fell during the Great Recession and it became more difficult to find work. Now with a full employment economy it is believed that some of those folks who gave up looking will try to re-enter the workforce. An example of the decline in participation rate might be a spouse who helped supplement household income but couldn't find the right work, and now starts looking again.
Click here to continue reading our report about the New York City NYC Economy Outlook 2016 which delves into full employment impact on inflation, interest rates, consumer debt levels, oil & commodity prices, domestic and international currencies & economic growth, the financial markets and how all of this may impact the different sectors of the Queens & New York City economy.
---
Economic Forecast For Queens 2012 - Queens Economy
Economic Outlook 2012 - Queens Economy
Federal Reserve Economist Discusses 2012 Outlook At LIC Partnership Breakfast
February 13, 2012 / Long Island City / Queens Business / Queens Buzz. I attended a lecture given by New York Federal Reserve Economist Rae Rosen at the LIC Partnership breakfast in Long Island City. In the lecture the economist talked about many of the critical factors that would play a role in the outcome of how the economy would perform in 2012. How these factors play out will ultimately impact the kind of economic year Queens, NYC and NYS will have in 2012.
U.S. Economic Performance in 2012 Vs Averages
The U.S. economy grew 2.8% in the fourth quarter, ending the 2011 year on a strong note, after a slow beginning. For 2012 the consensus forecast is between 2.5% to 3%, with the highs above 3% and the lows just above 1% which still implies a growth year. The U.S. average growth rate since the end of WWII has been about 3.28%. According to one report I read, the probability the U.S. will slip back into recession has fallen to 23%.
Click here for our report of the lecture given by Federal Economist Rae Rosen at the LIC Partnership breakfast in February 2012 - Queens Economic Forecast 2012.
---
Retail & Shopping In Jackson Heights
---
Wholesale & Manufacturing In Queens
---
St Pat's For All Parade History & Evolution - Irish Culture in Queens NYC
Who is the St Pat's 'For All' Parade for, Really?
St Patrick's Day Parade in Sunnyside Continues Hitting High Notes
March 3, 2019 / Sunnyside Neighborhood NYC / Arts & Culture in Queens NYC / Queens Buzz NYC.
It was a beautiful sunny day in Sunnyside, as I made my way over to Skillman Avenue to watch the annual St. Pat's For All parade. The speeches had started at noon, but I didn't arrive until after 1 pm, so I missed them [bummer].
When I arrived, the parade was out in a full march, and behind the first banner there were about a dozen government officials including NYC Councilman Danny Dromm [Jackson Heights / Elmhurst], Congresswoman Carolyn Maloney [Manhattan / Queens], NYC Council Speaker Corey Johnson [Manhattan] who's likely planning a run for Mayor, NYS Attorney General Letitia James, Congresswoman Alexandria Ocasio-Cortez [Queens / Bronx], NYS Assemblyman David Weprin [Jamaica Estates / Richmond Hill] and the St. Pat's For All parade co-founders Kathleen Walsh D'Arcy and Brendan Fay. A few pols who marched in their own groups, including Queens Borough President Melinda Katz and NYS Senator Michael Giannaris.
Jimmy Van Bramer Reportedly Threatened & Crowley Resigns as Queens Democratic Chair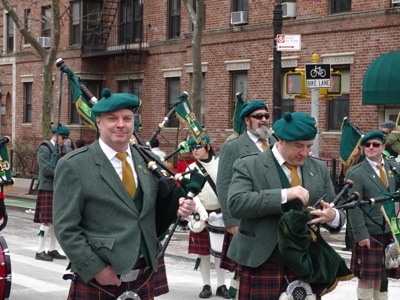 Notably absent [at least I didn't see either of them] were NYC Councilmember Jimmy Van Bramer and former Congressman Joe Crowley. I reckon Crowley had his reasons, as just last week he resigned as the Queens County Democratic Party Leader. And I reckon Van Bramer had his reasons as well, as this week he was reportedly threatened by a restaurateur who was upset that the Amazon deal fell through. According to Newsweek, the restaurateur texted a message to Van Bramer that included this, "… you can be at the back of the parade or in front of the firing squad …" We posted a couple of reports on the Amazon deal on the two announcements – we're coming / we're not coming, which you can read by clicking these links. Amazon coming to LIC Queens NYC / Amazon not coming to LIC Queens NYC.
Origins & History of the St. Pat's For All Parade in Sunnyside Queens
The St. Pat's For All parade started because the Manhattan St. Patrick's Day Parade wouldn't allow gays, like Brendan Fay, to march openly. So he, along with Kathleen Walsh, rounded up a rag tag band of Irish folks, along with their friends and began the St. Pat's For All parade in the year 2000. The 'For All' became the moniker and rallying cry, because as mentioned previously, the LGBTQ folks were banned from marching in the large Manhattan St. Patrick's Day parade in Manhattan.
---
St Pat's For All Parade - St Patricks Day Parade Queens
St Patricks Day Parade
St Pat's For All Parade in Sunnyside Enters a New Era
March / Sunnyside / Parades in Queens / Queens Buzz.
I attended the St Pat's For All Parade in Sunnyside on Sunday. I came very, very late for the speeches, but one of the announcements made was that the Mayor will be marching in the annual St. Patrick's Day Parade in Manhattan on March 17th as the dispute regarding LGBT marchers has ended. The Sunnyside / Woodside St. Pat's For All Parade began in protest to the ban of LGBT Irish to fully participate [free expression / come out] in the parade.
Conservative Catholics, including the Conservative Irish, believe it's against the Christian Church teachings to permit / tolerate LGBT behavior, based on interpretations of Biblical teachings. The Bible is a collection of religious writings created about 2,000 years ago, the first half of which includes stories handed down through oral traditions dating back centuries prior to the time of Christ - if not longer. Hence the Irish in charge of the St. Pat's Parade in Manhattan embraced the Conservative Catholic point of view, and up until this year, banned LGBT people from full participation in the parade.
In 2015 Manhattan St Pat's Day Parade sponsors, including Guinness which is a not only an Irish beer-like drink, but also a defacto Irish institution - pulled out of the parade in protest of the LGBT ban. Just one year earlier, in 2014, Mayor de Blasio declined an invitation to march in the parade because of the LGBT ban. In 2013, in spite of the LGBT ban, Mayor Bloomberg continued the mayoral practice of marching in the Manhattan St Patrick's Day Parade.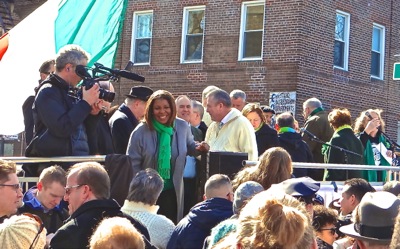 Pope Francis, the Catholic Pope since March 2013, has taken a less dogmatic and less conservative approach to the issue of LGBT sexuality than his predecessors. Instead of embracing intolerance and exclusion, he has cited other Christian Church teachings which advocate love and respect for your fellow human beings, and hence has ushered in a more tolerant - if not accepting - position by the Catholic Church. On the Manhattan St Patricks Day Parade website we found the following statement,
"When asked about his stand on gay priests, Pope Francis did not stray from the Church's doctrine, but told reporters,
"If someone is gay and he searches for the Lord and has good will, who am I to judge?" "
We researched the LGBT topic back in 2010 and posted this report regarding the science and history of gay rights in NYC.
Hence the Sunnyside / Woodside St Pat's For All Parade enters a new era, as it's no longer a protest parade per se, but rather a Queens St Pat's Parade embracing the American philosophy of inclusion, respecting all people, as stated in the American Pledge of Allegiance which states,
"I pledge allegiance to the Flag of the United States of America, and to the Republic for which it stands, one Nation under God, indivisible, with liberty and justice for all."
We may not all be Irish, but we are all Americans.
So this year I video recorded the parade, with a focus on the musical, dance & cultural performances by the groups participating in the parade. The recording includes a number of bagpipers, the names of which I didn't catch because they don't really market their names, the Brian Fleming Band playing fiddling Irish music, the McManus Irish Dance Company practicing a little marching number while they were waiting, but it's best done while marching which you'll see after the parade resumed moving, the Rude Mechanical Orchestra playing a jazzy tune and PS123 Sapphire Dance Line & the Marching Cobras from Harlem doing a great dance and music routine.
I cannot think of a better place for an Irish-hosted, multi-cultural parade than Queens, which may be what the St Pat's For All begins to evolve into, having successfully protested the former, excusionary practices of the St Patrick's Day Parade in Manhattan.
Click here to watch the St Pat's For All Parade 2016 Sunnyside Queens video. Happy St Patrick's month.
The photo above shows the speakers on the podium [front row left to right] which include Public Advocate Letitia James, NYS Comptroller Thomas DiNapoli, CCM Daniel Dromm, NYC Council Speaker Melissa Mark-Viverito, Brendan Faye, a parade co-Founder [back turned to us], and to the far right Kathleen Walsh D'Arcy also one of the parade co-Founders of the event. Behind them you can find [but you have to look hard / left to right] NYC Comptroller Scott Stringer, CCM Jimmy Van Bramer, Congressman Crowley and NYC Mayor de Blasio.
---
Restaurants In Jackson Heights
---
Restaurants In Jackson Heights - Viva La Comida Food Festival
Viva La Comida
Jackson Heights Hosts Culinary & Cultural Celebration
September 25, 2017 / Jackson Heights Neighborhood / Food & Wine in Jackson Heights Queens / Queens Buzz NYC.
A weekend ago [9/16], I had an opportunity to attend the annual Viva La Comida Festival in Jackson Heights. The festival originated in 2011 or 2012 as a sort of mini Vendy Awards festival for local food trucks and vendors who mostly served the Jackson Heights and nearby neighborhoods in Queens. They were accompanied by a whole host of local entertainers who were featured on the stage at Dunningham Triangle.
Delicious Ethnic Food Trucks & Latin Jazz
Today, six or seven years later, the basic tenets of the festival have held fast, but it has evolved into a more holistic celebration of Jackson Heights culture, including the food ... but with fewer trucks. This year there were two trucks, which was down from about six trucks back during the program inception. Although I hasten to add, that several food carts were added offsetting some of the decline of the food trucks.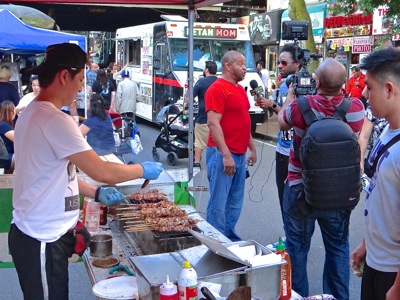 On the entertainment side, the event has blossomed, featuring numerous local musicians, dancers and theatrical performances. One of the most enjoyable aspects I experienced this year at Viva La Comida was an incredible Latin jazz band called Los Macheros. I'm not sure, but the name - which appears to have been invented - could be mixing the meanings of macho [male] and hacheros [axes] to mean something very loosely translated as the 'male axes' or a take off on the word mecheros which means [cigarette] lighter.
Los Macheros are a seven member Latin jazz band that includes a talented vocalist, two guitarists, two percussionists, and while I was there I enjoyed a very talented duel between the flautist and the violinist which you can see below on the video when I post it. The music moved people to dance and numerous couples were swinging to the jazzy tunes the entire time I was there.
---
Restaurants In Jackson Heights - Arunee Thai Restaurant
Restaurants In Jackson Heights
Arunee Thai Restaurant
Jackson Heights Neighborhood / Jackson Heights Restaurants / Queens Buzz. Tonight I ventured out to a Thai restaurant in Jackson Heights that I had discovered on pure happenstance. I arrived at the restaurant around 7.30 pm on an cool overcast Saturday evening. More than half of the sixty seats had already been filled and it seemed the waiting staff had fallen a bit behind. As I sat there waiting, I began to doubt my choice.
As I surveyed the restaurant I noted that many of the customers were Thai, which I took to be a good sign, as I was looking for real Thai food, not some Americanized version of it. Within the next five to ten minutes, things completely turned. The waiting staff turned up the energy and within minutes it seemed that everyone who had been waiting now had a drink or appetizer sitting in front of them … myself included. Click here to read the full review of Arunee Thai restaurant including photos.
---
---
Government & Employment In Queens
---
Mayor de Blasio's State of the City Address 2016 NYC
De Blasio's State of the City Address 2016
Moving NYC from 'Tale of Two Cities' to 'One New York'?
February 6, 2016 / Kingsbridge Heights Neighborhood Bronx / NYC Neighborhoods / NYC Politics & Government / Queens Buzz.
I attended Mayor de Blasio's second State of the City Address delivered at the Performing Arts Center at Lehman College in the Kingsbridge Heights neighborhood of the Bronx. In spite of its northern, non-central location, the speech was well attended. About three dozen protesters also made their way north of Manhattan into the Central west Bronx, wielding placards asking the Mayor to stop gentrification and something about fair labor practices.
I took my place among the press corps where we were seated right in the middle of the auditorium. After settling in, I started photographing the slides whizzing by on the main stage, showing the accomplishments of the de Blasio Administation during its first two years. I have included a slide show a bit later in this report, which contains some of the slides that I photographed.
Unlike last year, when the Mayor and the Police Commissioner were having difficulties adjusting to each other, this year the mood seemed buoyant. In front of me was a group of students from the Laboratory School of Finance & Technology - MS 223 - at 360 East 145th Street in the Mott Haven neighborhood in the Bronx. The school is connected with Bronx Prep and hence handles grades 6 through 12.
Click here to read our report of Mayor de Blasio's State of the City Address 2016. The report includes video excerpts of the Mayor's speech, as well as two other short video pieces including the harmony singing of the National Anthem by a talented Bronx choral group, and the teachers and students of MS 223.
---
Queens Employment - Jobs Sectors & Employment In Queens
Queens County Employment Bests NYC
Queens is one of NYC's Top Employment Performers
December 19, 2012 / Queens Neighborhoods / Employment in Queens / Queens Buzz. Tis the season to be jolly and reflect on what's happened economically over the past year while contemplating and planning for what lies ahead. To that end we did a bit of research into Queens current economic trends, specifically in the employment area.
Queens Employment & Economy is Diversified
Queens has a relatively diversified employment base. Queens County industries include: 1) transportation facilities such as JFK and LaGuardia Airports, Long Island Railroad stations, a network of MTA subways and buses, and a network of federal, state and local roadways,
2) energy infrastructure including two major power plants along the East River,
3) a growing hospitality section including hotels, a large casino, two horse race tracks, a major league baseball team, thousands of small to large retailers,
4) an array of about 2,200 restaurants,
5) a full service construction industry,
6) some light manufacturing and
7) government / social services / education as Queens is home to about a dozen hospitals [both private & public] and over three hundred public schools.
Click here to read our report on employment, unemployment & industry in Queens.
---
Transportation In Jackson Heights & Queens
---
NYC Congestion Pricing - Move NY Congestion Pricing Plan
Which Queens 'Democratic' Pols Support $8 Tolls?
Several Queens Officials Support $8 Tolls on Queensborough & Other East River Bridges & at 60th Street to Raise Capital for the MTA
Queens Democratic Party Chairman Joe Crowley & NYS Governor Cuomo Supported Congestion Traffic Pricing in the Past
March 29, 2016 / Queens Neighborhoods / Queens Politics / News Analysis & Opinion / Queens Buzz.

The new Congestion Traffic Pricing Plan has been making its way into the legislative process over the past year. Just last week NYS Assemblyman Robert Rodriguez, a Democrat from Manhattan introduced the bill on March 23, 2016. The Move NY Congestion Traffic Pricing Plan is being sold into the legislature as a means to raise revenue to fund MTA Capital projects.
Currently NYS Senator Jose Peralta, Cuomo's Deputy of Legislative Affairs Mark Weprin & CCM's Van Bramer, Richards & Reynoso publicly support installing $8 tolls on the Queensborough & other East River bridges to raise capital for the MTA.
Governor Cuomo's Words Are ...
Governor Andrew Cuomo supported the Congestion Pricing Plan put forth years ago, which wasn't popular with many of the voters in Brooklyn & Queens. The two boroughs have a combined population which rounds to 5 million or 25% of the 20 million people who live in New York State.
Cuomo was quoted as making the following statement by the Observer in an article published a year ago on March 15, 2015,
"It's not, 'Can I support it?' Will the people support it? Can you get it done? Can you get a congestion plan passed and we've gone through this a couple of times and it was an overwhelming 'no' and I haven't seen anything happen that would change my opinion,"
The Governor has essentially been repeating this position publicly ever since.
Inconsistent with Governor Cuomo's Staff Actions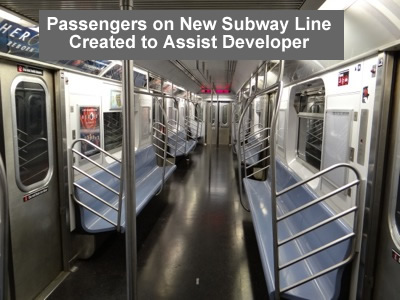 But while the Governor is publicly distancing himself from the measure which is unpopular in Queens and Brooklyn, former NY City Councilmember Mark Weprin, who is now Cuomo's Deputy of Legislative Affairs, has supported the Move NY Congestion Traffic Pricing Plan.
Weprin vehemently oppposed Congestion Traffic Pricing in 2008 when he was a NY City Councilmember, but in 2015 Weprin began publicly supporting the revised Congestion Traffic Pricing Plan as he transitioned from NY City Councilmember to becoming Cuomo's Deputy of Legislative Affairs. NYS Assemblyman David Weprin, Mark's brother, continues to publicly oppose the plan.
It's worth mentioning that the Weprins and the Cuomos have had close family political ties spanning two generations.
Congressman Crowley's Position Circa 2007
Queens Democratic Party Chairman, U.S. Congressman Joseph Crowley, supported the Congestion Traffic Pricing Plan backed by former Mayor Bloomberg, according to a June 11, 2007 report by the New York Times which quoted Crowley as saying,
"the overall [2007] plan — and congestion pricing is just a part of it — will make this a more livable city and make it easier to attract the best and the brightest not only from around the country but from around the world."
We've not yet seen any comments by Congressman Crowley on the current Move NY Plan which was recently introduced.
Move NY's 'New & Improved' Congestion Traffic Pricing Plan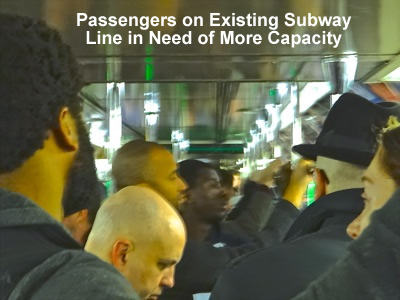 We studied the Move NY Traffic Congestion Pricing proposal by first taking a closer look at what groups are pushing the plan [follow the money]. Gridlock Sam Schwartz Consulting LLC is one of the primary promoters of the plan, and the consulting company is owned in part by a large, multi-national, transit infrastructure contractor. We also evaluated the assumptions they used to create the estimates provided in the plan, which we found to be inconsistent with fairly recent independent studies by respectable institutions, and we also looked at what happened in one of the other cities around the world that implemented the plan.
In essence the plan retrofits [re-prices] the fossil fuel infrastructure, by making a significant investment to install and operate tolling around the center of Manhattan. The remaining proceeds would then go to fund other MTA capital projects [in London this was about half the proceeds]. The pricing would require those who can't afford the $8 tolls [each way] to either use mass transit [recent NYC metro studies have shown this switching doesn't happen] or to cross the bridge at other times at which time the tolls would cost less. The proponents say this would enable those who can afford the tolls to cross the East River bridges and 60th Street more quickly and move around mid Manhattan more easily [less traffic congestion with the rest of the community priced out of their way]. How 'democratic' is this?
Previously MTA Invests Billion$ in New Subways Appearing to Accommodate Billionaire Manhattan Developer(s) & Now Pols Want Metro Residents & Employees to Fund a System to Toll Tax Them to Fund MTA Capital Budget
The MTA during the Bloomberg (Republican) Administration made approximately $8 billion in MTA capital investments for about 30 to 40 blocks of Manhattan subway lines. One line travels from Times Square to the Javits Center [$2.4 billion mostly paid by city] and the other, which was strongly supported by NYC Comptroller Scott Stringer, is expected to travel along Second Avenue from
about East 60th Street to about East 86th Street when it is completed [ran way past budget and time estimates - currently about $5.2 billion].
The latter subway line has been called the 'subway to nowhere', while the other isn't much different - as it terminates at the Javits Center and billionaire real estate developer Steven Ross' & Related Companies' new Hudson Yards development - without any other subway connections. Pundits have opined that one [new #7 Hudson Yards station] and possibly both of these multi-billion dollar investments were made to accommodate Manhattan real estate developers [such as Ross], more than to facilitate transit for commuters and residents of New York City.
When I confronted an MTA spokesperson with this perspective, they told me that the Q line extension would alleviate a considerable amount of the congestion on the north / south east side Manhattan subway line, but made no comment regarding the Hudson Yards station.
The photos above show no passengers on the Javits subway [at an admittedly random time and not long after it was installed], while the second photo shows the #6 subway along the Upper East Side, also at a random time [I have #7 photos that look the same, but didn't have time to find one]. The map to your right shows the new #7 subway line extension ending as an unconnected spur.
Perhaps if the MTA and the government officals who oversee MTA capital project spending were more judicious in their selection of multi-billion dollar projects and allocation of funds, they wouldn't need to make a huge investment of the public's money in the creation and operation of an expensive new tolling system which they plan to use to charge taxpayers $8 tolls to cross 60th Street and the East River Bridges.
This plan essentially aids the wealthy by making their lives easier, while economically discriminating against those with less wherewithal, by making their lives harder. This doesn't strike me as a solution that's 'democratic' at all. There must be less costly, more fair ways to raise additional revenue for transit that NYC commuters - not Manhattan real estate developers - really need.
Click here for the rest of our story about the Move NY Congestion Traffic Pricing Plan as we explore in greater detail a connected web of people, lobbyists and organizations behind Move NY Congestion Traffic Pricing Plan and their possible motivations. We critique the plan including a review of the assumptions, and a closer look at independent studies done with regard to motorists response to toll prices and changes.
---
---
Jackson Heights / Elmhurst Real Estate Related Info
Click this link for promotions, discounts and coupons in Jackson Heights / Elmhurst and Queens.
Click this link to go to the Jackson Heights Elmhurst Neighborhood / Things To Do In Jackson Heights - Attractions / Jackson Heights Events / Jackson Heights Maps - Quick / Jackson Heights Maps / Jackson Heights Shops - Quick.
---
Site Search Tips. 1) For best results, when typing in more than one word, use quotation marks - eg "Astoria Park". 2) Also try either singular or plural words when searching for a specific item such as "gym" or "gyms".
---
Archives - TBD
---
Click this link to search for something in our Queens Business Directory.
---
Click the log in link below to create an ID and post an opinion.
Or send this story to a friend by filling in the appropriate box below.
---