---
Sunnyside Shines BID - Annual Meeting 2018
The Sunnyside BID Shines Brightly
Sunnyside Shines BID Holds Annual Meeting & Annual Recap
March 27, 2018 / Sunnyside Neighborhood / Queens Business / Queens Buzz NYC.
On Monday, Sunnyside Shines, the Business Improvement District organization serving Sunnyside held its annual meeting. The Sunnyside business improvement district includes Queens Blvd between 38th and 50th Streets and along Greenpoint Avenue from 50th to 42nd Streets and most points in between.
As you can see from the photo at right, the meeting was well attended. Somewhere in the neighborhood of fifty to one hundred people spent some time at the meeting, and I found it to be pretty informative regarding what's going on in the Sunnyside business community.
Sunnyside Shines BID Executive Director Jaime Faye-Bean & Board Chairman John Vogt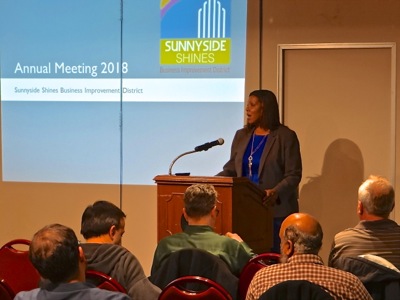 Sunnyside Shines BID Executive Director, Jaime-Faye Bean was there to present the BID's annual results and she,along with John Vogt, Chairman of the Sunnyside Shines BID also presented a number of awards to community members for their contribution to the business district.
One of the things that struck me as I watched the events of the evening unfold, was the holistic approach to business development that the Sunnyside Shines BID had undertaken this past year. It struck me not just because there were so many people in attendance, but because of their enthusiasm, their achievements and the BID achievements in building momentum for the business district as a whole. You'll see more clearly yourself as I describe the night.
I arrived a couple minutes late and Public Advocate Letitia James came to speak to the group about what her offices does and she encouraged the audience to contact her if they had any issues where they thought she and her office could help. According to Wikipedia, the NYC Office of Public Advocate,
"The Public Advocate is a non-voting member of the New York City Council with the right to introduce and co-sponsor legislation. … The Public Advocate also serves as an ombudsman for city government, providing oversight for city agencies, investigating citizens' complaints about city services and making proposals to address perceived shortcomings or failures of those services."
---
Bix Beiderbecke Concert Sunnyside - Bix Beiderbecke History NYC
Davenport & Sunnyside: The Bix Jazz Connection
Jazz Musician Bix Beiderbecke is an Evolving Link Between Davenport Iowa & Sunnyside Queens
August 8, 2017 / Sunnyside Neighborhood / Jazz in Queens / Queens Buzz NYC.
So a week ago I took a walk 'On the Sunny side of the Street' as I ambled down to Queens Blvd at 46th Street to take in the music of the annual Bix Beiderbecke Concert. As I approached I could hear the music wafting through the hallowed halls of the #7 train tracks.
There was a full crowd at the 46th Street Plaza where kids were dancing to the jazzy tunes alongside a couple who knew their steps. The weather was nearly perfect, in the low 80's and not too humid.
In the photo at right, standing in front of the building on 46th Street in Sunnyside where Bix spent the last few months of his life, are [from left to right] drummer Paul Maringelli and trumpeter Jordan Sandke in the first row, and cornetist Bix Beiderbecke [brought back to life], clarinetist Joe Licari, pianist John E. Halsey, saxophonist Carol Sudhalter and bassist Fred Berman [Harvey Tibbs is not present] in the second row.
The Sunnyside Wolverines - Playing Bix Tunes Nearly 20 Years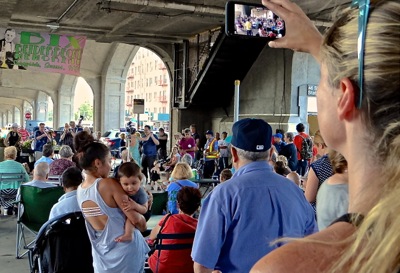 All of the musicians are accomplished in their own right. In addition to playing with the Sunnyside Wolverines - a band formed by drummer Paul Maingelli and named after Bix's band the Wolverines - each musician performs either individually or with other collaborators - quite frequently around the NYC metro area, as well as further afield. I'll include their contact information at the end of this report, in the event you're looking for (a) musician(s) to perform at a party or event.
On the Sunnyside of the Street was one of the last tunes played by the group on this balmy summer evening. The tune was first played as part of a 1930 Broadway Musical, just a year before Bix passed away on August 6, 1931. The group also played the tunes from the last of Bix's final recording session, which was made during the last year of his life.
Bix's life started in Davenport, Iowa in 1903. In his teens Bix taught himself how to play the cornet. He started performing for the public soon thereafter, including on Mississippi River boats which had become big entertainment venues. By the time he was 20, Bix had become a famous jazz musician performing in jazz towns like Chicago and Detroit.
In the photo above right you can see the crowd enjoying the Bix Beiderbecke concert which was sponsored by the Sunnyside Shines BID. In the photo below right you can see the Mississippi River near Davenport, Iowa where Bix grew up. The latter photo compliments of trumpeter Jordan Sandke.
Click here to read the rest of the story, including photos from Davenport, Iowa where Biz was born, and a short video of the Bix Beiderbecke concert in Sunnyside, Queens.
---
Sunnyside Shorts Film Festivals Queens
Sunnyside Shorts Film Festival Friday
Films Shorts from Queens & Around the World Describe a bit of the World Around Us
October 3, 2016 / Sunnyside Queens / Film Festivals in Queens / Queens Buzz.
On Friday and Saturday the Sunnyside Shorts Film Festival returns after going on hiatus in 2011. The films will be shown in the historic Sunnyside Reformed Church on 48th Street and Skillman Avenue in Sunnyside. We covered the festival in the past and you can find prior stories about it by clicking these links to the Sunnyside Shorts Film Festival in prior years.
History of Sunnyside Shorts Film Festivals in Queens
The first Sunnyside Shorts Film Festival was organized in 2001 by a visiting Japanese student at Hunter College. The Founder, Shinichi Murota, after running the first festival then returned Japan.
Theresa Ward & Sherry Gamlin were volunteers for the first festival and after the festival lied dormant for a few years, they decided to revive it in 2007. For five straight years the festival continued along with the help of another Sunnysider Susan Walsh - before going back on hiatus in 2011 when Sherry left Sunnyside to care for her mother. In the photo at right [from left to right] stand Sherry Gamlin along with Ashley and Bryan Brinkman in front of the Sunnyside Reformed Church where the Sunnyside Shorts Film Festival begins Friday.
Sherry's mother died in 2014 and a year later Sherry returned to Sunnyside which has been her home since 1975, and her Queens roots go back even further. Last Spring Sherry attended a concert at Sunnyside Reformed Church and she inadvertently found herself scouting out the church as a venue for the return of the festival. She spoke to Pastor Neil Margetson about the possibility of using the church as the film festival venue. Margetson liked the idea … and hence the Sunnyside Shorts Film Festival was born again.
Organizing Sunnyside Shorts Film Festival Queens 2016
Sherry told me that they had received 1255 film submissions from around the world, literally all six continents [none from Antarctica which is melting fast], citing films from South Africa, Zimbabwe, Latin America, Iran, India, Japan, China, Australia, Europe and North America / NYC / Queens. The photo at right is from the film Bionic Girl from France showing Friday night.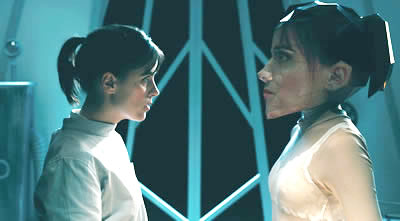 She received most of the submissions in May of 2016 and there were six people who reviewed the films including Bryan and Ashley Brinkman who had helped with the last Sunnyside Shorts Film Festival in 2011. Bryan Brinkman is a cartoonist animator for Jimmy Fallon and his wife Ashley Brinkman is a package designer for advertising company that does food products. Ashley did the poster [see photo below] and website, while Bryan helped review the films.
The four other reviewers were Kevin Keating, who Sherry described as a notorious film buff, Sandra Statner is an avid TV and old movies screener, Dr. Caryn Goldberg is a psychologist who regrets not going into stand-up comedy, and Matt Simnowitz was described as someone who knows everything there is to 'no' about filmmaking.
Screening the Films for Sunnyside Shorts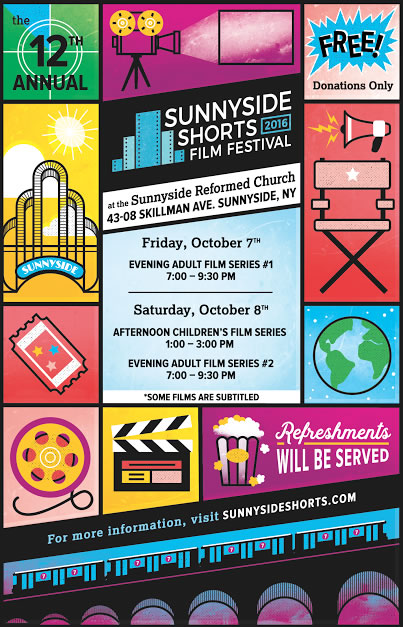 In reviewing the films, those that contained inappropriate content were quickly discarded, as were some that were just so bad. Sherry said the films allowed into the show were screened to be sure there wasn't anything demonic or distasteful. Sherry told me that she had inquired as to whether the Church guidelines would permit the showing of films with some cursing, and Pastor Margetson quipped, "I'm sure God has heard it all."
And while 1255 films sounds like a lot – which it is – they are short films, so 1 to 20 minutes in length means you can review 60 to 6 in the time it takes to watch one two-hour long film. What about themes I asked? "No themes" she said, "the festival is about nothing and it's about everything." There's drama, comedy, animation and documentaries. They are showing 13 films on Friday and 12 films on Saturday evenings beginning at 7 pm and showing 13 films for the kids on Saturday from 1 to 3 pm.
Why are you doing this, I asked. "Because I love all aspects of putting a film festival together" she replied.
Click here for a preview of many of the films that will be shown at the Sunnyside Shorts Film Festival this Friday and Saturday.
---
Topaz Arts Woodside - Queens Art Galleries
Topaz Arts Woodside Opens New Exhibit
A Contemporary Exhibit of Collage, Assemblage, Sculpture & Installation
March 14, 2016 / Woodside Neighborhood / Art Scene in Queens / Queens Buzz.
Last weekend I attended the opening reception at Topaz Arts in Woodside for Case Studies, which is an exhibition of contemporary collage, assemblage, sculpture & installation. The exhibit features five artists - Joseph Paul Fox, Ged Merino, Orange, Roger Rothstein and Junko Yamada who exhibited a variety of contemporary works.
I arrived around 3 pm on a beautiful sunny Saturday afternoon. The temperature was in the 60's and the door was wide open, welcoming the fresh Spring air and guests into the art gallery in Woodside. Along the front window there was a table of hors d'oeuvres and wine, while along the walls of the gallery were very neatly partitioned exhibits by each of the five artists.
The inspiration for the exhibit was an influential American artist, Joseph Cornell [1903 – 1972] who lived and created his artworks in Queens. Cornell was a pioneer in assemblage art and considered by many to be a Surrealist. He shunned the Surrealist label however, believing Surrealist artists' works alluded to black magic, while his referenced his own private, poetic world using found objects. By the 1930's he was a well-known New York assemblage artist, and appeared in numerous New York City metro art exhibits, including at the [then] new Museum of Modern Art in Manhattan.
Click here to view the rest of the story including photos and video about the new art exhibit, Case Studies, at Topaz Arts gallery in Woodside, Queens.
---
Sunnyside Artists Crafts Fair
Sunnyside Artists Work Their Craft
November 10, 2015 / Sunnyside Neighborhood / Sunnyside Shopping / Queens Buzz.
Sunnyside Artists, a local arts group, organized a crafts fair at the Queen of Angels Church on Skillman Avenue. There were just shy of 40 artists and crafts(wo)men with booths at the show. I arrived late afternoon as things were winding down and had a chance to talk to the folks about their work.
There were folks there selling all kinds of orginal works and handmade crafts. For example a seamstress who made cloth dolls that would give Raggedy Ann a run for the money. Handmade purses that would make even Gianni Versace envious. florists whose artistic breadth knew no bounds. Handmade wooden trains that Gepetto [Pinocchio's father] would buy for his son. Illustrators whose work is on a par with that of Spiderman creator Stan Lee. Photographic works that make Rembrandts out of local scenes. And ceramics that would have made the Grecian potters stand in awe. And all on sale for a mere pittance of their worth.
Click here to enter the entertaining world of the Sunnyside Artists Crafts Fair via a video time warp.
---
Bix Beiderbecke Concert Sunnyside Video & Photos
Sunnyside Summer Jazz Festival Keeps Evolving
Bix Beiderbecke Memorial Jazz Concert Attracts Some of Queens Top Jazz Talent
August 10, 2015 / Sunnyside Neighborhood / Music Scene in Queens / Queens Buzz.
It was a warm, dry, August afternoon as I made my way to the newly christened Luke Adams Way just off Queens Blvd at 46th Street. I was looking to take in a bit of summertime jazz at the 14th annual Bix Beiderbecke Jazz Festival.
I had met Paul Maringelli - a graphic artist by day and musician at night - many years ago, when I first heard of the concert. He had been living in Sunnyside for quite some time before he one day stumbled upon the fact that Bix had once lived within a stone's throw of his own home.
For those who know Paul, he's the inquisitive type, and has a penchant not just for music, but also for history, so he did a bit of digging to learn moreabout Bix Beiderbecke and about the time Bix spent living in Sunnyside. That's Paul playing the drums behind Saxaphonist Carol Sudhalter and Bassist Dave Hofstra in the photo above.
Paul started talking to musicians about doing something in honor of Bix and about 14 years ago, they held a memorial on the anniversary of Bix's death outside the apartment building where Bix had once lived - and as fate would have it - also died.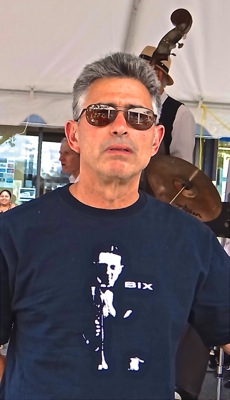 There were a few musicians in the audience at the time and they played a short tribute to Bix. That was the beginning of what has now grown to become the annual Bix Beiderbecke Jazz Concert / Festival. Following that first commemoration, Paul contacted local organizations in search of sponsorship for the event and the Sunnyside Shines Business Improvement District stepped in to help fund it.
On this warm August afternoon, I was looking forward to listening to some of the finest jazz musicians in Queens and New York City. Paul Maringelli had sent me an email giving me a heads up. Here's an excerpt where he describes his fellow band members.
"I'm playing with some top-of-the-line musicians (look 'em up online). It amazes me that musicians with these credentials are playing with me [Editor's Note: Paul is a very modest man]. Jordan Sanke: Trumpet (he's on a Ringo Album), Carol Sudhalter: Sax, (Astoria Big-Band leader – and her late brother, Richard, wrote Bix's bio), Herb Gardner: Trombone (played with guys who played with Bix, like Gene Krupa). Also, for the first time this year, Tom Abbott: Clarinet and John Halsey: Piano; and making a return appearance (he was here 3 years ago) Dave Hofstra: Stand-up Bass (he's on the hit record by The Waitresses "Christmas Wrapping"). All are jazz players … and … Bix fans."
Click here to read the rest of the story including a 3 minute Bix Beiderbecke Sunnyside Jazz Festival music video of an old jazz tune. In the photo above, a longtime Bix fan wearing one of the T-shirts that were part of one of the early concerts.
---
Luke Adams 1938 - 2014
Luke Adams 1938 - 2014
Small Town In The Big City
November 13, 2014 / Sunnyside Neighborhood / Queens Buzz. A warm hearted, quick-witted, long-time Sunnysider passed away earlier this week. He was a giver, not a taker. A lot can be said about Luke Adams, as there are as many tales to tell about the man as there are leaves on the trees in Sunnyside Gardens in summertime.
Luke grew up in Queens and as a fairly young man settled into Sunnyside. He ran a travel agency and took folks to places around the world. Lily Gavin of Dazies Restaurant shared Luke's passion for travel and she joined him on a number of trips. Luke was, by nature, an adventurer.
Luke's travel agency was adjacent to the office of the Woodside Herald. He became good friends with Joseph Sabba and his son Buster, both of whom were publishers of the Woodside Herald [in respective succession]. Luke assumed the role of a reporter and photographer for the paper, and he enjoyed those roles, which he would play in some manner for the rest of his life.
Click here for the rest of the story about Luke Adams Sunnysider.
---
Luke Adams - The Irish in Sunnyside & Woodside
Irish Eyes - The Luke Adams Fundraiser
February 7, 2014 / Sunnyside Neighborhood / Queens Buzz. There's a benefit / fundraiser planned for Monday, February 10th at Murphy's Lobster Grill on Skillman Avenue at 49th Street in Sunnyside. The event is in honor of Luke Adams and scheduled to run between 5 and 8 pm. The Sunnyside Artists Organization is sponsoring the event which is open to the general public.
Luke has been an avid Sunnyside community supporter for longer than most of us have been alive. Patricia Dorfman, Luke's friend and also an active member of the community herself, wrote the following piece about Luke's contributions to the community and current situation, to help promote the fundraiser. The photos were shot and added by Queens Buzz.
In the photo at right, NYS Assemblywoman Cathy Nolan with Luke Adams. Click here to read Patricia Dorfman's story about Irish Eyes in Sunnyside, the Luke Adams fundraiser on February 10th at Murphy's Lobster Grill from 5 to 8 pm.
---

1 opinion posted
Sunnyside Gardens Park - Flicks in the Garden
Flicks In Sunnyside Gardens Park
More Fun Than A Barrel Of Monkeys
September 30, 2013 / Sunnyside Neighborhood / Film in Queens / Queens Buzz. Saturday night, in the neighborhood of about one hundred kids and about four hundred people in total, descended on Sunnyside Gardens Park for a soiree of food, fun and flicks in the garden.
The event was hosted by Sunnyside Gardens Park and open to the general public. There was make-up, crafts, dance, food and flicks. The event was emcee'd by Ty Sullivan, the local tall, slim and very red mad hatter. Ty seemed to have a knack for getting the kids worked up over great cartoons like Betty Boop and Jack Frost. Like last years presentation of Flicks in the Garden 2012, Tommy Stathes provided the cartoon films.
I arrived a bit after dark and had missed some of the fun, but quickly found a general willingness to share it post facto. Click here to read more about Flicks in the Garden in Sunnyside Gardens Park in 2013, including photo slide show.
---
Noah's Pudding - Turkish Culture In Queens
Turkish Cultural Center Celebrates Ashura
Noah's Pudding Commemorated
January / Sunnyside / Queens Buzz. I just returned from an evening at the Turkish Cultural Center in Sunnyside, where I joined them in celebrating Ashura or Noah's Pudding. Ashura is an ancient Turkish tradition that commemorates the landing of Noah's Ark following the great flood. According to the Book Of Genesis, Mount Ararat in Turkey is where Noah's Ark finally touched dry land. A photo of Mount Ararat is shown in the photo to your right.
Mount Ararat is located in eastern Turkey along the Iranian border. The mountain is a dormant volcano that stands nearly 17,000 feet tall and is the highest point in that region of the Middle East.
Click here to learn more about the Turkish Cultural Center in Sunnyside and about the ancient tradition of celebrating Noah's Pudding. This report also includes photos of the event which was held at the center.
---
---
Sunnyside Shops & Woodside Shopping
Sunnyside Shops & Woodside Shopping
Shopping Along Queens Blvd and Greenpoint, Skillman & Roosevelt Avenues
Sunnyside & Woodside / Queens Buzz. Sunnyside and Woodside are home to a number of shopping venues, some easily found and others worth the hunt. The main shopping areas include Queens Blvd and Greenpoint, Skillman and Roosevelt Avenues. This section contains maps, links to advertiser home pages and stories about some of the interesting shops and commercial creations going on in Sunnyside and Woodside.
Click here to enter the Sunnyside Shopping and Woodside Shopping section of this site.
---
Sunnyside & Woodside / Queens Member Events Calendar
1. Click the icon to your left to view the Queens Events Calendar.
2. To submit an event to the member calendar set up a member ID in the COMMUNITY section of the site along the left side bar. Then click into the Member Calendar link in the same section to post the event. To start posting a member event you must first click the drop down arrow to select the member calendar. Event postings are FREE to community organizations, arts groups and non-profits.
---
Sunnyside & Woodside News Archives
---
Site Search Tips. 1) For best results, when typing in more than one word, use quotation marks - eg "Astoria Park". 2) Also try either singular or plural words when searching for a specific item such as "gym" or "gyms".
Click this link for promotions by advertisers in Queens.
Click this link to search for something in our Queens Business Directory containing over 1,000 listings. Click here to view the offerings of one of the best Woodside bakeries.
---
Click the log in link below to create an ID and post an opinion. Or send this story to a friend by filling in the appropriate box below.
---