st pats parade queens st pats for all sunnyside woodside
St Pat's Day Parade In Queens
St Pat's For All Parade & Political Pageantry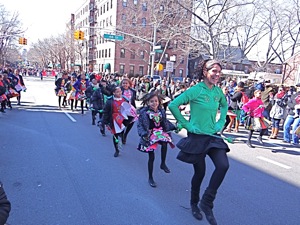 March 5, 2013 / Ethnic Culture in Queens / Sunnyside & Woodside / Queens Buzz. I attended the St Pat's For All Parade in Queens on Sunday afternoon. It was a crisp Spring day, with temperatures in the 40's, and even warmer in the ample sunshine. They had scheduled an Irish cultural celebration to begin at 12.30 pm, followed by the parade which was to begin at 2 pm.
The celebration included a number of Irish dances performed by Niall O'Leary's School of Irish Dance and Caroline Duggan and the Keltic Dreams of PS 59 in the Bronx [see photo]. There were also musical performances by several groups, including the Brian Fleming Band which has been a regular performer at the St Pat's For All Parade for years.
And of course there were speeches ... click here to read the rest of our report about, and view photos of the St Pat's Parade in Queens, including a photo slide show.
---
St Pat's Day Parade In Queens
St Pat's For All Parade & Political Pageantry
March 5, 2013 / Ethnic Culture in Queens / Sunnyside & Woodside / Queens Buzz. Continued ... There were speeches, but given it's an election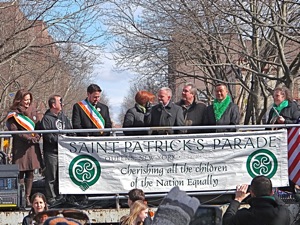 year, I forewent the pleasure of listening to them, thinking I would have a chance to hear them later this year, as the local elections begin to heat up.
So I snapped a few photos of the speakers on the podium, including City Council Speaker [and unnannounced NYC Mayoral candidate] Christine Quinn, City Councilmembers Jimmy Van Bramer and Danny Dromm, City Comptroller [and unnannounced NYC Mayoral candidate] John Liu, Congresswoman Grace Meng and parade organizers Kathleen Walsh D'Arcy and Brendan Fay. Also on the podium were special guests from the Irish Arts Council of NYC, Pauline Turley and Aidan Connolly.
St Pat's Parade In Queens: Politics + Parade = Two For One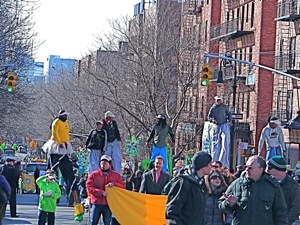 I wandered up Skillman hill enjoying the sunny day. In the background I caught phrases of speeches, beamed up through the loudspeakers; phrases like immigration rights, LGBT rights, workers rights, and women's rights. To be sure these are all critical issues, and our coverage of them is located in the Issues section of this site.
About 50 cars had been towed away in preparing for the parade. Not to the city pound, but to other parking spots in the vicinity. The NYPD had posted white paper signs along Skillman Avenue, which looked more like 'Apartment For Rent' posters, than 'No Parking Notices'.
St Pats Parade In Queens Photos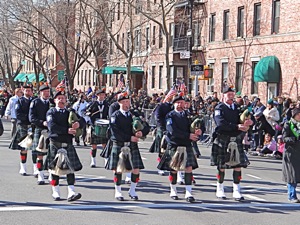 The parade began about 20 minutes late. It started with the bagpipers, followed by the government officials and parade organizers, and then the performing dance groups. What follows is a listing of the other groups in the parade, including the Girl Scouts, the Brownies, a group bearing a banner with a statement made by James Connolly - "The cause of Labor is the cause of Ireland ... and the cause of Ireland is the cause of Labor."
The Junior Brownies came next, followed by the Gaelic Speakers of NYC or rather the An Slua Nua. We took photos of the crowd watching the parade in front of the local businesses along Skillman Avenue including Stray Vintage, La Parisienne Hair Salon, Aubergine Cafe and La Marjolaine Bakery.
The Odd Couple - Marian Price Followed by Rapid T. Rabbit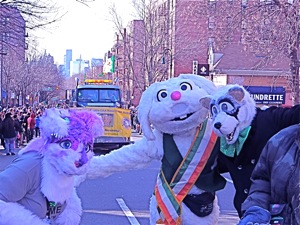 There were some stiltwalkers, who were really quite good at it. And a number of costumed paraders. A 'Free Marian Price' banner was carried by a group that wants her freed from a Northern Ireland prison where she's being held and apparently her health is failing. Marian Price was convicted with several others, of a 1973 London bombing. After serving time, she was convicted again in 2009 of trying to blow up a Northern Ireland barracks. In both instances there was at least one casualty and injuries. The Marian Price group was followed by the illustrious troika of Rapid T. Rabbit, Racodo Racoon and Pixistix Pup. A more celebrated group, you'll never find.
The Shannon Gaels - Irish Football In Queens & Tristate Area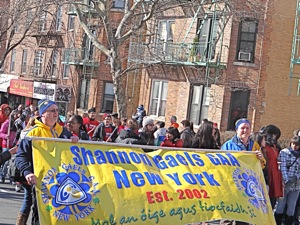 A large truck came lumbering up the hill sporting a large banner for the Shannon Gaels GAA [Gaelic Athletic Association], which was founded in 2002. The Shannon Gaels GAA is a Gaelic Football club. Gaelic football was originated in 1884 by Michael Cusack and according to their website [shannongaels.org], it's been making a comeback as there are now 15 teams in the tristate area. They appear to be based in Maspeth and sometimes meet at the Elks Club at 82nd Street and Queens Blvd. They were followed by a mix of families and kids in uniform and a band - although I'm not entirely sure that the band was part of the Shannon Gaels group.
Irish Arts Center IAC Comes To Queens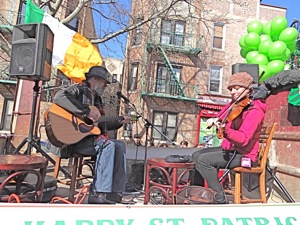 The NYPD Gay Officers Action Leauge came next, followed by a large NYFD fire truck and a few students from St John's Preparatory School. The Irish Arts Center [IAC] made a big showing this year in support of the two IAC featured guest speakers. Next came the NYC City Council, which included a few folks from the front of the parade, followed by a couple of groups in support of the local City Councilmembers.
The Winged Fist Organization & St Pat's For All Parade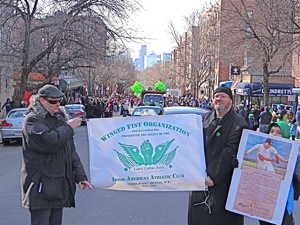 The Winged Fist Organization, which had a street commemorated for the legendary Irish American sports group last year, was again in the parade this year. A duo playing guitar and the fiddle followed in a truck. Queens Lesbian and Gay Pride banner bearers followed. It's worth noting at this point, some of the history of the St Pat's For All Parade, which began in 2000 as a reaction to the prohibition of gays marching in the St Patrick's Day Parade in Manhattan. The parade was started by Brendan Fay and Kathleen Walsh D'Arcy. Brooklyn Pride banner bearers followed, accompanied by Make The Road, which is a non-profit group that works to protect immigrants' rights. A group bearing a large Heritage of LGBT Pride banner was next.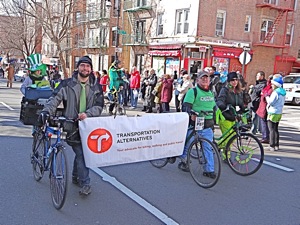 City Councilmember Dromm had a contingent representing him in the parade as did Democratic District Leader and City Councilmember hopeful, Costa Constantnides. There was a group representing City Comptroller John C. Liu, who has not yet announced his intentions with respect to running for NYC Mayor. Remember the Triangle Fire Coalition was new to the parade this year. They had a group carrying a banner as well as a number of the paraders carrying tattered shirts. The Triangle Shirtwaist Factory fire of March 25, 1911 was one of the biggest tragedies in NYC modern history.
Irish Bagpipers Followed by Community Organization Marchers
Another group of bagpipers marched forth, blowing the tunes of ancient wars of ancient times. They
were followed by the Transportation Alternatives Queens paraders, who represent the alternatives to cars such as cycling, walking and mass transit. They periodically post cycling events in the Member Calendar.
A small contingent of the United Federation of Teachers [UFT] was present. They were followed by the Irish American Democrats. The Sunnyside United Dog Society or SUDS followed, with many of the canine creatures wearing full green St Patty's Day outfits, like this old bulldog.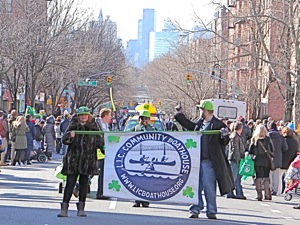 The LIC Boathouse had a strong showing of paddlers and paraders, complete with viewable equipment. We did a story following a conversation with them last fall wherein they had flagged issues related to the water quality of the East River. PFLAG, Parents and Families of Lesbians and Gays, followed. A marching band came next, the name of which I did not get [but will post if sent to me at the address in the About section].
The Mission of the St Pat's For All Parade in Queens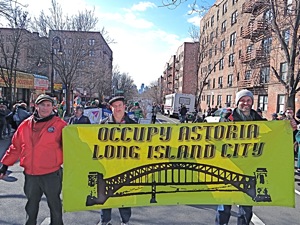 I reckon at this point, it's worth adding that the St Pat's For All Parade has become a sort of catchall for public displays of free speech. As mentioned above, it originated as a response to the NYC St Pat's Parade banning lesbians, gays and transgenders from marching in their parade. As a result, the St Pat's For All Parade has become exactly that - a parade for all. It's a sort of open platform for making statements and registering dissent. That is afterall, how this nation began. The early American colonists wanted some representation in governance, giving they were paying into the system.
Immigration Equality paraders came next, followed by the members of Occupy Astoria / LIC who we had met last summer while covering one of their events. Dignity New Yorkers carried a banner, and another banner told the tale of a Franciscan priest and gay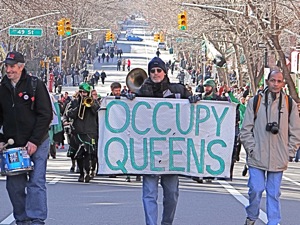 FDNY Chaplain. And there was a grop carrying a Free Bradley Manning banner. Formerly a PFC [Private First Class], Bradley Manning leaked quite a bit of DOD [Department of Defense] material to Wiki Leaks. Some say he was showing some of the things about war that those who wage it would rather the public not see. Others, including the U.S. Government, is prosecuting him / court martialing him as a traitor to the nation. Many of the sign bearers that followed, seemed supportive of the motion to free Bradley Manning.
Flushing Meadows Corona Park Privatization & Occupy Queens
Occupy Queens was one of the last groups in the parade. One of the marchers sported a 'Save Our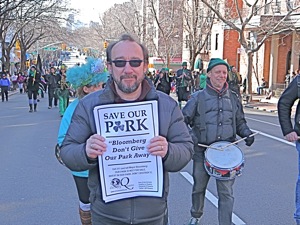 Park' sign, which is about the current controversey over the privatization of Flushing Meadows Corona Park. We've started a report series on it, which you can see by clicking the link above [Part II: Battle of the Titans] or by clicking this link for Part I: Out of the Ashes Rises the Phoenix. Occupy Queens was followed by a jazzy Irish band that didn't carry a banner or placard, and Lynne Serpe who was sporting a St Pat's For All sweatshirt.
We spotted a lone man along the curb, who was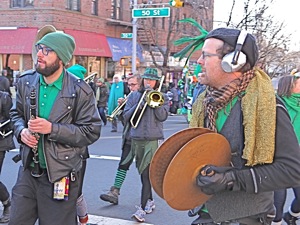 also exercising his right to free speech, although a bit at odds with many of those who were marching in the parade. His sign read, Stop Blaspheming Our Lord NOW.
All in all it seemed to be quite a good parade.
St Pats Parade in Queens Photos - 2013 Slide Show
Click here to view the slide show containing photos of the St. Pat's Parade in Queens. The Sunnyside & Woodside parade is the inclusive St Pat's Parade in Queens.
$element(ophoto,photo_slideshow,230,660,,5.00,fade)$
---
Sunnyside Neighborhood / Woodside Neighborhood Links
$element(adman,groupad,NHoodSSWS)$
Click on these advertisements for promotions, discounts and coupons by retailers and restaurateurs in Woodside, Sunnyside and nearby Queens.
Click this link to go to the:
Sunnyside & Woodside Neighborhood
Sunnyside Business Directory or Woodside Business Directory
Sunnyside & Woodside Real Estate or Events & Things To Do In Sunnyside & Woodside
Restaurants In Sunnyside & Woodside or Sunnyside & Woodside Shops & Shopping
---
$element(adman,groupad,Catgry Foodwine)$
Site Search Tips. 1) For best results, when typing in more than one word, use quotation marks - eg "Astoria Park". 2) Also try either singular or plural words when searching for a specific item such as "gym" or "gyms".
$element(bwcore,insert_search,N)$
Click this link to search for something in our Queens Business Directory. Also check out Taste of Sunnyside.
---
Click the log in link below to create an ID and post an opinion.
Or send this story to a friend by filling in the appropriate box below.
$element(adman,groupads,Sectional2 Ad)$
---