New York State Politics & Government
---
Albany Legislative Session To End Friday
Pending Bills: Public School Funding & Rent Stabilization Law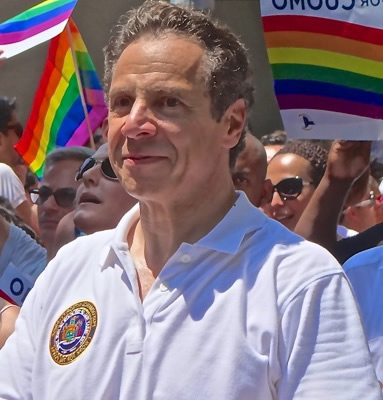 June 15, 2015 / Queens Neighborhoods / Queens Politics / Queens Buzz.
There are two important bills expected to be finalized by the New York State Legislature this week: 1) one having to do with taxation and funding for the public schools and 2) the second having to do with NYC rent stabilization law.
I've been paying some modest measure of attention to both of these bills, and the following is a brief snapshot of a critical talking point in each bill.
Use Public Money To Fund Private Education?
From what I can gather, perhaps the most contentious item in the public education funding bill is the provision for sizeable tax deductions for those who choose to send their children to private, not public schools.
As I understand it, these tax deductions would be included as part of the funding for the public schools budget and therefore will reduce what's left for the NYS / NYC public school systems.
It's worth noting that private school tuition in NYC can cost in the range of about $5,000 to $30,000 per year per student. And that there are about 900 private schools in NYC alone, so depending on how these proposed deductions are ultimately structured, the funds reallocated from the public schools to private individuals would be in the tens to hundreds of millions of dollars and possibly more.
You might want to contact Governor Cuomo's office at 1.518.474.8390 to let him know you support or oppose the measure, since we understand that he's been the major force pushing for this public school funding change. You can also send him an email via the Governor's contact form.
Albany & Expiring Rent Stabilization Laws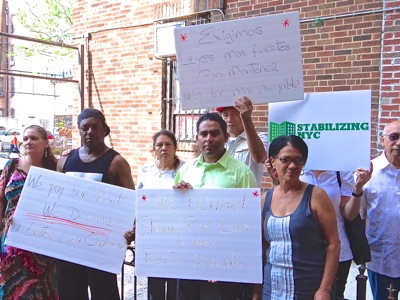 The Rent Stabilization Laws are due to expire tonight, June 15, 2015.
There was talk earlier this year that there would be a push to expand or strengthen the Rent Stabilization Laws given the rapid growth in homelessness in New York City. The NYC homeless population is currently estimated at over 60,000 or nearly 1% of the entire NYC population. About 70% of New York City residents are renters, of which about two million of less than eight and a half million residents, live in rent stabilized apartments.
Over the past decade or so, the Rent Stabilization Laws have been curtailed in the favor of the free market and landlords. The curtailment of rent price control legislation is believed to have spurred additional real estate development investment, as the profits of most new buildings are no longer affected by rent stabilization laws.
Much of the rapid growth in homelessness over the past decade is believed to be the result of tenants losing their rent stabilized apartments, as new owners of buildings have found ways to circumvent the laws. A recent NYU Furman Center Study has shown the loss of over 330,000 unsubsidized affordable apartments since 2002, due in part to the rent stabilization legislative changes referenced above.
NYS legislative insiders told me that tenants rights supporters were hoping to make legislative gains this year, but that the NYS Assemblypeople and NYS Senators opposing the changes, were going to allow the rent stabilization laws to expire as a negotiating tactic.
Vicki Been, Commissioner of NYC Department of Housing Preservation and Development, informed us that the current rent stabilization laws remain in effect through the term of existing leases and leases up for renewal that are already in the hands of the tenants. She also said that tenants should call 311 with any questions or problems.
Cuomo & NYS Officials - Quinnipiac Poll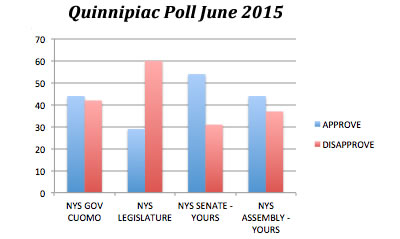 On June 3, 2015 Quinnipiac released a poll showing voters are feeling negatively about the NYS Legislature as a whole, while continuing to favor their local representatives. In the poll Governor Cuomo has only a 2% margin of those favoring him.
Governor Cuomo had a 44% approval rating versus 42% disapproval rating, as voters are not satisfied with his handling of the corruption scandals that have plagued Albany this year. In February 2015 Assembly Speaker Sheldon Silver [Democrat Manhattan] was indicted on federal corruption charges. And in May 2015 NYS Senate Leader Dean Skelos [Republican Long Island] was indicted by a federal Grand Jury.
Less than a year ago, NYS gubernatorial candidate Zephyr Teachout, a law professor at Fordham University surprised polls by garnering nearly 2 votes for every 3 won by the governor in the NYS Democratic primary. Ms. Teachout did not have much in the way of significant private backing or union support, but won nearly 40% of the vote waging an online campaign.
According to the Quinnipiac poll, voters by a margin of 52% - 32% said that with respect to Albany's corruption problem:
"... the Governor is part of the problem, not part of the solution."
As for the NYS Assemblymembers and NYS Senators the Quinnipiac Poll reported the following:
"Voters disapprove 60 - 26 percent of the job the State Legislature is doing, but approve 44 - 37 percent of their own Assembly member and approve 54 - 31 percent of their own state senator."
"At the same time, 45 percent of voters say their state senator should be thrown out in a general house-cleaning, while 40 percent say their senator deserves reelection."
"Voters are divided 41 - 41 percent on whether their Assembly member should be reelected or thrown out."
As you can see, the sentiments collected in the Quinnipiac poll seem a bit contradictory, as the answers received depend on how the questions are stated. Nonetheless, this looks to be an interesting legislative week as things wind down in Albany, and as the 2016 election cycle begins to ramp up.
---
$element(adman,groupad,Catgry Finance)$
$element(adman,groupad,Catgry Realestate)$
---
Queens Election Results
Cuomo Wins, Avella Retains Seat, Comrie Unseats Smith
Updated September 10 / September 9, 2014 / Queens Politics / Queens Buzz. NYS Senator Tony Avella defeated challenger former NYC Comptroller and NYC Mayoral candidate John Liu for the District 11 NYS Senate seat in the primaries on Tuesday. John Liu was backed by the Queens Democratic party because of Avella's independent streak.
Leroy Comrie handily defeated incumbent Malcolm Smith for the District 14 NYS Senate seat by a margin of 3:1. NYS Senator Toby Stavitsky defeated challenger S. J. Jung by 15 percentage points, although Jung beat expectations by capturing the lion's share of the ethnic Asian vote [Jung is Korean].
Assemblywoman Margaret Markey defeated challenger Dmytro Fedkowskyj by a margin of 3:1 for the Assembly District 30.
And Andrew Cuomo and Kathy Hochul beat first time candidates, Law Professor Zephyr Teachout and Fordham Law Professor, Timothy Wu. Cuomo won about 62% of the vote, while Zephyr Teachout won over 34% of the vote, while Hochul won about 60% of the vote to Wu's 40%.
The previously unknown first-time challengers, with virtually no organizational backing, significantly beat expectations by capturing in the neighborhood of 34% to 40% of the votes. Teachout noted that she and her running mate won a significant portion of the vote against an incumbent with a reported 40 times the funding and one of the most famous names in modern New York politics. Neither challenger was well known and neither had much in the way of funding or large voting block support ... this time around.
---
Tuesday - Primary Elections for NYS Governor & Other Races
The Real 'Choice' Is In The Primaries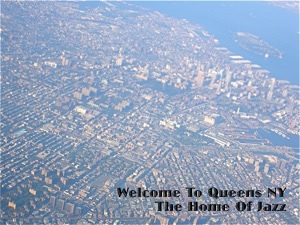 September 8, 2014 / Queens Politics / Queens Buzz. Tuesday, September 9th, is an important election day as most Queens races are decided at that time given the borough of Queens is comprised of about 80% - 90% Democrats.
On Tuesday the polls open at 6 am and close at 9 pm for the primary elections for New York state and federal offices. The polls are primarily staffed by civic volunteers.
There are a few races of interest this primary season. Perhaps the most important of which is the race for governor. Zephyr Teachout, a Fordham Law Professor is challenging Governor Andrew Cuomo, as she does not feel he represents the values of the Democratic party on issues such as housing and education. Teachout supporters claim that Andrew Cuomo, the son of former Governor Mario Cuomo [who was considered to be a 'liberal lion' in his time], appears to have more conservative values than his father.
Leroy Comrie is hoping to win the NY Senate seat of embattled Democrat Malcolm Smith after stepping down as Queens Deputy Borough President earlier this year. And John Liu is hoping to make a comeback after a poor showing in the NYC Mayoral election last year, by unseating incumbent Democrat NY Senator Tony Avella.
The number of people who vote in the primaries is about 10 - 25% of the electorate, generally ending up on the lower end of that range. Hence, every vote carries far more weight than in the general election.
Knowing who the candidates are, what they really stand for and voting for them is one of the key pillars of our democracy. Many of our ancestors died fighting for this right and almost all of our early American ancestors took great risks to come here to exercise that right.
One of my favorite quotes of Thomas Jefferson is, "If a nation expects to be ignorant and free . . . it expects what never was and never will be".
I know you're busy with all kinds of other responsibilities. But I hope you'll do your best to stay informed about who the candidates are and make the effort to vote for those who best represent your point of view. It's a small investment to make to ensure we maintain our rights and freedoms. You needn't look far around the world to see what life is like in places that don't enjoy the right to elect / choose those who govern them.
Click here to find your Queens polling place - and again polls are open from 6 am - 9 pm.
---
Legislative Agendas For Western Queens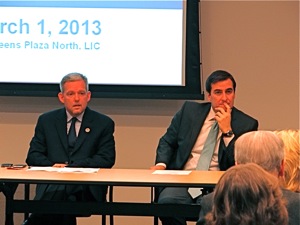 March 9, 2013 / Long Island City / Queens Business / Queens Buzz. I attended a Legislative breakfast hosted by the Long Island City Partnership on Friday. NYS Senator Michael Gianaris and NYC Councilmember Jimmy Van Bramer were on hand to talk about what is going on legislatively in Albany and downtown at city hall.
EDUCATION & QUEENS SCHOOLS. Education and school closings were discussed with both government officials opposing the approach being taken by the Mayor to close Queens high schools. It was noted that Senator Gianaris graduated from LIC H.S. and then went onto graduate from Harvard, that Assemblywoman Nolan graduated from Ridgewood H.S. and went onto graduate from NYU and that NYC Councilmember Van Bramer graduated from Bryant H.S. and went onto graduate from St. John's College. All three of these high schools were on the chopping block in Spring of 2012 [click here for our Spring 2012 report on Queens high school closings].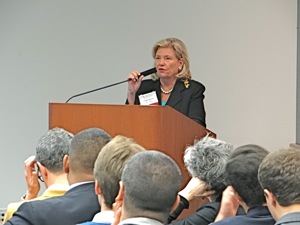 School construction was also discussed. Currently the facilities at many Queens schools are at, near or even over capacity. Hence school construction is something these government officials believe is important going forward, given the growth of the borough.
HIGH TECH JOBS / TAX BREAKS. They talked about the pending development of a high tech college campus on Roosevelt Island in the coming decade. They saw this as a potential source of good jobs in the area, given Queens proximity to the campus and talked about the possibility of using tax breaks to incent start ups to stay in NYC. They cited the TV Film Industry Tax breaks given several years ago as being good for the TV film industry in Queens.
POWER INDUSTRY IN QUEENS. They also talked about the power industry in Queens. Queens is the source of 60% of all of NYC's power generation. The old Poletti Power Plant is in the process of being de-constructed, and the newer power plants have been able to continue to provide power without disruption.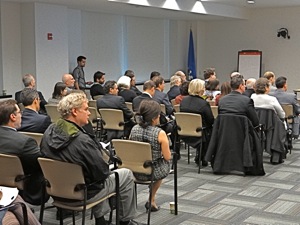 PARKING IN LIC. Lastly, but not least, Michele Beaudoin of BRG Realty in LIC inquired about future plans for managing the parking situation in LIC. Unbeknownst to most folks, LIC remain the only neighborhood that does not have alternative side parking regulations, which are used to eliminate 'car storage' on city streets, while simultaneously enabling street cleaning. LIC is also the only neighborhood in NYC that does not receive street cleaning services.
We were told that the Department of Transporation is not interested in building any new city parking lots. And that the LIC community is deeply divided on this issue, but that something must be done, as the parking congestion in LIC continues to grow.
Click here to read other brief reports containing LIC News.
---
Queens Neighborhood Links
$element(adman,groupad,Catgry Finance)$
Click on these advertisements for promotions, discounts and special offers by retailers and restaurateurs in Astoria, Flushing, Jackson Heights, Jamaica NY, Long Island City LIC, Woodside, Sunnyside and Queens.
Click this link to go to the:
Sunnyside & Woodside Neighborhood
---
$element(adman,groupad,Catgry Realestate)$
Site Search Tips. 1) For best results, when typing in more than one word, use quotation marks - eg "Astoria Park". 2) Also try either singular or plural words when searching for a specific item such as "gym" or "gyms".
$element(bwcore,insert_search,N)$
Click this link to search for something in our Queens Business Directory. Also check out Taste of Sunnyside.
---
Click the log in link below to create an ID and post an opinion.
Or send this story to a friend by filling in the appropriate box below.
$element(adman,groupads,Sectional2 Ad)$
---