Queens State of the Borough Address 2018
Katz Delivers Her Fourth State of the Borough Address
January 29, 2018 / Astoria Neighborhood / Queens Politics & Government / Queens Neighborhoods / Queens Buzz NYC.
I headed over to the Frank Sinatra School of the Arts High School on a rather balmy January morning last Friday. The temperatures were unseasonably high in the 50's and it was dry.
I arrived a bit late for the speech, so I watched it on Youtube over the weekend. The first eleven minutes included introductory performances and speeches, including the Pledge of Allegiance, a singing of the National Anthem, a brief thanks by Gideon Frankel the Principal of the Frank Sinatra School of the Arts High School, and a call out to the local pols in attendance by Deputy Borough President Melva Miller.
What U.S. Senator Chuck Schumer Didn't Say was Notable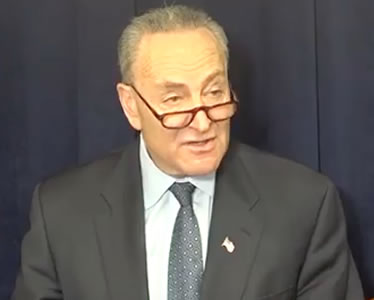 As far as I know, U.S. Senator Chuck Schumer was not given any advance billing as being one of the speakers today, but he came onto the stage and spoke to us. For a moment I thought we might hear why he had decided to take the Democrats into a showdown about a federal government shutdown with President Trump less than a week ago [Friday, January 19th], and why he then backed off that negotiating stance less than three days later, agreeing to reopen the government by midday Monday, January 22nd.
Democratic Senate Minority Leader Schumer Mentions Support for Dreamers & Immigrants, but Not a Word About the Government Shutdown Showdown
But U.S. Senator Chuck Schumer didn't say a word to us about the shutdown per se, less than a week after it had all gone down. I couldn't help but wonder why?
Was the shutdown: 1) a part of the growing theatrics of the federal government - as a bid to demonstrate Democratic solidarity with immigrants and Dreamers, or 2) a real effort to win concessions from the Republicans for immigrants, or 3) an ill-planned showdown that only took into account the bi-coastal Democratic leadership [Democratic Senate Minority Leader Schumer - NY & Democratic House Minority Leader Pelosi - CA] that represents densely populated urban areas with large immigrant populations, while ignoring the constituencies represented by Democrats who come from states that are more rural and suburban, and have small immigrant populations?
Schumer was on stage for a bit less than 15 minutes and in that time he told us about how he had cared for his elderly father who now lives in Queens. He referenced Melinda's second term in office as the 'peaceful passing of the torch' which didn't make a whole lot of sense because Katz is moving from her first to second term so there's no real torch passing going on. And he credited Katz with bringing ferry service to the borough, which I am sure she helped lobby, but which at its core was a Mayoral action. Schumer's visit was not hailed in advance, and he seemed a bit unprepared, so I wondered why he'd decided to speak, and whether he'd been rattled by the events of the prior week?
U.S. Senator Schumer concluded by telling us a story about how Ben Franklin and the framers of the Constitution were concerned about whether the people would actively participate in their own democracy, and whether a self governance system would attract honest candidates / office holders to serve. He then told us that he thought that the politicians on the stage, and the people in the audience today, were proof that both were working.
Queens Borough President Melinda Katz State of the Borough Address 2018
Queens Borough President Katz followed U.S. Senator Chuck Schumer. She talked about having recently completed ACL reconstructive surgery.
She said that during her first term the Community Board membership in Queens has undergone a huge transformation with 30% of the members being new.
There are three ways to view the significant change in the composition of the community boards: 1) it's a fresh influx of new blood that represents some of the demographic changes going on in the borough, or 2) a huge loss of experienced community board members, possibly replaced by political appointees, thus creating an easier path for real estate developers to obtain variance approvals, or 3) both.
I don't yet know which it is, but I reckon over time, it should become more clear to us all.
---
Queens State of the Borough Address 2018
Katz Delivers Her Fourth State of the Borough Address
January 29, 2018 / Astoria Neighborhood / Queens Politics & Government / Queens Neighborhoods / Queens Buzz NYC. Continued.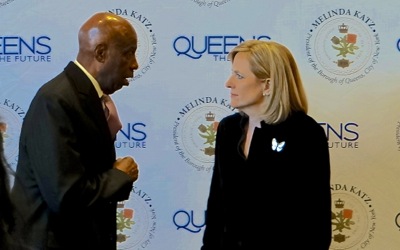 She said something about the 2012 Hurricane Sandy, the opening of a new satellite Veterans Affairs office in Queens, and 277 kids helping plant things in the parks and clear away trash. She also talked about installing cribs in Queens hospitals as part of a 'Safe Sleep' initiative.
In the photo at right, Queens Borough President Katz is shown talking to her appointment to the position of the President of the Queens Library. The Queens Library President, Dennis Walcott, appears to be a political appointment as he has no higher education nor previous professional experience in library science. Click here to read about Queens Borough President Melinda Katz & the Corruption at or of the Queens Library.
Not Much Said about Affordable Housing & Rising Tensions Between Queens Tenants & Landlords
She didn't spend much time on affordable housing except to say that workshops had tripled with regard to providing non profit groups with help counseling people facing evictions and other life changing actions.
It's worth mentioning that there have been numerous reports in western Queens and beyond, of landlords trying to rid themselves of rent stabilized tenants, in an effort to increase their profits. The de Blasio Administration has responded by providing lower and middle income tenants with free legal assistance [call 311] to thwart landlords efforts to illegally take back the pricing rights on their apartments.
Also worth noting is that for rent stabilized apartments, the government owns the pricing rights of those units, in a manner similar to somone owning the mineral rights for a piece of land. The land owner [landlord] may own the property, but someone else [the government] owns the mineral rights [pricing rights]. In the past the government acquired these rights from the property owners by helping the owners with financing, tax abatements, the provision of land and / or favorable zoning changes. The tenants are the beneficiaries of those rights, some of whom moved into those apartments while a neighborhood was still at risk and having difficulty attracting good tenants. The tenants having stayed, are now reaping the benefits.
Katz mentioned that Pre-K enrollment had gone from 3.6k in 2013, to 20k in Queens today. I believe both of these actions [free legal counseling & Universal Pre-K] were initiated and executed by the Mayor's Office. The Queens Borough President's role was probably as a helpful facilitator, but was not discussed explicitly.
Melinda Katz talked about how tourism in Queens is now an $8.5 billion business, second only to Manhattan. I tried to figure out where this revenue came from and doing a back-of-the-envelope calculation came up with the following 'guesstimates'. I made a 'guesstimate' of $2 billion in revenue from the new hotels erected primarily in LIC, Flushing and Jamaica over the past decade; and another $2 billion in revenue related to food and transportation associated with servicing the inhabitants of those rooms during their stays. The remaining $4.5 billion I am 'guesstimating' probably came from Queens two airports – LaGuardia and JFK. I'll try to nail these down from official estimates at a later date.
She said something about the film industry in Queens contributing to Queens tourism, mentioning Kaufman Astoria Studios and Silver Cup Studios by name, but not providing anything more than a mention.
She said the NYS Pavilion had been 'saved', but it's on city parkland, and according to NYC Park sources the NYS Pavilion was never in jeopardy of being demolished or moved.
Queens Borough President Spending Allocations
Queens Borough President Katz then started to talk about investments made in the borough over what was intimated to be her first term. She told us there was roughly $300 million invested of which a third went to schools, a third to parks and a third to cultural centers and hospitals. About 54 schools received some sort of capital improvement money [about $30 million?], technology infrastructure was upgraded to the tune of $23 million at the CUNY schools, and $46 million went to Queens Libraries. Click here to read about Queens Borough President Melinda Katz & the Queens Library.
Queens parks received $100 million in capital investments. She cited a new police substation in Flushing Meadows Corona Park, $8 million to improve some of the local police and fire stations, and I believe something about community healthcare in the Auburn area.
And then there was the $100 million toward cultural institutions. Of this amount about $25 million went toward Queens cultural institutions, $22 million went to local hospitals to enhance handicapped access and some went to the Katz Summer Concert series, which Melinda branded with her family name. One critic told me that he thought that putting the Katz name on the Queens summer concert series, was a disingenuous way of using taxpayer dollars to fund Katz's self promotion, and advertise / create greater awareness of her name.
Queens Public Schools Over Capacity
Queens Borough President Melinda Katz told us that Queens public schools are running well above capacity. The public elementary schools in Queens are, on average, running 16% over capacity. Queens public high schools are running 13% over capacity. And Queens is home to the most overcrowded high school in the city which is the Francis Lewis High School which she said was 100% over capacity.
She also told us that Queens public schools are running 8% over capacity on average, which using the numbers above [both elementary and high school are in the double digits] means that the middle schools are running significantly under capacity [by mathematics they must be, in order to bring down the averages of the elementary and high schools].
Katz went on to tell us that Queens receives the lowest per pupil capital expenditure funding of the boroughs. But that this year there's $1.9 billion dedicated to add 18,632 new school seats by the year 2020.
Queens Currently Lagging NYC in Creation of Tech Jobs
Queens Borough President Melinda Katz then talked about technology jobs in Queens. Queens technology jobs growth was 10% [versus last year?] while the technology jobs in NYC as a whole grew 28%.
She noted that the first phase of the Cornell Technion School on Roosevelt Island was completed in the Fall of 2017. And that 14,000 new residential housing units [many are luxury] were built this past decade, while another 19,000 new units were expected to come online in the future. Cornell Technion is expected to foster job creation in the technology field in Queens in the future.
Katz told us that 18 months ago she spent $100,000 to commission the Western Queens Strategic Plan Study. The study estimated that there would be growth of an additional 375,000 to 675,000 square feet of new commercial space. The study also estimated there would be an additional 4,500 new technology jobs created. Katz told us that she would work with the Economic Development Corporation [EDC] to have Queens be competitive in the digital age.
What Katz Didn't Say About Queens Development
Tenant Displacement & Impact of Ongoing Public Transit Capacity Issues
What Queens Borough President Melinda Katz didn't talk about was that Queens underlying public transportation infrastructure, and not just Queens public schools, have been lagging behind western Queens residential unit growth for a long time. And that many of the people who have lived in Queens for long periods of time, or for their entire lives, were being displaced by all of the new real estate development.
This displacement and strains of the metro transportation system have been made worse by the explosive growth in residential housing units in recent years, and these problems are expected to get worse / continue indefinitely into the future.
Katz's Vision: Instead of Talking about her Next Four Years, Katz Makes mix of Real & Fanciful 2030 Predictions
The last third of Queens Borough President [QBP] Melinda Katz's speech was dedicated to her vision for 2030.
In this section she talked about what she wanted to see in 2030 without tying it back to anything she was working on or doing today. It's worth mentioning that Queens Borough President Melinda Katz is term limited out of her office in 2022, a full eight years before 2030, so I couldn't help but wonder what was the point of this part of the address?
She wanted to see homelessness for Vets in the borough ended. Given this was a futuristic vision, that included the Mets tripling their World Series titles, I wondered why she wouldn't seek to end homelessness in the borough for everyone.
She wanted to see 30% of NYCHA Housing set aside for grandparents taking care of children. Here I wondered why a vision for public housing wouldn't be based on addressing those with the greatest need, rather apriori allocations based on family configuration.
She wanted to see a good Queens borough ad campaign.
She wanted to see the current 124 temporary public school classrooms gone.
She wanted to see a ferry to LaGuardia and rail connector from Flushing. A possible LaGuardia ferry and possible rail connection has been under discussion for some time now – see our report on LaGuardia Airport construction.
She wants to see the $10 billion overlay development project at JFK completed. This effort appears to be a part of the agenda of NYS Governor Cuomo.
She wants to see 20,000 units of affordable housing at Willets Point. Read this story about affordable housing at Hunters Point South to get an idea of what the Bloomberg Administration classified as affordable. And then read our report about the real development efforts at Willets Point where former Mayor Bloomberg used eminent domain to push the owners off their land at Willets Point, to make way for mega millionaire and billionaire real estate developers.
She wants to trade Flushing Meadows Corona Park [FMCP] public parkland to make way for a large industrial sports soccer stadium somewhere in the midst of Flushing Meadows Corona Park, so the World Cup can one day be played here. This proposal was defeated several years back, for a number of reasons. I had started a series on the FMCP park as background, but before I finished it, the soccer organization had withdrawn its bid – Flushing Meadows Corona Park soccer stadium.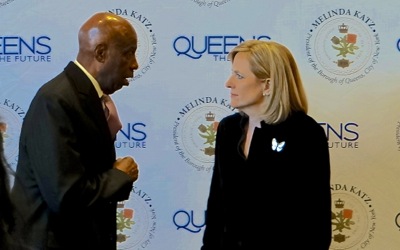 She wanted to see Queens-wide bike lanes and a rail line from Jamaica to LIC. The rail line to Jamaica has been under discussion for quite a while. It appears the influential real estate developers who have taken positions in the Jamaica neighborhood, are looking to reap significant gains on their investments, by lobbying government officials for transit improvements to the neighborhood. Katz talked about wanting to see reliable MTA service between Elmhurst and LIC.
She wanted to see a police precinct [116th] opened in Laurelton and Springfield.
She wanted to see the Mets win their sixth World Series by 2030. That would be four more World Series titles than the Mets have won to date, and three times as many as the Mets have won since their inception over half a century ago - which leads me back to asking what this fifteen minutes in Katz's speech was really all about?
Was it to fill time and distract from the two most pressing issues of the borough - namely tenant displacement and public transit capacity limitations?
Dunno, but I'll follow up on these questions in the future. Stay tuned.
---
Queens Buzz Voluntary Subscriptions
We do our best to provide independent coverage of news, dining, events, arts & culture.

You can help us provide you with first source, balanced, contextual and independent coverage of Queens by making a purchase for as little as $5 [less than the price of one copy of a print magazine].
Click the button for details on how to keep these posts coming.
---
$element(adman,groupad,NhoodAstoria)$
Astoria Neighborhood Links
Click on these advertisements for promotions, discounts and coupons by retailers and restaurateurs in Astoria and nearby Queens.
Click this link to go to the:
Astoria Neighborhood or Astoria Business Directory
Astoria Real Estate or Events & Things To Do In Astoria
Restaurants In Astoria or Astoria Shops & Shopping
---
LIC Neighborhood - Long Island City Links
$element(adman,groupad,Catgry Foodwine)$
Click on these advertisements for promotions, discounts and coupons by retailers and restaurateurs in Long Island City LIC and nearby Queens. Click here for a related story about the hotels & restaurants in Dutch Kills section of Queens.
Click this link to go to the:
Long Island City Neighborhood or LIC Business Directory
Long Island City Real Estate or Events & Things To Do In LIC
Restaurants In Long Island City or LIC Shops & Shopping
---
$element(adman,groupad,Catgry Queens)$
Site Search Tips. 1) For best results, when typing in more than one word, use quotation marks - eg "Astoria Park". 2) Also try either singular or plural words when searching for a specific item such as "gym" or "gyms".
$element(bwcore,insert_search,N)$
Click this link to search for something in our Queens Business Directory.
---
$element(adman,groupad,Sectional2 Ad)$
---
Click the log in link below to create an ID and post an opinion.
Or send this story to a friend by filling in the appropriate box below.
---