---
LaGuardia Performing Arts Center - LIC
This section contains our coverage of dance, theater and performing arts events at the LaGuardia Performing Arts Center in Long Island City.
---
Sorry: A Work of Art ... a Masterpiece?
Modern, Multi-media Melange Explores Emotions of Misunderstanding
January 23, 2017 / Long Island City Neighborhood / Performing Arts in Queens / Queens Buzz.
I attended a performance of Sorry, a multi-media dance, poetry and theatrical work that came about from a two year residency at the LaGuardia Performing Arts Center in Long Island City. I went in expecting to see a modern dance performance, but experienced so, sooo much more.
I was instructed to arrive a bit early as there's free form dancing that begins about thirty minutes prior to the performance opening. When I arrived, I couldn't distinguish between the audience members and the cast, as some of the people in the crowd were quite good dancers.
The performance was held on the stage of the Main Theatre, which the LaGuardia Performing Arts Center has quite skillfully transformed into a modern dance / theatrical space - which is quite separate, but a subset of the original, traditional, Grecian auditorium style of the Main Theater itself.
After a while the performance began with an Islamic, American immigrant poetically recanting a mournful separation he was in the midst of experiencing with his girlfriend. One of the walls lit up with a life-size passing #7 subway train, as the orator took us with him on a current-day journey through the boroughs of New York City as witnesses to the angst in his life.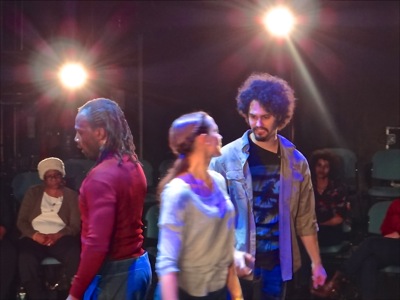 It was a bit like the movies, although so much more real, as we sat huddled in the ambient darkness of the theater, with life size video murals sweeping by, accompanied equally large still life photos and a three performer live cast. The music and choreographed dances allegorically captured the powerful troubled feelings of the characters portrayed.
The work explores the near universal, difficulty of human relationships in a modern, mixed, urban environment. Relationships complicated by gender roles, ethnicity and cultural learning - that are being sorted out simultaneously by all of us whether knowingly or not, as we travel through space and time in what may intermittently seem our lengthy, but short lives.
Later this week I'll continue this, including the addition of video and photos, but you only have a few days left to see it [Wednesday, Thursday & Friday at 8 pm] - and seating is limited [www.lpac.nyc - $20].
---
$element(bwcore,article_picker,1158-1141-1140,Y,N,page_title_home,N)$
In Search Of A Civilization Lost By Mass Media
LaGuardia College Performing Arts Center Uses Theater & Art To Stimulate Cross Cultural Community Conversation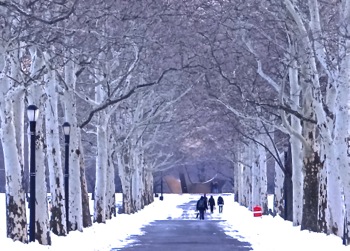 February 9, 2015 / Long Island City / Queens Theater / Queens Buzz. It was nearing sunset on Saturday evening as I made my way through a beautifully quiet Flushing Meadows Corona Park. The clean white snow glistened gently in the fading light, and the leafless trees along the road provided what felt like an ancient natural cathedral.
I checked in at the admissions desk and made my way to the second floor of the Queens Museum. The Queens Museum was once the home to the United Nations and hence provided the perfect context for this community conversational performance. The floor to ceiling windows looked out onto the landmarked Unisphere which emanated a universal vibe. In the long wide hallway a crowd was engaged in clustered conversations following the conclusion of four performances shown that afternoon. I had seen the performances at an event earlier in the season.
I began talking to Tasneem, a member of the audience who is shown in the photo at right standing alongside a photo taken by a friend of hers who is shown in the photo. Tasneem came from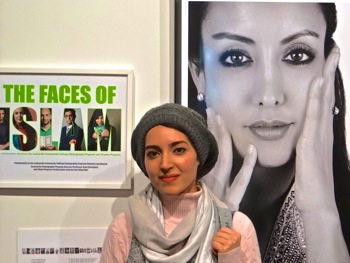 Jordan twelve years ago, only two years after 911. She said that it's important for the general populace of Muslims to stop being afraid of showing they're Muslim, because otherwise New Yorkers and the rest of America will be left with the picture of Islam as depicted by a few extremists which is amplified and continually repeated by the American mass media.
I couldn't deny it. It seems American television stations, radio stations, newspapers and magazines are obsessed with providing the Islamic terrorists all the publicity they want.
But here, tonight, in the Queens Museum; I would not see any of the faces shown by our mass media. I would see only the faces of everyday Islamic New Yorkers who generally receive no publicity at all. Muslims who hail from dozens of cultures around the world. And there wasn't a single terrorist among them. Hence - and likely not coincidentally - there also wasn't a single mass medium reporter covering this event.
Tasneem told me how she, like many other American Muslims, fears showing she's Muslim because of the stereotypes created by the terrorists and perpetuated and blown up by the American mass media. The notion of a silent majority came to mind.
It occurred to me that the gore of the Islamic extremists must be good for tabloids and TV ratings. And I pondered what it must feel like to be stereotyped by this relentless, distorted depiction of one's culture and people. Andy Warhol's characterization of the mass production of images came to mind.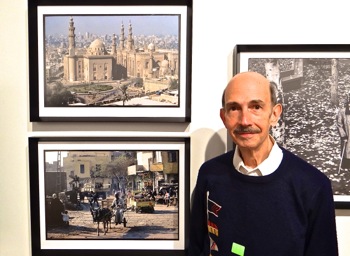 I thought about what it would be like if I lived somewhere else in the world where the nation's media mass produced stereotypes of Americans, depicting us as murderers, rapists and thieves. That could easily be done if a nation's media decided to portray Americans by solely covering the 5.6 million violent crimes and the 17.1 million property crimes that took place in this country in 2011 alone [source: Wikipedia / Bureau of Justice Statistics]. That just wouldn't be right ... would it?
And yet, it seems that this is exactly what's been happening to Muslims in America, because of the unbalanced coverage of Islam by the big American mass media companies. The TV and newspaper tabloids make a living by sensationalizing - spinning things out of context - but aren't the real journalists supposed to provide perspective by putting things back in context?
This seems generally not to have been done.
And so the LaGuardia Performing Arts Center applied for and received a grant to begin such an effort. An effort to provide exposure to the lives and contributions of the other billion Muslims who go peacefully and productively about their lives each day, just like most of the rest of us. An effort to create a community conversant with a deeper and broader understanding of a millenial and centuries old culture that is embedded in the lives of over a billion people on the planet. People who live in dozens of nations around the globe, and none of whom are terrorists - and hence generally not represented in the American mass media.
I met American born Charles Bernett of Rego Park who had traveled to Cairo in 1979. Thirty-five years ago he was about to embark on his second trip through Africa ... [see photo at right].
More to come later in the week. Click here to learn more about the LaGuardia Performing Arts Center exploratory, year-long, theater and arts, cultural endeavor.
---
Can One Connect Communities Through Culture?
Islam & America: LaGuardia College Performing Arts Center Artistically Explores Muslim Culture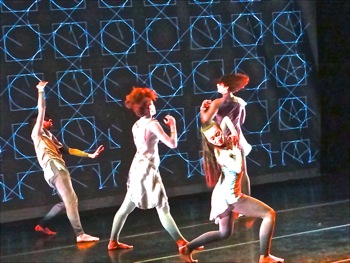 September 29, 2014 / Long Island City Neighborhood / Queens Theater / Queens Buzz. On September 11th, 2001 the Muslim culture came front and center into America's consciousness. It was a disastrous day for Americans including Muslim Americans. But for Muslim Americans it also created, and left behind, a long lasting negative bias toward all Muslims - not just those associated with the 911 atrocities.
Most of what America hears and knows about Muslim culture comes through the war torn lens of the Middle East, even though more than 80% of Muslims in the world live outside of that region. The reason America pays so much attention to the Muslims of the Middle East is that they are inextricably tied up with the world's - and our own - oil energy needs. Hence many of the stories we see and hear are generally associated with either the terrorists involved in 911 or the multi-millenia old blood feuds of the Middle East. Yet examining Muslim culture using the battles of the Middle East as the peephole, is akin to learning about German or Japanese culture through the narrow lens of World War II.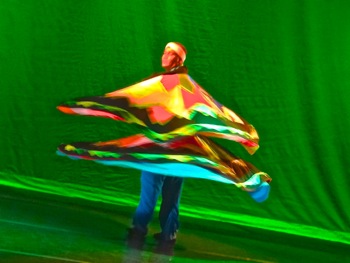 Historically America has had a generous heart, even toward those with whom we've fought. Two centuries ago we fought the Revolutionary War For Independence against Great Britain. And it was less than 70 years ago that both Germany and Japan were our nation's greatest enemies. Germany attacked our Atlantic crossing ships and Japan dropped bombs on our Navy at Pearl Harbor. Yet today we now count all of these nations among our closest friends.
There are an estimated 1.6 billion Muslims around the world, making it the second largest religious / cultural group in the world [there are 2.2 billion Christians]. And Muslim culture spans the globe, from the Middle East [317 million], to Europe [44 million], Africa [248 million], Asia [986 million] and the Americas [4 million]. But that said, only between four and five million of Muslims live in the Americas.
Hence, to broaden and deepen our understanding of Islamic culture beyond the Middle Eastern crises, the LaGuardia College Performing Arts Center applied for and won grants from the Association of Performing Artists, the Doris Duke Charitable Foundation and the Doris Duke Foundation for Islamic Art to widen our lens of Muslim culture. And they added more than a dash of NYC spice to it.
Thus on Friday evening, I attended a dance performance entitled Leap of Faith, the second event of the year long series entitled Beyond Sacred: unthinking Muslim identity. The performances included a belly dancer, a swirling dervish, and three modern interpretive dances - two of which explore personal journeys by Muslim Americans who are children of both cultures. We'll post more later today including a photo slide show of the performances.
---
$element(bwcore,article_picker,1097-1063-947-845-797-731-682-568-475-326-271-1162-496,Y,N,page_title_home,N)$
---
LIC Neighborhood Related Info
$element(adman,groupad,NhoodLIC)$
Click here to go to the LIC real estate section of this site.
Click these links for promotions by advertisers in Queens.
Click this link to go to the LIC Neighborhood.
---
$element(adman,groupad,Catgry Realestate)$
Site Search Tips. 1) For best results, when typing in more than one word, use quotation marks - eg "Astoria Park". 2) Also try either singular or plural words when searching for a specific item such as "gym" or "gyms".
$element(bwcore,insert_search,N)$
Click this link to search for something in our Queens Business Directory.
---
$element(adman,groupads,Sectional Ad)$
---
Click the log in link below to create an ID and post an opinion.
Or send this story to a friend by filling in the appropriate box below.
---