Chatpati Mela
Celebration Of South Asian Food, Fashion & Culture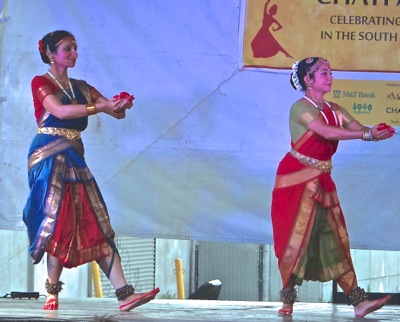 September 21, 2015 / Jackson Heights Neighborhood / Ethnic Culture In Queens / Queens Buzz.
It was a beautiful day as I made my way to 78th Playstreet in Jackson Heights to attend the 5th Annual Chatpati Mela Festival on Saturday, August 22nd. Each year the festival seems to enhance its dimensions through a rising breadth and depth of food, performance, cultural costumes and wares.
They had a number of vendor tents lined up along the 78th Playstreet corridor [it ceased being a city throughway years ago], as well as food tents. Toward the northern end of the street there was a stage where musical and dance performances were in session.
Click here to see the food, fashion and a video of the music and dance performances at Chhaya's Chatpati Mela South Asian celebration in Jackson Heights.
---
Chatpati Mela
Celebration Of South Asian Food, Fashion & Culture

September 21, 2015 / Jackson Heights Neighborhood / Ethnic Culture In Queens / Queens Buzz. Continued.
Malini & Dance Company at Chhaya's Chatpati Mela
I video recorded a couple of performances. One by the Malini & Dance Company and a second by the Virsa Our Tradition. I spoke with Malini Srinivasan about the dance afterwards. She told me that the dance shown in the video
is from southern India in the area once known as Madras, which lies along the southeast coast just across from the island of Sri Lanka. And the origins of the dance are thousands of years old and were once performed by temple servants.
Malini and two other dancers performed a dance entitled Pushpanjal Slokam Alarippu. The dance was to make a flower offering to bless the stage upon which they performed [see flower offerings being made in the first photo]. Malini & Dancers performed three dances which include allusions to Hindu and Indian religion and mythology. One included a segment about asking Ganesh, the god signified by the elephant, to remove obstacles.
Malini & Dancers perform in NYC and surrounding metropolitan area. Malini came to learn the art form from her mother and grandmother, the latter of which once taught in Bombay. As an adult Malini traveled to India in pursuit of learning more about the culture from which her family came, and in the years while there, she immersed herself in the dance and its many cultural references.
Today she not only teaches and performs the Bharatanatyam dance form, but she is also a Lecturer of Asian and Asian American Studies at Stonybrook on Long Island. Malini has ties to Queens dating back many years and she said she really enjoyed performing at the Chatpati Mela. You can learn more about Malini & Dancers at her website - www.malinisrinivasan.com
Virsa Our Tradition Dance Group – Chhaya Chatpati Mela Jackson Heights
The next performance was by the Virsa Our Tradition dance group. They perform Bhangra dances which originated in the Punjab area of India in the northwest. The Punjab area is also a part of northeastern Pakistan.

The Bhangra dance originated as a seasonal festivity associated with the harvest. Some of the movements within the dance are said to mimic the work of harvesting wheat. As one would expect from ancient traditional times, the dancers were segregated and at the Chhaya event, in contrast to the all female performance by Malini & Dancers, the Bhangra dance was all male.
The Bhangra dances originated centuries ago by the Moguls who had come to India. As previously mentioned, the Bhangra dances were generally performed around harvest time in celebration of the end of the growing season. But today things are quite different.
I spoke to Harminder Singh who told me that the Virsa Our Tradition company was formed in 2006 under the leadership of Gurkawl Sidhu. At first it was a group associated with St John's and then expanded to include other dancers. The group began dancing in competitions around the NYC metro area and beyond.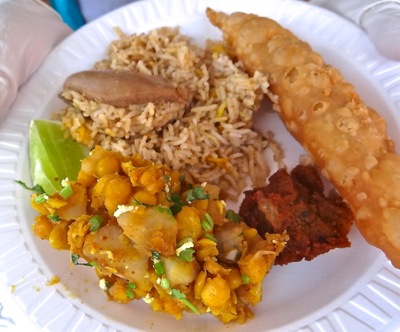 The name of the dance performance shown in the video is called the Khunde and is also sometimes referred to as the Daangs. The men dress in Punjabi outfits and a number of the dance movements are similar to the movements used to harvest the wheat.
Khunde means hook / stick [used for harvest] but the dancers couldn't use the sticks in the performance shown below because of low height of the performance tent. During the harvest the hook was used to pull the wheat. In another dance they use something that looks like a scythe or scissors to cut the crop. You can find Virsa Our Tradition via their Facebook page - www.facebook.com/VirsaOurTraditionInc
Small clips of both performances are shown on the video below. And then there was the food.
Bangladeshi & Indian Food Jackson Heights - Chatpati Mela
I ended up photographing a number of the food delights on display at the Parvin family food tent. While I was photographing, Wahida, the chef encouraged me to sample some of the foods on display.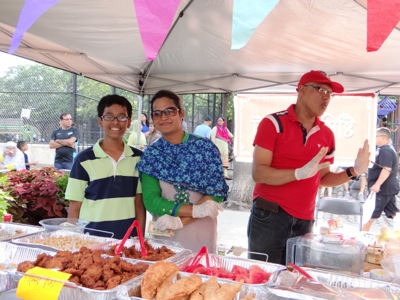 She served a plate of several food samples including a Pakora which was a deep fried and medium spiced snack, a sample of Chicken Biriyani which Wahida had cooked until it was tender and then laid upon a small bed of rice. There was a Chandrapuli which is a sweet, light, flour based delight that one might compare to a French croissant.
And last, but not least, was the chatpati, which was – after all - what the festival was named for. Chatpati is made of potatoes, cumin, coriander, ginger and onion and likely more. It's mixed together into a casserole style dish that is a tasty staple.
The food was very as delicious as it sounds, perhaps even better. Unfortunately she doesn't run or work at a restaurant, so this would have to be a once a year feast. Wahida works with her husband and son as a well-orchestrated team who over the course of the afternoon kept some measure of the hungry attendees fed.
Wahida told me that she periodically has done a bit of catering and you can find her on Facebook at - www.facebook.com/wahida.parvin.3979 .
I stayed a bit longer and photographed Ajna Dance giving the audience a Bhangra dance lesson. And I mingled a bit with the Cholsum Doegar who were about to perform a Tibetan dance. The Cholsum Doegar are shown in the photo wearing black, red, blue and white outfits and the cultural origin is Tibetan.
Chhaya CDC – Jackson Heights
And then of course we must thank our hosts, the Chhaya Community Development Corporation. Chhaya was founded in 2000 to advocate for the South Asian community. On their website, Chhaya states that their mission is to work with:
"… New Yorkers of South Asian origin to advocate for and build economically stable, sustainable, and thriving communities.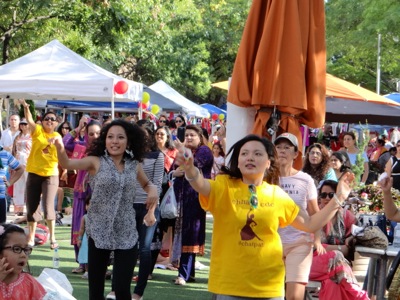 Chhaya carries out this work in several ways, including free direct services, education and outreach, community organizing, and research and policy, as well as both local and citywide coalition-building. Our work encompasses tenant rights, financial capacity building, sustainable homeownership, foreclosure prevention, energy efficiency, women's financial empowerment, workforce development, civic engagement, and broader community building and research and advocacy around community needs."
I've attended other Chhaya functions, including a housing workshop and a recent city council candidate forum, as well as prior Chatpati Melas. In the photo to your right the audience takes part in the bhangra lesson given by Anja Dance.
Special thanks to all of the people and groups mentioned above for making Chatpati Mela a fun community festival, as well as to those folks we did not include in our coverage who we hope to one day meet in the future.
Click the Refresh Button if the Video Isn't Showing
---
---
Jackson Heights / Elmhurst Related Info
$element(adman,groupad,NhoodJHTS)$
Click this link for promotions, discounts and coupons in Jackson Heights, Corona and Queens.
Click this link to go to the Jackson Heights & Elmhurst Neighborhood News / Jackson Heights Restaurants / Jackson Heights & Elmhurst Shopping.
---
$element(adman,groupad,Catgry Finance)$
Site Search Tips. 1) For best results, when typing in more than one word, use quotation marks - eg "Astoria Park". 2) Also try either singular or plural words when searching for a specific item such as "gym" or "gyms".
$element(bwcore,insert_search,N)$
Click this link to search for something in our Queens Business Directory.
---
$element(adman,groupad,Sectional2 Ad)$
Click the log in link below to create an ID and post an opinion.
Or send this story to a friend by filling in the appropriate box below.
---