New Play: A Short Wake Reviewed
$element(flashss,slideshow,19,Nasc)$
East Elmhurst Queens NY / November 8, 2008. On your right is the slide show of Joe Estevez and Nick Hardin doing a short Irish jig following their performance of 'A Short Wake' at the Queens International Film Festival event at the Crowne LaGuardia Hotel in East Elmhurst Queens NY. We watched the two do a reading of the comedy play, which was written by Irish playwright Derek Murphy. This was a truly magnificent performance that provided great laughter and touching moments within the course of an hour and a half. And they succeeded in bringing us to an Irish Wake without much in the way of props or stage sets. As intense as the play is, pitting these actors angrily against one another, they seem to be good friends offstage, which is evident by this slide show. In looking at the slideshow above, don't you think that Martin Sheen looks a bit like Joe Estevez? Scroll down to view / read the full review of A Short Wake.
---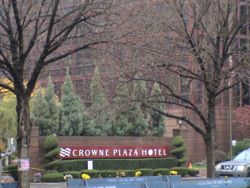 New Play By Derek Murphy Finds Its Mark
Queens International Film Festival
East Elmhurst, Queens / November 8, 2008. I stumbled into a rare treat on Saturday, November 8th at the Queens International Film Festival at the Crowne Hotel LaGuardia. Joe Estevez and Nick Hardin, both very accomplished actors with many acting credits to their names [see details below], gave a reading of a totally enjoyable new play written by Derek Murphy.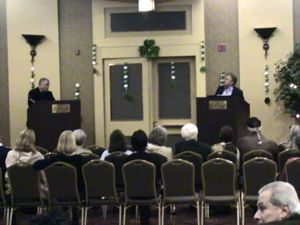 The play is titled 'A Short Wake'. It's set here in New York in a funeral home where two Irish brothers, Teddy and Jimmy, meet again after many, many years; at the wake of their dead father. Teddy, played by Joe, is the older brother who has a huge Irish temper, a tough guy disposition, and who enjoys teasing his younger brother mercilessly, partly in fun and partly to release some of his anger. Jimmy, who is played by Nick, is also angry, but he has learned to internalize it, probably in order to protect himself. And while both are grown men, the family dynamics are still well intact.
The Play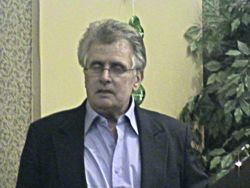 So when the brothers meet Teddy starts needling Jimmy about his success as a lawyer, since Teddy didn't do quite so well. We never quite know exactly what Teddy does for a living, but he's packing a pistol as well as plenty of alcohol, so one can guess that he's not working on Wall Street.
There's a lot of angry back and forth between the two men, about who's got 'style', who received the most parental attention, and who looks the best. All petty bullshit [oh, by the way, the play has plenty of foul language], but it actually kind of reminds me of going back and forth with my own brothers, as we too have some Irish blood. And out of this pettiness comes a lot of banter, mostly from the older brother, but the younger gives some back.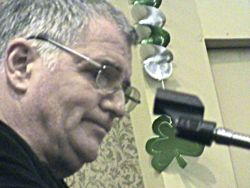 The play is about the two men growing up in a dysfunctional Irish family in America. A family in this case, where both mom and dad drank too much, and also during which episodic abuse occurred. Neither brother has been very successful in their own personal lives, although the details are left to our imagination. The play gets into some of the family dynamics, with a round robin of love and hate, between the four players [mom and dad are dead].
I had the opportunity to speak with Derek Murphy, author of the play, after the reading. I inquired, "Was this play written based upon some personal experience? To which he replied, "No, I'm from Ireland not America." I pursued this line of questioning, "How about stories as told by friends?" Again he replied, "No, not really." I persisted in trying to gain some insight, "Where did you come up with the idea for the play?" He replied, "I just made it up one night." My thoughts at the time were, 'Ah, well then, that settles it, and thanks for sharing that with me.'
Both Joe Estevez and Nick Hardin did a great job of performing in the reading. They were both convincing in their anger and appealing in their humanity. And while there weren't any props, they 'brought to life' the funeral home, alongside the dead cadaver of their deceased father in the casket. The audience laughed heartily as it is a dark comedy, and I saw tears as well. So both the writer and the actors succeeded in bringing us all to an Irish Wake.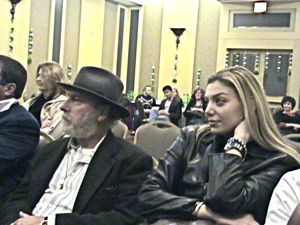 The Performers And Playwright
Joe Estevez is an actor with a long resume of films and voice overs. In this decade he has starred in a number of Scott Shaw films including 'Hitman' and 'Vampire Blvd'. An interesting footnote is that Martin Sheen of 'West Wing' is Joe's older brother, and he is also the uncle of both Charlie Sheen of 'Two and A Half Men' and Emilio Estevez of 'St Elmo's Fire'.
Nick Hardin is an actor who also has a long resume in acting. He starred in a number of movies and plays and also performed many voice overs. Of note recently is his role in the movie 'Laws Of Attraction' which starred Pierce Brosnan and Julianne Moore. Both Nick and Joe starred in 'IRA: King of Nothing' in 2006, which I can only surmise is possibly from whence this collaboration in part emanated.
Derek, Joe, Nick and Michael are working to bring the play to Broadway in NYC sometime next year. We wish them luck, as it seems a perfect venue. And compliments to new comer Derek Murphy for a well written dark comedy, although some of the foul language could easily be edited out without detracting from the play.
Queens International Film Festival Jackson Heights NY - Related Links
Click the following links to read / view an introduction story to the Queens International Film Festival in East Elmhurst NY. Click this link to view / read a story about another project presented at the festival: A Woodhaven Pause - a new indie film. Click this link to obtain a map of the location of the Crowne Plaza LaGuardia which is where the event occured. Click this link to obtain the contact info and website url for the Queens International Film Festival. Click this link to go to the Jackson Heights & Elmhurst Neighborhood News / Jackson Heights & Elmhurst Neighborhood Guide and Map / Jackson Heights & Elmhurst Restaurants Guide & Map / Jackson Heights & Elmhurst Shops Guide & Map / Queens, Jackson Heights & Elmhurst Events / Jackson Heights Business Directory / Elmhurst Business Directory / Jackson Heights & Elmhurst Shop Announcements.