Restaurants In Jackson Heights
LaPortena Argentine Steakhouse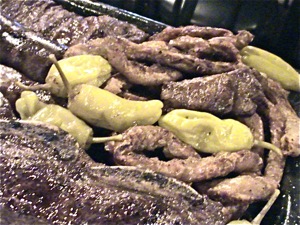 Jackson Heights Neighborhood / Jackson Heights Restaurants / Queens Buzz.
La Portena Restaurant & Steak House closed in April of 2014 following a fire in the building.
La Portena Argentinian Steakhouse isn't exactly the kind of restaurant that would come to mind when you think of Jackson Heights ... that is unless you live there. La Portena Argentinian Steakhouse is located at 74th Street and 37th Avenue in Jackson Heights. It's quite a popular restaurant which is what first caught my attention. While Indian, Bangladeshi, Thai and Nepalese restaurants first come to mind when thinking about Jackson Heights / Elmhurst restaurants, there's an entire Latin American flavor to the restaurant mix in the neighborhood - and the food and service are both very good. Click here to read a the full review of La Portena Argentinian Steakhouse, including more photos.
---
Restaurants In Jackson Heights
La Portena Argentine Steakhouse
Jackson Heights Neighborhood / Jackson Heights Restaurants / Queens Buzz. La Portena Restaurant is an Argentine steak house located in the heart of Jackson Heights in Queens. It's a father and son restaurant, both of whom go by the name of George. For nineteen years they've been serving steaks in the neighborhood and have, over the years, developed a steady clientele of local diners. I stopped in to have dinner one night, and here's what I found.
Argentine Steakhouse - La Portena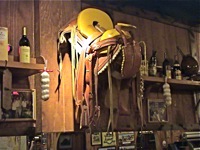 I first walked through the restaurant noticing the décor, which included many mementos of the 'old country', from whence George had come many years ago. Parts of Argentina bear some similarity to the west in this country, as both countries have a history of cowboys, ranches and cattle … and both are well known for their beef. Hence, a steakhouse started by an Argentine is a bit like a sushi restaurant started by someone from Japan. It makes perfect sense.
Argentinian Restaurants In Queens - Jackson Heights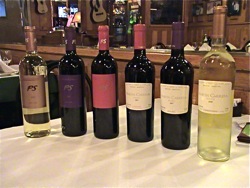 After I sat down I was served a glass of Malbec wine from a vineyard in Mendoza, one of the world's most prolific wine regions. Argentina is the third largest wine exporting country in the world after France and Italy. The name of the wine I sampled was PS [the P and the S were the first letters of two Spanish words, pared sur, that in English mean the unscalable wall]. As it turns out these wines come from a vineyard purchased by the George II in the earlier part of this decade when the Argentine currency temporarily crumbled.
The wine was a full bodied with balanced tannins and a smooth, rich, grape flavor. While George II has only had the vineyards for six years, the restaurant now carries six different wines from his vineyard. At the time of our visit, George was passing some of his good fortune onto customers Mondays through Thursdays, as La Portena was giving customers a bottle of wine to take home with them for every bottle purchased in the restaurant [this promotion has been discontinued].
La Portena Argentine Steakhouse History
George Jr, the father, is a bit of the fabric of American folklore. He made his start in this country at the age of 23, having arrived here from Argentina with his 17 year old bride [this was back in the seventies]. He got his start pumping gas eighteen hours a day and eventually he saved enough to partner up with someone else to open a pizzeria. The pizzeria, named Gloria, was located on the corner of Main Street and Roosevelt in Flushing. There he sold pizza and coke for many years, serving a daily stream of customers. In 1990 he parlayed his proceeds from the pizza business into opening a real Argentine steakhouse, La Portena.
Appetizers At La Portena Argentine Steakhouse
The first dish I was served contained three different offerings; stuffed veal, eggplant and cow's tongue [see photo]. The veal was mixed with red peppers, boiled egg and green onion in a blended cold cut. The veal had a nice, almost buttery texture, which was complemented by the carrots and peppers and egg.
Eating cow's tongue at La Portena was my second experience eating tongue. Cow's tongue is a soft flavorful meat, which really is quite delicious. If you want to try a savory carnivorous delicacy I recommend trying it, especially if you've never had it before.
The eggplant was also nicely done, as it was cooked to a fine balance between al dente and soft, and marinated in vinegar and olive oil. It made my taste buds tingle as the light bits of herb slid down my throat.
Next came the cheese provoleta from the grill. This is a traditional Argentine dish, made of grilled provolone cheese. The cheese has the texture of a cheese curd and a salty cheese flavor.
Empanadas In Queens - Jackson Heights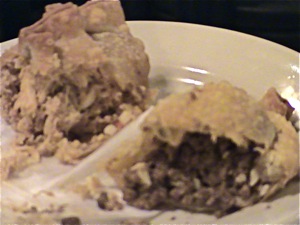 The empanadas were a savory treat. I had one containing beef and another of chicken. The beef was broken into a small particle consistency, supplemented with egg and herbs all mixed in a soft baked empanada shell. The chicken was cooked to perfection as the chef struck the balance between moist and dry, while letting the flavors of the egg and the herbs complement the taste. Left to my own devices I could have eaten these all day.
A large salad plate containing avocados, palm hearts, shrimp, and more followed. It seems the portions are most generous and one might consider discussing with the waiter when its appropriate to share a dish.
We then dipped into George's Cabernet. This was a heavier wine, but had a clear, clean taste to it. Many Italians migrated to Argentina in the early part of the last century and brought with them their wine-making skills. Argentine wines generally contain a bit more alcohol that some of the European wines and tend to be a bit heavier. I believe this is because of the high, dry altitudes in which the grapes are grown. Because of the climate, Argentine grapes tend to have a bit thicker skin and out of which comes a higher alcohol content.
Steak Houses In Queens - Jackson Heights
At last it was time for the main event. On came the steaks. La Portena doesn't hold back on its serving portions. I was told that many people share the mixed grill, which contains generous slices of rib, skirt steak and sweet sausage. The plate I was served included the blood sausage as well.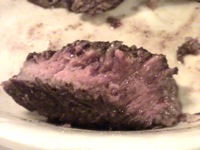 My absolute favorite was the skirt steak. George III confirmed that this was one of their most popular entrees. The skirt steak was cooked to a light pink coloring [just as ordered] and was juicy and as flavorful a steak as one will find. My teeth sank into it and my tongue lapped up the flavorful juices from the meat.
It's worth noting that George III grew up working in the restaurant in his late teens and after college in his twenties, working all manner of jobs in order to gain a thorough knowledge of the business. To this day, once a week on Tuesdays, he dons his chef's hat to grill up some good old fashioned steaks.
The rib was also juicy and pink on the inside, with a charbroiled flavor taste on the outside. The rib I was served had a nice mix of meat and fat. The sweet sausage was cooked so that the pork based link had a nice soft texture and delicious sausage flavor.
I eventually made my way to the blood sausage. Blood sausage contains cow's blood, cow intestines and other parts of the cow. It was much softer than the sweet sausage, with a soft mashed texture.
Dessert In Jackson Heights NY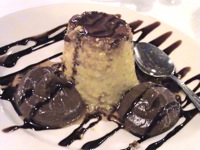 At this point, as you can imagine, I was quite full so we agreed to wind things down with a cup of expresso and some flan. The expresso tasted like true Italian expresso with the rich ground coffee complementing the lightly sweetened flan which was served covered in a thick carmel dip and some chocolate.
La Portena provides their menus in both English and Spanish languages, as many Argentines come to dine amidst the atmosphere and flavors of the land they left. Within the past year or so George IV was born. It seems George IV is going to have quite a legacy to live up to.
---
Jackson Heights Neighborhood / Elmhurst Neighborhood Links
$element(adman,groupad,NHoodJHTS)$
Click on these advertisements for promotions, discounts and coupons by retailers and restaurateurs in Jackson Heights, Elmhurst and nearby Queens.
Click this link to go to the:
Jackson Heights Neighborhood or Jackson Heights Business Directory
Jackson Heights Real Estate or Events & Things To Do In Jackson Heights
Restaurants In Jackson Heights or Jackson Heights Shops & Shopping
Jackson Heights & Elmhurst Maps
---
$element(adman,groupad,Catgry Foodwine)$
Site Search Tips. 1) For best results, when typing in more than one word, use quotation marks - eg "Astoria Park". 2) Also try either singular or plural words when searching for a specific item such as "gym" or "gyms".
$element(bwcore,insert_search,N)$
Click this link to search for something in our Queens Business Directory.
---
Click the log in link below to create an ID and post an opinion.
Or send this story to a friend by filling in the appropriate box below.
$element(adman,groupad,Sectional2 Ad)$
---