Greek Restaurants In Astoria
Cavo - Modern Greek Cuisine In Queens


Astoria Neighborhood / Astoria Restaurants / Queens Restaurants / Queens Buzz.
UPDATES - in AUGUST 2015 CAVO became a weekend only night club. In January of 2017 Cavo Astoria closed.
Cavo is one of the leading modern Greek restaurants in NYC. Cavo is located in the heart of Astoria, just off Steinway Street, only a few blocks walk from the N subway stop.


We had occasion to visit Cavo recently, where we were able to enjoy the restaurant's modern Greek cuisine, airy decor and well mannered clientele. You may click here to read a review of one of the leading Greek Restaurants In Astoria - Cavo.
---
Greek Restaurants In Astoria
Cavo - Modern Greek Cuisine In Queens


Astoria Neighborhood / Astoria Restaurants / Queens Restaurants / Queens Buzz. I went out for dinner at Cavo last Thursday evening to sample the menu and taste the creations of chef Richard Farnabe [Editor's Note: Richard Farnabe is no longer at Cavo].


I was greeted by the hostess in the front room, which includes an island bar that's open along three sides. Up a stair and behind the bar is comfortable seating for those who have to wait for their entire party to arrive. But the best part of Cavo happens once inside the main room.
Cavo - A Greek Restaurant Dining Experience


Cavo's main dining area has high airy ceilings that soar up some thirty feet. Even on the darkest day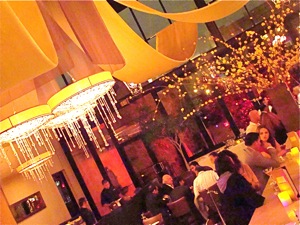 in winter, you'd have the feeling of being outside, so this may be a temporary solution for cabin fever come winter. Colorful, but tasteful flags adorn the empty space, complemented by theatrically lit Hellenic iconic figures that look down upon the restaurant's guests. The main room at Cavo, Greek restaurant in Astoria, is in the photo to your left.
There's a second open bar that spans most of the back wall, with a full complement of wines, liqueurs and beers. Off to the left there's a floor to ceiling window that looks down into a courtyard. Seating choices are many, each offering its own set of advantages. Being this was a review, I chose to sit at a table just in front of the Spanish guitarist since it seemed to offer a bird's eye view of most of the restaurant while leaving me discreetly hidden behind a few sapling trees.
The waiter offered me a choice of appetizers, entrees and desserts and I decided to try a bit of everything. What followed was a sumptuous treat one rarely encounters … anywhere.
Appetizers – Sushi Grade Tuna


Appetizers range from $6 to $16. I started with the Tuna Napoleon, which was a sushi grade tuna which melted in my mouth. It was served with tomato, basil and a feta cheese spread. It was soft and silky and the feta served as a chaser [see photo to your right].


Langoustine - Norwegian Lobster


The Langoustine, which is a Norway lobster, was served with summer vegetables and a bit of black pepper. The langoustine was full of contradictions, its dense flaky torso was dry and moist, while its juicy flavor spilled out onto my tongue. Along the side there was a cheese dip and brown sauce.


After finishing the langoustine, I squeezed lemon onto the summer vegetables which included fresh tomato, carrots and shaved asparagus. As I moved the vegetables upon the plate, I picked up some hummus which the chef had hidden beneath the bush. It was a nice complement and happy surprise. Voila, the plate was clean and onto the Zucchini I went [see photo to your left].


Appetizers - Zucchini Blossoms


The zucchini was lightly breaded [tempura] and stuffed with a thick mixture of soft goat cheese. There were tomato slices and balsamic vinegar with which to complement and cut the dense dairy treat inside. The goat cheese added a pungent flavor.




Appetizers - Four Cheese Ravioli


The four cheese Greek Ravioli was came atop a white feta truffle sauce. Inside the fresh dense pasta of the ravioli was a mix of four soft cheeses melted together. The white truffle sauce made the dish what one could term sinfully delicious.


Greek Appetizers - Squid Ink Linguine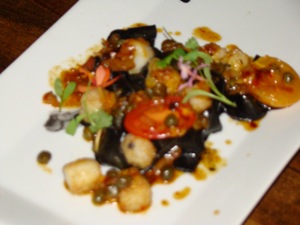 The Squid Ink Linguine was perhaps the celebrity Greek dish of the evening. This is a dish I had never had before and one that I was anxious to try … and I wasn't disappointed. The dish included soft pure bay scallops which flaked and fell apart in my mouth. The salty capers adding flavor, and the squid ink basically lit up my entire mouth with a wonderful indescribable zing. Whew.
The dark linguine noodle came in to tamp it down and the fresh tomato soothed and caressed so that by the time I'd finished the dish, I was ready for another. Aaahh, but there wasn't room to double up on this visit, as I was only half way through.


Greek Appetizers - Grilled Octopus


The Grilled Octopus followed the squid. The soft dense white meat came in a red wine vinegar sauce, complemented by tomato and lemon and topped with a large caper berry. The octopus is shown in the photo to your right.



Greek Entrees – Branzino Filet and New Zealand Lamb Chops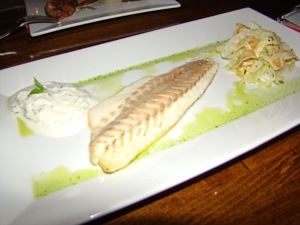 The Greek Branzino Filet was served with baked with tzatziki, which is a light flavorful mix of yogurt, cucumber, garlic and seasoning. The fish was light, flaky and moist. Its natural flavor complemented by the tzatziki as well as the shaved fennel and apple, and the parsley oil along the white plate.


The New Zealand Lamb Chops provided a fitting end to the feast. They were cooked to a bright pink, soft and tender to the taste with a wonderful flavor seldom found. The lamb chops were complemented by roasted potatoes, garlic cooked to a buttery clove and a breaded croquette. Nice to look at and even better to eat. See photo below right.


One might think I was full by this time. But what's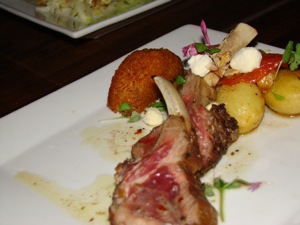 dinner without dessert? Frequently I pass, but tonite I decided not to, as I was looking forward to the next leg of the journey. And as it turns out, the last leg of the journey was every bit as good as the first.


Background Music – Flamenco Guitar


Eating at Cavo is more than just dining out at a great Greek restaurant – there's a bit of theater too. As I sat digesting the many flavorful foods I had consumed, I let my eyes and mind wander about the restaurant. In the background, the ambient noise was the wonderful sounds of flamenco guitarist David Manuel Castellano, who played songs of passion, romance and dance. Sometimes I felt as if my metabolism and taste buds danced to his tunes.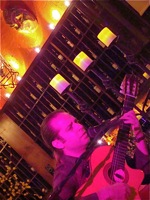 Above me, hanging from the high, sweeping ceilings were golden flags, decorously lit, surrounded by spaciously arranged Hellenic icons including a famous warrior along the stairwell, two Olympians standing above and to each side of the bar, and classic chandeliers from a more gracious European age hanging down lighting the entire scene.


And scene it was. From young couples and singles along the bar, to couples, friends and families in amongst the booths. All seeming to enjoy the romance, the theatre, the fine cuisine and music and … dessert arrived.


Greek Desserts – Manouri Cheese Cake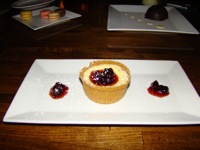 While I enjoy cheese cake, I'm not a passionate cheesecake lover. Some folks I know are absolutely mad about cheesecake, perhaps in the same way I have an affinity to chocolate. But tonite, I inched closer to developing a bit more passion for the cheesecake, as the manouri [a soft Greek goat or sheep cheese] cheesecake really seduced all of my taste buds. And the cherries, which came atop it added a wonderful texture to the flavorful charm of the dessert, which along with the perfectly done breaded exterior seemed to elevate cheese cake into a whole new realm for me. It seems Richard Farnabe knows how to end his meals on a high note.
Greek Dessert – Hazelnut Chocolate Mousse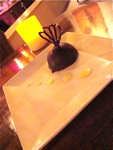 And then came the Hazelnut Chocolate Mouse. Let me start by taking you along with me into the dessert. I started by carving into the hard chocolate dipped layer, taking some of the chocolate mousse along with the semi sweet chocolate layer. MMMmmmm. I then ventured in deeper, finding a nice crunchy hazelnut to satisfy my desire to bite amidst the chocolate orgas… and then came the sweet surprise. In the middle of the mousse there was a soft layer of crème brulee ice cream which had melted into a cold wavy layer of something between mousse and butter and ice cream and it was so, sooo good.


Greek Restaurants In Astoria - Cavo Astoria
Large Parties And Private Parties


Cavo seats around 400 people, so it's ideal for large parties as well as large groups that need to get into a great restaurant quickly. The service was excellent and the waiter I had was very knowledgeable about the food. The ambiance is charming, it's both private as well as public, as its varied seating offers you a choice of tables to fit your mood. They take credit cards, have an outdoor courtyard, provide live entertainment each week, and host private parties [there's an entire section that overlooks the entire restaurant].



Greek Restaurants In Astoria - Appetizer and Entrée Prices


Appetizers cost from $6 to $16, while entrees run from $16 to $30. I'm told that all winter long they are running a weekly event called 'Wine Down Wednesdays' wherein bottles of wine are provided at half price. Monthly they offer Flamenco Dancing on a Thursday night, which if it's anything like the Flamenco guitar, should provide beautiful music along with some theater.
---
Cavo - Modern Greek Restaurants In Astoria NY - Links
Click this link to view a map of Cavo, one of the leading Greek Restaurants in Astoria. Click this link to obtain the contact info and website url for the Cavo Greek Restaurant in Astoria.
---
Astoria Neighborhood Links
$element(adman,groupad,Catgry Rest)$
Click on these advertisements for promotions, discounts and coupons by retailers and restaurateurs in Astoria and nearby Queens.
Click this link to go to the:
Astoria Neighborhood or Astoria Business Directory
Astoria Real Estate or Events & Things To Do In Astoria
Restaurants In Astoria or Astoria Shops & Shopping
---
$element(adman,groupad,NHoodAstoria)$
Site Search Tips. 1) For best results, when typing in more than one word, use quotation marks - eg "Astoria Park". 2) Also try either singular or plural words when searching for a specific item such as "gym" or "gyms".
$element(bwcore,insert_search,N)$
Click this link to search for something in our Queens Business Directory.
---
Click the log in link below to create an ID and post an opinion.
Or send this story to a friend by filling in the appropriate box below.
---
$element(adman,groupad,Sectional2 Ad)$
---