Green Agenda For Jackson Heights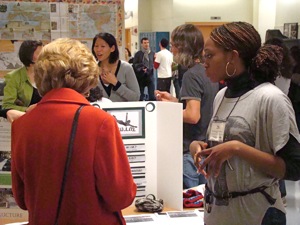 Jackson Heights / November 7, 2009. I had occasion to attend the first meeting of a Green Agenda for Jackson Heights on a beautiful November Saturday morning. Len Maniace of the Jackson Heights Beautification Group was one of the catalysts for bringing together a tripartite coalition of JHBG, Queens Community House and the Pratt Center For Community Development. I was informed that about some 20 volunteers had already joined the effort.
Jackson Heights Neighborhood - Environmentally Active
The group had secured a $25,000 grant from the New York State Department of Environmental Conservation to help develop and promote an effort to create a more environmentally sustainable Jackson Heights. Len told me that part of the effort included outreach to immigrants within the community. This outreach effort became apparent during the introductory remarks which included translation into Spanish. I also noticed that the posters were multi-lingual too.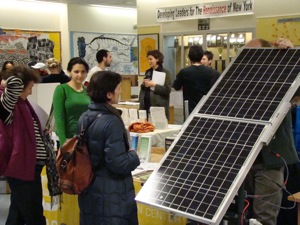 I arrived early to check out the exhibits, staffed by people who worked for organizations promoting a greener lifestyle. The exhibits included the League of Conservation Voters [registering environmentally aware citizens], the Queens Botanical Garden [educating how to start urban composting], Transportation Alternatives [educating to create a lower transportation carbon footprint], Swimmable NYC [educating home owners about the effects of water runoff], NYSERDA [New York State Energy Research and Development Authority promoting the use of solar panels] and a group promoting green roofs [sorry, the name of which I did not get]. Click here to see photos of the Green Agenda For Jackson Heights Exhibits and exhibitors, all of whom I believe are Queens residents.
Green Agenda For Jackson Heights - Participants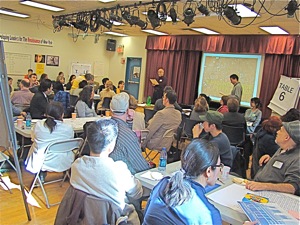 Today's meeting was to begin the process. I was impressed by the turnout as this was an all-volunteer effort and there were about a hundred residents of all ages who showed up [see photos]. In a day and age where apathy seems rampant, I was really impressed. These were people who actually care enough about their community to actually try to do something about it … for free. I contrast this with an occurrence earlier this week, when during a hotly contested city council race costing hundreds of thousands of dollars, only about 20% of the eligible voters bothered to vote.
Jackson Heights Beautification Group - Len Maniace
There were a number of tables set up wherein participants would discuss the Green Agenda. Len outlined the effort: 1) identify what efforts should be on a green agenda for Jackson Heights, 2) prioritize them and possibly 3) outline strategies to pursue them. He went on to talk about some of the possibilities which could include lower various types of pollution in the community, create more public park space, develop more green roofs, grow more flowers and trees and use your own experiences and imagination to find others.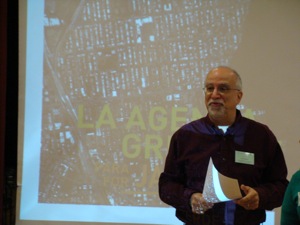 Queens Community House - Mary Abbate
Mary Abbate, AED of Community Programs of Queens Community House talked about the importance of discussing what is learned today with fellow residents and co-workers to help spread the word about the Green Agenda For Jackson Heights project. She talked about how a green agenda starts at home and includes the streets we walk down, the parks or places where the children play … coincidentally, the one baby in the audience was sliding along the polished floor boards of the Renaissance Charter School as she made this remark. Her remarks also included a credits piece, noting the government officials who supported the effort, many of whom had sent someone to represent them.
Pratt Center For Development - Green Agenda For Jackson Heights Neighborhood
Michael of the Pratt Center For Development was last to speak. He reiterated the process: 1) identify the topics or issues to be included on a green agenda for Jackson Heights, 2) place the issues on a large map of Jackson Heights which was spread along each of the working tables, and 3) prioritize which initiatives are most important.
Click here to view a photos of the Jackson Heights residents participating in this effort. Kudos to all of them. Click this link to go to the Green Agenda For Jackson Heights home page on this site.
---
Jackson Heights Neighborhood - Related Links
Click this link to go to the Jackson Heights & Elmhurst Neighborhood News / Jackson Heights & Elmhurst Restaurants Guide & Map / Jackson Heights Business Directory / Elmhurst Business Directory / Jackson Heights & Elmhurst Shopping Center & Map.
To find restaurants, shopping or other things to do in any of the neighborhoods, use the search function.
$element(bwcore,insert_search,N)$
Send this story to a friend by filling in the appropriate box below.
---