Donovan's Pub - Woodside
Quintessential Irish Pub - Restaurants In Woodside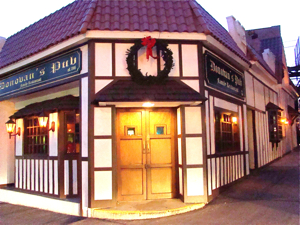 Woodside Neighborhood / Sunnyside & Woodside Restaurants / Queens Restaurants / Queens Buzz. I've been wanting to review Donovan's Pub for a while, but without stereotyping it as an Irish Pub. But alas, it's about as Irish a pub as you'll find in all of New York, maybe even the world, save perhaps, Ireland itself.
I was met by Jack Donovan who is the brother of the owner; Joe. Jack has been managing the Irish pub ever since he retired as a New York police detective in 1990. Since then he's been managing the affairs of Donovan's Pub in tandem with, and for, his brother Joe.
Ambiance At Donovan's Irish Pub - Queens
Jack gave me a brief tour of the expansive restaurant and bar, which on the outside looks like a small Irish pub but on the inside has three separate large dining rooms, a smaller dining room and a long bar at the entrance. Donovan's Pub happens to be a case where looks are deceiving, as the pub is capable of seating 179 people. The benefit is that it can quickly and easily accommodate large groups on a moment's notice, such as a spur-of-the-moment gathering of the guys before a Mets game.
Donovan's Pub puts solid wooden floors beneath your feet, and provides a dark cozy comfortable atmosphere. There are three working wood burning fireplaces which add to that comfort, especially on a cold winter day. Because of its size, the pub has an expansive airy feel to it, but at the same time it's a sort of labyrinthian maze. The net result is that they can provide customers with a mix of ambiance ranging from private 'date', to a family dinner to a beer hall get together. And they can do it simultaneously.
I sat down in the main dining room and was waited on by an Irish lass. As it turns out, she's the pub's newest waitress, having started in 1997. One of the other waitresses has been working at Donovan's since 1967, shortly after the pub became Donovan's.
Irish Pub Food - Menu At Donovan's Pub In Queens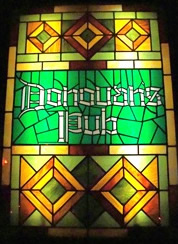 The menu provided a variety of items one might expect to find at an Irish pub. There were buffalo wings and chicken fingers for appetizers; and burgers, shepherd's pie and fish & chips for main entrees. There were also ample choices of beverages, including red and white wines and full list of mixed drinks. And of course, there was Guinness and Irish coffee.
I decided to venture off the traditional pub food path as every review written about the place in the past twelve years has centered on Donovan's burger. I've actually had the burger in the past and it's quite good, but you don't need to read yet another review about Donovan's burger … or do you?
So, taking some guidance from the new waitress, I opted for the baked clams, French onion soup and chicken parmigiana. As I ordered I felt Detective Donovan's eyes piercing right through me, and I could practically hear him asking aloud, "What's kind of a Irish Pub review it this?". So, thinking fast, I threw in a shepherd's pie, just to keep him off balance.
It seemed only appropriate to start the meal with a Guinness. As expected the Guinness was mighty fresh, lad. Yes, it was mightly fresh. I reckon it's likely the freshest Guinness in the city. I was informed that they go through many kegs each week.
Irish Storytellers - Woodside Queens
As I sat sipping on my Guinness, I soon realized that I was sitting across from a classic Irish storyteller. At first Jack and I started talking about the restaurant, the Donovan family and Irish Pub food. But eventually we moved onto Jack Donovan's days as a young detective in the NYPD in Harlem in the 1970's. Now, if you know anything about the city's recent past, these were very tumultuous times.
Irish Pub Appetizers - Queens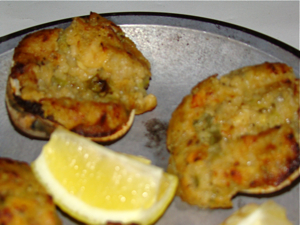 The first appetizer was the baked clams. Four large baked and breaded clams came out on a piping hot metal plate that was served atop a wooden holder. The clams were breaded with a dressing that provided a complement to the clam meat inside of them. I made quick work of them before resuming the conversation.
Donovan's Irish Pub History - Woodside
The Donovan boys' parents came to America following WWII. They settled in Woodside where they started a family. Jack's father worked for a beer brewer. When Joe Donovan, Jack's oldest brother, grew up, he first worked as a policeman and then as a fireman. In 1966, older brother Joe decided to start Donovan's Irish Pub, and set it up and went into it in a partnership with their father.
Main Entrees - Donovan's Irish Pub
My first main entrée, the chicken parmigiana arrived. The chicken was moist and had a tasteful breaded coating. It was covered with a thick layer of melted parmesan cheese and a diced tomato sauce. As it turns out, the chicken parmigiana is a favorite of many of the policemen and firemen who frequent the pub. Upon tasting it, I knew why. It's a tasty, hearty meal, served in a generous portion at a very reasonable price [about $12].
Jack and I continued our conversation. As the youngest son, Jack decided to go into the police force. He soon became a homicide detective and began working the dangerous streets of 1970's Harlem. Harlem was a hotbed of drugs, poverty and murder.
The French onion soup came highly recommended from a Donovan's Pub inside source. Underneath a thick hot layer of melted cheese, there was a soft wet layer of white bread. I made my way underneath both layers before coming out with a large spoonful of onions and flavorful broth. MMMMmmm. This confirmed my inside source was reliable.
Shepherds Pie - Queens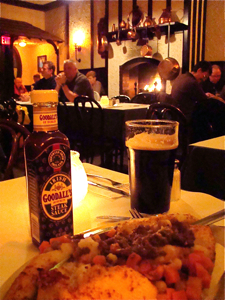 And then came the Irish staple: shepherd's pie. The lean ground beef was covered by fluffy, white, mashed potatoes; and a generous dollop of carrots and peas. I was given some Irish Goodall's Steak Sauce to complement the dish. The Goodall's added a light apple flavor to what is really a rather hearty meal.
Jack and I talked a while longer. I was engrossed in the tales of his police force past. Even today, some twenty years after he'd left the force, he still had a detective demeanor about him. He was lean, cautious, carefully observing his subject as we talked. As I sat there listening to him, I could see in him an interesting book about the life he'd once lived.
Good Cup Of Irish Coffee In Woodside
I really should have finished the meal with an Irish coffee, but from fear of not getting my work done, I decided not to. Since I've had Irish coffee here before, I feel free to comment. Donovan's knows know how to make a real cup of Irish coffee ... and these days that seems hard to find.
It's worth noting that all of the portions at Donovan's appear to be hearty and economically priced. Entrée prices range from just under $11 to just over $19, while appetizers are in the $4 to $6 range. Erin Go Braugh.
---
Donovan's Pub - Woodside Restaurants
Click this link to view a map of the Donovan's Pub - one of the restaurants in Woodside. Click this link to obtain the contact info and website url for Donovan's Irish Pub in Woodside Queens. Click this link to view reviews of other Sunnyside & Woodside Restaurants.
---
Sunnyside Neighborhood / Woodside Neighborhood Links
$element(adman,groupad,NHoodSSWS)$
Click on these advertisements for promotions, discounts and coupons by retailers and restaurateurs in Woodside, Sunnyside and nearby Queens.
Click this link to go to the: Sunnyside & Woodside Neighborhood
Sunnyside Business Directory or Woodside Business Directory
Sunnyside & Woodside Real Estate or Events & Things To Do In Sunnyside & Woodside
Restaurants In Sunnyside & Woodside or Sunnyside & Woodside Shops & Shopping
---
$element(adman,groupad,Catgry Foodwine)$
Site Search Tips. 1) For best results, when typing in more than one word, use quotation marks - eg "Astoria Park". 2) Also try either singular or plural words when searching for a specific item such as "gym" or "gyms".
$element(bwcore,insert_search,N)$
Click this link to search for something in our Queens Business Directory. Also check out Taste of Sunnyside.
---
Click the log in link below to create an ID and post an opinion.
Or send this story to a friend by filling in the appropriate box below.
$element(adman,groupads,Sectional2 Ad)$
---