Queens Weather - Weather Systems in Queens NYC
---
This section contains reports compiled over the years about weather systems affecting Queens NYC.
---
Blizzard Ends & Queens Digs Out
Public Transit Coming Back Onlline After Near Record Snowfall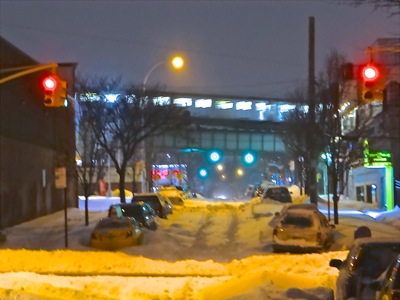 January 24, 2016 / Queens Neighborhoods / Queens Buzz.
The snow quit falling about 11 pm and the wind died down, so one could see the horizon once again. The traffic ban remains in effect until 7 am which will facilitate NYC Sanitation workers job of digging NYC out. I saw the #7 subway trains moving in the Manhattan direction about midnight Saturday which bodes well for public transit coming back online for Sunday.
There were a number of deaths, some from taking on the strain of shoveling too much snow, but most folks in the area from Washington D.C. / Baltimore to NYC and beyond, seemed to fare pretty well. The temperatures are forecast to rise above freezing this coming week, so given that we received over two feet of snow, it's going to be a wet week.
Congratulations on surviving the Blizzard of 2016. Enjoy the rest of your weekend.
---
NYC Snowstorm Emergency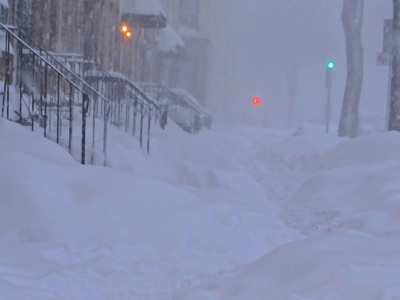 January 22, 2016 / Queens Neighborhoods / Queens Buzz.
Mayor issues Travel Ban as of 2.30 pm Saturday. Asks theaters and restaurants to close as revised forecast could bring 20 - 25 inches of snow. The MTA announced that they will be shutting down above ground rail and subway and buses by 4 pm - click to NYC MTA Storm Update for details.
NYC Winter Emergency Declaration. Mayor de Blasio made a statement putting the government apparatus on notice to manage the implications of the storm.
Temperatures aren't dropping that low [20's / teens], and the estimated snowfall [about a foot] in and of itself doesn't appear to be anything we haven't handled in the past.
But the high winds [gusts of up to 50 mph] could stir up snowdrifts and some measure of trouble, particularly for pedestrians and motorists.
Oftentimes these things become much ado about nothing, but I reckon better safe than sorry.
Weekend Weather 1/22 - 1/24. The temperature highs will be around 30 on Friday & Saturday, climbing to the mid 30's on Sunday. The lows will be in the low 20's throughout the weekend. It will be clear on Friday, with a huge snowstorm expected Saturday.
The Snowstorm will start early, dropping about 6 - 9 inches by about midafternoon, and finishing the day with a few more inches. It's expected to be generally clear on Sunday. On Saturday it will be windy, with gusts of up to 50 mph.
Click MTA Link for Snowstorm Service Changes. Click here for details on the MTA Weekender.
---
Snow Storm Skirts NYC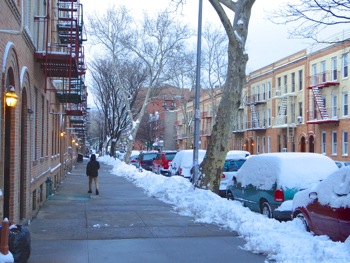 January 29, 2015 / Queens Neighborhoods / Queens Buzz. On Monday evening NYC's mass transit system was shut down. It was announced that NYC public schools would be closed. And everyone was advised to prepare for a snowstorm that might bring 24 to 36 inches of snow to the city.
On Tuesday morning, things looked quite a bit brighter. The city received far less than a foot of snow. In most places the inches of snowfall didn't even break the single digits. And so it was, a snow day without too much snow.
NYC has a long history of under reacting and over reacting to weather conditions. When government officials under react they generally lose some face. When they over react, the proverbial political storm blows over.
And so it was on Tuesday, January 27, 2015 that Queens enjoyed an unscheduled day off, with all the shopping done.
---
Snowstorm Blankets Queens & NYC
February 3, 2014 / Queens Neighborhoods / Queens Buzz. Around 4 am this morning, the light drizzly rain that began falling late in the evening, turned to snow. The snow kept coming in a slow steady stream and as of about 1 pm Queens & NYC had received between three and five inches of snow. The National Weather Service is predicting that we will receive between five and eight inches of snow.
Alternate side parking has been suspended as have trash pickup and recycling operations. After school sports and activities have also been cancelled. Traffic conditions aren't good and the snow advisory is in effect until about 7 pm.
---
Weird Weather & Implications
Starting The New Year In A Regenerative State Of Mind
January 7, 2014 / Queens Buzz. The end of 2013 and the beginning of 2014 share at least one thing in common - unusual weather patterns. Over the holidays we went from unseasonallly warm weather to the frigid temperatures normal for the season [teens to 20's] and back again a couple of times.
In late December and early January we've witnessed a zig zag weather pattern of warm / cold / warm / cold. As you can see in the time series photos to your right, we experienced snow on December 14th. Temperatures sank into the 20's. The snow completely disappeared just prior to the Christmas holiday.
On December 22nd, we found Smidge and Dallow playing in Sunnyside as folks were walking by without coats. The temperatures were in the 60's.
The new year began with temperatures in the teens and 20's and the snow returned on January 3, 2014 as the area received between 6 and 11 inches [Ozone Park].
Less than two days later on January 5th, 2014 we experienced a new high for the day of 70 degrees. It seems Florida has less appeal when it's 70 degress up here.
Today temperatures are in the teens and for the week temperatures are expected to climb from the teens into the 50's by Saturday, although there will be more cold days along the way.
So what to make of it? It would seem global climate change is very much a possibility. To completely deny that 7 billion humans, who occupy a third of the planet [land], have cut down billions of trees and put billions of tons of fossil fuel exhaust into the air over the past century, is to deny one of the most likely causes of the changing weather.
In the short term, during the winters, it's nice to have 70 degree days. But in the summer when the tempatures rise to the high 90's for days on end, it's far less appealing.
It seems we can expect that the seasonal temperatures will become less marked - as we no longer see the lows of the past during winter, and we're starting to see new highs in the summer. Over time it will just get warmer and warmer and warmer.
The rising temperatures will disrupt the eco system and those disruptions include an impact on our food supply. And as we know from history, this is when people start fighting.
We need to begin treating our planetary eco-system like a farmer treats his soil. In days of old, farmers would plant the same crops over and over and deplete the soil of it's minerals. The crop yield would decline as the minerals were depleted. In time science taught the farmers to rotate the crops in order to replenish the minerals to the soil. I think in some fashion we need to take a similar approach to our eco-system. We can't keep taking from it without also nuturing it or we will deplete it.
So what to do? As individuals this means transitioning toward a greener lifestyle. And leaning on government officials and businesses to do the same. Each of us can make a difference because problems like this are cumulative where lots of little bits add up to billions and trillions of bits.
The cumulative nature of things is how we got into this situation in the first place. Thus, by working to do our bit as individuals, we can also cumulatively change it before the implications of these changing weather patterns becomes a crisis of epic proportions.
Can one person change the world? Yes ... and although we might not have the personal power of a human being like Mahatma Ghandi - quietly and cumulatively we can all make a difference.
How you can help. Pick one or more items from the following is a list of some things you can do to help preserve the ozone layer / planetary eco-system: 1) recycle your garbage, which most New Yorkers are required to do already, 2) walk, bike or use public transit when you can, 3) use a high gas mileage vehicle, 4) invest in solar power for your home [click link for info about tax breaks], 5) improve insulation in your home for less energy consumption in both winter & summer, 6) buy energy efficient appliances like air conditioners, 7) use blinds, curtains, shades to keep your home cooler in the summer, 8) use sweaters to lower the use of heat in the winter, and 9) shop and buy local because it requires less of a carbon footprint to produce / ship and it's good for the local economy. Every little bit helps.
---
The Great Queens Snowfall Of 2010
Wintry Weather Returns To Boro
Queens Neighborhoods / February 10, 2010 - 3 pm / Sunnyside Gardens Snowfall / Queens Buzz.
All of Queens is the recipient of a wintry snowfall. As of 3 pm EST there were almost exactly four inches that fell on the ground. We understand that some LGA runways have been closed.
Weather Affects Commuters / Residents Dig Out
As you can see from these photos, unlike in the morning when there was only an inch or two on the ground, the evening commute promises to be somewhat treacherous. Beneath the beautiful white snowy exterior, lies an icy layer of sleet, snow and mush. In crossing one of the roadways we found ourselves slipping and along Queens Blvd the traffic slowly creeped along.
There's no doubt that most adults aren't fond of the wintry weather. It disrupts traffic,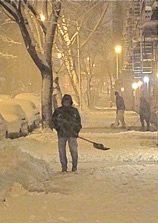 lengthens the commute, puts the kids out of school [somebody has to stay home with them], increases the probability of accidents and leads to back breaking snow shoveling. But to kids and young lovers, the magical white stuff is a bit enchanting.
Magical, Romantic & A Great Way To Entertain The Kids
But alas all is not lost. There's always a certain magic to a fresh layer of pure white snow. And there's a romance to it that one could use to their advantage in getting an early start to courting their loved ones or for parents in winning the hearts of their rambunctious kids.
Naturally the greatest beneficiaries of a good snowstorm are the kids. It starts with them not having to attend school today. The packy snow is perfect for making snowmen, snow forts and snowballs. All of which I fondly remember enjoying for hours on end, with my siblings and friends as a youth, on cold snowy day such as this.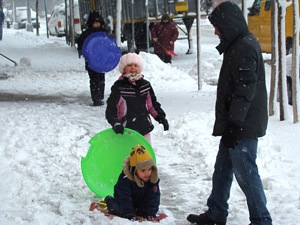 And lastly, we found one family trying to enjoy sledding down the street on coasters. But what makes the snow so good for snowmen, snow forts and snowballs, makes it no so good for sledding, commuting and others forms of travel.
Queens Weekend Weather Will Be Sunny and Seasonal
The good news is that this is a one day affair, and it comes little more than a month away from the Spring equinox, so it's not likely to stay for long. This weekend, after a bit of cloudiness on Thursday, the skies turn sunny for the weekend, with temperatures in the thirties during the day and twenties at night. See the weather link along the left side bar for a full and up-to-date weather report.
And try to enjoy it. Mother nature has been pretty gentle to us this winter.
---
Snow Returns To Queens
Twelve Inches Or More Expected In Total
Queens / February 10, 2010 - 11 AM. This morning commuters were greeted by just enough of a snowstorm to slow things down. There's currently between two and three inches on the ground and we could get up to another nine inches or more before the snowing ends later today.
Except for Thursday, when it will be cloudy, the rest of the week, including the weekend, will have clear skies with temperatures in the low thirties during the day and in the twenties at night. So it should be a nice Valentine's Day / Presidents Day weekend, albeit seasonally cold and wintry.
Click the weather link to your left for a full weather report.
---
Queens Buzz Voluntary Subscriptions
We do our best to provide independent coverage of news, dining, events, arts & culture.

You can help us provide you with first source, balanced, contextual and independent coverage of Queens by making a purchase for as little as $5 [less than the price of one copy of a print magazine].
Click the button for details on how to keep these posts coming.
---
$element(adman,groupad,NhoodAstoria)$
Astoria Neighborhood Links
Click on these advertisements for promotions, discounts and coupons by retailers and restaurateurs in Astoria and nearby Queens.
Click this link to go to the:
Astoria Neighborhood or Astoria Business Directory
Astoria Real Estate or Events & Things To Do In Astoria
Restaurants In Astoria or Astoria Shops & Shopping
---
LIC Neighborhood - Long Island City Links
$element(adman,groupad,Catgry Foodwine)$
Click on these advertisements for promotions, discounts and coupons by retailers and restaurateurs in Long Island City LIC and nearby Queens. Click here for a related story about the hotels & restaurants in Dutch Kills section of Queens.
Click this link to go to the:
Long Island City Neighborhood or LIC Business Directory
Long Island City Real Estate or Events & Things To Do In LIC
Restaurants In Long Island City or LIC Shops & Shopping
---
$element(adman,groupad,Catgry Queens)$
Site Search Tips. 1) For best results, when typing in more than one word, use quotation marks - eg "Astoria Park". 2) Also try either singular or plural words when searching for a specific item such as "gym" or "gyms".
$element(bwcore,insert_search,N)$
Click this link to search for something in our Queens Business Directory.
---
$element(adman,groupad,Sectional2 Ad)$
---
Click the log in link below to create an ID and post an opinion.
Or send this story to a friend by filling in the appropriate box below.
---