Queens Of Angels Art Fair - Sunnyside
June 13, 2010 / Sunnyside / QueensBuzz. I just returned from a very diverse and interesting Queen Of Angels Art Fair in Sunnyside. This is the year it seems everything went rather well, with the exception of a few warm raindrops near the end of the day.
I enjoyed the show a bit more this year because they opened up the room so that one could see across the entire room from any angle. This not only helped ventillate the show but also provided for a more interesting experience in terms of crowd watching, while enabling one to view the art from many different angles. And food and wine were served, like on my last visit, adding to the overall art and dining experience.
Click here to read our full report, including dozens of photos, of the Queens Of Angels Art Fair 2010 / Art Show in Sunnyside.
---
Queens Of Angels Art Fair - Sunnyside
Art, Art Fairs, Art Shows In Sunnyside & Queens
Continued / June 13, 2010 / Sunnyside / Queens Buzz. The Queens Of Angels Church began hosting this art fair starting in the fall of 2008 [click the link above or use the search box to view our report on the 2008 "art fair"].
Food & Beverage & Donations
The art fair is a fund raiser, wherein the artists agree to donate 10% of their sales to the church. Bliss Bistro, Lowery Wine & Liquor, DeMole, Quaint and Dazies restaurant donated food and beverage to the event, so that art lovers could enjoy a delicious $5 lunch and a free glass of wine with a purchase, while perusing the art. Just to give you an idea of how popular the food was, they ran out of it, but Lilly Gavin of Dazies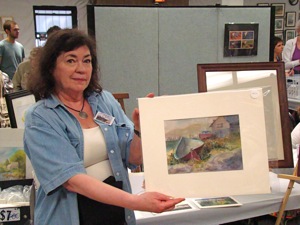 returned with more.
Art Exhibitor Count & Neighborhoods
This year the art exhibitor count increased to 35 [it was 25 in 2008]. We did an informal survey and noted that the fair is drawing more artists from both the Sunnyside and Woodside neighborhoods, and it has also begun attracting some artists from neighboring LIC.
Art Exhibits / Art 4 Sale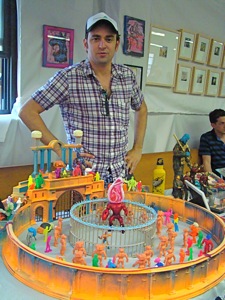 There was a nice mix of the young and the young at heart; of modern abstract art and classical art, including some interesting tangents. Near the door there was an exhibit that had a mix of children's toys, assembled nicely in a fort-like configuration. I asked the artist, "What's this all about?". He turned it back on me, asking the same question. While I was silently processing his work, remembering setting up elaborate forts as a young child, he rejoined, "it's about feeling young again". I had to admit that it had briefly transported me back into my childhood ... "beam me up Scotty".
There was modern art on mirrors, which incorporates you standing there - with modern art splashed all over you. There was modern art on glass, with a myriad of interesting gradients of color and unusual forms sealed in by heat. There were classical impressionistic countryside scenes to calm one. And modern art oils blooming with beautiful colors in geometric and a plethora of other shapes. There were metal works and earrings, photography and collages mixing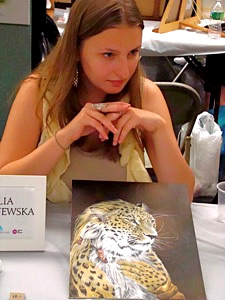 modern print media with graphic art, photography and hand sketched graphics.
There were religious works, allusions to renaissance times in an artist's self portrait, portraits of the family, or friends and someone's dog ... and more. We managed to photograph the artists too, in some cases reflections of the works they'd created. And some photographs of an engaged crowd, enjoying art, each others' company and some good food and wine.
You can view the show on the slide show below or click through it for faster viewing. You can also view this report and many others in our Queens photo albums.
Also, for Sunnysiders and nearby residents, there are a couple more weeks left to 'Six Cylinder Love' [I'm not crazy about the name as it was created in the 1920's]. Click the link to read a review of it. It's a fun play that, believe it or not, is incredibly relevant to the times we live in today.
Queens Art Express Participation - QAX
The Queen Of Angels Art Fair aligned its dates with the Queens Art Express [QAX] weekend. QAX was a four day art extravaganza along the number 7 subway line in Queens this past weekend. QAX showcases the arts in Queens.
Photos Of The Queen Of Angels Art Fair In Sunnyside
$element(ophoto,photo_slideshow,79,550,,5.00,fade)$
---
Woodside Related Sections. Click this link to go to the Woodside Neighborhood News / Woodside Restaurants Guide & Map / Woodside Shopping Center & Map.
Site Search Tips. 1) For best results, when typing in more than one word, use quotation marks - eg "Astoria Park". 2) Also try either singular or plural words when searching for a specific item such as "gym" or "gyms".
$element(bwcore,insert_search,N)$
Click this link to search for something in our Queens Business Directory.
---
Send this story to a friend by filling in the appropriate box below. Or click the log in link below to create an ID and post an opinion.
---