January 16, 2018 / Sunnyside Neighborhood & Woodside Neighborhood / Sunnyside News & Woodside News / Queens Buzz NYC.
This section contains News Briefs about Sunnyside and Woodside done beginning in 2008. They represent brief snapshots of community events that have taken place over the years.
---
Click any of these links to scroll down to view the Sunnyside News / Woodside News briefs from prior years.
---
Sunnyside News & Woodside News - Briefs 2017
---
Sunnyside News & Woodside News - Briefs 2016
---
Sunnyside Shorts Film Festival Friday
Films Shorts from Queens & Around the World Describe a bit of the World Around Us
October 3, 2016 / Sunnyside Queens / Film Festivals in Queens / Queens Buzz.
On Friday and Saturday the Sunnyside Shorts Film Festival returns after going on hiatus in 2011. The films will be shown in the historic Sunnyside Reformed Church on 48th Street and Skillman Avenue in Sunnyside. We covered the festival in the past and you can find prior stories about it by clicking these links to the Sunnyside Shorts Film Festival in prior years.
History of Sunnyside Shorts Film Festivals in Queens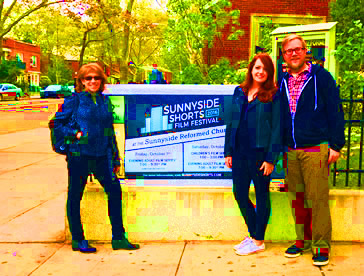 The first Sunnyside Shorts Film Festival was organized in 2001 by a visiting Japanese student at Hunter College. The Founder, Shinichi Murota, after running the first festival then returned Japan.
Theresa Ward & Sherry Gamlin were volunteers for the first festival and after the festival lied dormant for a few years, they decided to revive it in 2007. For five straight years the festival continued along with the help of another Sunnysider Susan Walsh - before going back on hiatus in 2011 when Sherry left Sunnyside to care for her mother. In the photo at right [from left to right] stand Sherry Gamlin along with Ashley and Bryan Brinkman in front of the Sunnyside Reformed Church where the Sunnyside Shorts Film Festival begins Friday.
Sherry's mother died in 2014 and a year later Sherry returned to Sunnyside which has been her home since 1975, and her Queens roots go back even further. Last Spring Sherry attended a concert at Sunnyside Reformed Church and she inadvertently found herself scouting out the church as a venue for the return of the festival. She spoke to Pastor Neil Margetson about the possibility of using the church as the film festival venue. Margetson liked the idea … and hence the Sunnyside Shorts Film Festival was born again.
Organizing Sunnyside Shorts Film Festival Queens 2016
Sherry told me that they had received 1255 film submissions from around the world, literally all six continents [none from Antarctica which is melting fast], citing films from South Africa, Zimbabwe, Latin America, Iran, India, Japan, China, Australia, Europe and North America / NYC / Queens. The photo at right is from the film Bionic Girl from France showing Friday night.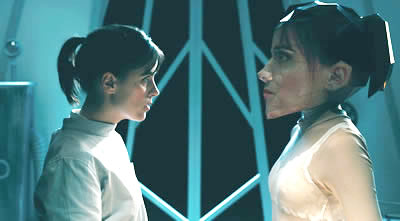 She received most of the submissions in May of 2016 and there were six people who reviewed the films including Bryan and Ashley Brinkman who had helped with the last Sunnyside Shorts Film Festival in 2011. Bryan Brinkman is a cartoonist animator for Jimmy Fallon and his wife Ashley Brinkman is a package designer for advertising company that does food products. Ashley did the poster [see photo below] and website, while Bryan helped review the films.
The four other reviewers were Kevin Keating, who Sherry described as a notorious film buff, Sandra Statner is an avid TV and old movies screener, Dr. Caryn Goldberg is a psychologist who regrets not going into stand-up comedy, and Matt Simnowitz was described as someone who knows everything there is to 'no' about filmmaking.
Screening the Films for Sunnyside Shorts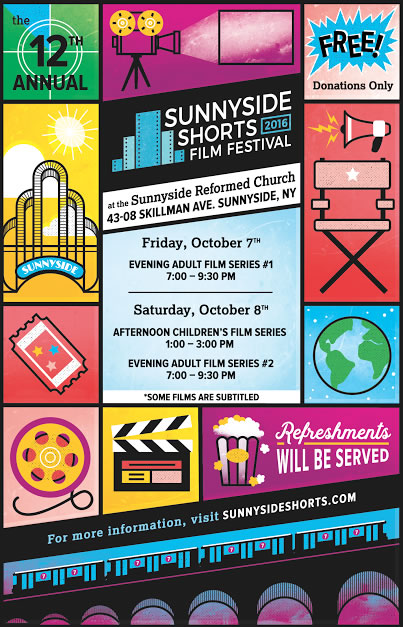 In reviewing the films, those that contained inappropriate content were quickly discarded, as were some that were just so bad. Sherry said the films allowed into the show were screened to be sure there wasn't anything demonic or distasteful. Sherry told me that she had inquired as to whether the Church guidelines would permit the showing of films with some cursing, and Pastor Margetson quipped, "I'm sure God has heard it all."
And while 1255 films sounds like a lot – which it is – they are short films, so 1 to 20 minutes in length means you can review 60 to 6 in the time it takes to watch one two-hour long film. What about themes I asked? "No themes" she said, "the festival is about nothing and it's about everything." There's drama, comedy, animation and documentaries. They are showing 13 films on Friday and 12 films on Saturday evenings beginning at 7 pm and showing 13 films for the kids on Saturday from 1 to 3 pm.
Why are you doing this, I asked. "Because I love all aspects of putting a film festival together" she replied.
Click here for a preview of many of the films that will be shown at the Sunnyside Shorts Film Festival this Friday and Saturday.
---
Blizzard Ends & Queens Digs Out
Public Transit Coming Back Onlline After Near Record Snowfall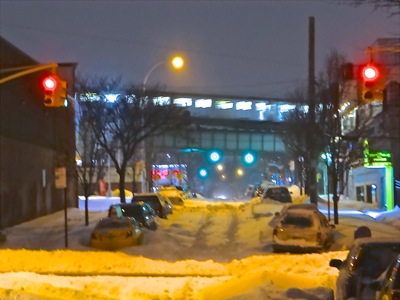 January 24, 2016 / Queens Neighborhoods / Queens Buzz.
The snow quit falling about 11 pm and the wind died down, so one could see the horizon once again. The traffic ban remains in effect until 7 am which will facilitate NYC Sanitation workers job of digging NYC out. I saw the #7 subway trains moving in the Manhattan direction about midnight Saturday which bodes well for public transit coming back online for Sunday.
There were a number of deaths, some from taking on the strain of shoveling too much snow, but most folks in the area from Washington D.C. / Baltimore to NYC and beyond, seemed to fare pretty well. The temperatures are forecast to rise above freezing this coming week, so given that we received over two feet of snow, it's going to be a wet week.
Congratulations on surviving the Blizzard of 2016. Enjoy the rest of your weekend.
---
$element(adman,groupad,Sectional2 Ad)$
NYC Snowstorm Emergency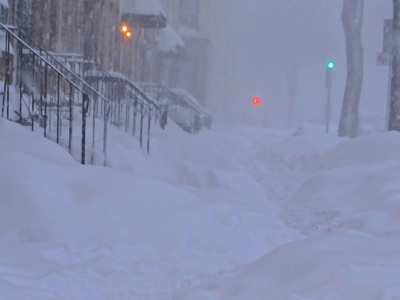 January 22, 2016 / Queens Neighborhoods / Queens Buzz.
Mayor issues Travel Ban as of 2.30 pm Saturday. Asks theaters and restaurants to close as revised forecast could bring 20 - 25 inches of snow. The MTA announced that they will be shutting down above ground rail and subway and buses by 4 pm - click to NYC MTA Storm Update for details.
NYC Winter Emergency Declaration. Mayor de Blasio made a statement putting the government apparatus on notice to manage the implications of the storm.
Temperatures aren't dropping that low [20's / teens], and the estimated snowfall [about a foot] in and of itself doesn't appear to be anything we haven't handled in the past.
But the high winds [gusts of up to 50 mph] could stir up snowdrifts and some measure of trouble, particularly for pedestrians and motorists.
Oftentimes these things become much ado about nothing, but I reckon better safe than sorry.
Weekend Weather 1/22 - 1/24. The temperature highs will be around 30 on Friday & Saturday, climbing to the mid 30's on Sunday. The lows will be in the low 20's throughout the weekend. It will be clear on Friday, with a huge snowstorm expected Saturday.
The Snowstorm will start early, dropping about 6 - 9 inches by about midafternoon, and finishing the day with a few more inches. It's expected to be generally clear on Sunday. On Saturday it will be windy, with gusts of up to 50 mph.
Click MTA Link for Snowstorm Service Changes. Click here for details on the MTA Weekender.
---
Sunnyside News & Woodside News - Briefs 2015
---
Sunnyside Artists: Queen of Angels Art Fair
Local Artists In Sunnyside Area Show & Sell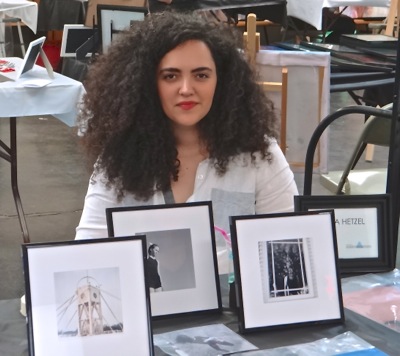 June 8, 2015 / Sunnyside Neighborhood / Artists in Queens / Queens Buzz.
It was a beautiful sunny day as I made my way down to the Queen of Angels Fine Art Fair in Sunnyside. The Queen of Angels Fine Art Fair is in its eighth year, the first of which started in 2008.
The fair showcases local artists in a festive atmosphere where neighborhood folks are welcome to browse and buy at their option.
A number of donations were made by local businesses in support of Sunnyside Artists and the Queen of Angels Art Fair. Some were used as raffle prizes, including the famous purse & slippers cake created by the Sugar Room pastry chef Juan Arache who is an artisan and artist too, using sweet edibles as his medium.
It's a communal gathering of sorts as there's food each year accompanied by wine provided by Lowerys Wine & Liquors.
And this year Manny Gomez and company served the food & wine.
In the photo above is Ms. Hetzel at the Queen of Angels Art Fair.
---
Memorial Day With Chief Joseph
A Conversation in First Calvary Cemetery in Queens
May 24, 2015 / Woodside & Maspeth Neighborhoods / Queens Culture / Queens Fiction / Queens Buzz.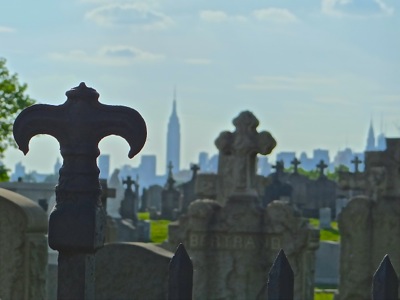 On Memorial Day, I decided to make a trip to the First Calvary Cemetery to visit the graves of those who gave their lives defending this nation where the founding charters promise all [wo]men the right to life, liberty and the pursuit of happiness. They fought for a noble cause I thought as I made my way, on a beautiful day, to the Calvary cemetery in Queens.
The First Calvary cemetery opened in the late 1840's [circa 1847 – 1848] and was located only a short ferry ride away from Manhattan, up Newtown Creek. A couple more cemeteries were opened as the 19th century wore on, as most of Queens was still rural farmlands and woodlands. Many of the burials of the first century of operation were of Catholic Irish, Italian and Polish immigrants - including many children. And many soldiers had been buried here as well, most of whom were from the Civil War era.
As I was viewing a collection of the tombstones, reflecting on the lives sacrificed in the war over slavery, as well as the more recent wars that pulled nearly the entire planet into battle, a human figure in the distance caught my attention. A man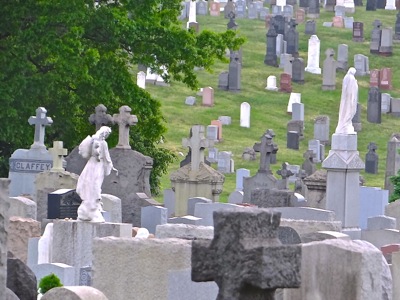 appeared to be making his way toward me, in this lonely empty section of the cemetery. I pulled out of my musings, and began to focus on his emerging presence as he made his way up the hill.
He was an old man, of medium height, with long black and grey hair and a weathered, leathery skin. He was wearing an old work shirt and dark trousers and beaten leather shoes. No, they were mocassins.
His countenance resembled that of a legendary Indian: Chief Joseph. Chief Joseph was a tribal leader of the Nez Perce tribe in the Wallowa Valley in northeast Oregon. Chief Joseph was born in 1840, only years before this cemetery was founded. And he had visited New York City in 1897 to march alongside Buffalo Bill in a Wild West Parade.
He slowly raised his right arm, palm open and fingers standing straight up like a Boy Scout, and in a deep full voice he said,
"How."
I stood a bit at attention as I returned the greeting.
"Hi. How are you doing?"
He spoke again, this time in a language I did not understand.
"Mumba goycha tay."
I looked at him and shook my head back and forth indicating that I did not understand what he'd just said.
Memorial Day fiction in Calvary Cemetery in Queens to be continued at a later date.
---
Sunnyside News & Woodside News - Briefs 2014
---
Tax Prep Down To The Last Minute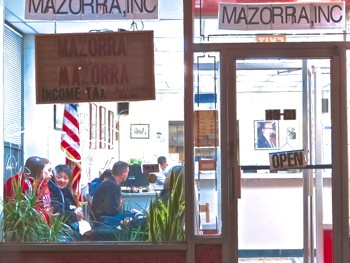 April 15, 2014 / Sunnyside Neighborhood / Queens Buzz.
As I made may way home late Tuesday night, on a miserably rainy evening, I couldn't help but notice that a tax preparation office was bustling with activity [see photo].
It was April 15th, the last day for posting one's taxes without having to file for an extension. And there in the offices of a local tax preparer were easily a half dozen people who appeared to be waiting to meet with a tax specialist in order to complete their 2014 taxes.
As in the past I've been in this situation myself, I am not making any judgments about waiting until the last minute. Just happy, I guess, that this year I actually beat the crowd.
The same thing happened with the Affordable Care Act applications [see story below], as over one million people filed their applications in the last week. I guess we're all getting used to doing things in 'real time'.
---
Snowstorm Blankets Queens & NYC
February 3, 2014 / Queens Neighborhoods / Queens Buzz.
Around 4 am this morning, the light drizzly rain that began falling late in the evening, turned to snow. The snow kept coming in a slow steady stream and as of about 1 pm Queens & NYC had received between three and five inches of snow. The National Weather Service is predicting that we will receive between five and eight inches of snow.
Alternate side parking has been suspended as have trash pickup and recycling operations. After school sports and activities have also been cancelled. Traffic conditions aren't good and the snow advisory is in effect until about 7 pm.
---
---
Sunnyside News & Woodside News - Briefs 2013
---
$element(adman,groupad,NhoodSSWS)$
$element(adman,groupad,Catgry Foodwine)$
---
Smidge & Dallow Under The 'L'
Nimble Fingered Trumpet Player With Gravelly Voice & Acoustic Accordion Player
December 23, 2013 / Sunnyside Neighborhood / Live Music Sunnyside / Queens Buzz NYC.
For the second time in the past six months, I found myself drawn under the vaulted arches of the elevated train along Queens Boulevard in Sunnyside, to treat my ears to the seasonal music of Smidge & Dallow. It's been an ad hoc treat as they 'just do it' when the spirit moves them.
Smidge has a gravelly voice that reminds me of the old Louis Armstrong recordings and he's a trumpet player extraordinaire. Folks in Sunnyside may have heard him perform in the annual Bix Beiderbecke concert sponsored by Sunnyside Shines last July.
Dallow is a modest accordion player whose acoustic accompaniment provides a gracious complement to the jazzy tunes & vox vibrations of Smidge. The duo was playing a number of holiday tunes including an old Armstrong hit. They're pretty busy, but always looking for new gigs. They can be contacted via the Facebook page named Matt Dallow Music.
Click here to view other Sunnyside News Briefs.
---
Thanksgiving Filipino-American Style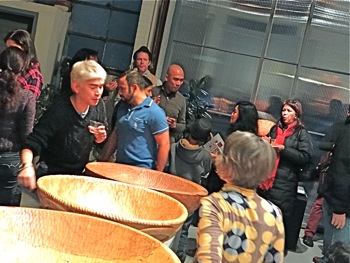 December 1, 2013 / Sunnyside Neighborhood & Woodside Neighborhood / Ethnic Culture In Queens / Queens Buzz.
On Saturday I attended a fundraiser co-hosted by Bliss On Bliss Studio of Sunnyside with Topaz Arts in Woodside. The proceeds of the benefit were to go to the Filipino survivors of the Typhoon Haiyan / Yolanda. The event was scheduled for the Thanksgiving Weekend.
A donation of $25 was made at the door and there was a table of light fare and beverages provided along the far wall. Inside Topaz Arts were wooden sculptures on display from Mamerto Tindogan's solo exhibit entitled Unearthing The Magic, which ended this weekend. Mamerto is a native carver from the island of Luzon in the Philippines and I would soon see him perform an ancient chanting ritual.
Click here a bit later in the week to view the rest of our report, including a photo slide show of some of the art and performances provided to raise funds for the survivors of the Typhoon Haiyan / Yolanda.
---
Melinda Katz Wins Boro Presidency
Bill de Blasio Becomes Mayor Elect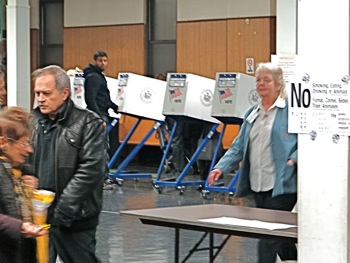 November 6, 2013 / Sunnyside Neighborhood / Queens Politics / Queens Buzz.
Democrat Melinda Katz handily won the Queens Borough Presidency with about 80% of the vote, defeating Republican Tony Arcabascio with less than 18% of the vote and Independent Everly Brown who won about 2% of the vote.
Katz's victory was expected given that the borough is comprised of about 80% Democrats and less than 20% Republicans.
In other contested Queens borough races, Mark S. Weprin won re-election to the NYC City Council. And Democrat Costa Constantinides won 66% of the vote defeating Green Party candidate Lynn Serpe (15%) and Republican Daniel Paterson (11%). He will replace Peter Vallone as Astoria's City Councilmember.
In other City Council races, Peter's brother Paul Vallone won in a very tight race. Daneek Miller, Rory Lancman and Elizabeth Crowley won handily. And the race between Republican incumbent Eric Ulrich and Democrat Lew Simon was very close and possibly contestable.
Bill de Blasio's victory was also expected, as the polls had shown him leading Republican Lhota by a wide margin. It's worth noting that there hasn't been a Democratic NYC Mayor since Guiliani won the position in 1994, some 20 years ago.
Some pundits believe that this is referendum on the Bloomberg Administration. Bill de Blasio's campaign theme of the 'Tale of Two Cities' - meaning the wealthy and everyone else - appears to have struck a resonant chord with the voters.
We wish both de Blasio and Katz the best in the coming years and hope they will govern wisely.
Click here for prior Queens Buzz election coverage and politics in Queens.
---
Sunnyside - Queen of Angels Art Fair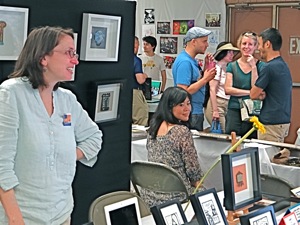 June 9, 2013 / Sunnyside / Art Fairs in Queens / Queens Buzz NYC.
The Queen of Angels Art Fair opened this afternoon for the sixth time in six straight years with just shy of 40 artists participating.
The participating artists, are all locally based, coming from the Sunnyside and Queens area. There was a range of artwork presented at the show, and according to estimates received near the end of the show, about 600 people attended.
Art work was sold at the event, while drinks and food were served. We'll post a bit more about the show later this month, including a photo slide show.
---
No New Bike Lanes For Queens in 2013
April 30, 2013 / Sunnyside Neighborhood / Biking in Queens / Queens Buzz NYC.
Last fall I attended one of the Community Board Meetings on Bike Lanes in Queens. At the time the Department of Transportation had come to solicit input from the Community with the idea of building additional bike lanes in the borough. At the time they were talking about adding 50 miles of new bike lanes in NYC in 2013, of which about 10 miles were planned for Queens.
In a recent visit to the DOT website, I found quite a changed picture. Currently they are planning about 31 miles of bike lanes and no new bike lanes for Queens. I wonder what happened?
| | | |
| --- | --- | --- |
| Location | Borough | Miles |
| 14th and 15th Street Traffic Calming and Bicycle Lanes | Brooklyn | 1.9 |
| Columbus Avenue Bicycle Path Extension (update) | Manhattan | 1.6 |
| Brownsville and East New York Bicycle Network | Brooklyn | 7.2 |
| Crotona Avenue-Southern Boulevard Bicycle Route | Bronx | 4.2 |
| Bronx River Greenway Southern Connections | Bronx | 1.9 |
| West 15th and 16th Street Bike Routes | Manhattan | 2.1 |
| West Midtown Crosstown Route Extensions | Manhattan | 2.9 |
| Ocean Avenue Shared Lanes | Brooklyn | 3.4 |
| Union and Sackett Street Connections | Brooklyn | 1.6 |
| Queensboro Bridge Connections | Manhattan | 0.6 |
| Co-op City corridor safety improvements | Bronx | 3.6 |
| Brooklyn and Manhattan Bridges Bicycle Access Improvements | Brooklyn | 0.6 |
| NEW QUEENS BIKE TRAILS | QUEENS | 0000 |
| 2013 Total Lane Miles Planned | NYC | 31.6 |
Why did they indicate we were going to get ten new miles of bike trails last fall? Are we still going to get them, but at a later date? Or is something else going on? Stay tuned.
---
St Pat's For All Parade on March 3rd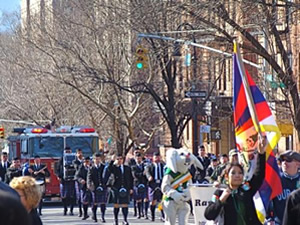 February 19, 2013 / Sunnyside & Woodside / Ethnic & Religious Culture / Queens Buzz NYC.
This weekend on March 3rd, the St Pat's For All - St Patricks Day Parade, marches through Sunnyside and Woodside. The festivities begin at 12.30 pm, with speeches by an Irish novelist and historian as well as by city government officials. The parade begins at 2 pm.
The parade route is the same as last year. The festivities will be held at 47th Street and Skillman Avenue and the parade marches uphill into Woodside to 58th Street. Click here to view a map of the St Pats For All Parade route.
Check back here on Monday March 5th for photos and a report about the St Pats For All parade in Sunnyside / Woodside Queens.
---
First Big Snowfall of Winter of 2012 - 2013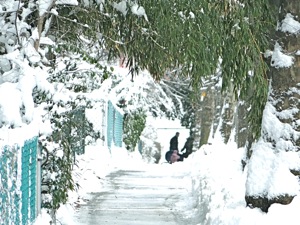 February 9, 2013 / Sunnyside News Briefs / Queens Buzz NYC.
The photo to your right was taken in Sunnyside Gardens, the morning after the February 9th snowfall.
It was a fresh crisp cool day and the snow was a mix of flaky and packy. My travels took me to Astoria Park, Flushing Meadows Park and Jackson Heights during the day and it became easier to travel as the day wore on.
Enjoy. We don't get much of the wintry white stuff anymore.
---
Community Boards in Queens
Boards Chosen By Councilmember & Boro Prez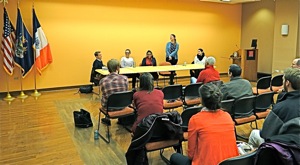 January 24, 2013 / LIC & Sunnyside / Queens Business / Queens Buzz NYC.
Transportation Alternatives - a non-profit advocacy group for pedestrians, cyclists and public transit passengers - hosted a seminar about how to apply for a position on a neighborhood community board back on November 15, 2012. The annual application deadline is in early January [just passed] of each year.
Community Board members are selected in part [50%] by the local City Councilmember and in part [50%] by the Borough President. Community Board members play an important role in influencing outcomes in the government affairs of their neighborhoods. And sometimes they weild influence in borough-wide government affairs.
Given that 2013 is a city-wide election year, voting citizens will want to be sure they elect or re-elect City Councilmembers and a new Borough President [Helen Marshall has reached the term limit of her office] who, in tandem with the Community Board members they appoint, will be strong advocates for their local concerns.
Click here later this week to read our report about who to qualify and apply for a Community Board position.
---
---
$element(adman,groupad,Catgry Realestate)$
$element(adman,groupad,Catgry Rest)$
---
Sunnyside News / Woodside News - 2012 Briefs
---
So You Think, YOU, Have A Tough Job?
Hear What This Centenarian Has To Say About Work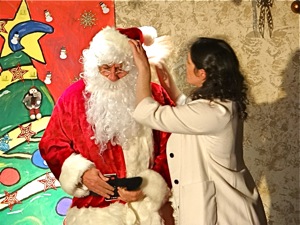 December 7, 2012 / Sunnyside / Theater in Sunnyside / Queens Buzz NYC.
There are only three days left of the Figgy Pudding Playfest at the Cafe Marlene off Skillman at 49th Street in Sunnyside. Seats are limited so you're well advised to rsvp online.
There are eight short comedic plays that run about two hours beginning at 8 pm Friday and Saturday and at 5 pm on Sunday. All are modern original works, with the holidays as the theme and the satire is keen.
In the photo to your right, Santa is complaining to his wife about all of the challenges he faces at work, that people just don't seem to fathom. For her part, Mrs. Claus complains privately that she feels like she's invisible.
We're taken into a number of holiday worlds like watching Scrooge's gift card business take on the internet. In another play, we find out that tens of thousands of Jews have secretly been breaking into people's homes Christmas Eve to play Santa, ever since the Jews were blamed for killing Christ. A telephone shopkeeper gifts her 'lovely daughter' to a complaining bachelor customer, who she thinks is pathetically 'alone in this world'. A young woman introduces a house-calling veterinarian to her 'big cat' and a librarian rents a car from a Godfather-like car rental agency, both on Christmas Eve.
A mother is confronted by her seven year old daughter who has just learned that Santa is a fake. And a green crusader offends those who love him when he grinds down the holiday fun with his environmental zealousness.
---
Queens Thanksgiving Celebrations
Sharing Meals & Meaning In Astoria & Sunnyside
November 26, 2012 / Astoria & Sunnyside / Queens Neighborhoods / Queens Buzz NYC.
I attended a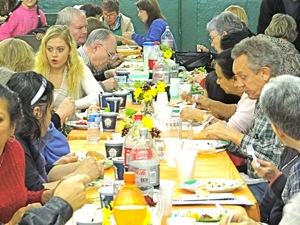 traditional Thanksgiving dinner on Saturday evening at the Sunnyside Reformed Church. It was an old fashioned community social, reminiscent of many years ago, when neighbors would get together in communal celebrations near the end of the year.
In Astoria, I attended the Greek Homeowners Thanksgiving dinner on Thanksgiving Day 2011 in Astoria. The Greek Homeowners Association will be hosting their annual Thanksgiving Dinner 2012 this Thursday, the details of which we will include in the Social section of the events calendar [see Things To Do button on tool bar above]. Both Thanksgiving Dinners are free and open to the public.
Sometime later I'll take you into these two celebrations, showing you both the food and the people, and trying to capture the spirit behind them. The photo above was taken at the Sunnyside Reformed Church on the Saturday before Thanksgiving.
---
Taste of Woodside & Local Restaurants
The Food Show Goes On In Spite Of The Weather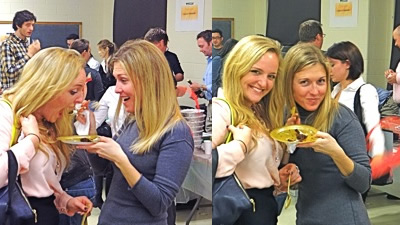 November 7, 2012 / Woodside Neighborhood / Restaurants in Queens / Queens Buzz.
I attended the first annual Taste of Woodside tonight, in spite of the snow that began falling late this afternoon.
Naturally the weather, particularly in the wake of Hurricane Sandy, dampened the turnout. But it also left more food and space for those of us who did attend to horse around; like the two charming young women shown in the photos above.
The proceeds of the Taste of Woodside event go to Woodside On The Move, the event sponsors. Woodside On The Move is a non-profit community based organization dedicated to improving the lives of the people living within the Woodside neighborhood - and sometimes beyond – such as in the case of their Hurricane Sandy relief effort.
Over twenty restaurants, cafes and bars had signed up to participate in the event. But eight of the restaurants were unable to make it, due to issues related to the inclement weather. I'm happy to report that I managed to taste the food from nearly all of the participating restaurants [missed two of them].
Click here to read our report and view photos of the Taste of Woodside 2012 which will be posted sometime within the next couple weeks.
---
Bix Beiderbecke Concert Sunnyside
Hot Times / Cool Jazz
August 6, 2012 / Queens Buzz.
Given the heat wave we've been experiencing, the cool jazz sounds of David Shenton & the Wolverines couldn't have come at a better time.
With Paul Maringelli, Bix Beiderbecke concert founder, on the drums; the band played a number of jazzy ensembles from the 1920's era including a number of pieces which originated in part from the now legendary cornet player, Leon 'Bix' Beiderbecke.
Given the blazing heat of the sun, the crowd found comfort in the shade along the sidewalk and relaxed while listening to the melodic tunes that wafted through the street underneath the Sunnyside arch. The concert was sponsored by the Sunnyside Shines BID. Click here for a full report about the concert and a brief history of Bix Beiderbecke.
---
Van Bramer Weds Hendrick
2nd Gay NYC City Council Official To Marry This Year
July 30, 2012 / Sunnyside / Queens Buzz.
City Councilmember Jimmy Van Bramer [left] wed Daniel Hendrick [right] on Saturday July 25th [Jesse Winter photo]. Daniel Hendrick is the Communications Director of the League of Conservation Voters.
On July 29, 2011 New York State legalized gay unions and since then, according to the Daily News, 7,100 gay couples have applied for marriage licenses. City Council Speaker, Christine Quinn, married her partner, Kim Catullo on May 19th of this year. Thus this is the second high profile city official to marry this year.
The newlyweds sent out a press release expressing their joy, but made no mention of where they plan to honeymoon.
---
Flag Day Celebration In Sunnyside & Woodside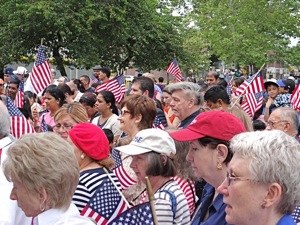 June 11, 2012 / Sunnyside & Woodside NY / Culture in Queens / Queens Buzz.
My personal experience of Flag Day in Sunnyside & Woodside has been confined to watching the parade come marching down Greenpoint Avenue. This year I went Sabba Park to listen to some of the speeches given by a few of the government officials in attendance.
While I couldn't stay to hear all of the speeches, I did manage to stay long enough to hear a few of them. Sometime this week we'll post a link to a short report about the Flag Day celebration in Sunnyside & Woodside, including photos like the one you see to your right. In the center of the photo to your right, surrounded by a sea of flags, are Lily Gavin of Dazies Restaurant and Luke Adams of the Sunnyside Chamber of Commerce.
---
$element(adman,groupad,NhoodLIC)$
$element(adman,groupad,Catgry Queens)$
---
Sunnyside Farmers Market Opens
June 2, 2012 / Sunnyside News Brief / Queens Buzz. The seasonal Sunnyside Farmers Market opened today. The market provides a wide selection of fresh locally grown fruits and vegetables, baked goods including breads and pies, and wine. The market is located on the corner of 43rd Street and Skillman Avenue and will open every Saturday from 8 am - 3 pm until December 22nd, 2012.
Click here to view a map showing the Sunnyside Farmers Market and click here to see a complete listing of the Queens farmers markets.
The photo shows the opening day at the Sunnyside Farmers market in 2012.
---
Sunnyside Gardens Park On Memorial Day Weekend
Arts, Crafts, Games For Kids, BBQ & Raffles - Open To Public
May 26, 2012 / Sunnyside News / Queens Buzz NYC.
Sunnyside Gardens Park is a private park that opens its doors several times a year to the neighborhood at large. Memorial Day Weekend is one of those occasions when non-members can take an opportunity to experience the park.
This year there were raffles, athletic activities for the kids like basketball and climbing, barbeque for the family, live music and some shopping opportunities. Hundreds of people came out for the occasion.
After years of undersold capacity, Sunnyside Gardens Park [click here to learn more about Sunnyside Gardens Park membership] currently has a waiting list. But for those who want access to a park, nearby Windmuller Park in Woodside provides public access to a newly refurbished playground and also has a great lawn.
---
Rain Greets Monday Commuters
Wet To Continue Tuesday, Followed By A Dry Week, Except ...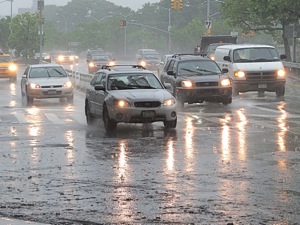 May 21, 2012 / Queens Buzz. Pouring rain greeted Monday morning commuters as they made their way to work. Flooding had begun in some areas, as clogged drains prevented seapage to enter the sewer system. Winds are running at 5 to 10 miles per hour and the highs today will be in the 60's, and it will be somewhat humid.
The rain will likely continue into Tuesday morning, as there's a 50% chance of showers then, decreasing to a 20% probability as the day wears on. Highs on Tuesday will be in the mid 70's. With the exception of Thursday, when we're expecting more rain, the rest of the week and the entire weekend, through Monday will be dry with highs in the 70's and lows in the 60's.
Click here for Queens Buzz weather, horoscope, news & sports, which is also located along the right side bar.
---
'Winged Fist' Has Its 'Way'
Inclusive 20th Century Irish American Athletic Club Celebrated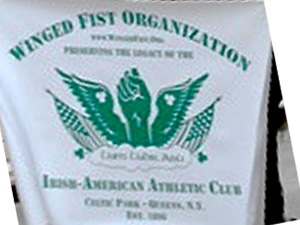 March 10, 2012 / Sunnyside / Sunnyside NewsBriefs / Queens Buzz.
On Saturday, March 10th, the corner of 43rd Street and 48th Avenue in Sunnyside was renamed 'Winged Fist Way'.
Ian McGowan [see photo below] was the driving force behind the effort to honor and celebrate the historical legacy of the Irish American Athletic Club [IAAC]. The IAAC is a legacy that dates back over a century, and apparently of which little remains, except its memory.
The Winged Fist emblem, as shown in the photo to your left, was the mark of the Irish American Athletic Club [IAAC] which had its athletic facilities and clubhouse in Sunnyside, a corner of which was at 43rd Street and 48th Avenue. The club was created in 1898, and over the course of the next 32 years, its member athletes went on to win over 50 Olympic medals.
While the club was predominantly Irish, club members included John Baxter Taylor Jr., the first African American to win an Olympic gold medal; as well as Myer Prinstein, a Polish Jewish American who won three gold medals in three Olympic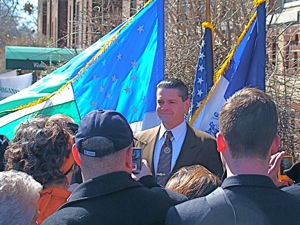 games. Indian American Jim Thorpe was qualified by the Irish American Athletic Club for the 1912 Olympics [he was not a member], where he went on to win two gold medals.
In attendance at the street renaming were Winged First Organization Founder Ian McGowan, Community Board Two President Joseph Connolly, City Councilmember Jimmy Van Bramer, Congressman Joseph Crowley, State Senator Michael Giannaris and City Councilmember Danny Dromm. A crowd of over 100 people came out to honor the club and its legacy on March 10th, 2012.
The Winged Fist Organization is also seeking Celtic Park Board approval to have a plaque added to the building wall, in the same manner as has been done for Bix Beiderbecke, to commemorate this Sunnyside historical legend.
---
Attempted Bank Robbery In Sunnyside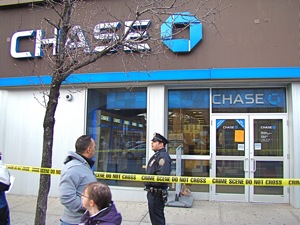 February 14, 2012 / Sunnyside / Queens Buzz.
According to police sources there was an attempted bank robbery at 3 pm at the Chase bank on Queens Blvd near 47th Street in Sunnyside.
Preliminary reports stated that the robber passed a note to the teller. What ensued was not reported, but the report said that the robber left the bank empty-handed and headed west along Queens Blvd. As of 4.40 pm the bank was still under police custody and surveillance and we understand that nobody was injured.
---
---
$element(adman,groupad,NhoodSSWS)$
$element(adman,groupad,Catgry Foodwine)$
---
Sunnyside News / Woodside News - 2011 Briefs
---
Bix Beiderbecke Concert In Sunnyside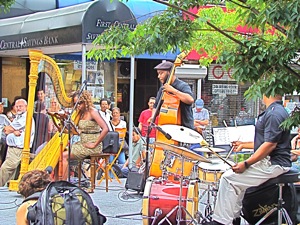 August 6, 2011 / Sunnyside Neighborhood / Queens Buzz.
Things were done a bit differently this year at the annual Bix Beiderbecke Concert in Sunnyside. In past years the Bix Memorial Orchestra, which was first organized by Paul Maringelli of Sunnyside, played Bix tunes for a couple of hours in remembrance of Bix who was once a resident of Sunnyside in the 1920's.
This year the Sunnyside BID, sponsors of the event, extended the play to include four musical groups, a cartooning workshop and a Summer Stock For Kids event. I dropped in on the afternoon-long event twice, seeing the first act and probably the last. While I was there The Brandee Younger Band played a few jazz tunes. The Brandee Younger Band is shown in the photo.
Click here to view a report on the Bix Beiderbecke Concert history which we published a couple of years ago. And click here for additional Sunnyside newsbriefs.
---
Farmers Markets In Full Swing
All Around The Borough The Farmers Markets Are Open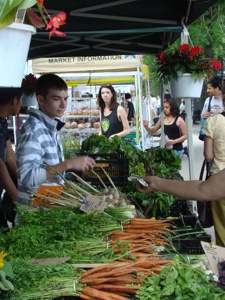 July 2, 2011 / Sunnyside Neighborhood / Food & Wine / Queens Buzz.
I sauntered over to the Sunnyside Farmers Market Saturday morning to see what I might see. The market provides an assortment of fresh fruits and vegetables, baked goods, jams and dairy, and a number of garnishes.
The Sunnyside Farmers Market is one of the GrowNYC markets. Grow NYC manages most of the Queens farmers markets but three are managed by another agricultural organization - Community Markets. Both organizations appear to sign up reliable, high quality food vendors.
Click this link for a listing of the farmers markets in Queens.
---
$element(adman,groupad,Catgry Realestate)$
$element(adman,groupad,Catgry Finance)$
---
Sunnyside News / Woodside News - 2010 Briefs
---
Christmas Lights Hit The Streets In Sunnyside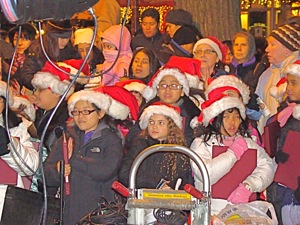 November 17, 2010 / Sunnyside / Queens Buzz.
It was a damp night, with the occasional sprinkles, intermittently coming down. Nonetheless a crowd of about one hundred Sunnysiders joined together to watch a street lighting ceremony on Greenpoint Avenue between 42nd and 43rd Streets.
Sunnyside Shines, the Business Improvement District Office, sponsored the event which included hot drinks and a few remarks by local officials. The Sunnyside Drum Corps joined in the festivities, providing musical entertainment to round out the evening. We'll post a link to a photo album and slide show later in the week.
---
Bix Delights Crowd
August 8, 2010 / Sunnyside / Queens Buzz NYC.
Bix Beiderbecke, legendary jazz musician, reappeared in Sunnyside on Saturday afternoon. A group of musicians, drawn together by Sunnyside musician / artist Paul Maringelli, played a number of classic pieces from the 1920's to the delight of a large crowd which had gathered on 46th Street just off Queens Blvd. Canvas tent tops were set up to shield the audience from the hot sun and to good effect, as many stayed for the entire three hour concert.
---
A Weekend To Remember
Enjoyable Memorial Day Weekend In Queens
June 1, 2010 / Sunnyside & Woodside / Queens Buzz NYC.
This past weekend the weather was near perfect and everyone was out. There were parades and street fairs, dining and shopping, theater and arts. The memory of soldiers fighting to defend us appears to have faded some, as most WWII veterans are now deceased, and American losses and involvement in the wars since - Korea, Vietnam and most recently the Middle East - were far smaller in comparison.
We stopped by Calvary Cemetery on Memorial Day to find some of those who had died in the line of duty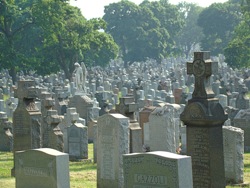 defending our country. There were bouquets of flowers at various graves, and during our visit lasting near an hour, we encountered only one other party.
It was peaceful walking through there among the gravestones. The cemetary had a certain stillness to it, amidst the green and natural beauty: a sort of enclave amidst the hustle and bustle of city life. Some headstones told a brief story, but most just noted - Born & Died - the two most important dates in the cycle of life.
---
---
Sunnyside News / Woodside News - 2009 Briefs
---
Queens Blvd In Sunnyside Gets Facelift
July 28, 2009 / Sunnyside / .
The inbound lanes of Queens Blvd from 50th Street to the Queensboro Bridge were repaved between 6 pm yesterday to 6 am today. The outbound lanes are next, having been scraped and prepped for the new blacktop. As you can see from the photo it looks pretty good.
---
Sunnyside Neighborhood / Woodside Neighborhood Links
$element(adman,groupad,NHoodSSWS)$
Click on these advertisements for promotions, discounts and coupons by retailers and restaurateurs in Woodside, Sunnyside and nearby Queens.
Click this link to go to the:
Sunnyside & Woodside Neighborhood
Sunnyside Business Directory or Woodside Business Directory
Sunnyside & Woodside Real Estate or Events & Things To Do In Sunnyside & Woodside
Restaurants In Sunnyside & Woodside or Sunnyside & Woodside Shops & Shopping
---
Queens News Briefs by Neighborhood
To view other Queens News Briefs, click the following links:
---
$element(adman,groupad,Catgry Queens)$
Site Search Tips. 1) For best results, when typing in more than one word, use quotation marks - eg "Astoria Park". 2) Also try either singular or plural words when searching for a specific item such as "gym" or "gyms".
$element(bwcore,insert_search,N)$
Click this link to search for something in our Queens Business Directory. Also check out Taste of Sunnyside.
---
Click the log in link below to create an ID and post an opinion.
Or send this story to a friend by filling in the appropriate box below.
$element(adman,groupads,Sectional2 Ad)$
---