Astoria LIC Film Festival & Photos
Continued / October 24, 2010 / Long Island City / Queens Buzz. I arrived on Sunday afternoon, looking forward to relaxing and enjoying a couple of good films - and I wasn't disappointed. The first film I saw was a five-minute short entitled Love And Other Redspot Specials. It's a parody about a transvestite in a small town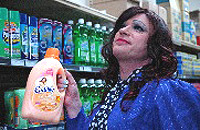 supermarket looking for love [see photo to right].
Short Comedy Films In LIC
In the film, the out-of-place transvestite seeks to meet the surveillance guard by pretending to shoplift some grocery items. When the security guard rebuffs the transvestite's love, 'she' starts throwing stuff at him. The police arrive and as 'she' is escorted out of the store, she not only overcomes the store employees and other shoppers' stares but 'she' also finds true love. Silly and short.
Queens Music Videos - Astoria LIC Film Festival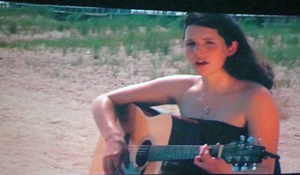 After viewing this film I wandered over to another theater within the complex to watched music videos that had been selected by local musician and talent agent: Gus Rodriguez. Gus had selected nearly a dozen videos, most of which had been produced and directed by local talent.
The first was Worth It, performed by Laura Butler and directed by Gabrielle Garcia-Rosa. The video was shot on the beach in Rockaway and contains a lot of affectionate wholesome shoreline scenes. The former Ohioan is a classic folk vocalist, which she accompanies with her guitar. The song theme was about a love that lasts forever. Laura is currently a Queens resident and is shown above playing guitar in her music video.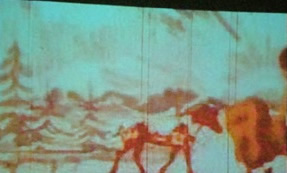 Next up was Brian Meece performing in You And Only You. This video was produced seven years ago by Brian and his friend Robert Schober. The video includes Brian playing guitar, with a mix of urban film footage and intermittent segues into and out of animation sequences. Brian's music video also had a quality vaguely reminiscent of the harmonious vocals found in the work of the Beatles and although there was little color in the work, I found the animation / production reminded me a bit of the Beatles' Yellow Submarine film [see clip from music video to right].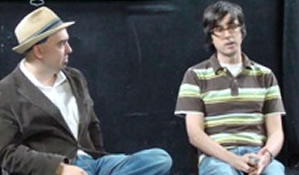 Following the video Gus interviewed Brian, who told us that the video had been directed by his friend who is now known as Roboshobo. After that, the rest of the conversation was about Roboshobo's work directing videos for Metallica, the Deftones and Mastodon. Brian is [shown in the photo to your left and seated at right] a musician who lives in Queens. Gus Rodriguez, local musician and talent agent, is shown to the left.
Foreign Films At The Astoria LIC Film Festival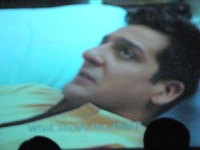 So I ventured back to check out the full-length feature film entitled Polygamy. I hadn't read anything about the film, and the title didn't exactly grab me. But after only a few minutes I became hooked.
The story is about a bachelor who lives with his girlfriend who has become pregnant. He has commitment issues so he starts to see a therapist, because every day he wakes up and sees a new woman in his bed, but in spite of how she looks, she's always his girlfriend Lilla. He's also a soap opera writer and throughout most of the film we, the audience, are as confused as he seems to be; as we can't distinguish between his real life, the characters in his soap opera life, and his therapy life.
Comedic Look At Male / Female Relationships - Film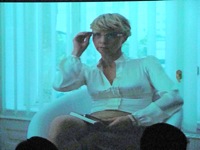 It's a fun comedic look into male / female relationships, as with each new woman a certain gift he shared with Lilla becomes important - or it wasn't really something Lilla wanted [depends on which Lilla]. The music they listen to is either a shared favorite or becomes totally annoying. He's asked to recall conversations that they had that he can't seem to remember, but she expects this because 'he never listens to her anyhow'.
His psychologist is a tight skirted woman wearing glasses.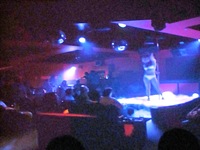 And at some point in the film she shows up as his girlfriend Lilla. He calls her doctor and, at first she's annoyed, but then as Lilla, she starts playing 'doctor'. In time the female psychologist changes into a wedding dress ... and then starts stripping for him. Eventually we learn she really is a stripper and his best friend is sleeping with her … but when he confronts his best friend about that, we begin to wonder if he's a bit crazy or if all of this is just his subconscious working through his commitment issues. In the photos above, the psychologist in her office and in the strip club.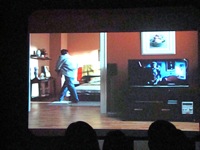 At one point he enters his apartment while the television is playing in the background. He's on the television, but he totally ignores that he's on it, so we're wondering if all of these interludes are just him working through the soap opera episodes in his mind.
Eventually he goes with Lilla to the hospital for a check up for her and the baby. All the other Lillas are there, but they totally ignore him. He's begun to accept this confusion as a way of life. After the baby arrives things settle down and he appears to be living with his 'old' Lilla. His best friend starts a new relationship with a woman. Life appears to be returning to normal, until he returns home one night and Lilla frightened and frantic asks him who he is and what is he doing in her apartment?
After a pause and he begins to exit ... she says, "Relax I'm just kidding."
Dennis Cieri, Lina Zeldovich & Co - Astoria LIC Film Fest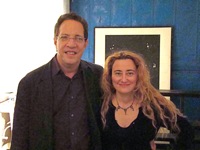 My compliments to Dennis Cieri and Lina Zeldovich for putting on a great show. They attracted nearly 1,000 guests in the two-day event; and all of whom we conversed with, seemed quite pleased with it. I interviewed Dennis and Lina and found that they'd been working on this event since early February of this year. With the help of thirty other people they screened about 200 films, of which about 50 or a quarter of them had a local connection [actor, director, producer]. And they note that they're already planning the 2011 event.
Astoria LIC Film Festival At The Secret Theatre

Lastly compliments to Gus Rodriguez for screening the music videos and hosting the interviews. And to Richard Mazda, Founder of the Secret Theatre, who has been making all these great events possible.
---
Long Island City Queens - Related Links
Click this link to go to the LIC - Long Island City Section / LIC - Long Island City Restaurants / LIC - Long Island City Shopping Center & Map.
Email This To A Friend: Scroll down and fill in the box / form below.
Site Search Tips. 1) For best results, when typing in more than one word, use quotation marks - eg "Astoria Park". 2) Also try either singular or plural words when searching for a specific item such as "gym" or "gyms".
$element(bwcore,insert_search,N)$
Click this link to search for something in our Queens Business Directory containing over 1,000 listings.
---