Woodside On The Move 2010
Photos Of Tree Lighting Event At Sohncke Park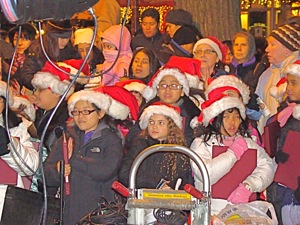 Continued / December 4, 2010 / Woodside / Queens Buzz. As I arrived there was a large crowd gathered at Sohncke Park. The street between the park and the north side of the street had been cordoned off for the event, as the crowd spilled out into the street. Woodside On The Move [WOM] had set up a long table where they were serving hot chocolate and cookies.
On the platform WOM staffers and government officials had gathered and were making a few remarks to commemorate the occasion. Soon the children from the St. Sebastian's Choir took the stage wearing their Santa hats. They did a nice job of singing some of the traditional
Christmas songs. Luckily I had photographed the choir while were waiting to perform, as I couldn't find a good location from which to shoot them once they'd started singing. Part of the St. Sebastian's choir is shown in the photo above.
They were followed by the PS 152 Carolers who sang a number of seasonal songs. As some of the crowd had thinned, I managed to get some good photos of these kids [see photo to left] and also of the next group, the PS 11 Chorus. The PS 11 Chorus seemed to have a number of their own photographers in tow, as I managed to shoot a few photos of their fans photographing their performance.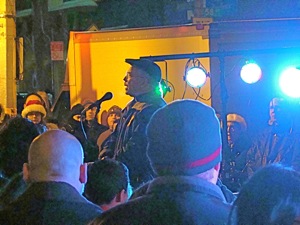 Following these stellar performances, Monsignor Hardiman blessed the tree and the tree light switch was thrown to great applause [Monsignor Hardiman is shown in the photo to the right]. Then the moment all the kids had been waiting for came ... it was time for Santa's arrival ... and time to receive a gift from the jolly old man.
Santa apparently had some difficulty parking his sleigh as he arrived a few minutes late, but no enthusiasm was lost, as the kids swarmed around him. All of this can be seen on the following slide show below.
Special thanks and mentions will be added later this week.
Woodside On The Move - Holiday Tree Lighting Event Photos
You can view the following slide show more quickly by clicking on the double arrow button. Or you can click this link to the Woodside On The Move Tree Lighting Event Photos 2010 to go directly into the photo album. In the photo album you can see pages of the photos all at once and can double click to enlarge them.
Names Of Some Of The People In The Photos
The following is a short list of some of the people shown in the slide show.
Slide 7: Emily & Nicole Vogt, WOTM Volunteers
Slide 8: Christiane (Kiki) Federoff, WOTM after-school program teacher
Slide 11: Deirdre Feerick, District Leader Anoroc Democratic Club, John Vogt, Board Member & Regional Manager White Castle, Assemblyman Mike DenDekker, Councilman Jim Van Bramer, unknown spectator, Senator Gianaris
Slide 12: Witold (Vito) Rak, WOTM Board Member

Slide 13
: Rosa Reyes, WOTM Executive Director (front right)
Slide 14
: Cay Volpe (wife of Board member and V. Chair Al Volpe), Rosa Reyes, ED, Dorothy Lewandowski, Queens Borough Parks Commissioner, Barbara Colman, Woodside Civic Association
Slide 15
: Dorothy, Lewandowski, Queens Borough Commissioner, NYC Parks Dept.
Slides 19 & 23 in background
: Artie Ferguson, Board Member, Al Volpe, Board V. Chair, John Smyth, District Leader Anoroc Democratic Club
$element(ophoto,photo_slideshow,107,520,,5.00,fade)$
---
Sunnyside / Woodside Related Info
$element(adman,groupad,Promo Buttons)$
Click this link for promotions, discounts and coupons in Woodside, Sunnyside and Queens.
Click this link to go to the Sunnyside Woodside Neighborhood News / Woodside & Sunnyside Restaurants / Sunnyside & Woodside Shopping Center & Map.
$element(adman,groupad,NHoodSSWS)$
Site Search Tips. 1) For best results, when typing in more than one word, use quotation marks - eg "Astoria Park". 2) Also try either singular or plural words when searching for a specific item such as "gym" or "gyms".
$element(bwcore,insert_search,N)$
Click this link to search for something in our Queens Business Directory.
---
Click the log in link below to create an ID and post an opinion.
Or send this story to a friend by filling in the appropriate box below.
---