Jamaica Real Estate – Development
Real Estate Development Projects - Jamaica
April 15, 2011 / Jamaica Neighborhood / Jamaica Real Estate / Queens Buzz. The Jamaica neighborhood has a history dating back to colonial times. Rufus King was a signer of the Constitution and his house still stands in a park that also carries his name. There are also a number of old churches, graveyards and business buildings dating back to the 1800's, when Jamaica was a thriving transportation hub for the Long Island Railroad.
In the 1950's and 1960's a large number of the middle class in this neighborhood left it for the greener pastures of Long Island. After a period of turmoil and transition, the city began reinvesting in the neighborhood starting in the 1970's, in a process which continues today.
Click here to read our report on real estate development projects in Jamaica Queens.
---
Jamaica Real Estate – Development
Real Estate Development Projects - Jamaica
April 15, 2011 / Jamaica Neighborhood / Jamaica Real Estate / Queens Buzz. Continued / If needed use the search function to find story introduction.
York College & Airtrain In Jamaica
The process started with the creation of York College in the 1970's. This was done in parallel with the creation of Jamaica Center For Arts and Learning [JCAL] which also began in the 1970's. York College is shown in the photo to your right.
There was a lull during the 1980's and 1990's and reinvestment started again in 2003 with the completion of the JFK Airtrain which connects the Jamaica train station to JFK Airport by a short 8 minute train ride.
Jamaica Station - LIRR Train & Subway Station
The Jamaica train and subway station is one of the busiest transportation hubs in all of New York. It is an end point stop for trains running to / from Long Island, as well as a connection point for subways into Queens, Brooklyn and Manhattan by the E, J and Z lines. And nearby bus terminals accommodate stops by between 10 and 20 bus lines. A photo of two trains stopping in Jamaica station are shown in the photo to your left.
Private and public investment continue to come into the area which is home to African Americans, Caribbean Americans and Indian Americans.
Rezoning Downtown Jamaica In 2007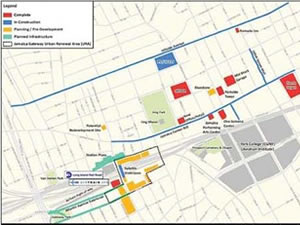 In 2007 the city rezoned Jamaica with the intent to rationalize existing zoning regulations and spur further commercial development of the area as a transportation hub / shopping mecca. The area continues to have some M-zoning designations, which are for manufacturing.
In the photo to your right is a map of downtown Jamaica. York College is shown in grey in the lower right corner of the map, King Manor and Park are shown in green in the middle of the map and the Jamaica station complex is shown in the lower left section of the map. Most of the current development projects are focused in the vicinity of the Jamaica Train Station.
Development Projects In Jamaica Queens
Private investment in the neighborhood includes the arrival of a number of national chain stores over the past decade or so. Arrivals into the area include Home Depot and Marshalls in 2007. The Merckel Meat plant was recently razed. Investments in housing have also been made by development companies, including Moda, which recently developed 375 units of modern housing. Another large housing project will be completed this year. The new Jamaica housing complexes are targeting transportation workers as the neighborhood allows an easy commute to the airport and public transit into other parts of Queens and the city.
There are also three small infrastructure projects on the books to support strengthening the commercial / retail sector of the neighborhood. They include the Sutphin Underpass, the Atlantic Avenue extension, and the Station Plaza project.
Sutphin Underpass - Real Estate Development
The Sutphin underpass refers to the long block long stretch of Sutphin Blvd that runs directly underneath the LIRR tracks at Jamaica Station. Historically this area has been poorly lit and used for industrial purposes. The transformation project will add 5,000 square feet of commercial retail space enabling passengers to eat / purchase goods while in transition. Construction began in fall 2009 and will be completed this year.
The Sutphin Underpass is shown in the photo to your left. It will be modified to accommodate intermodal consumer expenditures on food and other shopping needs.
Atlantic Avenue Extension - Downtown Jamaica
The Atlantic Avenue extension will streamline traffic into the downtown Jamaica area, while adding park space to the area near 95th and Atlantic Avenues. This project starts this year and should be completed in 2012.
Jamaica Train Station Plaza
The third project, the largest, is the Station Plaza. This project will re-align Archer Avenue in order to enable easy transfer between different modes of transportation [bus / subway / train / airtrain]. This project includes the creation of separate bus lanes, the creation of two plazas and the widening of sidewalks for $55 million. This project is expected to start in 2012 and finish in 2014.
Acqueduct Racetrack & Casino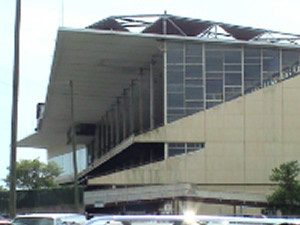 After years of bidding, Jamaica will also become the home of the new casino that will be erected at Aqueduct Racetrack. The casino will be completed in phases, most of which will be done in 2011. They expect to be open the summer of 2011 with thousands of terminals set up and wide availability of food and beverage services. A photo of the Acqueduct Race Track prior to its transformation into a casino is shown to your right.
Transportation Infrastructure - Queens Real Estate
Queens is home to 2.2 million people and also some of the largest transportation infrastructure components of metro New York. Queens transportation infrastructure includes the city's two airports, the Long Island Expressway, the Brooklyn Queens Expressway, four of the city's busiest bridges [Queens Borough, RFK, Whitestone & Throgs Neck], the LIRR and numerous subway and bus lines.
Airport Expansion – Queens Construction Projects
JFK Airport contributes $9.8 billion to the Queens economy, of which $3.9 billion is wages. JFK Airport is expanding Terminal Four to accommodate a request by Delta for a terminal. The project will start in 2011, run three years and cost $1.2 billion.
Throgs Neck Bridge – Queens Construction Projects
The Throgs Neck Bridge connects Queens and the Bronx and turned 50 this year [erected 1961]. Approximately 114,000 people cross the bridge every day. Many inbound drivers come through the Kew Gardens interchange which will undergo some renovation this coming year. Watch for summer traffic.
Public Infrastructure – SE Queens Sewer System
The city will spend $350 million over four years to fix the sewer system in south and eastern Queens so that the extensive flooding they've repeatedly experienced will abate. This affects College Point, the Far Rockaways and two other neighborhoods in Queens.
---
Queens Real Estate - Related Stories
Click here to view a story about Queens Real Estate in general with links to stories about Jackson Heights real estate, Sunnyside real estate & Woodside real estate, and Astoria real estate. And click here to go to the Queens Real Estate section of our site. Click here to view Queens Real Estate Classifieds.
---
Queens Realtors, Queens Insurance & Banking - Links
Click here to go to the home page of Halvatzis Realty - real estate in Astoria, MPC Properties - Realtors in Jackson Heights and Welcome Home Real Estate in Sunnyside.
Home Insurance / Mortgage Lenders in Queens. Click here to go to the home page of Allstate Home Insurance In Queens. Click here to go to the home page of Ponce Bank - mortgage lending in Queens.
---
Real Estate In Queens - Related Info
$element(adman,groupad,Promo Buttons)$
Click this link for promotions and discounts by merchants in Queens.
Click this link to go to the Long Island City LIC Neighborhood News / Astoria Neighborhood / Flushing Neighborhood / Jamaica Neighborhood / Jackson Heights Neighborhood / Sunnyside & Woodside Neighborhood
$element(adman,groupad,Catgry Realestate)$
Site Search Tips. 1) For best results, when typing in more than one word, use quotation marks - eg "Astoria Park". 2) Also try either singular or plural words when searching for a specific item such as "gym" or "gyms".
$element(bwcore,insert_search,N)$
Click this link to search for something in our Queens Business Directory.
---
$element(adman,groupads,Sectional Ad)$
---
Click the log in link below to create an ID and post an opinion.
Or send this story to a friend by filling in the appropriate box below.
---