LIC Arts Open
Art, Dance, Theater @ LIC Arts Open
Click to view our coverage of lic arts open 2012
May 19, 2011 / Long Island City LIC / Art Galleries & Museums / Dance & Theater / Queens Buzz. I attended an art exhibit and several dance performances on Tuesday evening in Long Island City. These events are part of a ten day celebration of all of the arts in Long Island City. The celebration will end this weekend but there's still time to join in the fun [see front page story and Queens Events section for remaining events].
On Tuesday night there were eight artists featured at The Industry, each of whom was given the walls of a ground floor studio apartment upon which to hang their works. All of the artists were from Long Island City. Richard Mazda, LICAO Festival Director is shown in front artwork created by Evan Read.
Click here to read more about the live art performance and photos of LIC Arts Open.
---
LIC Arts Open
LIC Arts Open At The Industry LIC
Continued. May 1, 2011 / Long Island City LIC / Art Galleries & Museums / Queens Buzz.
Brandon Friend - 21st Century Icons At The Industry LIC
The first artist I met was Brandon Friend. Brandon was exhibiting in the first studio apartment of the ground floor of the east wing of The Industry. His work explores iconic images from the news. In this exhibit he presented images of the riot police; whereas in a prior exhibit he explored parallels between the winning race horse, Secretariat, which had an abnormally large heart; and the famous hermaphrodite runner Semenya, who easily won the Women's Field and Track Championship in Berlin in 2009.
Brandon's work has the appearance of mixing gameboy-like images with reality based images taken off the internet and from newspapers and magazines. He uses acrylic and photos in an overlay process which bears some resemblance to Japanese print making. It appears he gets some of his inspiration from Andy Warhol who used mass media images in his work. Brandon lives in Bayside and has a studio in Long Island City. In the photo to your left are Jeffrey Leder curator of the event, Brandon Friend and an unidentified woman [please send us her name].
Rachael Wren - Geometric Light Artist At LIC Arts Open
My next stop was the studio gallery of Rachael Wren. Rachael's work has a geometric appearance resembling skyscraping buildings. When I shared this observation with her, she noted that others have made the same remark, but that what she is doing is exploring light, color and shadows within structure. She noted that given we see a great deal of variation of these elements [color, light and shadows] while looking at a building [a geometric structure], it seems natural that there some resemblance between the images of buildings within our minds and the impressionistic look of buildings inherent within her paintings. In the photo to your right is Rachael Wren in front of her artwork.
Paul Moreno - Abstract Portraitures - LIC Arts Open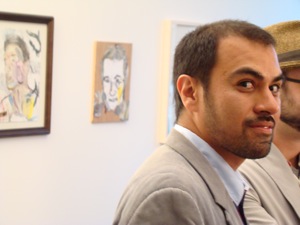 At the end of the hall I walked into the studio of Paul Moreno. It didn't occur to me until just this moment that I had met Paul about three or four years ago at a 5 Pointz gallery opening. At the time his work was far more abstract, and in the intervening years he seems to have evolved his work into abstract portraitures.
On display at this LIC Arts Open exhibit there were abstract portraits of a number of his friends. In the photo to your left is Paul Moreno as I entered the room. A couple of his abstract portraits are shown behind him and there are more shown in the slide show.
Lisa DiClerico - Art & Transformation LIC Arts Open
In my final swing through the east wing at The Industry, I came upon the studio gallery of Lisa DiClerico. Lisa spends a lot of her time restoring antiques. She specializes in painted finishes, antique lacquer, japanning, traditional water gilding, plaster and earthenware. As such she sees colors and forms during transition and her works reflect the uncertainty of change. She finds herself attracted to the process of transformation and hence it comes through in her work.
She told me that her work is about damage and resurrection. The use of the traditional and non-traditional. In the painting shown in the photo to your right, Lisa is standing in front of a work made of rabbit skin glue and clay which is layered with paint and wax. This photo was taken during the LIC Arts Open, Tuesday, May 17th.
Evan Read - Geometry, Light Boxes & Commercial Printing
Down the hall along the west wing I met Evan Read. Evan's work also had a geometric quality to it, which he further 'dimensionalizes' [pardon me for creating a new word] by using the vibrant colors of pop culture and by using light boxes. He uses inkjet paper, which he mounts on die bond two-inch sheets of aluminum with plastic block. He said some of what he does resembles the modern day printing process.
The effect of Evan's work is a vibrant psychedelic art form. In the photo in the introduction to this story is Richard Mazda in front of one of Evan Read's works. Evan is shown beside some of his other work in the photo to your left.
Jeffrey Leder - Curator Of The Industry Exhibits
I met Jeffrey Leder in the hallway and asked him about curating the LIC Arts Open event at The Industry in LIC. Jeffrey said that he screened the works of a number of LIC based artists and selected these eight to be shown. He said he was looking for artworks with some parallels to the transformation happening in Long Island City. The Jeffrey Leder Gallery also hosted an opening reception associated with LIC Arts Open last Sunday [we posted all of these events in the Art Exhibits section of the Queens Events calendar].
Magda DeJose - An Eclectic Mix Of Brazilian, Japanese & American Influences
In the next studio I met Magda DeJose. Magda is a Brazilian who learned print-making in Japan where she had lived for a number of years. The Japanese have been making prints for centuries to which they take a layered approach in a manner resembling collage making. She uses beeswax, woodblocks, handmade Japanese paper, which she fuses using an iron, the beeswax and glue.
Magda's work is modern, with a mix of amorphous forms blended with geometric shapes, and variety of soft, interesting, soothing colors all on a textured rectangle. Art that lets the beholder see what they may. In the photo to your left is Magda DeJose as she explains how she created the works shown behind her.
Yukiko Kobayashi - Folk Tales At LIC Arts Open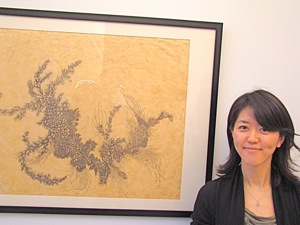 The last artist exhibiting that I met was Yukiko Kobayashi. The content of Yukiko's work includes the dragon, which is an ancient Chinese mythological creature. In a couple of her works she shows how a school of carp begins to evolve into the dragon. In the photo to your right is Yukiko in front of one of her 'evolving dragons'.
Yukiko also talked about how she focuses on small things and subtle beauty that we might ordinarily miss in our busy lives, but that surrounds us. In another work Yukiko portrays the soft dark blue of moonlight, showing the leaves in a near transparent angelic outline. She told me that the work was inspired by a tune with moonlight in the name.
Karen Dimit LICAO Chair In Front Of Jim Hubbell Artwork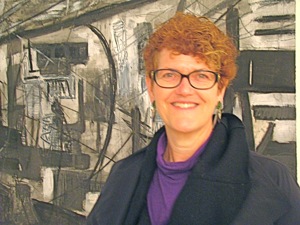 There was one more studio to visit, but one in which I could not find the artist, Jim Hubbell. So I'm doing this perspective solo. His work is modern abstract, using only a few colors, mostly black, white and orange.
I found in it the mix of the old and new in LIC. Some of the pieces seemed to be images of the old warehouses of LIC as they are today: mostly empty with some remnants of the past … about to be reused and / or changed. There were splashes of oblique nebulous forms interspersed in one of the paintings, heralding the dynamic state of change that has been a part of Long Island City since it was a 19th century industrial center traversed by the Steinways, among others.
I struck up a conversation with Karen Dimit, LICAO Chair, while enjoying Jim's work and asked her to pose in front of one of Hubbell's works for me. Karen went on to tell me about a number of upcoming LICAO events this weekend, which will be posted in the Queens Events section as well as on the front page later today or Friday.
LIC Arts Open Dance Performances At Memorial Building
It was time for me to head on over to the Memorial Building to watch the dances about to be performed. But before I leave you here I'd like to recognize a few folks for their roles in putting this together.
Notes Of Appreciation For Organizers & Contributors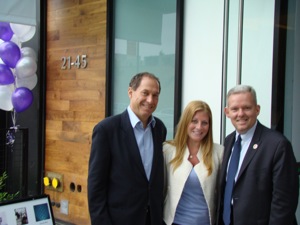 First thanks to Richard Mazda and Karen Dimit, who were the two primary organizers of the event. They gave special recognition to the many others who contributed and participated, and you can read all of them on the website at LICArtsOpen.org.
Also thanks to Stuart (Match) and Alan Suna for hosting the event at The Industry which is a condominium complex in LIC, as well as Jimmy Van Bramer the LIC City Council Member, and Jeffrey Leder who curated the event. Stuart Suna, Jimmy Van Bramer and Samantha Sax are shown in the photo to your left; and Alan Suna and Linda DiClerico are shown in the photo below.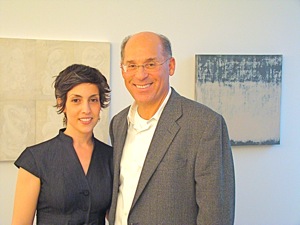 There are more LIC Arts Open events this weekend which we'll soon post in the Queens Events page on this site [see top tool bar].
Additional photos of the artists' works are shown in the slide show below. Brandon Friend - slides 7373 to 7375; Rachael Wren 7379 - 7384; Paul Moreno 7392 - 7401; Lisa DiClerico 7402 - 7403; Evan Read 7411 - 7412; Magda DeJose 7414 - 7421; Yukiko Kobayashi 7422 - 7434; and Jim Hubbell 7436 - 7440.
Use the controls on the slide show below to move through it at your own pace or click here to view larger photos of the LIC Arts Open 2011.
LIC Arts Open - Video
$element(ophoto,photo_slideshow,137,660,,5.00,fade)$
---
Long Island City LIC Queens Related Info
$element(adman,groupad,Catgry Wedding)$
Click this link for promotions and discounts by merchants in Long Island City LIC and Queens.
Click this link to go to the Long Island City LIC Neighborhood News / Long Island City LIC Restaurants / Long Island City LIC Shopping.
---
$element(adman,groupad,NhoodLIC)$
Site Search Tips. 1) For best results, when typing in more than one word, use quotation marks - eg "Astoria Park". 2) Also try either singular or plural words when searching for a specific item such as "gym" or "gyms".
$element(bwcore,insert_search,N)$
Click this link to search for something in our Queens Business Directory.
---
$element(adman,groupads,Sectional Ad)$
---
Click the log in link below to create an ID and post an opinion.
Or send this story to a friend by filling in the appropriate box below.
---