LGBT Parade In Jackson Heights
Report & Photos Of LGBT Parade 2011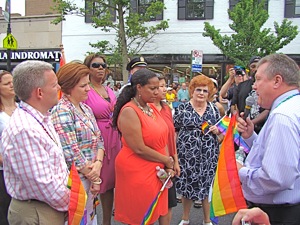 June 5, 2011 / Jackson Heights / Ethnic Culture / Queens Buzz. If necessary, use the search function to find story introduction. I started my journey around 75th Street in Jackson Heights and began working my way east along 37th Avenue.
Queens Government Officials In Attendance
The first wave of parade marchers included government officials; such as Jimmy Van Bramer, Danny Dromm and Christine Quinn; along with Aravella Simotas and Mike Gianaris. Danny Dromm stopped to make a speech about the efforts made to secure gay rights,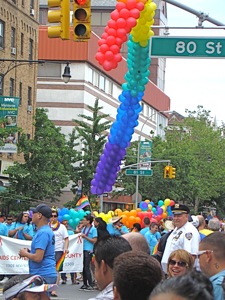 remembering some of those who died along the way [click here to read a story about Julio of Jackson Heights an unfinished documentary film about gays and the beginning of the LGBT Parade in Jackson Heights].
Danny also noted that he and some of the other government officials present, were also pushing for equal rights under the law for gay domestic partnerships. Danny Dromm is shown in the photo above on the right, while Jimmy Van Bramer and Christine Quinn are shown in the same photo on the left.
Balloon Float Over Two Stories High
I listened a bit longer before pushing eastward in search of the colorful floats and costumes for which this parade has become well known. The first such spectacle was an arrangement of balloons that floated several stories above the crowd. This float was followed by a chorus line of young women from Caribbean Spotlight who were dressed in very warm weather island costumes [they are shown below in the section that begins 'Costumes & Music'].
Cheerleading & Acrobatics At LGBT Parade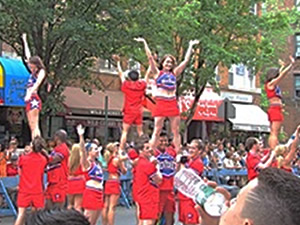 Near 82nd Street I found a cheerleading squad entitled Cheer New York doing acrobatics in the street. It's a bit dicey doing that sort of thing on the pavement, and they provided quite a show for the folks who had lined up along 37th Avenue. The cheerleaders are shown in the photo to your right.
The cheerleaders were followed by a group carrying a large rainbow tarp. I asked them to raise the tarp for a photo but they were hesitant, because a good gust of wind could sweep all of them up into the air along with the tarp. I guess it's a bit comparable to managing floats in the NYC Thanksgiving Day Parade. About a decade ago a wind swept one of the Thanksgiving Day Parade floats out of its harness and injured some of the bystanders. A photo of this group - and many others - is shown in the slide show below.
Miss New York At LGBT Parade
Miss New York was there, but she kind of faded into the landscape as she was surrounded by a plethora of colorful characters. Not far behind her was a man I dubbed the 'angel of darkness'. He was part of what looked like a theatrical group, who were also dressed in costumes. The angel of darkness was followed by the barbarians from the north, one of whom caught my attention more than the others. These parade participants are shown in the slide show below.
Miss New York is shown seated on the back of a convertible in the photo to your left.
LGBT Parade In Jackson Heights 2011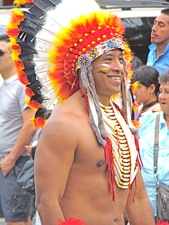 Next came the Dykes On Bikes, the Latina Lesbians and a couple of costumed Indians from somewhere in the Americas. There was a float with quite a few men and several women, standing atop a flatbed truck, dressed in white. I didn't catch the float sponsor and they threw confetti at the end of the parade, which you can also see in the slide show.
One of the American Indians in the LGBT Parade in Jackson Heights is shown in the photo to your left.
Colorful Parades In Queens NY
King Somebody Or Other was next and he seemed very pre-occupied, possibly worrying about the trading value of his island nation's currency. He was followed by several other groups, and a bearded man in a rainbow wig, who was passing out flyers. Gotham Volleyball was followed by a green and black marching band, a couple of mock high school prom queens, and a rainbow decorated truck.
Thousands Watch LGBT Parade 2011
The crowd seem generally amused, and the whole scene reminded me a bit of the Halloween Day Parade in Manhattan, which has grown to become one of NYC's most popular parades.
Similarly, the LGBT Parade in Jackson Heights has grown to become one of Queens largest parades, as literally thousands were in attendance. The parade now ranks among the top three or four parades in the borough of Queens.
In the photo to your left are some of the parade attendees who lined 37th Avenue in Jackson Heights to watch the show.
Costumes & Music In Jackson Heights Gay Parade
The pirates from the Caribbean were next, followed by a bride and some leopard-skinned followers. The parade wound down with a colorful mix of traditional and island head dresses and robes. All of these are shown in the slide show below.
As I walked back to the beginning of the parade and the multi-cultural festival that had just begun on 75th Street, I shot photos of the crowd. The music included Latin salsa, American jazz and dance tunes – all in keeping with a hip, modern theme.
Gay Cuts Across The Ethnic Spectrum
One of the things I observed while photographing the parade, was that there were gay participants from nearly every ethnicity. This is reflective of Queens ethnic and cultural diversity, but it also seems to be reflective of the presence of gays in ethnicities and cultures spanning all four corners of the globe.
The Human Genome May Shed Light On Being Gay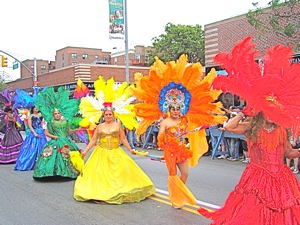 To date there hasn't been conclusive proof of a 'gay gene' in the human genome. But that said, according to a story in Popular Science Magazine, in 2010 a group of Korean scientists found that by removing a single reproductive gene in female mice, gay offspring would result. As of this post, confirmation of this experiment had not been reported by another scientific group.
In the photo to your left is a group marching in the LGBT Parade in Jackson Heights on June 5th, 2011.
LGBT Parade 2010 – History, Issues & Statistics
Last year when we covered the LGBT Parade, we delved a bit into the history of gay rights in NYC, the statistical significance of gays in the population, and the current issues surrounding gay rights. Click here to read our report on the LGBT Parade in Jackson Heights in 2010.
Photos Of LGBT Parade In Jackson Heights
Use the controls on the slide show panel below to move through the photos at your own pace. Or click here to view the album with photos of the LGBT Parade in Jackson Heights where you can double click to view larger photos.
Please note that the participants and audience members of this event included Lesbian, Gay, Bisexual, and Transgender [LGBT] - as well as Heterosexuals.
$element(ophoto,photo_slideshow,138,660,,5.00,fade)$
---
Jackson Heights / Elmhurst Related Info
$element(adman,groupad,Catgry Gay)$
Click this link for promotions, discounts and coupons in Jackson Heights, Corona and Queens.
Click this link to go to the Jackson Heights & Elmhurst Neighborhood News / Jackson Heights Restaurants / Jackson Heights & Elmhurst Shopping.
$element(adman,groupad,NHoodJHTS)$
Site Search Tips. 1) For best results, when typing in more than one word, use quotation marks - eg "Astoria Park". 2) Also try either singular or plural words when searching for a specific item such as "gym" or "gyms".
$element(bwcore,insert_search,N)$
Click this link to search for something in our Queens Business Directory.
---
$element(adman,groupads,Sectional Ad)$
---
Click the log in link below to create an ID and post an opinion.
Or send this story to a friend by filling in the appropriate box below.
---