LGBT Parade In Jackson Heights
Gay Pride Parade In Jackson Heights
June 6, 2010 / Jackson Heights / Queens Buzz. The 18th annual LGBT [Lesbian Gay Bisexual Transgender] Pride Parade took place in Jackson Heights. The parade started in 1992 as an evolutionary step by gays seeking to establish their rights to equal treatment under the law. It is widely believed that the gay rights movement began in 1969 with the Stonewall Riots in NYC.
Click here to read the rest of the story and view photos of the LGBT Pride Parade in the Jackson Heights neighborhood of Queens NY, including a brief history of the Gay Civil Rights movement.
---
LGBT Pride Parade - Jackson Heights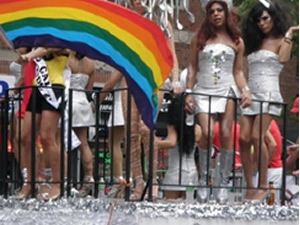 Continued / Jackson Heights / Multi-cultural Queens NY / Queens Buzz. Back in the sixties, gay sexual acts were outlawed in the United States by virtue of sodomy laws which were generally enacted at the state level. Sodomy laws prohibited some sexual acts, including interaction by members of the same sex. Hence commercial businesses didn't openly cater to gay audiences, but over time a number of bars began to accommodate them.
Stonewall Riots 1969 - New York City
In 1969 the Stonewall Riots erupted following an early morning raid of the Stonewall Inn in the west village of New York City. The Stonewall Inn had become a hang out for "tranvestites and effeminate young men" according to reports given of that time and attracted a large following in the gay community.
Gay Pride Parades - Exercising Freedom Of Speech
Following the raid, the heretofore unorganized gay community, responded with rioting in the west village neighborhood streets for a few days. Following this incident, the gay community was galvanized and began to organize itself, first in New York and soon this movement spread throughout the rest of the nation. One method used to galvanize and help organize the LGBT community was the use of parades to help establish the gay community's identity and to help bring gays together.
Gay Sexuality - Normal Diversity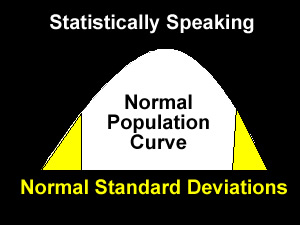 It is believed that lesbians, gays, bisexuals and transgender people comprise up to 15% of the population, which statitically speaking, is one standard deviation from the norm. This sort of diversity is well documented in genetics where it is normal for certain human attributes such as eye color, height, sexuality and intelligence to lie outside the norm by one standard deviation. It's normal to have some deviation within just about any large population.
It's also worth noting that gay sexuality is also found in other mammalian species, some of which is documented in a book entitled Biological Exhuberance: Animal Homosexuality and Natural Diversity. These percentages may not, on the surface, appear to align with one's own personal experience, because many gays and lesbians
continue to hide their sexuality identity due to societal pressures.
Equal Treatment Under The Law - A Changing Landscape
In 2004 a court case in Texas struck down the validity of state sodomy laws, arguing that one's sexual practices, when done privately by two consenting adults [excepting prostitution] was not any of the state's business. Today the front line for equal treatment under the law has moved onto spousal rights.
Debate Over Gay Rights & Gay Marriage Continues
Recently there was a New York State vote on marital rights for gays. Some believe that marital rights should be reserved for heterosexuals only. They believe that there's a sanctity to marriage, involving child birth, offspring and frequently religion, which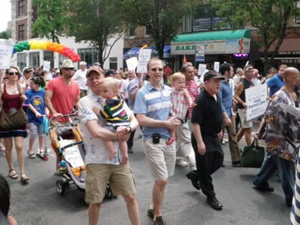 they do not want transformed into a purely legal arrangement by expanding it to encompass gay rights.
Others believe that gays should have the same rights as heterosexuals to enter into marital unions. Marriage provides a whole set of rights to spouses, to which gays would like access - such as visitation rights in hospitals, healthcare rights via a working partner and inheritance rights from a spouse. To provide gays equal treatment under the law while denying them access to marriage, requires the creation of a completely parallel body of law, similar in most respects to the laws governing heterosexual marriage.
Evolving Political Landscape - Gay Activism In Queens
Within the past year the state of New York held a vote on gay marriage. Queens Democratic representatives in the state legislature split regarding this issue - half voting for gay marriage and half voting against it. Some Queens Democrats and all Queens Republicans voted against it. The legislation didn't pass.
In the election of 2009, Queens for the first time, elected two openly gay candidates to the New York City council - both of whom marched in the parade. And the NYC Council Speaker is openly a lesbian.
But I Digress - What About The Parade?
Yes, it was a good parade and we have photos to share with you thanks to Greg Stowell who photographed them for us.
$element(ophoto,photo_slideshow,76,660,,5.00,fade)$
---
Motorbikes In Queens
Click here to view the home page of Vespa which sells motorbikes in Queens.
---
Jackson Heights / Elmhurst Related Info
$element(adman,groupad,Catgry Gay)$
Click this link for promotions, discounts and coupons in Woodside, Sunnyside and Queens.
Click this link to go to the Jackson Heights & Elmhurst Neighborhood News / Jackson Heights Restaurants / Jackson Heights & Elmhurst Shopping.
$element(adman,groupad,NHoodJHTS)$
Site Search Tips. 1) For best results, when typing in more than one word, use quotation marks - eg "Astoria Park". 2) Also try either singular or plural words when searching for a specific item such as "gym" or "gyms".
$element(bwcore,insert_search,N)$
Click this link to search for something in our Queens Business Directory.
---
$element(adman,groupads,Sectional Ad)$
---
Click the log in link below to create an ID and post an opinion.
Or send this story to a friend by filling in the appropriate box below.
---