Figgy Pudding Short Play Fest
Xmas Comedy at Café Marlene in Sunnyside
Continued. December 1, 2011 / Sunnyside / Theater in Sunnyside / Queens Buzz. I was given the opportunity to preview the play fest on Monday, seeing eight of the nine acts. I missed the last act, as Mrs. Claus had to leave before it was performed … I was informed that Mr. Claus, who is a giant of a man with a hearty appetite, doesn't like to be kept waiting for his dinner, especially this time of year.
I'll give you a bit of the flavor of these original, fun and generally unpublished plays and the Unity Stage Company's performance of them. Sofia selected the plays from about 200 submissions for which she put out a general call, instructing those interested in submitting a play, to send "non-sentimental Christmas stories with a surprise".
Bob Cratchet & The Communist Manifesto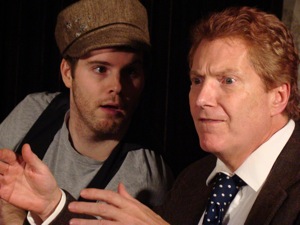 True to form, these short plays were generally funny, rather cynical, little vignettes of the holiday. One of them is about Bob Cratchet and family. One of Bob's children is into Karl Marx and believes that Bob should put it to Mr. Scrooge. Another is about a 'very special Chritmas gift' two modern parents give their totally spoiled daughter – a big book and the announcement of their divorce.
If a little cynicism isn't your thing, you might not find these as funny as I did – bearing in mind that there are surprises. And while the plays are not 'sentimental' they're generally done with a light comedic touch, perhaps one could say ala Seinfeld.
Applying To Be A Store Santa
There's one about two applicants competing for the store Santa Claus job. And another with a two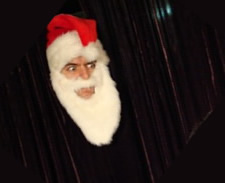 couples reciting some pretty funny sayings like, "if you want to be praised, die" or "if you want eternal criticism, marry"or "a good husband is healthy and absent". There are plenty more, but in keeping with the holiday spirit I'll leave you with one more, "a dog has no possessions, but is seldom dissatisfied".
Psychological Impact Of Santa Myth
Then there's the one about the guy in the shrinks office talking about discoering the truth about Santa Claus. He receives a beautiful expensive watch the last time he sees 'Santa Claus' and it comes in handy at the end. This one explores the 'magic' of learning some truths about Santa, while fearing punishment for actually figuring out everyone's been deceiving you.
Gay Marriage & Doting Parents
We enter the 21st century with a gay couple contemplating marriage. One of the partners brings home a rather lifelike child that brings them together or does it tear them apart?
A tale about sex and Christmas presents, both with the same moral ending, which is that 'believing it could be anything is always better than knowing what it actually is'.
And what sort of satirical play about Christmas would be complete without the doting parents taking their first photos of their cute little baby sitting on Santa's lap?
It's The Economy Santa
The last vignette is entitled 'It's The Economy Santa'. In this one a mother asks her daughter, who has just returned home from her Ivy League School, if she'd write a letter to Santa. The daughter says she doesn't want any 'things' but rather world peace, no world hunger and so forth. Mrs. Claus arrives, taking exception to this letter, telling the young woman what's at stake here.
Comedy At Cafe Marlene In Sunnyside
All in all a nice light hearted way to spend an enjoyable couple of hours this weekend at the Café Marlene in Sunnyside. Tickets are $15 which you can buy online on the Unity Stage Company website, a link to which you'll find in the business listing.
Production Credits for Figgy Pudding Short Play Fest
The following are the credits provided to me by Sofia Geier in a usable format.
'Tis the Season………………………… by Michelle Uyemura
Director: Veronica Reyes-How

Jaike Foley-Schultz (Oliver), Gillian Hurst (Wendy), Imran W. Sheikh (David)
Proverbs………………………………. by Donna Latham
Director: Sofia Landon Geier
Leigh Adel-Arnold (Fiona), Jaike Foley-Schultz, (Enda), Bradford How (Michael), Gillian Hurst (Moira)
Beyond Belief…………………………. by Jeffrey Haddow
Director: Sofia Landon Geier
Tina Segovia (Dr. Liman, Imran W. Sheikh (Gary)
A Tale of Two Christmas Carols………by James McLindon

Director: Sofia Landon Geier
Andrew Dinan (Bob Cratchit), Jaike Foley-Schultz (Tiny Tim),
M.J. Geier (Martha Cratchit), Tina Segovia (Mrs. Cratchit),
Daniel Weiner (Peter Cratchit)
Peek……………………………………by Stacey Lane
Director: Veronica Reyes-How
Leigh Adel-Arnold (The Gift), Jaike Foley-Schultz (Chris)
The Gift of Rift…………………………by Evan Allgood
Director: Sofia Landon Geier
Bradford How (Dad), Tina Segovia (Marcia),
Lindsay Walker (Daughter)
Pet Names……………………………..by Stacey Lane
Director: Guy Ventoliere
Bradford How (Nelson), Gillian Hurst (Brenda)
Kids R Us……………………………..by Josh Levine
Director: Sofia Landon Geier
Jaike Foley-Schultz (Matty), M.J. Geier (Suzie), Imran W. Sheikh (Andrew)
It's the Economy, Santa!.......................by Daniel Glenn
Director: Veronica Reyes-How
Leigh Adel-Arnold (Sarah), Scarlett Ahmed (Mrs. Claus), Bradford How (Rudolph), Tina Segovia (Mom)
Photo Slide Show of Figgy Pudding at Café Marlene
The following is a slide show of some of the photos we took while watching Figgy Pudding Short Play Fest by the Unity Stage Theater Company at Café Marlene in Sunnyside. Click here to view the photo album of the Figgy Pudding Play Fest at Cafe Marlene.
$element(ophoto,photo_slideshow,165,550,,5.00,fade)$
---
Producer & Directors For Figgy Pudding Production
Veronica Reyes, Guy Ventoliere and Sofia Landon Geier are shown in the photo to your left. As you know by reading the credits above, they were the short play fest producer and directors.
You may buy tickets for $15 by visiting the Unity Stage website [www.unitystage.org] or pay at the door. Be advised that Cafe Marlene seating is limited as there are only 40 seats available per performance.
---
Sunnyside Neighborhood / Woodside Neighborhood Links
$element(adman,groupad,NHoodSSWS)$
Click on these advertisements for promotions, discounts and coupons by retailers and restaurateurs in Woodside, Sunnyside and nearby Queens.
Click this link to go to the:
Sunnyside & Woodside Neighborhood
Sunnyside Business Directory or Woodside Business Directory
Sunnyside & Woodside Real Estate or Events & Things To Do In Sunnyside & Woodside
Restaurants In Sunnyside & Woodside or Sunnyside & Woodside Shops & Shopping
---
$element(adman,groupad,Catgry Foodwine)$
Site Search Tips. 1) For best results, when typing in more than one word, use quotation marks - eg "Astoria Park". 2) Also try either singular or plural words when searching for a specific item such as "gym" or "gyms".
$element(bwcore,insert_search,N)$
Click this link to search for something in our Queens Business Directory. Also check out Taste of Sunnyside.
---
Click the log in link below to create an ID and post an opinion.
Or send this story to a friend by filling in the appropriate box below.
$element(adman,groupads,Sectional2 Ad)$
---