New Cultural Center in Sunnyside
Bliss on Bliss Studio Begins to Take Root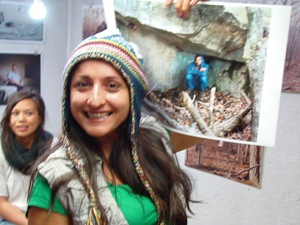 February 20, 2012 / Sunnyside / Art in Queens / Queens Buzz. I attended the February exhibit opening reception and musical performances of Bliss on Bliss Studio in Sunnyside. It was my first visit to the studio which opened in October of 2011.
Ged Merino and Carolina Morales are the husband and wife team that run the studio. They met while working at the Metropolitan Museum, married, and are now sharing their bliss with the rest of us who live near Blissville.
The moniker of Blissville predates Sunnyside, and comes from the name of an early 19th century farm owned by Neziah Bliss. The farm was located along the southern edge of the neighborhood. But I digress.
At the February opening reception for its new exihibit, Bliss on Bliss was featuring ten photographers and two groups of musicians. Click here to read more about Bliss on Bliss Studio in Sunnyside.
---
New Cultural Center in Sunnyside
Bliss on Bliss Studio Begins to Take Root
February 20, 2012 / Sunnyside / Art in Queens / Queens Buzz. I arrived a bit late in the day, and unfortunately had just missed a performance by the Niwa Band, a Japanese jazz group. To find Bliss on Bliss Studio at 41-49 45th Street requires the careful eye of an experienced New Yorker, as the entrance is through the back alley / receiving area of an attractive apartment building just off the north side of 43rd Avenue along 45th Street.
Art, Music & Culture in Sunnyside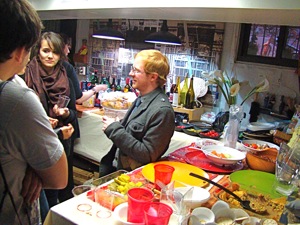 It's a subterranean studio that has capacity for 45 people. A number of people were hanging out near the entrance enjoying the last rays of the sun and warm weather.
The entrance to the gallery is Ged Merino's workshop, and along the entrance wall, which appeared to be a workbench, they had laid out a nice assortment of hors d'oeuvres, crudités, wine and other beverages [see photo to your right].
The gallery was bustling with conversation, art and movement. The crowd of attendees included an ethnic mix befitting Queens and our hosts who originally came from the Philippines and Columbia.
Ged gave me a tour around and introduced me to many of the artists. One of the rooms contained the work of several photographers. I had the opportunity to speak with several of them about their work.
Latin Photographers - Photo Exhibits in Sunnyside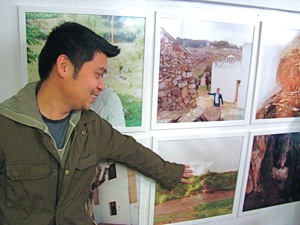 The first photographer I met was Dale Santos who was exhibiting photos entitled 'Abstraction of Portraiture' [see photo to your left]. He explained to me that the first in the series began with a traditional portrait, which becomes more abstract as one peruses the six photos, ultimately ending in complete abstraction … perhaps the portraiture of a landscape. He also did a small black and white photo essay on the homecoming of an American Columbian who had not seen his Columbian homeland in decades.
The second photographer featured in this part of the studio was Arjay Arvalo. One series of Arjay's photos were taken on hiking trips in upstate New York. They capture the beauty and quiet of nature. He also did a series where he juxtaposed photos taken upstate alongside / on top of photos taken in NYC's Central Park. Arjay is a student at LaGuardia Community College where he made the prints for the show.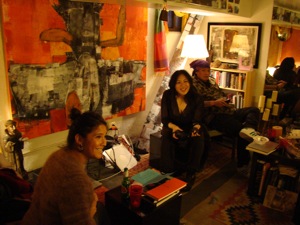 Next to the exhibit gallery there was a room where people were sitting comfortably chatting about a wide variety of things. Silently hanging on the walls was some of Ged's own work. The room had a very comfortable den-like feel.
Off into the main performance room we went. In the ante room there was another small gallery where the works of three Manila-based photojournalists hung. I met Happy, who talked about the photographic work of her sister Tami, and Tami's colleagues, John Javellana and Geric Cruz.
Peering into Manila & Filipino Culture - From Sunnyside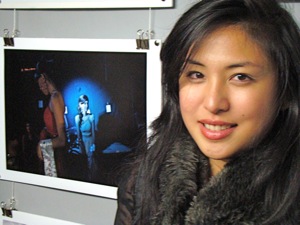 Happy's sister Tami is working on a project that peers into the culture of the Filipino beauty pageant. In 1969 and again in 1973 the Filipino contestant won Miss Universe. Imelda Marcos, wife of president Ferdinand Marcos [President of the Philippines from 1972 – 1986], may have helped foster a fashion-friendly culture in the Philippines, as she wore numerous haute couture gowns as the Filipino First Lady and reportedly owned between 2,000 and 3,000 shoes.
Hence, as in Venezuela [Venezuela was the winner of five Miss Universe pageants – note: Miss Universe Pageants started in 1952], there is the desire for families to lift themselves out of poverty by winning the beauty pageant. Hence, some Filipino families invest their savings into grooming one of their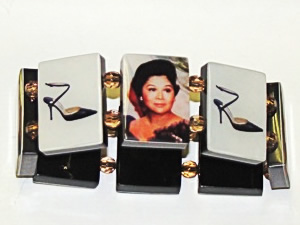 young to become a beauty Queen. Happy also showed a fascination for Imelda Marcos' legacy by making fashion jewelry which playfully mocks Imelda and her shoes. Happy is shown above and her fashion jewelry with Imelda Marcos is shown to your left.
Happy's sister, Tami, and John Javellana also explore the poverty of the Philippines, which is widespread. While Geric Cruz provided excerpts from his photo essay entitled 'Where I End and You Begin'. It's a black and white photo series that appears to be contemplative.
Cel Lumbera had a few photos on exhibit, which were also taken in the Philippines. One is entitled family portrait, which was exactly that; and the other of a jitney which had turned on its side. The portrait photo is shown below and both photos are shown in the slide show.
Art & Music - Performances at Bliss on Bliss Studio in Sunnyside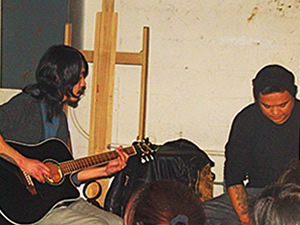 The second music group, Steven Blake, began playing. One of the musicians sang while playing guitar and the other accompanied him on the drums. A whole part of the studio is dedicated to the musical performances, while in the other rooms, people continued their art conversations.
I had an opportunity to speak with both Ged and Carolina about what they were trying to do with Bliss on Bliss Studio. They told me that they wanted to develop Bliss on Bliss Studio into a multi-cultural center with Filipino and Latin cultures at the core, but to create an inclusive environment that also embraces other cultures of the ethnic mosaic we call Queens.
There's one room in the studio where Ged stocks arts and crafts that are on consignment with him at the studio and are for sale. Currently Ged and Carolina entirely fund the studio through their income / savings and via a 15% commission on any artwork sold while on exhibit.
Bliss on Bliss Studio - Cultural Centers in Sunnyside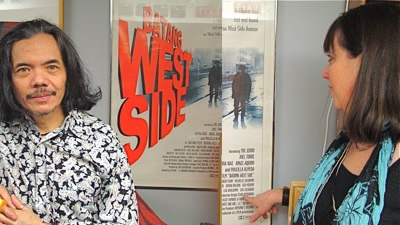 The Studio is open most weekdays from about 10 am – 5 pm as Ged is a print maker and spends most of his time working there. Bliss on Bliss also hosts monthly openings that include art, entertainment and food like the one I attended. While most of the artists and musicians are from Queens or nearby Brooklyn, word has been getting out, so in April Batawan is coming from Boston, and in May there's a three woman show including one artist who's flying in from San Francisco.
But for those of us who live in Queens, Bliss on Bliss is blissfully close, and you can find out about their next event by watching the Member Calendar [early post] or the Queens Events Calendar on this site. Bliss on Bliss Studios are located at 41-49 45th Street in Sunnyside [tel. 917.767.9735].
History of the Philippines - Filipinos in Sunnyside & Woodside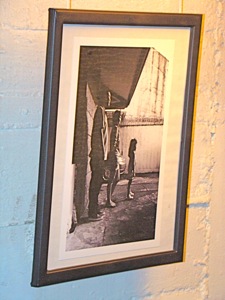 Lastly, I want to give you a quick timeline history of the Philippines because it's pretty interesting. Recorded history began around 900 AD. Prior to that the Filipinos were big traders, who interacted with Hindus, Malays, Japanese and Chinese. Hence from its cultural inception the Philippine islands were a multi-cultural society.
The Chinese had both commercial and political relations with the islands in the early part of their recorded history. The Muslims had a direct cultural influence on the islands in the 15th and 16th centuries at which time they established a Sultanate. The Spanish arrived in the 16th century and colonized the islands until they lost them to the Americans in the Spanish American War of 1898.
The Americans were loosely in charge of the islands until 1946, at which time the Philippines became independent. Currently there are two official languages: English and Tagalog. Tagalog is the indigenous language and the primary language for about a third of the country.
---
Slide Show - Photos of Filipino & Columbian Culture in Sunnyside
Click here to view the slide show containing photos of the February exhibit at Bliss on Bliss Studio in Sunnyside featuring Filipino and Latin American art and music in Queens.
$element(ophoto,photo_slideshow,179,520,,5.00,fade)$
---
Sunnyside Neighborhood / Woodside Neighborhood Links
$element(adman,groupad,NHoodSSWS)$
Click on these advertisements for promotions, discounts and coupons by retailers and restaurateurs in Woodside, Sunnyside and nearby Queens.
Click this link to go to the:
Sunnyside & Woodside Neighborhood
Sunnyside Business Directory or Woodside Business Directory
Sunnyside & Woodside Real Estate or Events & Things To Do In Sunnyside & Woodside
Restaurants In Sunnyside & Woodside or Sunnyside & Woodside Shops & Shopping
---
$element(adman,groupad,Catgry Finance)$
Site Search Tips. 1) For best results, when typing in more than one word, use quotation marks - eg "Astoria Park". 2) Also try either singular or plural words when searching for a specific item such as "gym" or "gyms".
$element(bwcore,insert_search,N)$
Click this link to search for something in our Queens Business Directory. Also check out Taste of Sunnyside.
---
Click the log in link below to create an ID and post an opinion.
Or send this story to a friend by filling in the appropriate box below.
$element(adman,groupads,Sectional2 Ad)$
---