Experiential Literature - Stillspotting
An Intimate Journey Into The Jackson Heights Neighborhood
April 15, 2012 / Art in Queens / Jackson Heights / Queens Buzz. I rode my bike through the backstreets of Woodside on a warm spring Sunday of 2012. The sun was glistening, the air was fresh and warm. People were working in their yards, conversing in the streets, and heading to or from somewhere. And I was on my way to the Stillspotting Queens kiosk in Jackson Heights.
A few weeks ago the Guggenheim Museum had contacted me about the Stillspotting program they were to launch in Queens starting April 14th. After a few brief conversations with the publicists, I thought I had a sense of it, but my understanding - like the concept itself - was fluid. I wasn't sure whether or not it would be interesting, but I decided to check it out anyway.
Click here to read more about Stillspotting Queens in Jackson Heights.
---
Experiential Literature - Stillspotting
An Intimate Journey Into The Jackson Heights Neighborhood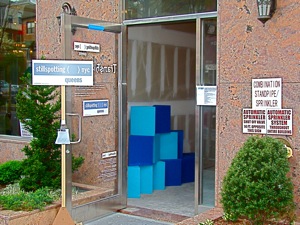 April 15, 2012 / Art in Queens / Jackson Heights / Queens Buzz. The kiosk was easy enough to find, near the Roosevelt & 74th Street subway station at 40-40 75th Street. It was well marked and a number of very friendly and helpful volunteers quickly oriented me before I headed off on the self-guided tour. They provided a map [see photo below] which identified the Stillspotting sites in Jackson Heights and included a brief description of the reading / author / location.
I also had the opportunity to briefly interview David van der Leer, the concept creator and curator; as well as Sarah Malaika, the Guggenheim Program Associate who helped David execute the program. I'll provide excerpts from our conversation toward the end of this story.
Stillspotting Queens In Jackson Heights - At The Berkeley
I headed off toward one of the Stillspotting sites. This one was in the Berkeley, one of the many beautiful apartment buildings inside the Jackson Heights Historic District which was built between 1910 and 1940 [click here to read our report on the Jackson Heights historic house tour]. I had to wait outside for a brief spell as the storytelling is

done in cycles of about 30 – 60 minutes. They say it's about every half hour, but the two Stillspotting sessions I attended lasted longer, as conversations flowed following the performances.
There was a young woman standing outside the Berkeley building who, along with two other Guggenheim volunteers, was there to facilitate the program. We were escorted upstairs to into a handsomely appointed Jackson Heights apartment, where we were to listen to a reading of a piece of prose written by Maria Terrone of Queens.
Maria Mocerino, Performer, Brings Maria Terrone's Words To Life
Maria Mocerino is the woman / performer who was to do the reading. She was seated at the end of the living room with her back to the windows in a pose one would expect of the house owner. She had a warm smile, and greeted us as we all found our seats. The reading began.
The story was about a woman who had found her still spot at home in the kitchen, leaning over a stove cooking, as her mother and her ancestors had done for centuries.
It wasn't the story she told, so much as how she told it. The author and the narrator became one. They were both of Italian ancestry, and some of the references were to the Italian culture and love of food. Maria's love of the culinary craft took her out into the streets of Jackson Heights where she could sample the delights of the Indian subcontinent and the cultures and culinary treats well beyond it. She injected humor and optimism into her story, recalling the reasons why her neighbors and her ancestor immigrants left their native lands to come to America in search of a better life.
Maria Terrone, Queens Author - Describes Her Stillspot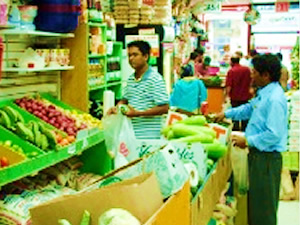 She descriptively took us through a bazaar of smells, sounds and sights that permeate the Jackson Heights neighborhood teeming with life. And then, she took us back into her apartment, into her kitchen, back to her still spot.
It was a highly descriptive account of an alluring life, the elocution of which was so very convincingly delivered. Maria Mocerino's voice carried the cadences and subtle rhythms of the well-written prose romanticizing both the neighborhood and the world.
The Berkeley - Jackson Heights Historic District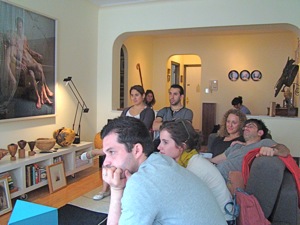 I asked the apartment owners why they allowed the Guggenheim to host eight days / four weekends of Stillspotting in their apartment. They said this would provide a unique means through which they could interact with the community [click into the Queens Buzz events calendar and scroll down the Arts section to the Guggenheim Museum and Stillspotting Queens].
One of the apartment owners said that because we're all from somewhere else – be it another country or another state – we tend to live our lives within a slice of the community with which we have a direct association or connection. The connections tend to be ethnicity, cultural, religious, professional and / or lifestyles. The owners said that they saw Stillspotting Queens as an opportunity to reach through those invisible categorical membranes which separate us, into the larger breadth of the community.
Stillspotting Queens - A Korean Immigrant's Experience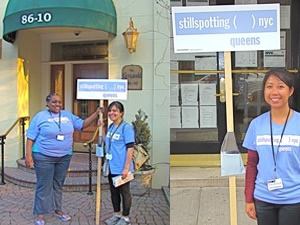 Time was a-wasting, so I bid adieu and rode my bike to the next Stillspotting Queens location. As fate would have it, this Stillspotting site was also in another beautiful apartment building in the Jackson Heights Historic neighborhood. [Editor's Note: I would allow 3 - 4 hours to leisurely experience four Stillspotting sites].
I was again greeted by friendly and helpful volunteers and escorted into the building where I was asked to remove my shoes [I had also respectfully done so at the first stop]. This was the home of a young family who found interest in the Stillspotting project, and like the prior apartment owners, also looked upon it as an interesting venue with which to interact with the larger Jackson Heights and Queens community. In the photo above the Stillspotting in Queens volunteers stand outside each designated location to mark your map and escort you into the literary performance.
America The Melting Pot - Over Two Centuries Old
As I am writing this, I cannot but help think about the proverbial melting pot that is America. The notion of America as a melting pot was first articulated by John de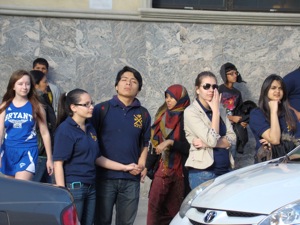 Crevecoeur in Letters from an American Farmer in 1782.
"... whence came all these people? They are a mixture of ... [many different sources of] blood ... What, then, is the American, this new man? He is neither a European nor the descendant of a European; hence that strange mixture of blood, which you will find in no other country ... He is an American, who, leaving behind him all his ancient prejudices and manners, receives new ones from the new mode of life he has embraced, the new government he obeys, and the new rank he holds ..." - source: Wikipedia.
Some 230 years later, the American ideal of a multi-cultural, multi-ethnic home for the world has become a hallmark of American culture - and it's epicenter may be found in Queens County, New York. This peaceful diversity, tolerance - and in time - understanding; is what makes America the 'promised land' and it is why so many people give up all that they have, leave their loved ones, and still take great risks to arrive on our shores.
Ishle Yi Park - A Korean Immigrant's Stillspots In Queens
The story told in this stillspot was by a Korean, Ishle Yi Park, who immigrated to America with her parents, following the Korean War of the 1950's.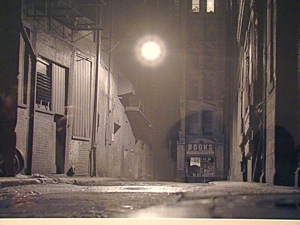 Ishle tells how she grew up, living in a home which she told us was not peaceful, so she sought peace outside of the home … on the streets of Jackson Heights and Queens. She was looking for an ohm away from home.
She found her stillspots in the most mundane of places, like in abandoned back lot through the alleyways of a neighborhood building, and on the rooftop of a fast food restaurant that she could secretly climb upon. There she found peace with the world and peace with herself. Ohm. Namaste.
The photo to your right, was taken in NYC in the 1950's by Frank Larson and is on display at the Queens Museum of Art until May 20, 2012. Many of Larson's photos capture some of the stillness / peaceful serenity of the urban space of the 1950's in New York City.
The Immigrant Experience - Overcoming Ethnocentric Prejudice
She told us of the racism she felt while watching American television, seeing Asians portrayed as the "squinty-eyed devils", kung fu fighters and mad scientists. And she felt racism on the streets in the eyes of strangers, so she looked for stillspots away from the hustle bustle, in places where adults wouldn't go.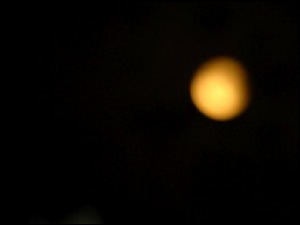 Her brother didn't find stillspots but rather continued fighting the war that his family had tried to leave behind when they immigrated to America. He wore a black leather jacket with blazing red dragons and joined the gang wars of that time. When she was able, she fled the neighborhood in search of real peacefulness, traveling around the world, to find an ohm she could call home.
She found her stillspot in Hawaii, walking along its shores, where she soaks in the sun's rays, the vibrations of the oceans … and the universe. But she still feels connected to the place she once called home. To the neighborhoods of Jackson Heights and Flushing, where her people had congregated and where she felt at home. She still reads Walt Whitman, citing the American optimism of his prose, and sends her love to the passengers of the #7 subway train, as they make their way home each evening. Ohm, be thankful for your home. Namaste.
The Stillspotting Storytellers - Human Portrayal Of Diversity
The story was told by a woman of Korean descent, Woosung Lee, who like the woman in the prior stillspot performance, had made the portrayal so real. As if she was Ishle.

Unfortunately I had run out of time. I found Stillspotting in Queens to be far, far more engaging and interactive than I had imagined. In a few short hours I had encountered personal, poignant prose, personified by professional performers, playing the roles of real people living amongst us. People we pass by every day.
And in the process I had met several very generous residents, who very kindly opened their homes to the public as performance spaces. I met volunteers from the boroughs of NYC, and Long Island; who'd come to partake in the artistic experiment called Stillspotting Queens. I also met a couple of local performance artists who participated in the program by personifying the prose written by people who have some connection with Queens.
Stillspotting Creator & Guggenheim Associates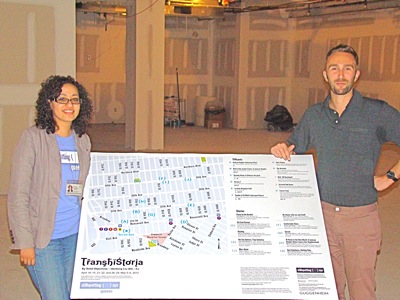 In the introduction I mentioned that I had met and interviewed David van der Leer and Susan Malaika who created and are executing the program. David, originally from Holland, did his Masters thesis on finding quiet or still spots in an urban environment. Now working at the Guggenheim, he continues this journey through this two year, five borough program. David informed me that his background is architecture and urban planning, which is the lens through which he sees his role and the Stillspotting Queens program. " Without Sarah Malaika," he informed me, "Stillspotting wouldn't have happened." Sarah Malaika [left] and David van der Leer [right] are shown in the photo above.
The Stillspotting NYC effort began with research about the impact of noise in NYC. It started in late 2010 and the first work was done in collaboration with Columbia University, which compiled a data map showing the concentration of 311 noise complaints in NYC. A second collaboration was done with the School of the Visual Arts, which created videos of stillspots in NYC. The noise map and more information about Stillspotting may be found on the Guggenheim [.org] website.
Stillspotting NYC - Humans In Urban Space ... & Sound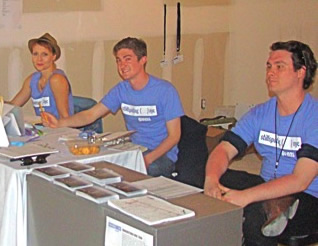 The Stillspotting NYC program was then rolled out into Manhattan and Brooklyn, with each program being tailored to the borough in which it was hosted.
In June of 2011 they opened the first Stillspotting NYC site by implementing a Sanatorium program in Brooklyn, wherein the 'patients met with doctors' who diagnosed their urban neuroses assessing the impact of space on mental health. The 'doctors then prescribed' therapies.
In September of 2011 they did To A Great City, a minimalist music program in Manhattan, exploring the relationship between space and sound. The core of the program was enacted downtown in the shadow of the former World Trade Center.
Transhistoria - Personal Histories Of Human Migration In Queens
Transhistoria is the theme name for stillspotting in Queens. Transhistoria is the story about movement through space, migrating into and out of an urban environment. The specifics for this program were designed by two Brooklyn architects, Florian Idenburg and Jing Liu who also did the PS1 2010 summer installation.
Click into the Queens Events Calendar and scroll down through the Arts section to find the dates, times and locations for the remaining weekends of the Guggenheim program, Stillspotting in Queens.
As I bicycled home through Jackson Heights neighborhood, I enjoyed the twilight beauty,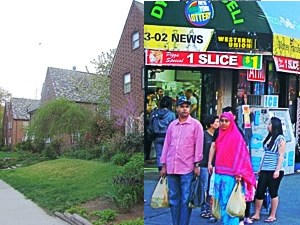 finding at once momentary periods of quiet and aesthetics, interspersed with momentary periods of honking horns and the hustle bustle of the urban streets. Soon I would be back in my own stillspot, leaning over my computer cooking up a story, just like Maria Terrone, leaning over her stove, cooking up a sumptuous meal.
Good Bye in two of Eight Major Languages In Queens
En yung Chi [Korean] & Arrivederci [Italian].
---
Jackson Heights / Elmhurst Related Info
$element(adman,groupad,NhoodJHTS)$
Click this link for promotions, discounts and coupons in Jackson Heights, Corona and Queens.
Click this link to go to the Jackson Heights & Elmhurst Neighborhood News / Jackson Heights Restaurants / Jackson Heights & Elmhurst Shopping.
$element(adman,groupad,Catgry Realestate)$
Site Search Tips. 1) For best results, when typing in more than one word, use quotation marks - eg "Astoria Park". 2) Also try either singular or plural words when searching for a specific item such as "gym" or "gyms".
$element(bwcore,insert_search,N)$
Click this link to search for something in our Queens Business Directory.
---
$element(adman,groupads,Sectional Ad)$
---
Click the log in link below to create an ID and post an opinion.
Or send this story to a friend by filling in the appropriate box below.
---