Biz Expo 2012 - Queens Chamber Of Commerce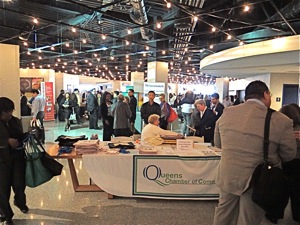 May 22, 2012 / Flushing & Jackson Heights / Queens Business / Queens Buzz. I attended the Queens Chamber Biz Expo at CitiField on Tuesday. The event runs from 10 am - 3 pm, offering an opportunity for visitors to browse through the tables of between 50 - 75 or so businesses offering services in Queens.
While some of the businesses at Biz Expo 2012 at CitiField were the larger firms with national brands, the majority of the companies in attendance were home grown Queens businesses, covering a range of products and services offered in the borough, including a number of relatively new companies in the food and energy fields. In the photo above is the entrance to the Queens Chamber of Commerce Biz Expo 2012 at Caesar's Club at CitiField in Flushing.
Click here to read the rest of our report including Queens Chamber of Commerce Biz Expo 2012 photos.
---
Biz Expo 2012 - Queens Chamber Of Commerce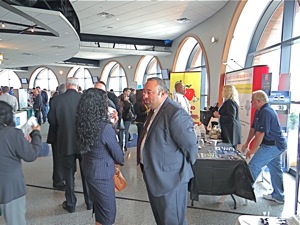 Continued. May 22, 2012 / Flushing & Jackson Heights / Queens Business / Queens Buzz. We found a number of the new food companies that we'd encountered at the Queens Taste 2012 earlier in the month, also in attendance at the Queens Chamber Biz Expo 2012. For further information about them, click here to Queens Taste 2012.
There were also a number of government agencies in attendance including the Environmental Protection Agency that recently began work on the Newtown Creek Superfund site. There were attendees from LaGuardia Colleges 10,000 Small Businesses program, which is seeking to help small businesses make a go of it. Representatives from Office of the State Comptroller were there too, handing out literature about government finances.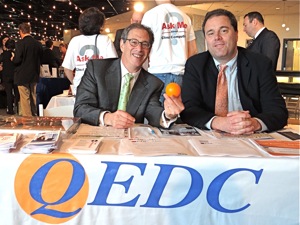 We also spoke with the quasi-governmental organization, the Queens Economic Development Corporation [QEDC], which works closely with borough and city government to promote economic development in Queens. And there was a representative from the Sunnyside Chamber of Commerce in attendance, who spoke about some of the things going on in Sunnyside. Other Queens-based non-profits were also in attendance promoting education, like Plaza College of Jackson Heights; and Healthcare, like Flushing Hospital in Flushing. Seth Bornstein and Rob MacKay of the QEDC are shown in the photo to your right.
You can't go very far these days without encountering people involved in green businesses. Today there's a big push to both save energy and to generate it naturally via solar. We encountered two solar energy companies, one of which is located in Long Island City, named Community Environmental Center. Another solar company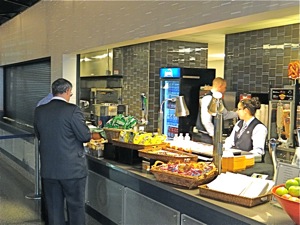 from Long Island was there, Empower, as well as Con Edison. We posted a report on a presentation given by another solar energy a while back about installing solar energy systems in Queens, which is about tax breaks and worth a read if you're contemplating moving in that direction.
We had our first encounter with a representative of Queens emerging gaming industry, from Resorts World Casino of Jamaica. In the financial services industry we encountered representatives of Flushing Bank, Community National Bank and a
couple of financial services companies. To round out the businesses and services there was a sprinkling system company, a construction litigator, at least one realtor, and a number of businesses in the computer services field.
This year there were a number of seminars which one could attend about a number of business related topics. It seemed this year was focused on computer and communications services. To that end, a number of companies were there representing the communications / computer services such as RCN, Verizon and a couple of smaller consulting companies. Jack Friedman of the Queens Chamber of Commerce is shown standing center in the photo above.
Queens Chamber of Commerce - Biz Expo 2012 Photos
The following are the names of some of the participants we photographed at the Queens Chamber of Commerce Biz Expo 2012. In the photo below are some of the Mets cheerleaders who represented the Mets organization at Biz Expo 2012.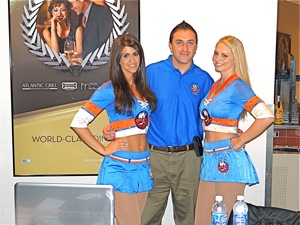 DSC00184 Seth Bornstein & Rob MacKay - Queens Economic Development Corporation
DSC00185 Luke Adams - Sunnyside Chamber of Commerce
DSC00205 Doneath Powell & - Flushing Bank
DSC00208 - Mary Cooper - Superdooper Mary Cooper
DSC00209 - Alicia Salvio & daughter - Impressaria Concierge

DSC00211 - Chee Bonnet
DSC00213 - Jim Goldfuss - Christine's Sweets
DSC00223 - Mets Cheerleaders
DSC00225 - Jack Friedman - Queens Chamber of Commerce
Click here to go directly to view photos of Queens Chamber of Commerce Biz Expo 2012.
---
$element(ophoto,photo_slideshow,192,660,,5.00,fade)$
---
Jackson Heights / Elmhurst Related Info
$element(adman,groupad,NhoodJHTS)$
Click this link for promotions, discounts and coupons in Jackson Heights, Corona and Queens.
Click this link to go to the Jackson Heights & Elmhurst Neighborhood News / Jackson Heights Restaurants / Jackson Heights & Elmhurst Shopping.
---
$element(adman,groupad,Catgry Queens)$
Site Search Tips. 1) For best results, when typing in more than one word, use quotation marks - eg "Astoria Park". 2) Also try either singular or plural words when searching for a specific item such as "gym" or "gyms".
$element(bwcore,insert_search,N)$
Click this link to search for something in our Queens Business Directory.
---
$element(adman,groupads,Sectional Ad)$
---
Click the log in link below to create an ID and post an opinion.
Or send this story to a friend by filling in the appropriate box below.
---