Sunnyside Chamber Honors The Givers
Sunnysider of the Year 2012 Goes To Catholic Priest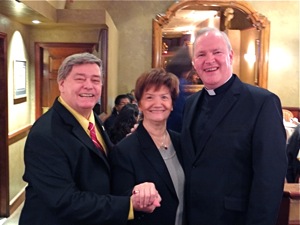 November 5, 2012 / Sunnyside Neighborhood / Queens Business / Queens Buzz. My father once told me that the world is made up of two kinds of people: the givers and the takers. On Monday evening the Sunnyside Chamber of Commerce honored one of its givers: Father Brian Dowd, the Catholic priest of Queen of Angels Church.
The award was the brainchild of Chamber member Patricia Dorfman, and named in honor of Luke Adams, who has been a Sunnyside community giver since the 1970's. The dinner was sponsored by the Sunnyside Chamber of Commerce at Dazies Italian restaurant on Queens Blvd.
Click here to read more about the second annual Luke Adams award given by the Sunnyside Chamber of Commerce.
---
Sunnyside Chamber Honors The Givers
Sunnysider of the Year 2012 Goes To Catholic Priest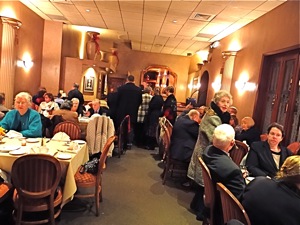 November 5, 2012 / Sunnyside Neighborhood / Queens Business / Queens Buzz. There were about 70 people in attendance of the awards ceremony, and a number of them were there to make some remarks. As I sat down I was asked if I'd been living in Sunnyside a long time. I took a gander around me and replied, "I guess that depends on whether you think ten years is a long time."
Sunnysiders - "We Like Where We Live"
Over the course of the evening I would have the pleasure of getting to know a number of people including Ruth C. Lengemann, next to whom I sat. Ruth told me that she's been a Sunnysider since moving here from Astoria at age two. Mark Wilensky, a Board Member of the Sunnyside Boy's N Girls Club, sat across the table and informed me that he'd been living in Sunnyside for 62 years. The woman next to him thought he might want to add that that was his whole life. Dry humor was not in short supply this evening, but there were serious moments as well.
Father Brian Dowd - Queen of Angels Church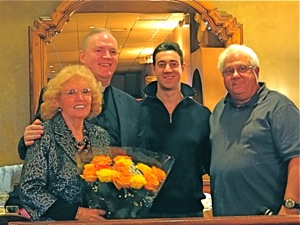 Father Brian Dowd was the man being honored. During the course of the evening Father Dowd's mother would receive kudos and flowers; while all the good Father got was an award and some ribbing.
There were a number of notables in attendance, including NY Assemblywoman Cathy Nolan who had spent the day working with city, state and federal officials on efforts to help those in need and make sure the public was accurately informed about the resumption of city government services, like the opening of the Midtown Tunnel which starts Tuesday morning at 6.30 am for buses only.
One World - One Community In Sunnyside Queens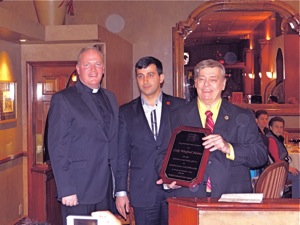 The speakers included members of the Jewish, Muslim, Protestant and Catholic faiths. One speaker mentioned that the Turkish Cultural Center had spent the last 24 hours preparing 500 meals to deliver to the Rockaways. Oguzhan Turan, President of the TCC in Sunnyside, told us the meals went quickly and that there were thousands lined up to receive them.
Father Dowd also honored one of the men in attendance for making a trip down to the Rockaways with everything the Queen of Angels Church had collected. The man's name is Richard O'Connor and he's shown in the slide show.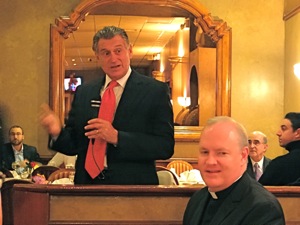 Sunnyside Chamber of Commerce - Sponsors of the Award
Swain Weiner, the Sunnyside Chamber President, opened the evening with remarks about the importance of community service. Paul Robert Sanchez, the Auxiliary Bishop of the Brooklyn Diocese was also one of the speakers who shared a brief anecdote about getting to know Fr. Brian Dowd on a pilgrimage they took together in Italy.
Dazies Restaurant - Italian Restaurants in Sunnyside
While the speeches were being given, we in the audience were happily nibbling on a fresh green s
alad, followed by a delicious pasta and for the main course a medium well done cut of beef covered with mushrooms. The wine may have been flowing, but most of us were rather temperate, given it was a Monday night.
Luke Adams - Master of Ceremonies
Luke Adams, for whom the award was named, was the Master of Ceremonies. Luke told us that when he found out that an award was going to be named after him, he thought that his doctors might be holding back on him, and that he was going to die. Happily, he smiled, "I'm still here."
A couple of priests who work with Father Brian also stood up to make a few remarks. A priest from India, Sebastian Money, said that Father Dowd was instrumental in getting him to stay in the U.S., because he'd thought of returning home having missed spending time with his family. He went on to tell us about Father Brian Dowd and the Queens of Angels involvement in Sunnyside, including the development of programs for youths and young adults. And he noted that the Queen of Angels church is the locale for the annual Sunnyside Art Fair.
Sofia Geier & Patricia Dorfman - Theater, Art & Entertaining
Near the end of the evening Sofia Geier, Founder of Unity Stage Company, and Patricia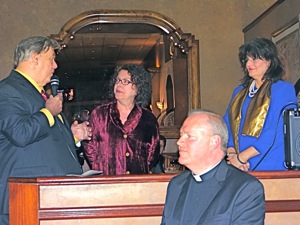 Dorfman, Founder of the SunnysideArtists.Org; recited some limericks in an Irish Brogue. The lyrics were written humorously by Sofia, and were nicely delivered by both.
One of the last speakers was Oguzhan Turan, President of the Turkish Cultural Center [TCC] in Sunnyside. He remembered how when he first opened the TCC in Sunnyside about a decade ago, that there was someone in the audience who was one of the first to welcome him into the community and who reached out to him repeatedly in the ensuing years. It was Luke Adams. The TCC presented him with an award, having previously obtained Father Dowd's approval.
Philosophy Behind Sunnysider of the Year Award - Altruism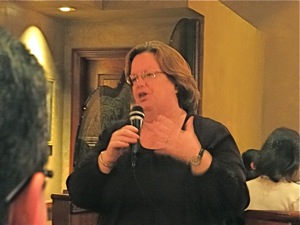 Father Dowd was the last speaker. He thanked his parents, the Sunnyside Chamber, Luke Adams and those in attendance. Patricia Dorfman then read the inscription on the award, which went as follows:
"He has a vision of a better world that includes all of us and he opens not only his doors, but his heart."
When I returned home, I noticed an inscription on the back of Ruth Lengemann's business card that went as follows:
"The Way To Happiness: Keep your heart free from hate; your mind from worry. Live simply; expect little; give much. Fill your life with love; scatter sunshine. Forget self; think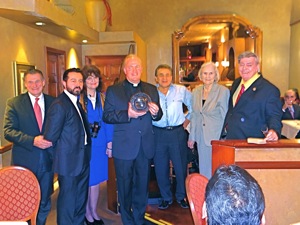 of others; do as you would be done by. Try this for a week and you will be surprised."
I reckon during these challenging times, that's not easy to do. But if we all did it, there's no doubt this would be a better world. One of my favorite phrases was spoken by Mahatma Ghandi who said,
"Live the change you want to see."
Near as I could tell, many of the folks I met in that room last night seem to do that.
Editor's Note: Vocalist Nicole Bittingmeyer sang two songs for the occasion, Frances Schmidt lead the group in the recitation of the Pledge of Allegiance, the blessing was given by Father Ricardo Perez, and remarks were also delivered by Manny Gomez, Maureen Lynch and Dr. Conrado Gomez [no relation].
---
Photos of the Sunnysider of the Year Award 2012
The following is a photo slide show of the Sunnysider of the Year Award sponsored by the Sunnyside Chamber of Commerce. Use the arrow keys on the slide projector to move through the show at your own pace or click the link above to go to the photo album.
$element(ophoto,photo_slideshow,215,660,,5.00,fade)$
---
Sunnyside Neighborhood / Woodside Neighborhood Links
$element(adman,groupad,NHoodSSWS)$
Click on these advertisements for promotions, discounts and coupons by retailers and restaurateurs in Woodside, Sunnyside and nearby Queens.
Click this link to go to the:
Sunnyside & Woodside Neighborhood
Sunnyside Business Directory or Woodside Business Directory
Sunnyside & Woodside Real Estate or Events & Things To Do In Sunnyside & Woodside
Restaurants In Sunnyside & Woodside or Sunnyside & Woodside Shops & Shopping
---
$element(adman,groupad,Catgry Realestate)$
Site Search Tips. 1) For best results, when typing in more than one word, use quotation marks - eg "Astoria Park". 2) Also try either singular or plural words when searching for a specific item such as "gym" or "gyms".
$element(bwcore,insert_search,N)$
Click this link to search for something in our Queens Business Directory. Also check out Taste of Sunnyside.
---
Click the log in link below to create an ID and post an opinion.
Or send this story to a friend by filling in the appropriate box below.
$element(adman,groupads,Sectional2 Ad)$
---