Art Exhibit: How Much Do I Owe You?
Clocktower Building 'No Longer Empty' in LIC
January 7, 2013 / Long Island City LIC Neighborhood / Art Exhibits in LIC / Queens Buzz. I went to a workshop in December sponsored by Materials For The Arts at the Clocktower Building in LIC. The workshop was an adjunct program done in tandem with an arts organization called No Longer Empty.
No Longer Empty is hosting an art exhibit entitled How Much Do I Owe You in the abandoned Clocktower Building in LIC through March 13th. The exhibit includes a number of workshops and programs throughout the exhibit period, which may be of interest to those who have a curiosity or fascination with modern art and our ongoing social / economic crisis.
As I approached the Clocktower Building I noticed figures moving across the face of the Clock … click here to read our report on the arts organization No Longer Empty, which is hosting the exhibit How Much Do I Owe You, at the Clocktower Building in LIC; and about the Collaborative Drawing Workshop sponsored by Materials For The Arts in LIC.
---
Art Exhibit: How Much Do I Owe You?
Clocktower Building 'No Longer Empty' in LIC
WORKING DRAFT - FOTOS & EDITS TO FOLLOW
January 7, 2013 / Long Island City LIC Neighborhood / Art Exhibits in LIC / Queens Buzz. Continued. I noticed figures moving across the face of the clock high from the new park at Queens Plaza now named Dutch Kills Green park [formerly the JFK Airport Commuter parking lot]. The figures represent people moving through immigration, as a reflection of the community of immigrants that is Queens.
Frozen Typewriters - No Longer Empty in LIC
I walked into the building where I immediately noticed Keiko Miyamori's work - four typewriters seeming to be frozen in time – which stand like silent security guards at the front of the exhibit in the old Manhattan Bank. These typewriters are at once beautiful, like preserved ancient relics of the past, and a bit haunting, as they seem ancient, as if they were dug from some frozen Egyptian tomb. They are reflective of the space they now inhabit, and simultaneously represent a part of the artist Miyamori too, as she includes a short script, capturing a personal experience, within each case.
Goods For Me - How Much Do I Owe You?
At the back of the main floor Sean Slemon had put together an exhibit entitled Goods For Me. He shows how a peach tree is dissected into end products, which are sold on the market. The large compartmentalized case, becomes a partition for the large open space into which one first enters, transforming it from something quite dark and empty, into something quite light and transparent. No Longer Empty.
Materials For The Arts - Collaborative Writing Workshop & The Ghost of a Dream
The Collaborative Drawing Workshop organized by Materials For The Arts, was done in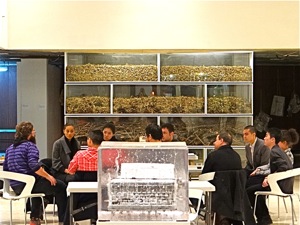 tandem with the creators of The Ghost of a Dream [a dynamic husband & wife duo, Adam Eckstrom & Lauren Was]. The Ghost of a Dream is a very large art piece that resembles a luxury home that was created out of losing Chinese and American lottery tickets. These expired lottery ticket were once worth tens of thousands of dollars … hence the house of expired lottery tickets represents The Ghost of a Dream. One might say that the title is a bit 'haunting' given what's happened in this country the past decade or so.
The Collaborative Drawing Workshop invited attendees to come up with ideas about things like worth and value and trust; to then display on recycled paper - some of which would end up in another artwork by the artistic dynamic duo, to be donated to some good cause at a later date.
Manon Slome - Founder of No Longer Empty
We'll return to Materials for the Arts, The Ghost of a Dream and the Collaborative
Drawing Workshop later in this report. While they were all workshopping, I toured the How Much Do I Owe You exhibit with Manon Slome, Founder of No Longer Empty and Chief Curator of How Much Do I Owe You.
Manon Slome has a PhD in art, curated at the Guggenheim Museum for seven years and at the Chelsea Art Museum for six years, before embarking on a journey that led her to found No Longer Empty in June 2009. In the wake of the near economic collapse of 2008, she took an interest in once thriving spaces that had been abandoned due to the financial crisis. She described her interest in these empty spaces as places "where art and social issues collide".
The Beginning of No Longer Empty - An Arts Organization in NYC
Her first entrepreneurial foray into the null and void started on the upper east side,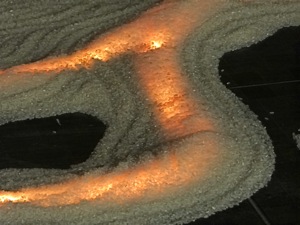 where she invited ten artists to exhibit in an abandoned fishing supplies store with emptiness as the theme. The artists' works surprised her, as many of them sought some connection to the former spirit or use of the space. Ghosts seem to come to mind.
One put together a How To Catch Celebrities Guide Book, playing on what might have been a How To Catch Fish Guide Book. Another created a salty sculpture, playing on the saltiness of the sea. The success of this exhibit, inspired her to move onward. She liked interacting with the audience many of whom came to see what had happened to the old fishing shop. Hence she had begun an endeavor which would bringing art to the people, rather than having the people come to the art. She told me that many people were intimidated by established art institutions, because many of them cultivate a rarified atmosphere.
Prior No Longer Empty Exhibits - Manhattan, the Bronx & now Queens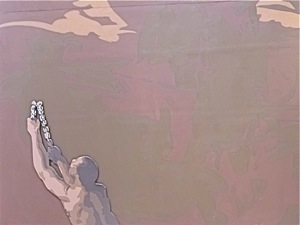 Manon and No Longer Empty's most recent exhibit was entitled This Side of Paradise. The exhibit was shown in the Andrew Freedman Home at 1125 Grand Concourse in the Bronx [#4 subway stop at 167th Street]. The building was fashioned a retirement home for the wealthy by Andrew Freedman [d. 1915], who left millions in his Will to fund the construction of the home [1922 – 1924] for wealthy people who lost their fortunes. Funding dried up in the mid 1960's at which time the home was closed. The use of the retirement home was resumed in the early 1980's, and opened to all people [not just the wealthy]. Manon said the event was a success, attracting over 9,000 visitors to see the works of dozens of artists over a two month period starting on April 4, 2012.
No Longer Empty Plots a Takeover of the Clocktower Building in LIC
Manon was accompanied by Jodie Di Napoli, Director of Programming and Associate Curator. Together they told me how they had heard about the abandoned Clocktower Building in LIC, and decided to host a show in it. The effort began the summer of 2012 and culminated in the exhibit opening on December 12, 2012.
How Much Do I Owe You Exhibit - Clocktower Building in LIC
We began to tour the How Much Do I Owe You exhibits, starting in the vaults in the basement. Queens-based artist, Sol Aramendi, created artificial incubators for corn, wheat and lavender. This is juxtaposed with continuous films of immigrants involved in Project Luz, who invisibly power the U.S. economy by growing our food. Old vinyl records lie outside the vault, resembling coins, and visitors are invited to take one.
The exhibit was at once beautiful in its color and symmetry, and haunting in its conveyance of the disrespect given immigrants, by many of those same people who benefit from their hard work.
Down in the Vaults of the old Manhattan Bank in LIC
In the next vault there is an exhibit by Orit Ben-Shitrit. A video is playing of a man giving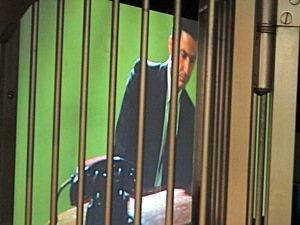 a soliloquy and dancers acting out against what he's saying in French. It's a video that travels through space and time from the patronage of the Italian Medici family to the Bankers Trust fraud that led to the dissolution of the bank in 1998.
Guerra de la Paz is the creator of the next exhibit, which is far more stunning in life than in photos. The exhibit shows two well dressed businessmen shaking hands. Their heads are made of the fancy ties they wear, resembling venomous snake heads. It's not a very flattering portrayal of commerce.
In the third vault, there's … NOTHING … built of translucent plastic, conveying the feeling of emptiness, that confronts many of us as we look into our own bank accounts. I didn't catch the artist's name.
In the fourth vault there's a video entitled Money Talks by Nicky Enright, playing in a loop. The video recites a catalogue of the statistics of the fallout of the 2008 financial crisis; specifically as it relates to artists and the art world. The numbers are as dark and dismal as the small vaulted screening room.
All along the Watchtower - The Artworld in LIC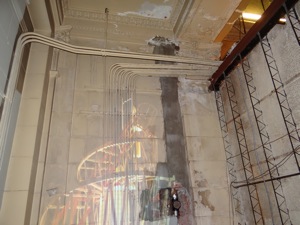 We walked up to the second floor of the Clocktower Building where there was a video and sound installation, which disparages Vladimir Tatlin's Monument to the Third International. The design was intended to be a utopian structure symbolizing the spirit of the Russian Bolshevik Revolution. But here it is a 3D animation, shown on the exposed wall of a now-defunct American capitalist institution.And in the background we hear the laments of the Canadian working class. This was the work of Paulette Phillips in collaboration with Isabelle Noel [sound]. Interestingly, this work was commissioned by the Scotia Bank Nuit Blanche.
Needless to say, this is pretty heavy stuff, I thought as wetoured the exhibit. It was definitely a place where art and social issues meet. The bank vaults were exploding with creativity, and perhaps because we were in the Clocktower Building the Jimmy Hendrix tune entitled All Along The Watchtower began rolling through my head:
"There must be some kinda way out of here"
Said a joker to the thief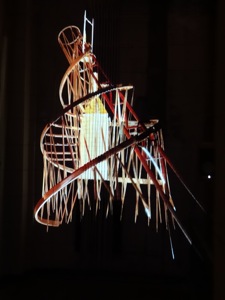 "There's too much confusion,
I can't get no relief.
Businessmen they, they drink my wine,
Ploughmen dig my earth
No one will level on the line
Nobody of it is worth
Hey!"
"No reason to get excited"
The thief he kindly spoke.
"There are many here among us
Who feel that life is but a joke.
But ah, you and I we've been through that.
And this is not our fate.
So let us not talk falsely now,
The hour's getting late.Hey!"
All along the watchtower,
Princess kept the view
While all the women came and went,
Barefoot servants too.
Outside in the cold distance
A wildcat did growl
Two riders were approaching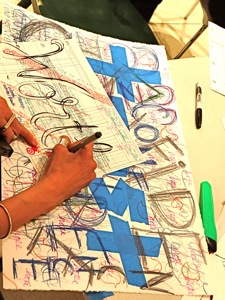 And the wind began to howl
Hey!
All along the watchtower.
Materials For The Arts - One Man's Waste is Another's Treasure
I returned to the center of the room where the Materials for the Arts workshop is coming to a conclusion. I spoke to .. TBC.
I ask the folks if I may photograph and publish their work. One has drawn a series of wavelike structures that spell out the word trust. Another has drawn the word Worth in flowing script. They bring their works to the bankers desks where they examine each other's work.
Ghost of a Dream - Adam Eckstrom & Lauren Was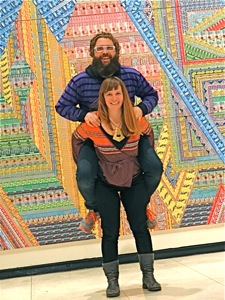 I ask Adam and Lauren to talk to me about their work, The Ghost of a Dream. They got the idea while on a 2010 visit to China, where they said they saw something of a similar housing bubble begin to deflate. They managed to get hold of a number of expired Chinese lottery tickets, which they used, in combination with expired American lottery tickets they went to work to build a large house collage made of them. The home includes elements of both Chinese and American design and in some places looked to me like a slot machine.
As previously mentioned, the value of those tickets was easily enough to put a down payment on a home – if not more. And instead, they ended up as worthless paper.
Or did they?
As these expired lottery tickets have now become part and parcel of a beautiful artwork, and perhaps in keeping with the recycling / sustainability of the Materials for the Arts mission, a part of the dynamic duo's dream of a brighter future.
Regenerative Space, Materials & Artwork - Queens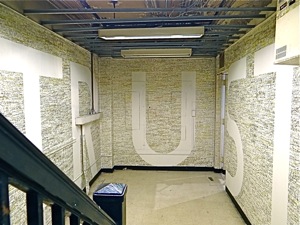 Regeneration, sustainability and re-use are themes that ran through this exhibit. Materials for the Arts provides registered artists with castaway materials headed for landfills or furnaces. No Longer Empty re-purposes space from dark, quiet and empty into beautiful temporary art galleries. And The Ghost of a Dream is a vision that lives on in the work of Adam and Lauren and perhaps is a reminder, that if we're more judicious in how we spend our money, perhaps one day we can make our dreams real. They had a second work of art wallpapering a stairwell which was filled with hundreds of advertising slogans by bank and finance companies. Embedded in all of the handwritten script were the letters T R U S T.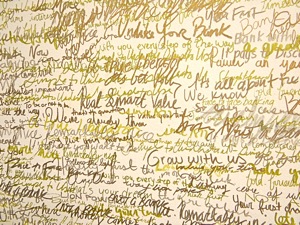 There are a number of other exhibits at How Much Do I Owe You including an oil painting of a mythological tale, the rice veins, the ping pong table, the murals of hidden trust including 700 bank advertising slogans, the untouched red bathroom once used by the Manhattan bankers to name a few.
How Much Do I Owe You runs through March 13th. The exhibit was organized and curated by No Longer Empty. And it is at the Clocktower Building in LIC. Periodically check out the Queens Events Calendar on this site for a posting of events and programs to be offered to the public during the exhibit.
Slide Show - Photos of How Much Do I Owe You - LIC
Click on the buttons to move through this slide show at your own pace, or click here to view the gallery of photos of How Much Do I Owe You in LIC.
$element(ophoto,photo_slideshow,221,660,,5.00,fade)$
---
LIC Neighborhood - Long Island City Links
$element(adman,groupad,NHoodLIC)$
Click on these advertisements for promotions, discounts and coupons by retailers and restaurateurs in Long Island City LIC and nearby Queens.
Click this link to go to the:
Long Island City Neighborhood or LIC Business Directory
Long Island City Real Estate or Events & Things To Do In LIC
Restaurants In Long Island City or LIC Shops & Shopping
---
$element(adman,groupad,Catgry Medical)$
Site Search Tips. 1) For best results, when typing in more than one word, use quotation marks - eg "Astoria Park". 2) Also try either singular or plural words when searching for a specific item such as "gym" or "gyms".
$element(bwcore,insert_search,N)$
Click this link to search for something in our Queens Business Directory.
---
$element(adman,groupad,Sectional2 Ad)$
Click the log in link below to create an ID and post an opinion.
Or send this story to a friend by filling in the appropriate box below.
---