QNS Collective: We Will Still Be Here
Local Artist Photographs Dutch Kills Real Estate Development For Posterity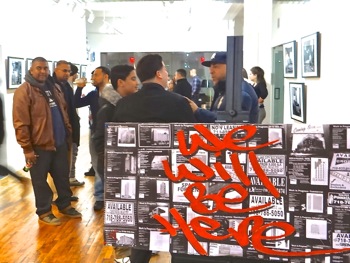 January 19, 2015 / Dutch Kills LIC / Art Exhibits in Queens / Queens Buzz. It's not often one gets to see a bit of history in the making. But last Saturday evening I made my way to the QNS Collective in Astoria / LIC to see a bit of it.
The event was the opening reception of We Will Be Here, a photographic exhibit by Salvador Espinoza about the changes taking place in the Dutch Kills neighborhood of Long Island City. The exhibit included 13 framed photos hanging on the walls of the second floor of the QNS Collective, a modern new office space in Astoria / LIC. Another twelve will be rotated into the exhibit during the course of its showing which runs through February 6th.
Dutch Kills Neighborhood Changing Fast
The photos are a recent look at the changes taking place in the Dutch Kills neighborhood. The photos were shot in black and white over the past year, and provide a personal glimpse of the development of the Dutch Kills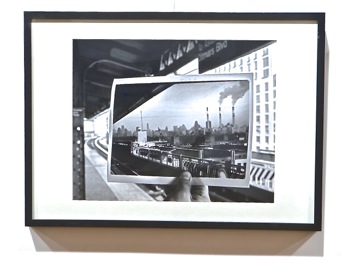 neighborhood by someone who grew up in it and has spent the better part of his life living there. The photo above shows Salvador standing in front of one of his photos where his brother held up a photo of a vista one would previously encounter while standing at the Queensboro Plaza subway station, which is now hidden behind a number of shiny new highrises.
Salvador told me that he moved out of the neighborhood for a few years [to Sunnyside] and he frequently returned to visit family and friends. He started noticing significant changes to the neighborhood occurring between each visit. He thought that someone should start recording the changes, because the neighborhood he grew up in, would soon vanish into the past. After giving the idea some thought, he concluded that perhaps he was the one to do it. So he reached out to the Queens Council on the Arts and they provided him with a small grant to pursue the project.
Salvador Espinoza Photographer, Director & Collaborator
Many years ago Salvador had been an amateur photographer, and when he took up this project, he began anew. Over the course of the past year he started taking photos of the neighborhood including some of the everyday houses that likely will soon be demolished and replaced by apartment buildings, as the value of Dutch Kills real estate h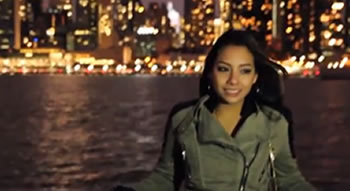 as skyrocketed in recent years.
Some of his photos include his neighborhood friends. I met Chris of EQ Lyrics, who is included in one of the photos of the exhibit. Chris had just completed a music video and tonight - as part of the exhibit opening - we were to witness the first public showing of Chris's music video. Salvador directed it and Chris plays the leading male role.
The lights dimmed, the crowd gathered around in a sort of amphitheater configuration, and the video began. The video is shot entirely in the LIC / Dutch Kills / Astoria neighborhood. The video is called A Beautiful Day which Chris told me was about, "getting drunk and banging chicks in the city" [a photo still from the video is to your right]. We've embedded the video at the end of this story.
Click here to read the rest of our story about the photo exhibit We Will Still Be Here, about the changing face of Dutch Kills real estate, at the QNS Collective through February 6.

---
QNS Collective: We Will Still Be Here
Local Artist Photographs Dutch Kills Real Estate Development For Posterity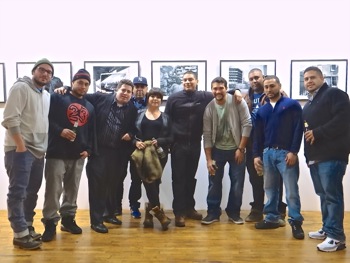 January 19, 2015 / Dutch Kills LIC / Art Exhibits in Queens / Queens Buzz. Continued.
Salvador told me that he plans to begin collecting [crowdsourcing] photos of the Dutch Kills of the past, while continuing to photograph the changes going on in Dutch Kills today. Currently he's posting the work on a Facebook page, but plans to one day move it onto a website.
Salvador's parents came from El Salvador in the late 1970's, shortly before he was born. He and his siblings and extended family have lived in Dutch Kills neighborhood ever since, clustering in the same section of Dutch Kills, and in some of the same buildings too.
Communally clustering has long been an immigrant trait as it enables the pooling of resources for the greater good. Unfortunately this trait seems to get lost as each new generation
becomes 'Americanized' and pursues their own course. I say unfortunate because generally speaking a group of people working together can accomplish far more than individuals working on their own.
Influence of Documentary Photographers: At QNS Collective
Salvador mentioned several documentary photographers who've influenced his work. They include Bruce Davidson, a documentary photographer of the American Civil Rights Movement in the middle of the 20th century, Susan Meiselas also a documentary photographer of social issues including some in Latin America, and Robert Frank whose influential book, The Americans, photographed all strata of American society in the 1950's. The Americans included an introduction by beat author Jean-Louis Lebris de Kérouac [aka Jack Kerouac] who lived for a short while, early in his career, with his parents who had moved to Ozone Park in Queens.
I met another friend of Salvador, Brian, whose family was one of the few who bought Dutch Kills real estate prior to the real estate boom. His relatives had been offered a tidy sum of money to part with their property, but they
decided instead to develop it themselves. Hence they knocked down the original structure, and are currently in the process of erecting an apartment building.
Most of the folks I spoke to who still live in the neighborhood are renters. One of them mentioned that they recently looked for a larger apartment but couldn't find anything affordable. Others have left the neighborhood in search of more affordable housing, but still come back to Dutch Kills / Astoria / LIC to hang with their friends ... like they had tonight.
Documenting Queens Rapidly Changing Neighborhoods: Dutch Kills in LIC
As mentioned in the introduction, Salvador shot one of the photos from the Queensboro Plaza subway stop. His brother helped him by holding the photo of the vista one would see
only couple years ago, of the Con Edison smokestacks, on a very windy day. Today one will see several modern buildings which now obstruct the expansive view to the East River and Manhattan skyline.
Another photo includes a bodega operator who Salvador told me "has always been there". It's as if the storeowner was part of the fabric of the Dutch Kills neighborhood and community life. And of course, there are photos of construction in process, as well as a couple of the bright, clean, new buildings that have been shooting up all around the LIC / Queensboro Plaza / western Queens area.
QNS Collective: Office Space Rental Astoria / LIC
Before I departed, I met Argentina Flores, Founder of QNS Collective. Argentina gave me a tour of the new work space facilities which were completed early in 2014. QNS Collective is only a couple blocks south of Kaufman Astoria Studios and contains a variety of workspaces
which Argentina rents to freelancers and other mobile workers. The rented spaces include various options for connectivity including wireless and wireline internet, printers and faxes, and shared or private work and meeting space. The QNS Collective generally tries to host one new exhibit each month, along the lines of the work presented by Salvador Espinoza entitled We Will Still Be Here.
As I left it occurred to me that Salvador Espinoza exhibited a trait that is frequently ascribed to American culture: Indefatigable Optimism.
Many thanks to photographer Salvador Espinoza and friends Chris of EQ Lyrics and Brian, as well as Argentina Flores of the QNS Collective in in Astoria / LIC. The QNS Collective is located at 36-27 36th Street, 2nd Floor in Astoria / LIC. And click this link to go to Salvador Espinoza's Facebook Page.
---
QNS Collective & Real Estate Development in Dutch Kills / LIC Photos
The following slide show contains photos in an exhibit by Salvador Espinoza about real estate development in Dutch Kills at the QNS Collective in Astoria / LIC from January 17 through February 6, 2015.
$element(ophoto,photo_slideshow,277,660,,5.00,fade)$
---
Music Video About Life in Dutch Kills / LIC / Astoria
Click here to view the music video A Beautiful Day , or on the player below.
---
$element(adman,groupad,NhoodAstoria)$
Astoria Neighborhood Links
Click on these advertisements for promotions, discounts and coupons by retailers and restaurateurs in Astoria and nearby Queens.
Click this link to go to the:
Astoria Neighborhood or Astoria Business Directory
Astoria Real Estate or Events & Things To Do In Astoria
Restaurants In Astoria or Astoria Shops & Shopping
---
LIC Neighborhood - Long Island City Links
$element(adman,groupad,NhoodLIC)$
Click on these advertisements for promotions, discounts and coupons by retailers and restaurateurs in Long Island City LIC and nearby Queens. Click here for a related story about the hotels & restaurants in Dutch Kills section of Queens.
Click this link to go to the:
Long Island City Neighborhood or LIC Business Directory
Long Island City Real Estate or Events & Things To Do In LIC
Restaurants In Long Island City or LIC Shops & Shopping
---
$element(adman,groupad,Catgry Queens)$
Site Search Tips. 1) For best results, when typing in more than one word, use quotation marks - eg "Astoria Park". 2) Also try either singular or plural words when searching for a specific item such as "gym" or "gyms".
$element(bwcore,insert_search,N)$
Click this link to search for something in our Queens Business Directory.
---
$element(adman,groupad,Sectional2 Ad)$
---
Click the log in link below to create an ID and post an opinion.
Or send this story to a friend by filling in the appropriate box below.
---