Mad Men: Art Imitates Life ... and ...
Television Brings Back 1960's Style & Culture
Mad Men Exhibit At The Museum Of The Moving Image In Astoria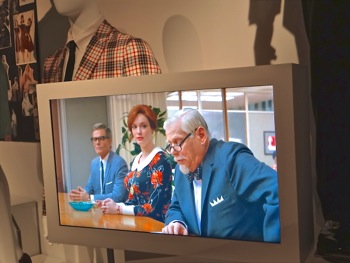 April 6, 2015 / Astoria NY / Film in Queens / Queens Buzz. Several weeks ago I attended the press preview of the Mad Men exhibit at the Museum of the Moving Image in Astoria.
Mad Men is the creation of writer Matthew Weiner who previously worked as a contributor on the HBO series, The Sopranos. Weiner enlisted Lionsgate Television to collaborate with him in producing the show, which was aired on cable channel AMC TV beginning in 2007.
The first pilot episode was filmed at SilverCup Studios in Queens, with subsequent episodes being produced in Los Angeles. The last show of the series aired on April 5, 2015.
Hence the Mad Men exhibit at the Museum of the Moving Image in Astoria was perfectly timed, and it will be on display until June of this year. In the photo at right is Don Draper, the proverbial star of the show, in his New York City advertising office on AMC TV's Mad Men.
---
---
Mad Men: Art Imitates Life ... and ...
Television Brings Back 1960's Style & Culture
Mad Men Exhibit At The Museum Of The Moving Image In Astoria
April 6, 2015 / Astoria NY / Film in Queens / Queens Buzz. Continued.
Relax, Get Out Your Cigars & Pour Yourself A Scotch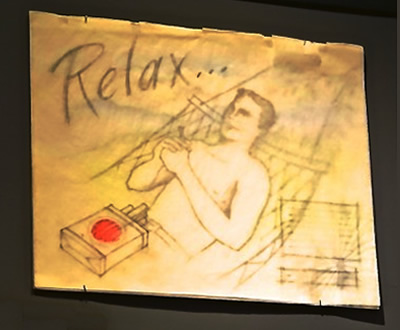 In preparation to write this story, I decided to pick an episode to reference vis a vis the Mad Men exhibit I had attended at the Museum of the Moving Image in Astoria. I have only watched Mad Men through season three, which ends as Betty Draper flies to Nevada with Henry and the new baby, to obtain a divorce from Don.
To put myself in the proper frame of mind, I poured myself a single malt Scotch and pulled a Cohiba cigar out of the humidor. I set the television on my desk, just behind my typewriter, so I could tap out a few notes in between watching the show.
I decided to use the Maiden Form episode, which appears at the end of the second season because it seems to capture the essence of what made Mad Men a favorite for me, and what I understand to also include the television watching elite [I don't entirely fit the demographic]. The AMC broadcast didn't reach a blockbuster sized audience, but they did reach an audience with premium-priced demographics.
Betty Draper - Beautiful, Fashionable 1960's Housewife
I am, like others with whom I discussed the show, a Betty Draper fan. Women seem to like her because she was a modern, well-educated and assertive 1960's woman with a fabulous fashion sense. I liked her for all of those reasons, and because she seemed to be the near perfect wife. She was attractive, interested in her man, and while desirous of spending more time with him, didn't nag him to do so. It was Don's behavior I found puzzling, as none of the women he pursued, stood up well vis a vis Betty. I reckon some guys just need their flings ... and there's a family history there as his real mother was a whore [according to the show - literally].
I understand that in subsequent seasons Betty began treating the children badly, but I've not yet seen any of those episodes.
Revisiting The Past: America In The 1960's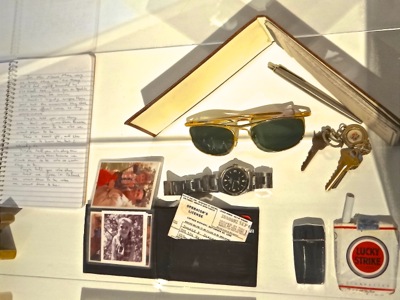 For many, watching Mad Men is a bit akin to revisiting their youth. The production enables one to revisit the background noise of their childhood lives, through the aperture of what appear to be enviable characters. Like good advertising, the Mad Men show was aspirational.
In the Maiden Form episode they open with music of the 1960's which many of us were surrounded with while coming of age. The music was played in the car, on the radio - which was far more ubiquitous than today, and on juke boxes across the nation in bars and restaurants. Juke boxes are now relegated to what is largely a collector's item. It was a different time, as we lived in a shared, real-time, ambient American age.
It's almost hard to imagine shared ambient music in the day of headsets plugged into ipads, cell phones, laptop computers and MP3 players … and silent discoes.
Museum of the Moving Image: Mad Men & Social Issues
Mad Men also seemed to capture - in a safe, secure, experiential environment – the turmoil of the times. Sexism, racism, abortion, homosexuality and the lingering threat of nuclear war are woven into the fabric of the storytelling without the real angst of the issues, because they have largely been settled. We also return to what would today seem to be a very different America in Mad Men. When family life was far more structured, with the father clearly in charge of the family finances, and the stay-at-home mother clearly in charge of the children. Children were given little voice and were expected to be obedient.
Explosive Growth Of Mass Media, Television & Advertising
The nuclear family was largely a self-contained unit, as were the suburban communities which were largely homogenously developed in the suburbs. The mass media of the 1960's primarily consisted of newspapers, magazines, radio and television. But as noted in the show, television was in its infancy, having grown from about one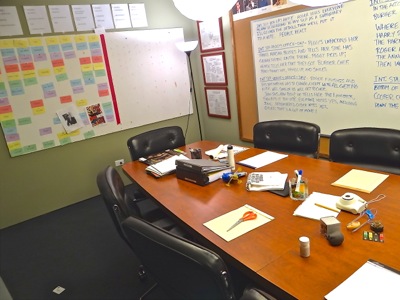 television set for every ten households in 1950, to nine television sets for every ten households in 1960, when the story begins. There wasn't any internet, no home computers and no cell phones. In one episode Harry Crane pitches creating and becoming the head of a one to two person TV commercial time buying department. Today one could scarcely imagine an ad agency without a significant media buying department. And Salvatore Romano is assigned to become the head of TV production, before they axe him per the client's request.
Mass media was coming of age and the Mad Men of Madison Avenue were there to ride and guide the wave of the mass media consumer culture into what it has become today. It's hard to find reliable information sources, but roughly the number of advertisements to which the average American is exposed, has grown about ten-fold over the past half century. A 1964 study [Bauer / Greyson] measured the viewing of about 76 advertisments a day and a 2007 [Media Matters] study measured the viewing of about 625 ads per day - by an average American. There are other figures out there, which are harder to source verify, which state that American consumers were exposed to 1,516 messages per day in 1957 and about 3,000 today. In any case, the point is that Don Draper and Sterling Cooper were in on the early explosive growth of an industry, which was paid to sell products by creating awareness and desire for them.
Advertising Lore & Mad Men Exhibit At MoMI Astoria
The advertising agency was a relatively new business with exciting opportunities that sought to understand human behavior and national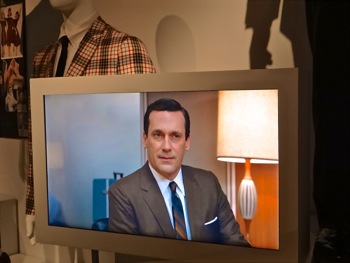 trends and then capitalize on that understanding. They were assigned the task of elevating brand symbols and icons - or in the case of the Maiden Form episode - find ways to capitalize on the iconic figures of the day like Jackie Kennedy and Marilyn Monroe. Both of these women were captured on film by Andy Warhol which he used to make his point about the mass production of images, by comparing them to the mass production of products – like Campbell's Soup.
Today many find advertising a nuisance and zap the commercials that grew to consume about a third of the time watching television. In the early 1960's about a fifth of the television time was filled with commercial advertisements, and by many accounts they were far more interesting and entertaining. That's because in the 1960's agency creatives like Mad Men's Don Draper and Peggy Olson were conjuring up new advertisements, while today the creative process is likely overseen by cadres of risk-averse MBA's from America's top business schools.
The Good Old Days - Ignorance And Bliss
In Mad Men we get to travel through time alongside the aspirational characters of the show, as they let us inside of their personal lives. The 1960's were a great time to be alive ... before
you were dead.
You could smoke anytime and anywhere without anyone telling you to stop it, let alone that it's against the law. And the idea of cancer was just beginning to make its way into the public consciousness, no thanks to the ad men, the Mad Men, of Madison Avenue. And you could soak yourself in the sun at the local club or poolside in LA without fear of skin cancer, because that research and those findings hadn't yet been widely published.
It was a time when it was actually ok to have a three martini lunch. Coming back to the office with a package on was … well .. part of being creative. You could drink to excess without fear of liver disease, because you didn't knowit was happening. You could even drink until drunk and then drive yourself home with only the possibility of a traffic fine – if caught. No threat of jail time, no suspended driver's license, and no Mothers Against Drunken Drivers [M.A.D.D.] because the laws hadn't yet caught up to the rising national highway death tolls and the reasons for them. And everyone was thin because they were smoking instead of eating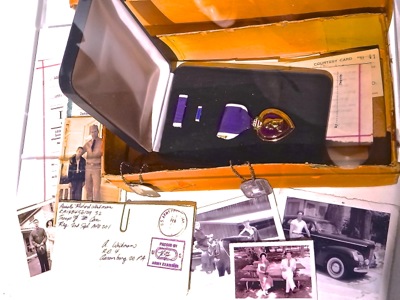 for their oral fixation, or bumping someone on the side to get a bit more exercise.
Living Vicariously Thru The Personal Lives Of Mad Men Characters
Most folks owned big roomy cars, gasoline cost 19 cents per gallon, and this was an America where there were jobs galore. People could drive anywhere, including in cities, as traffic jams were only beginning to arise. There were 150 million fewer people in the country [179 million 1960 versus 325 million in 2015], and America's interstate highways had only recently been upgraded to improve the roadway connections between America's states and cities. These roads were built using funds from President Eisenhower's $25 billion investment in America's interstate highway system via the Federal Aid Highway Act of 1956. At the time it was America's largest public works program ever.
Politics, Pop Culture & Female Fashion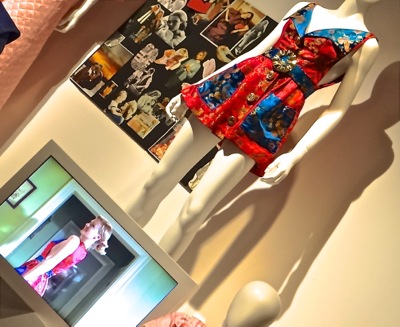 The culture was changing and the music reflected it. From the jazz of the 1920's and 1930's, to the blues of the 1940's, to the rock n' roll of the 1950's. Elvis was the pop rock star and John F. Kennedy was the pop political star, which Mad Men's Pete Campbell was the first to recognize. He compared JFK to Elvis in a conversation the agency was having about how to market Nixon.
And the fashion they wore is now considered traditional classic. One woman told me that she was disappointed with the paucity of Betty Draper's clothes in the Museum of the Moving Image exhibit. I have to admit, I liked watching Betty, regardless of what she was wearing, because she always had impeccable taste and style. Kind of like Jackie.
One of the items shown in the exhibit is an outfit she picked up while traveling in Italy before she met Don. She had met a fashion designer who liked to dress her with his creations. Betty's friend probed by asking if their relationship incuded anything more than that? Betty insisted not, as her friend Gianni – as he liked to be called – didn't show that kind of interest. We chuckled, as this was an allusion to Betty having met Gianni Versace, whose name is now a world renowned brand.
Joan's pea green blood-stained dress was also on display. I remarked that it reminded me of the Jackie Kennedy blood-stained dress caught in several photos following JFK's assassination. I thought they might have done that on purpose. In the real world we won't have the option of seeing Jackie's dress until 2063, as Carolyn Kennedy gave it to the National Archives on the condition that it doesn't go on display until a century following that fateful day. A day, which by the way, was captured in one of the Mad Men episodes.
Escapist Television & Portrayal Of America At The Height Of Its Power
It seemed a simpler time. People weren't plugged in, they were far out. Nobody in the show runs into financial trouble … really. And nobody loses a job without the prospect of being able to find another … really. There wasn't much global competition at the time, because following World War II, America was essentially the only superpower standing. Yes, Russia also had the bomb, but the American economy was valued at over a half trillion dollars, while the earliest figures I could find for Russia are in 1990, where the size of their economy was about a half trillion dollars [30 years later].
Mad Men Exhibit At MoMI: Aspirational Lives & Style
The characters of Mad Men are living the life of near royalty, which is why so many of their viewers love them and why so many of their viewers aspire to live such lives. Conrad Hilton recognizes America's living standards vis a vis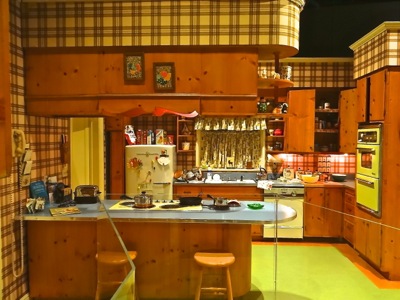 the rest of the world, when he talks about building Hiltons around the globe to provide visiting American's with a place to stay that matches their standard of living at home.
Mad Men is as much about style as about anything. The sets were meticulously crafted to reflect the era and the attention to detail included researching historical weather trends which were embedded in the show. In the 1960's advertising was all about hopping onto demographic trends and leveraging attitudes reflected in pop culture to sell your wares.
Mad Men At The Museum of the Moving Image: Brand Advertising Case Studies
Advertising has been said to be art in the employment of capitalism. And in Mad Men we are taken on a journey through brands and issues like the cigarette companies dealing with cancer labeling [Lucky Strike], London Fog trying to expand its product line, Maiden Form exploring the possibility of enhancing its image at the potential cost of sales, Volkswagon using a humoristic approach to making a point, Mencken's looking to refresh their image and target another demographic and Madison Square Garden looking to shrug off the negative publicity gained by demolishing Penn Station. All of these sales, marketing and advertising case studies are brought back to life in an interesting manner as they are interwoven with dramas from the personal lives of the characters.
Museum of the Moving Image & Mad Men: Local Color NYC Circa 1960's
For those of us who live in New York City, the show is also about New York City's modern history. The Mad Men meet for dinner at Lutece, drink their lunch at Ratazzi's, go to a show at the Tom Tom Club, spend their summers on the Jersey Shore, attend weddings at a Long Island country club.
Mad Men Character Development: Ayn Rand & Libertarian Ideals
Mad Men takes a hands off approach to morality. I suppose you could say it's Libertarian as they reference Ayn Rand through agency partner Cooper's affinity for her new book at the time, Atlas Shrugged. It's a textured approach, as they don't tell us what's right or wrong and they show the mixed morality in each character. There are no lily-white good guys and no thoroughly evil bad guys. Just a lot of seemingly real life people dealing with the issues that come into their life by serving their own self interest.
Mad Men Brings 1960's Reality Back To Life Thru Attention To Detail
There was a sort of magic in the early seasons of Mad Men [the only ones I've seen to date]; as the writers, set designers, researchers, costume people and actors and actresses conspired to revive the feeling of an era-gone-by. They recreated a microcosm of the advertising culture on Madison Avenue in its heyday. And they did what many of the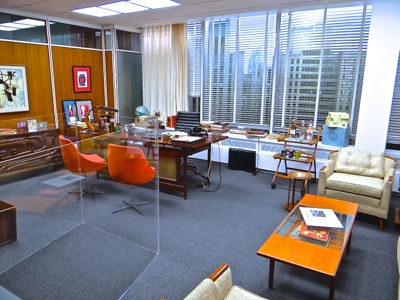 great old black and white movies did – they took the time and expense to create something very near real - by paying attention to the details of the era. Hence they succeeded in bringing the 1960's back to life.
And this is what hit me about the exhibit. There I was standing in front of the cordoned off viewing space, looking at Betty Draper's kitchen and Don Draper's office as if it were Thomas Jefferson's drawing room at Monticello or Benjamin Franklin's printing shop in Philadelphia. And while viewing Joan's dress, smattered with blood, I recalled the blood smattered dress worn by Jackie Kennedy following her husband's assassination.
So there it was ... standing right in front of me … framed … as if it was real. The exhibit, just like the show itself, was akin to a skillfully cut garnet or a well done imitation of one of the great masters.
But this wasn't real and it's not history. These are stage sets featuring fictional characters who were acting in a made up world. We were viewing sets and props and costumes, not historic relics - and not even of the people who'd really done the things that the actors had portrayed.
I left contemplating all I'd seen, musing about the observation of 19th century author Oscar Wilde, that "Life imitates art far more than art imitates Life." But after weeks of contemplating the irony of the exhibit, it was Bert Cooper's response to Pete Campbell's attempt to unveil the truth about Don Draper's identity, that I've come to believe best applies here. Cooper told Pete,
"The Japanese have a saying: a man is whatever room he is in, and right now Donald Draper is in this room."

Many thanks to the Museum of the Moving Image for hosting this exhibit which runs through early June. And a special thanks to Executive Director Carl Goodman for a conversation we had about the Don Draper's mixed morality character and to Ronni of LIC for a conversation we had about Betty Draper's style.
---
Queens Buzz Voluntary Single Copy Sales or Subscriptions
We're not independently wealthy. So if you like what we're doing, you can help us continue to provide you with this coverage and possibly expand it, by voluntarily paying for a single copy or by subscribing to

Queens Buzz. Click button for details on how to make a purchase for as little as $5 which is less than what you'd pay for one issue of a magazine.
---
$element(adman,groupad,NhoodAstoria)$
Astoria Neighborhood Links
Click on these advertisements for promotions, discounts and coupons by retailers and restaurateurs in Astoria and nearby Queens.
Click this link to go to the:
Astoria Neighborhood or Astoria Business Directory
Astoria Real Estate or Events & Things To Do In Astoria
Restaurants In Astoria or Astoria Shops & Shopping
---
LIC Neighborhood - Long Island City Links
$element(adman,groupad,Catgry Mens)$
Click on these advertisements for promotions, discounts and coupons by retailers and restaurateurs in Long Island City LIC and nearby Queens. Click here for a related story about the hotels & restaurants in Dutch Kills section of Queens.
Click this link to go to the:
Long Island City Neighborhood or LIC Business Directory
Long Island City Real Estate or Events & Things To Do In LIC
Restaurants In Long Island City or LIC Shops & Shopping
---
$element(adman,groupad,Catgry Queens)$
Site Search Tips. 1) For best results, when typing in more than one word, use quotation marks - eg "Astoria Park". 2) Also try either singular or plural words when searching for a specific item such as "gym" or "gyms".
$element(bwcore,insert_search,N)$
Click this link to search for something in our Queens Business Directory.
---
$element(adman,groupad,Sectional2 Ad)$
---
Click the log in link below to create an ID and post an opinion.
Or send this story to a friend by filling in the appropriate box below.
---